We understand some links may not have been working in the last email we sent, this should now be resolved. Thanks
Welcome to this month's edition
Good morning, thank you for taking the time to read through this month's VERU in View.

As many of you will know, I undertook a six-month secondment with the National Police Chiefs' Council (NPCC) between January and June of this year, supporting the national police response to Violence Against Women and Girls (VAWG). Earlier this month, I was honoured to receive a letter and certificate of commendation from DCC Maggie Blyth for my contribution during this time.
Reflecting on my time with the NPCC, it really was a privilege to work alongside the incredible team that made up the national VAWG taskforce. I would like to say a huge thank you to DCC Blyth not only for the commendation, but for the opportunity to join her in tackling such an important and prevalent issue.
With that said, I'm delighted to use my experience working on the national campaign to support colleagues in Bedfordshire Police and the Office of Police and Crime Commissioner for Bedfordshire with their exemplary efforts to raise awareness of and reduce Male Violence Against Women and Girls (MVAWG). You can read more about the force's response to MVAWG in their new quarterly newsletter below..
Also this month, I attended and spoke at the Women of Colour in Policing's (WoCiP) first-ever Summer Festival event organised by Sandra Smith and Sam Alexander. Speaking alongside prominent individuals across the community, including Assistant Chief Constable Sharn Basra, I was proud to share the work that we do here in the VERU, while touching on my personal experience as a Black woman in policing.
While I have always been vocal about the challenges faced as a Black woman in policing, it's not often that I share my motivation for working in this field, despite my personal and professional experiences. In short, my desire to work in policing is a by-product of my passion to see tangible change in the way we police. I want to be part of that change.
Fast forward to now, it's that very same motivation that continues to inspire me to achieve what we as the VERU have set out to achieve.
Kimberley Lamb | VERU Director
Last month our Youth Intervention Specialist (YIS) Team celebrated the success of another incredible young person.
Referred to our YIS team following concerns raised around grooming and child sexual exploitation (CSE), this young person was facing a number of challenges that were negatively impacting their school life, behaviour and relationships.
With each session and following a positive foster care placement, YIS worker Roseann Taylor began to see positive changes in their attitude and behaviour, which led to discovering the young person's interest in construction and furthering their education.
Working closely with VERU Education and Career Development Specialist Debbie Hearne, the team were able to support the young person in successfully applying for an apprenticeship in their area of interest. 
The young person is now earning, learning and on the right route to a long-term successful career with potential for entrepreneurship.  
Reflecting on the positive outcome, Debbie said,: "It really would be fantastic to have more stories like this one, where employers are open-minded and willing to work with young people who have been through significantly challenging circumstances. 
"Intervention can only have a lasting impact if people are willing to provide an alternative direction for our young people to take. I would welcome conversation with any employers or organisations willing to support our efforts in a similar way."

For young people, by young people
Constantly seeking to support young people in the best way possible, we took the opportunity to speak to a number of young people about what they think that support should look like.
Following some incredibly insightful conversations, we would like to say a big thank you to the young people and staff at the Advisory Centre for Education (ACE) and the Academy of Central Bedfordshire (ACB) for facilitating these discussions. 
The feedback provided will contribute to our strategic response to violence and exploitation. 
If you are working with any young people who would like their voice heard regarding the difference we can all make tackling violence and exploitation, please get in touch. 
Once finalised, we will once again be working with the artist Daniel Weatheritt to bring our strategic response to life !
Inspiring young musicians and speakers came together last month for Bedfordshire's first ever festival celebrating the contribution women of colour make to policing.
Over 100 people attended the summer festival organised by the flagship Women of Colour in Policing (WoCiP) movement.
Artists such as Ellisse A, Tilley Lockey, Pierre Makenzi and Artaca performed for the crowd at the Rufus Centre in Flitwick.

They will continue to be involved in the work through the #YoungWoCiPInfluencers movement, which aims to open up a career in policing, especially exploring specialist roles, to a whole generation of young women from diverse backgrounds.

PC Sandra Smith, Bedfordshire Police's positive action strategic lead and the founder of WoCiP, said: "I would like to thank everyone for all of their hard work in making Saturday's festival such a resounding success.
"The young people we work with have been clear that we need to do things differently in order build their trust and confidence in policing.
"The summer festival was us seeing the need for innovation in how we engage young people and giving them a platform to make their voices heard. I am sure it will have a long-term impact on their perception of policing.
"This is just the start of our WoCiP journey though, and we will continue our efforts and action to give young people a voice and ensure the next generation of police officers and staff is our most diverse and talented yet."

PCC Festus Akinbusoye supports county's HAF Programme
Bedfordshire Police and Crime Commissioner (PCC) Festus Akinbusoye is working in partnership with local authorities in Bedfordshire to support their Holiday Activities and Food (HAF) programmes this summer.
The HAF programme, funded by the Department for Education (DfE), is a holiday provision for school children from reception to year 11 who receive benefits-related free school meals (FSM).
Young people can book on to take part in activities such as outdoor and sports focussed sessions, swimming, creative activities and attend youth clubs.
To show his support, the Commissioner has funded free water bottles for every single young person attending one of the activities at each of the three local authorities in Bedford, Luton and Central Bedfordshire.
Mr Akinbusoye said: "I am delighted to be able to support and work in partnership with the three local authorities with their summer HAF programmes this summer. After putting on a successful programme last year for young people I knew it was something I wanted to support again.

"We know the benefits these type of activities can bring to the physical and mental health of young people. Giving them opportunities to attend these sessions encourages healthy choices and improves self-esteem.
"This directly links with my priorities of investing in early intervention programmes to safeguard our young people and partnership working in the community.
"I am really looking forward to attending some of the sessions in each of the three local areas".
Summer activities for young people in Beds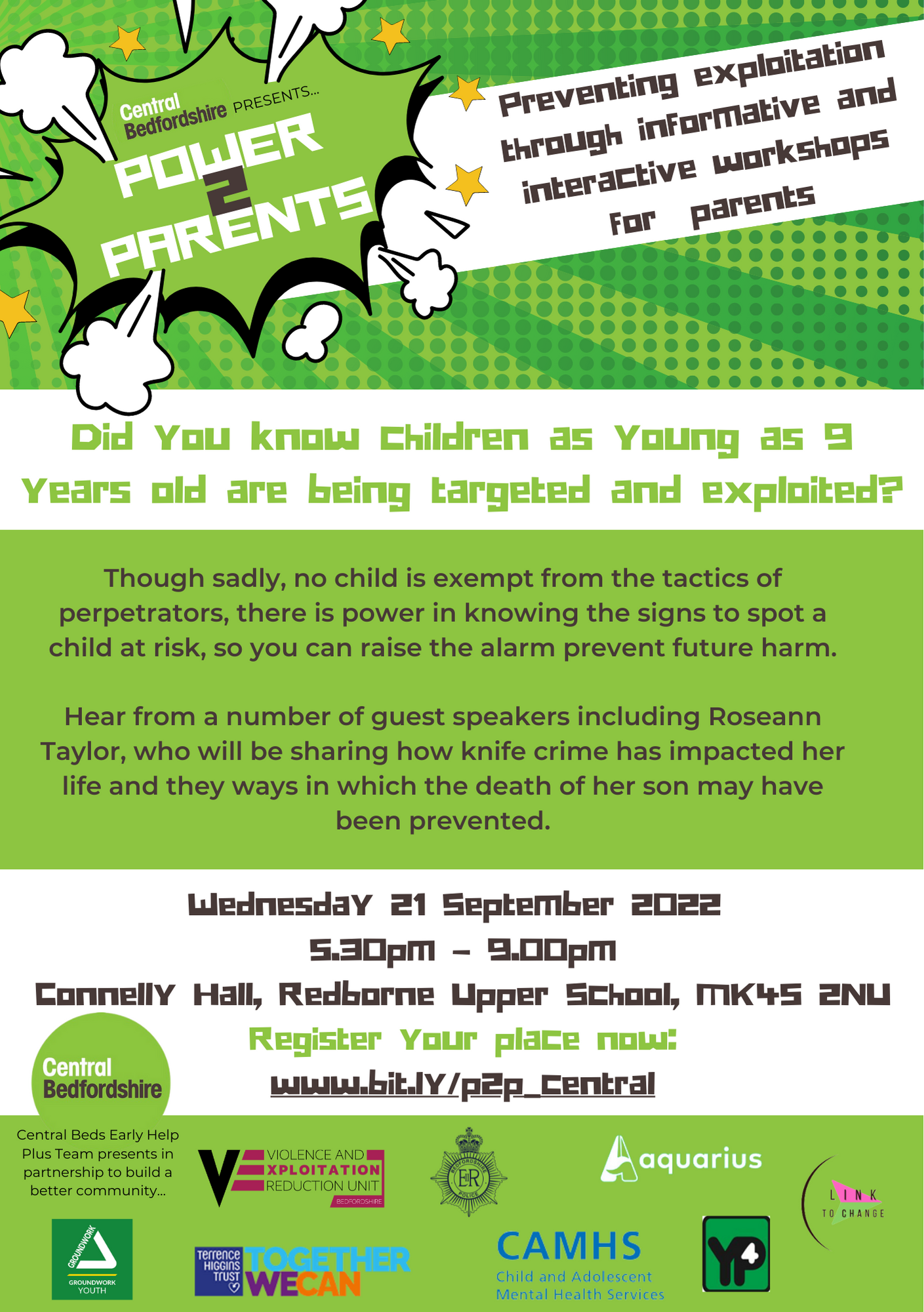 21 September
Power2Parents
Hear from a number of guest speakers as they discuss the signs to spot a child at risk, and how you can raise the alarm to prevent future harm.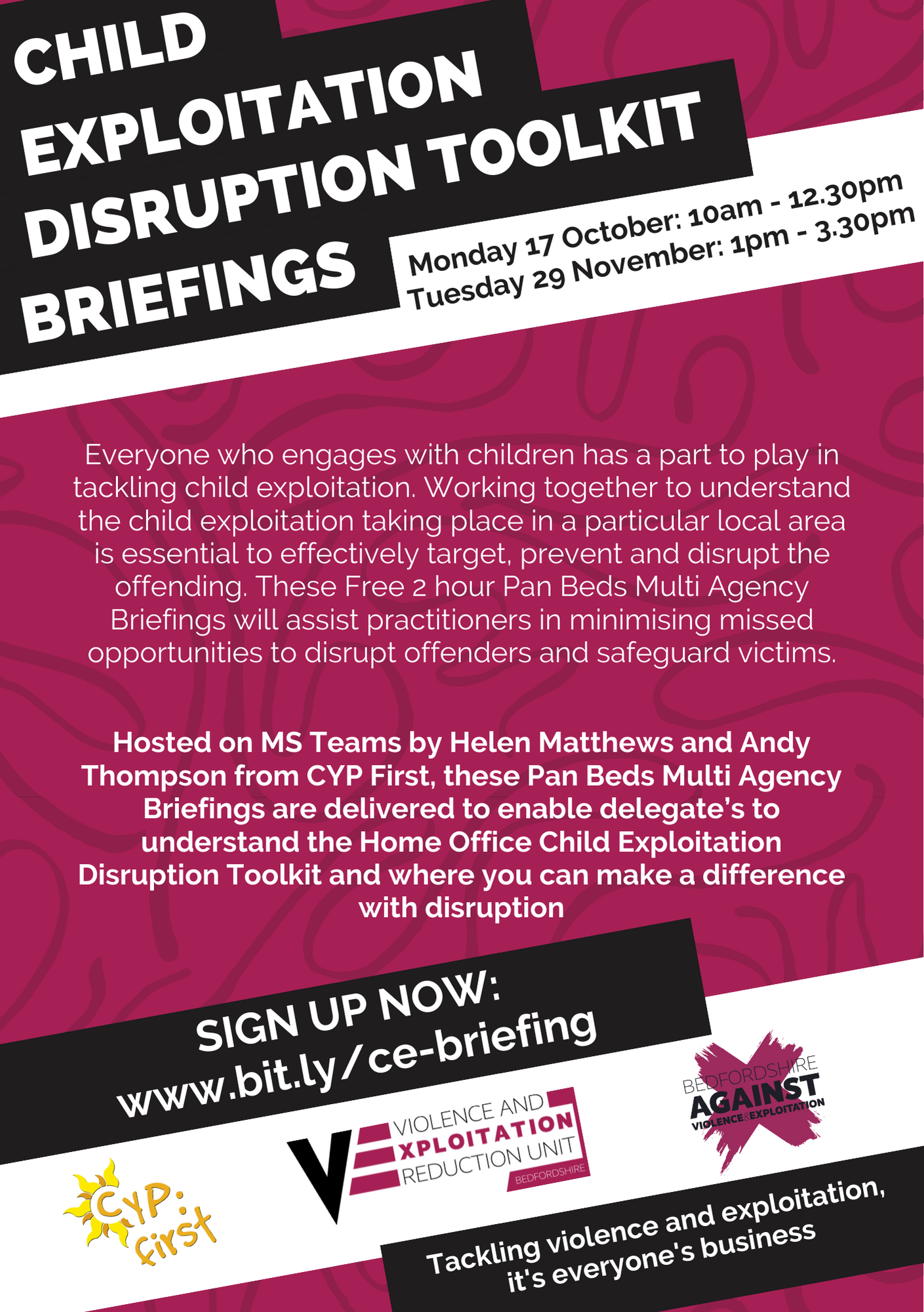 17 October & 29 November
Disruption Toolkit Briefings
Free 2 hour Pan Beds Multi Agency Briefings to assist practitioners in minimising missed opportunities to disrupt offenders and safeguard victims.
Bedfordshire Violence and Exploitation Reduction Unit
The Bedfordshire Violence and Exploitation Reduction Unit (VERU) is a network of different agencies and groups aiming to tackle the root causes of things like gang membership and prevent young people becoming involved in all aspects of gang criminality and exploitation.

[email protected]
You received this email because you signed up on our website or engaged with one of our events.
Unsubscribe