Welcome to this month's edition
Good morning, thank you for taking the time to read through this month's VERU in View.

It's great to be back! I would just like to take the time to commend the VERU team in their unrelenting efforts over the last few months. Having the opportunity to see our activity with a peripheral vision has really reaffirmed the great work that takes place within our unit and in the field as a whole.

On my return, it was my particular honour to support the OPCC's Faith Conference, where I joined the Q&A panel alongside Police and Crime Commissioner (PCC) Festus Akinbusoye, Deputy Chief Constable Trevor Rodenhurst and Chief Inspector Jamie Langwith.
The aim of the conference was to recognise the important role our faith communities play in community safety and safeguarding, better understand how we can support them, and also to share areas of closer cooperation for the benefit of Bedfordshire.
As Director, a key priority for me will be building stronger, more collaborative relationships with partners, while continuing our successes in supporting grassroots organisations to increase their reach in our communities.

There is much more to come, watch this space!
Kimberley Lamb | VERU Director
Day of Action
Summer Safety @ Bedford Academy
Last week our Youth Intervention Specialist team were invited to Bedford Academy to deliver a number of presentations and workshops to students.

The sessions provided young people with the tools and knowledge to be able to identify situations, peers and people in the community that could have a negative influence on their life.
We were touched by the feedback received on the day, along with messages of support received from teachers and pupils online.
One pupil took the time to reach out via social media saying: "I just wanted to say thank you so much for coming to our school. I feel like this has really done some good for me and all of my peers. Thank you so much for inspiring us."

We also received a wonderful poem from Year 9 student, Lily: 
young minds they seek,
fills our needs with technique's,
we try to escape a lie they made,
but we are already too deep in the pay,
a mess we made can no longer go back,
once one is dead a life that we attacked,
unsuspected killer running lose,
whilst another is in drug use
We would like to say a massive thank you to Mr. Roberts and Bedford Academy as a whole for their ongoing support and for facilitating our visit!  

The Youth Intervention Specialist team aims to encourage the reduction of Child Criminal Exploitation (CCE) and violent activities impacting young people in our community.
They provide a supportive service for educators, children, young people and their families – some of whom may be currently disengaged with services.

If you have a passion for seeing positive impact in the lives of young and vulnerable people, the VERU is the place for you. 
July 12
Voice of the Child Conference
Earlier this month Interim VERU Manager, Lisa, supported the Pan Beds Safeguarding Children Boards at the Voice of the Child Conference 2022. The conference welcomed 100 primary school children from across the county. 
Held at The Rufus Centre, Lisa joined Marianne from the Child & Adolescent Mental Health Service (CAHMS) to support the children in sharing their thoughts on how we can help them feel safe in their communities.

Key areas of discussion included
What does safe feel like?
What makes you feel safe at home?
How has Covid impacted your life?
What makes you feel safe when out and about?
What do the adults in your life need to do to make you feel safe wherever you are?
The Safeguarding Children Boards will use the findings from these discussions to inform their local response.
Lisa also attended the CAMHS School away day 16 June, to discuss the work of the VERU and support we provide. Thanks to Philippa Scott, Mental Health Safeguarding Team Project Lead, for inviting us along.
July 14
Another day with CANTereal
The VERU team enjoyed another day at the stables with the CANTereal.
The team worked together to build obstacle courses representative of the challenges faced in their day to day work. In pairs, they led a blindfolded colleague through the course, building on trust and sharing their personal experiences in the workplace.
Thank you CANTereal!
Bedford Borough Council have produced a quick guide to available support services to ensure families and young people have clear access to support and advice whilst they are not in school/college.
There can be a lot of pressure on young people at this time of year from exam results, friendship groups, social media, worries surrounding body image and health to simply not having the normal regular routine of school/college.
If you or someone you know is feeling lost, desperate or alone encourage them to speak to a trusted friend or family member, sharing how you feel can be a big step in the right direction.

YEF Toolkit - Hot spots Policing
All too often, we hear news of children who have been the victims of fatal stabbings or violent assaults. Too many young people are living in fear. And it can be because of that fear, or their experiences of exploitation, that some children end up carrying knives. This cycle must stop.
At the Youth Endowment Fund (YEF) their mission is to prevent children and young people becoming involved in violence. They do this by finding out what works and building a movement to put this knowledge into practice.

At the moment, finding out what really works is difficult. Research evidence about how best to support children is hard to find, hard to access and hard to understand. That means it's hard to make judgements about how best to support and serve children and young people.
The YEF Toolkit aims to change that.
It'll make evidence accessible and easy to understand. And we hope it will support people to routinely use evidence when they're making decisions about how to help children stay safe from violence.
The Toolkit summarises the best available research evidence about different approaches to preventing serious youth violence. It is based on real life data about what has happened when these approaches have been used before.

It provides insight on 17 different approaches, with more to be added in the future. For each approach it explains what it is, how effective it's likely to be, how confident you can be in the evidence of its impact, as well as indicative costs and links to related resources and programmes.

Last Chance: Serious Violence Duty
The public consultation of the draft statutory guidance on the Serious Violence Duty is closing on 21 July 2022.
In response to a government consultation in 2019 on a new legal duty to support a multi-agency approach to preventing and tackling serious violence, there was an overall consensus for a legislative approach to a duty. As a result, the Serious Violence Duty was legislated as part of the Police, Crime, Sentencing, and Courts Act 2022 and is a key part of the government's commitment to reduce and prevent serious violence.
This consultation seeks views on the draft statutory guidance on the Serious Violence Duty, which will be issued by the Secretary of State under section 19 of the PCSC Act 2022.

Have your say:
Summer activities for young people in Beds
Safe to Play coming to Bedfordshire
With the school holidays fast approaching, many parents will be considering sending their children to summer holiday activity schemes.
So many of these programmes are fantastic and provide excellent experiences for children. We now all recognise the value and importance of sport and physical activity for our children, especially following the prolonged period in lockdown.
However, parents and carers should reassure themselves before you send your child to any summer activity: have you done your due diligence on where you are sending your child too?
Have you asked the right questions of your provider about how they are going to keep your child safe? Do you know the right questions to ask?
To help parents with these questions, we are launching the 'Safe to Play' campaign here in Bedfordshire.
This series of videos developed by Sport England and the NWG Network help parents understand how to keep their children safe in sport and ask the right questions.
We are lucky that some of our brilliant sports clubs in Bedfordshire are supporting this initiative, alongside the likes of Bedfordshire Police, Luton, Bedford Borough and Central Bedfordshire Councils.


We all have an ongoing commitment to promote the safety and wellbeing of every child in Bedfordshire.
For more information about the campaign please visit bavex.co.uk
Those working with children and young people can find more information, resources and training opportunities through the VERU's website.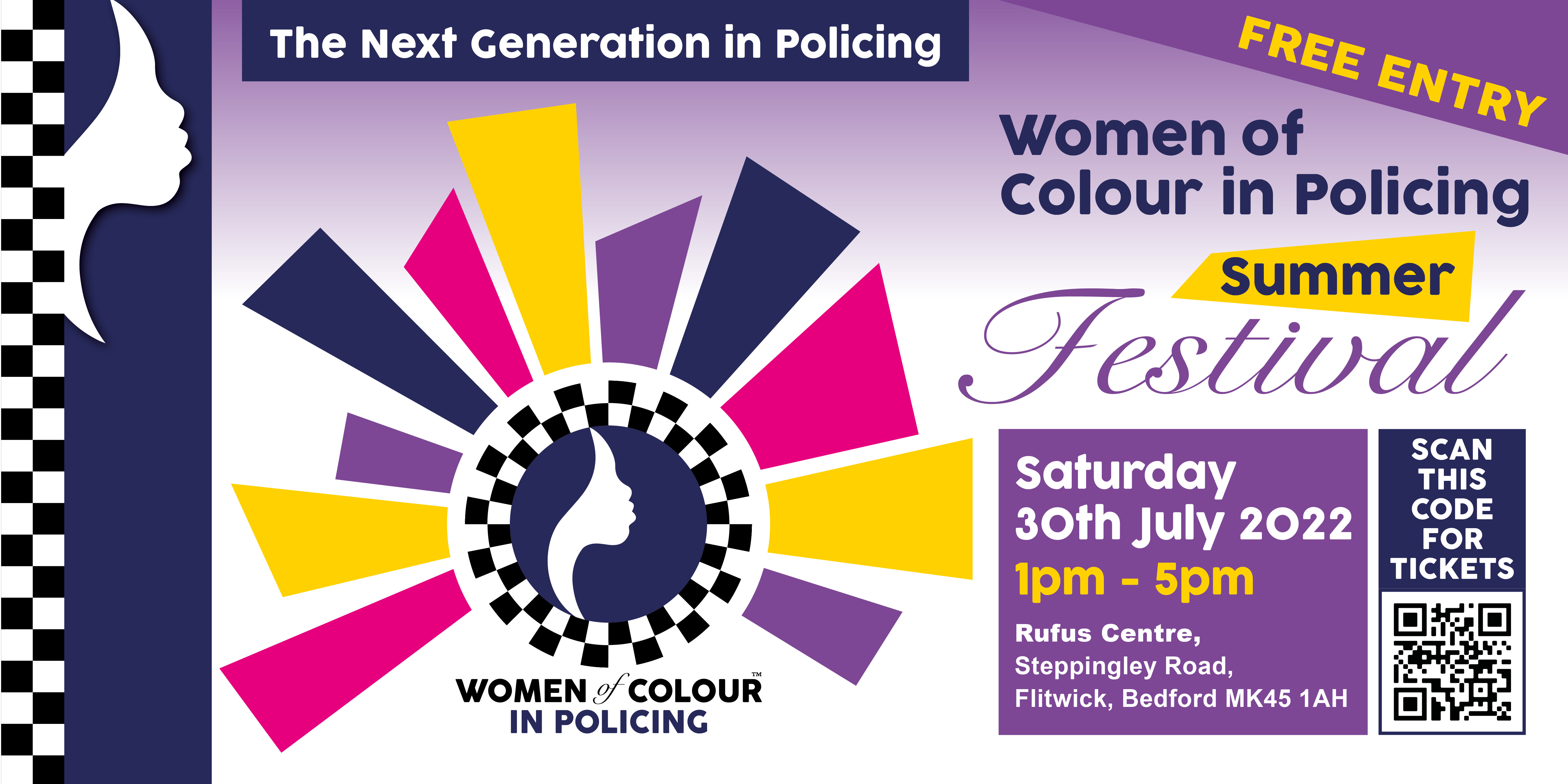 YOU'RE INVITED!
WoCiP's Summer Event to celebrate our Women of Colour in Policing, their journey and to thank our Volunteers & Allies.
The Festival will be led by the Young WoCiP Influencers – 'The Next Generation'.
The event takes place on the 30th July 2022 from 13:00-17:00 and will be jam packed! We hope to engage with the young people in our communities and on social media to help highlight new opportunities.
Artists on the day include 16 year old Ellisse 'A', a semi-finalist in Got What It Takes?, and Tilly Lockey, who won the CBBC competition series. Rising star and cultural rapper Boy Sayso, will also be playing at the festival alongside other singer song writers, Reggae artists, poets, rappers and DJs.
We welcome any feedback you have on VERU in View, please send your comments through to [email protected].
Bedfordshire Violence and Exploitation Reduction Unit
The Bedfordshire Violence and Exploitation Reduction Unit (VERU) is a network of different agencies and groups aiming to tackle the root causes of things like gang membership and prevent young people becoming involved in all aspects of gang criminality and exploitation.