Welcome to this month's edition
Good morning, thank you for taking the time to read through this month's VERU in View.
Some incredible partnership work has taken place over the last month, namely with the Office of Police and Crime Commissioner (OPCC) on the county's first ever Youth Conference, which you can read about further down.
Though some of you may already be aware, we are thrilled to announce that Kimberley Lamb will be returning to the VERU as Director of the unit.
Having launched and led the VERU for three years, Kimberley embarked on a six-month secondment late last year, to join the NPCC as Delivery Lead for the national Violence Against Women and Girls (VAWG) campaign.
Following our recent funding settlement from the Home Office, we have been able to review the structure of the VERU creating the opportunity for a full-time director, much like many other VRUs.
Kimberley's appointment will see her take over from T/Assistant Chief Constable, Sharn Basra, who held the post part-time.

Though Kimberley isn't due back until later next month, it's only right we share her thoughts on the new role.
---
A message from Kimberley
"As many of you know, this unit and the work we do is something that is very dear to me. Having led the VERU since its conception, stepping aside to join the VAWG Taskforce was a difficult decision, but an incredible opportunity that couldn't be passed up!
"I really am thrilled to be returning the unit, and though I have still been very much involved and a part of the activity that has been taking place, the time away has given me a new and more intense passion to make an impact.
"In just three years, we have made huge strides in this field and much of it is down to building strong and efficient partnerships. This approach has led to our work being noticed not only across the county, but on a national level too. We remain extremely grateful for our core and close partners.
"As I'm sure you will agree, we are now at the point where gently navigating in this space is no longer applicable. It's imperative that we as a unit and also as partners, continue to see tangible, positive changes in how we as agencies work together to protect our young and vulnerable people by tackling violence and exploitation.
"There are fantastic times ahead, and I really look forward to all that we'll achieve together."

We have no doubt that you will join us in congratulating Kimberley on the appointment!

---

As final note from me and in light of Kimberly's return;
Stepping into Interim VERU Manager was a welcome challenge and it's been a fantastic experience. I would firstly like to thank Kimberley for the opportunity and trusting me to carry on the work she started, and also thank you to the whole team for their support over these last six months.
Exploitation and our county's response remains a priority to me and I am excited to get back on track with the work that began.
Thank you all.
Lisa Robinson | Interim VERU Manager

VERU at Shared Learning Trust
Yesterday, we attended Stockwood Park Academy, Luton, to deliver a presentation to the Senior and Inclusion Leadership team.
Interim Manager Lisa Robinson, Youth Intervention Special (YIS) Team Co-ordinator, Tasha Case and YIS Workers, BAFTA award winning (read on for details) Sheldon Thomas and Roseann Taylor, shared details on our strategic approach to tackling exploitation in Bedfordshire, before discussing the unique service we offer.

We're extremely excited to see how this relationship will develop. Huge thank you the Shared Learning Trust for inviting us along.

Uprising wins BAFTA for 'Factual Series'
Earlier this week, VERU Intervention Specialist and consultant for GangslineUK LTD, Sheldon Thomas, attended the BAFTAs following his contribution to BBC documentary, Uprising.

Uprising is a three-part documentary series by director best known for 12 Years a Slave, Steve McQueen. The series focuses on the tragedy and aftermath of the 1981 New Cross fires, events that would go on to define race relations in the United Kingdom for generations to come.
Speaking in the documentary, Sheldon shared his experiences during this pinnacle time and how it shaped not only black culture in Brixton, but across London.

We're are incredibly proud of Sheldon and the groundbreaking work he continues to do across the country. Congratulations!
Bedfordshire's Youth Conference
Last month saw the VERU partner with the OPCC to welcome Year 9 students from across Bedfordshire to the county's first-ever Youth Conference.
Hosted at the Rufus Centre, Flitwick, the event saw local partners, organisations and colleagues from Bedfordshire Police share real-life, lived experiences, as well as deliver interactive educational workshops, with the aim to inspire young people to make more rewarding life choices.  
The VERU's Youth Intervention Specialist, Roseann Taylor, spoke on all three days, sharing her experiences after the tragic loss of her son, AJ, in Luton in March 2018.

Aliyah, as featured in BBC's Hidden Girls, shared her experiences of being exploited from as young as eight years-old.
Year-9 student, Nadia, from Bedford Academy said: "The story was detailed and very deep. It was very inspirational to hear the story of her life and how different it was from how we grow up. I am happy she told us; it has educated me so much about a path I do not want to take."
Bedfordshire Police's Serious and Organised Crime Manager, Liz Spurling, hosted a lively workshop with young people discussing gang crime and culture.
Speaking on the day, Liz said: "The message from me is about them being ambassadors in our local communities to help protect those most vulnerable to exploitation by gangs and serious organised crime groups."
Activities across the three-day event included:
Stop and Search and Cyberbullying workshops delivered by Montell Neufville and Att10tive

Healthy Relationships and Child Sexual Exploitation by Link to Change
Triangle of Potential by Powering your Potential
Each day ended with a performance by local rapper Warren, who was able to turn away from criminality with the support of Bedford's Youth Offending service.
Thank you to the OPCC for facilitating such a fantastic event, we look forward to next year!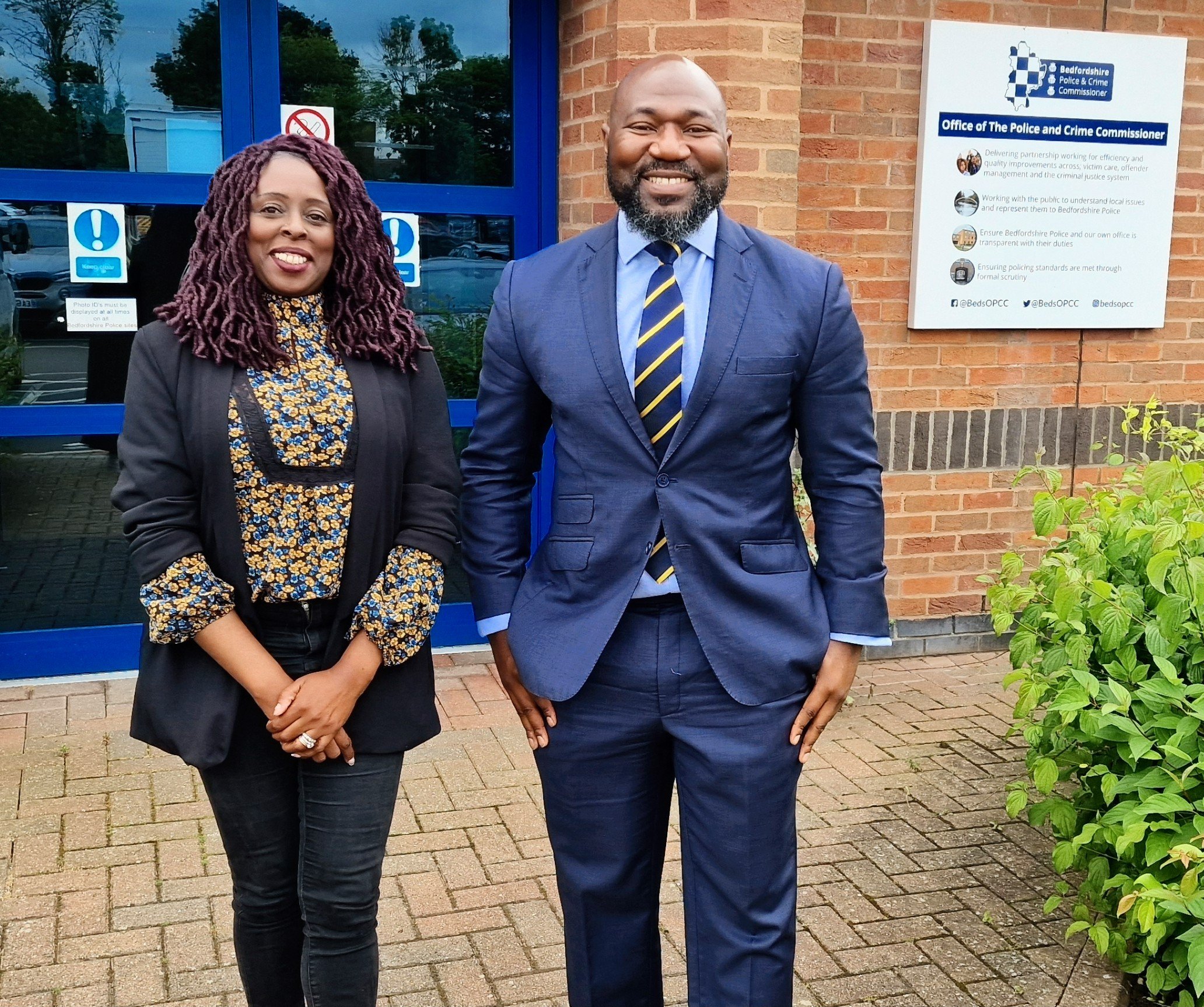 BBC Look East | May 17
Partnering with the OPCC to tackle truancy
Police and Crime Commissioner, Festus Akinbusoye and Kimberley Lamb speak to BBC Look East about our new joint initiative that will address and combat school absences.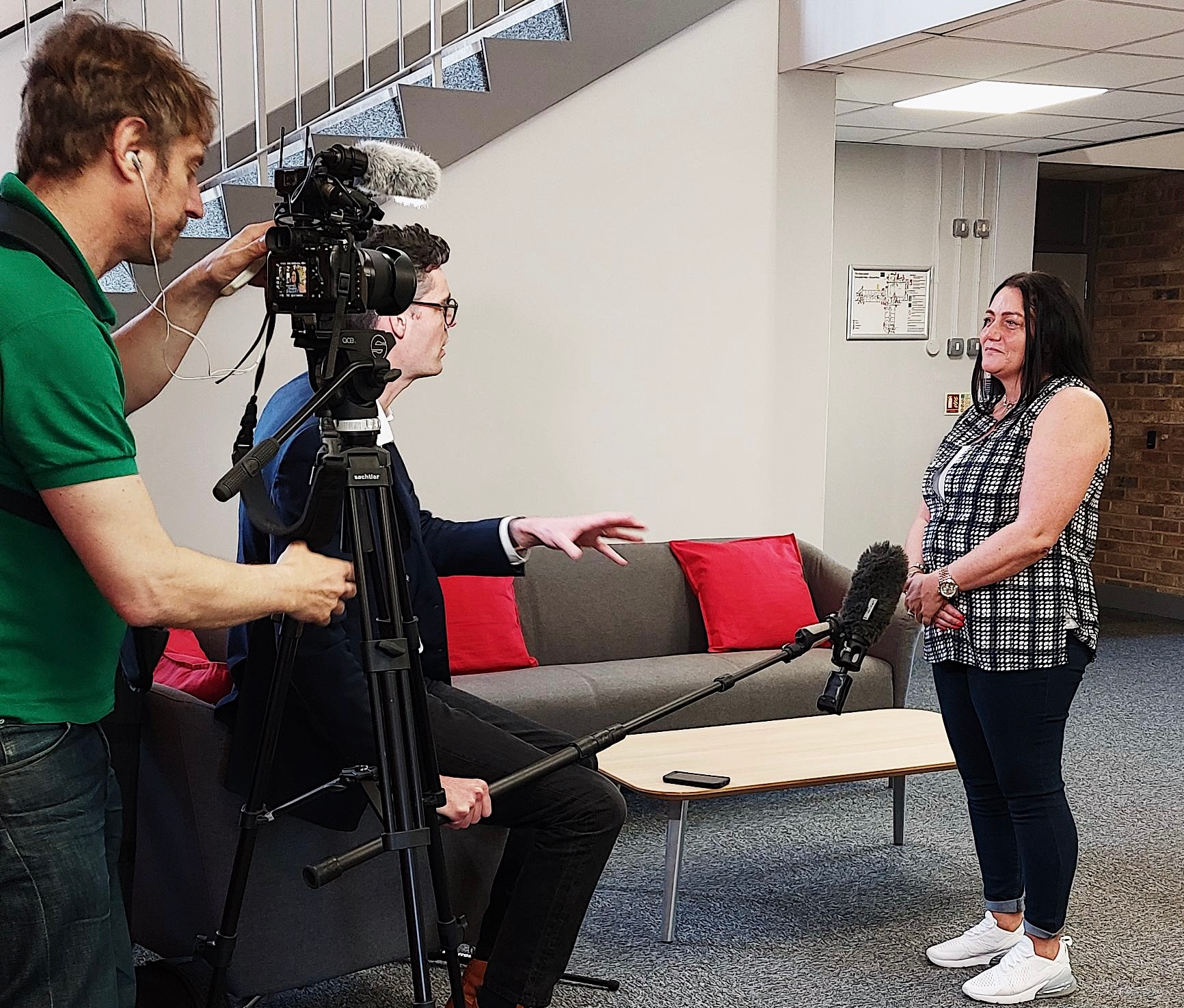 BBC Look East | May 18
Bedfordshire's first ever Youth Conference
Continuing their focus on knife-crime and preventative measures, BBC Look East joined us and the Youth Conference. 
A day at the stables with CANter
Last month we had the pleasure of visiting CANter - Equine Assisted Learning & Psychotherapy (CANtereal) for our team way day.
CANtereal provide equine assisted therapeutic intervention to support children, young people and adults that are experiencing emotional, social and mental health difficulties.
The certified practice takes place in an outdoor setting, using a variety of equipment to tackle tasks and activities, all designed to achieve a specified goals.
Aside from their individual support, the VERU team were able to participate and benefit from CANtereal's self-development and team building programme.
It was an extremely emotive day, that saw the team overcome obstacles and apprehensions while developing together.
We would like to say a huge thank you CANtereal for having us, and look forward to returning soon.
"Initially, I was apprehensive, but excited about the day. I was surprised at how allowing myself to be vulnerable could have such an impact on my wellbeing. I am still quite overwhelmed by the experience. The day taught me a little more about myself and how I interact with others.
"Suzanne and Denise at CANtereal are amazing. I can see how they make a real positive difference in people's lives, it was a privilege to experience it for myself. Thoroughly enjoyed!"
VERU Business Support Assistant, Dee Bailey
It was an amazing and thought provoking experience, which I personally found quite overwhelming emotionally, but oddly enough, it brought a real sense of peace at the same time. On behalf of the entire team, I would like to say a big thank you to Suzanne and Denise for sharing their service and beautiful horses with us.
Interim VERU Manager, Lisa Robinson
Summer activities for young people in Beds
We're pleased to share the first version of our Summer Activities Calendar, click the image below to see the document in full.
We'll be updating the calendar regularly, so please continue to send through events and workshops you are delivering over the holidays.

Friday 17th June
Two days until the Link to Change open day
It's all systems go over at Link To Change as they prepare their office and team ahead of their Open Day on the 17th June.
It's going to be a great day, with food, games, a raffle and even the chance to test your DJ skills....best of all there is still time to joint the fun!

If you haven't RSVP'd already, email [email protected]. See you there.
Monday 11th July - Tuesday 12th July
Youth Climate Conference, #YCC2022
Youth Network are aware that #ClimateChange is real and has already had a huge impact on our world for the worse over the past few decades. They are encouraging the community to get involved and ensure we can have the knowledge, skills and actions to make our world a better place right now and for future generations.

#YCC2022 will be led by young people including events coordination, workshop facilitation and speakers, - supported by their Conference Partners and hopefully with attendees input too!
It will take place at Stockwood Discovery Centre on Monday 11th July for those aged 11-18 and Tuesday 12th July for those aged 18-25.
For more details or to book a space for a young person, click the button below.
We welcome any feedback you have on VERU in View, please send your comments through to [email protected].
Bedfordshire Violence and Exploitation Reduction Unit
The Bedfordshire Violence and Exploitation Reduction Unit (VERU) is a network of different agencies and groups aiming to tackle the root causes of things like gang membership and prevent young people becoming involved in all aspects of gang criminality and exploitation.