Welcome to this month's edition
Good morning! April was another great month for the VERU and partners.
Earlier this month, we had the pleasure of welcoming Youth Endowment Fund Executive Director, Jon Yates, to HQ. Jon heard directly from our incredible team including our YIS Team Coordinator Tasha Case and Lead Public Health Analyst Ade Abitoye, before JP, from Boxing Saves Lives, joined us virtually to talk about his work with the VERU. A huge thank you to Jon for joining us, the team for their work and of course the wonderful JP for making time to speak to us.

Also this month, I was delighted to join Central Bedfordshire's Exploitation and Missing Coordinator, Mia Tomlinson, in delivering a briefing to GP's on Exploitation & Contextual Safeguarding. We have a number of sessions booked throughout the year, which I'm looking forward to. I would like to extend my thanks to Mia for her support and the GP's for attending the briefing.

Looking forward, the team and I are excited to attend and speak at the first ever Youth Conference later this week, hosted by Police and Crime Commissioner, Festus Akinbusoye. We're extremely honoured to have been able to make contact with and invite Aliyah Morgan to share her experiences at the conference too. Late last year Aliyah featured in BBC documentary, Hidden Girls, which highlights the unseen life of young girls groomed and exploited by criminal gangs. This is a fantastic initiative that the Commissioner has committed to, and we're confident it will have an incredible impact on the young people across our county.
Finally I would like to say a huge thank you to Link to Change for partnering with us on a number of school deliveries. During these inputs, Link to Change reached more than 1000 students over the course of 22 sessions that covered Online Safety, County Lines, CSE and CCE, as well as Gang and Exploitation awareness. Amazing work!
I hope you enjoy reading through this months VERU in View.
Lisa Robinson | Interim VERU Manager
Is This Ok? with Sara Rowbotham
We had a great time welcoming back Sara Rowbotham, as she shared her experiences exposing the Rochdale Sex Abuse Ring and talked through her latest project Is This Ok?
For those that we're unable attend, click the button below to watch it back.
Summer Activities for Young People in Beds
As we approach the summer months, we also approach a critical time where violence in the community sadly increases.
In and amongst a wide range of activities that we'll be engaging in to tackle this, we would like to produce a countywide activities calendar to share with our young people and local community. 
Please use the link below to detail you summer programme, we hope to share this ahead of the summer holidays.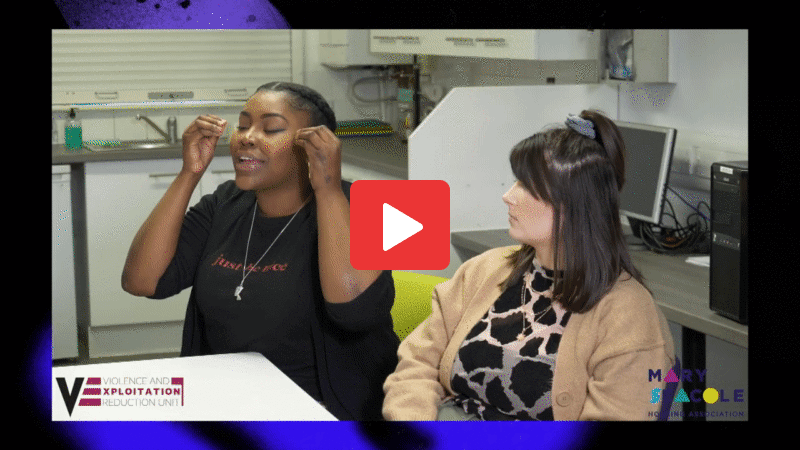 VERU Youth Voices podcast Ep. 6 - Same 24 Hours
'We all have the same 24 hours in a day'...but do we have the same access to same opportunities?
Our VERU Youth Voices panel sit down and hash out comments made by former Love Island contestant, Molly-Mae Hague. This is the sixth episode from VERU Youth Voices, where the panel sit down to discuss topics affecting young people today. 
This project is delivered in partnership with Mary Seacole Housing Association.
This is the last episode of VERU Youth Voices Season 2...more to come, stay tuned!

Central Beds Tree Project is back...
You can expect to see the Central Bedfordshire Tree project out and about in the community again next month.
Replicating the successful approach that was pioneered in Luton, the TREE project – Tackling, Reducing and Ending Exploitation – sees youth and charity workers team up with police officers to conduct joint outreach work across the district.

The aim is to engage with young people and the wider community and signpost people to support services.
The project in Bedford and Central Bedfordshire is led by the Bedfordshire Youth Offending Service, part of both Bedford Borough and Central Bedfordshire councils, and funded by the Bedfordshire Violence and Exploitation Reduction Unit (VERU).

Upcoming dates & locations:
06/06/22 - Grove Gardens | Dunstable College | Asda
11/06/22 - Flitwick Fun Day
15/06/22 - Sandy Secondary School
23/06/22 - Bedford Academy | Jubilee Park

27/06/22 - Grove Gardens | Dunstable College | Asda

6/07/22 - Sandy Secondary School
09/07/22 - Leighton Linslade Carnival
14/07/22 - Bedford Academy | Jubilee Park
23 & 24/07/22 - Bedford River Festival
Supporting the Youth Endowment Fund
As part of the Youth Endowment Fund's Annual Report, the Crest Advisory has commissioned by YEF to conduct a poll that looks at youth crime and violence.
As well as polling a representative sample in England and Wales, the YEF are also undertaking purposive sampling through Violence Reduction Units and are keen to reach more young people, particularly those with experience of violent crime.
For further details on the research and the link to the survey, click the button below.
Champions Is This Ok?
We want to create an army of champions for 'is this ok?' and we are seeking your views about what that might look like.
We are looking for young people to sell, support, promote, defend and champion the 'Is This OK?' service.
Safeguarding Bedfordshire: Have your say
Safeguarding Bedfordshire are carrying out a review of their training offer.
Safeguarding Bedfordshire would like to hear from practitioners across the county, about their learning needs and experience of training they provide.
The survey should take less than 10 minutes to complete. If you are happy to be contacted to discuss your feedback further, please provide your contact details for a chance to win a free full day training place (or 2 half days) for you or a member of your team. 
| | | |
| --- | --- | --- |
| | | Coming up across the county... |
PCC invites schools to become part of the solution in reducing crime in Beds
This will be a first Youth conference hosted by the OPCC, where the aim is to youths who would like to be part of the solution in reducing crime in Bedfordshire, and to help support those at the risk of offending.
Local partners, organisations and colleagues from Bedfordshire Police have been invited to deliver inspirational and educational talks to the young people, to encourage them to consider healthy choices away from crime.

They will hear from guest speakers that will speak about their lived experience and while covering:
How to report crime
County Lines – Spot the Signs
Domestic Abuse and how it can affect the whole family
How to avoid getting involved in crime
Event information
The event will be split by locality to ensure as many schools get the chance to attend as possible.
Dates:
Central Beds – Wednesday 18th May 2022
Bedford – Thursday 19th May 2022
Luton – Friday 20th May 2022
Time: 
Venue: 
The Rufus Centre, Steppingley Road, Flitwick, Beds, MK45 1AH
If your school is interested in attending, reserve tickets here: https://www.bedfordshire.pcc.police.uk/opccs-youth-conference-2022/

We welcome any feedback you have on VERU in View, simply reply to this email to share your comments.
Bedfordshire Violence and Exploitation Reduction Unit
The Bedfordshire Violence and Exploitation Reduction Unit (VERU) is a network of different agencies and groups aiming to tackle the root causes of things like gang membership and prevent young people becoming involved in all aspects of gang criminality and exploitation.