Welcome to my new regular newsletter from Jill of Bow-EMM Therapy
View in browser
You have previously subscribed, if you no longer want to receive it then please Unsubscribe here 
Hi 

How are you doing? I hope you are well and coping with our lovely British summer 🌦️💨😉
I feel very out of sync this year, I guess because we've had quite a lot to deal with - we're enjoying our new place including our little garden area that catches the sun on a morning - I'm developing a new habit when it's dry sitting out there with my first coffee of the day.  We still have quite a lot of stuff to sort out but it feels like it's really coming together now, which is a good job as we're off to Wickham Festival in a few days.
At least we got a lot of our event kit sorted out when we moved, and I'm finally getting myself into gear for the camping & catering we'll need to do while there; we hope we're sited in a better position this year and get to assist a lot more festival goers as well as see a few bands.

At the end of August we'll be at Victorious Festival, which will be fun now we're living so much closer to Southsea common - we're can't  camp there but can take a very short walk home to our own bed & bathroom - an ideal festival in my opinion!
Festival dates are as follows  -

Wickham Festival 3rd-6th August 2023
Victorious 25th-27th August 2023 😀
We are available for sessions at the Grove Centre which you can book with me online, or contact Paul on 07764488329 directly to book your appointment.


Until next time - Jill 🙂
07740190721

Scroll down in this email for :-

Session availability & booking

EMM-Tech Courses in Portsmouth
EGift Cards

Session availability & booking
We are now offering two session types which we also offer at events:-
Combined EMMETT & Bowen Therapy (our original session) and/or EMMETT Advanced Lymphatics, to address you specific needs. (fabulous for regular maintenance sessions)
EMMETT Technique targeted short single issue session (previously only available at events)
We aim to make a positive difference for you in every session

Book with Jill ONLINE - mobile 07740190721 - email [email protected]

Book with Paul on 07764488329 - email [email protected]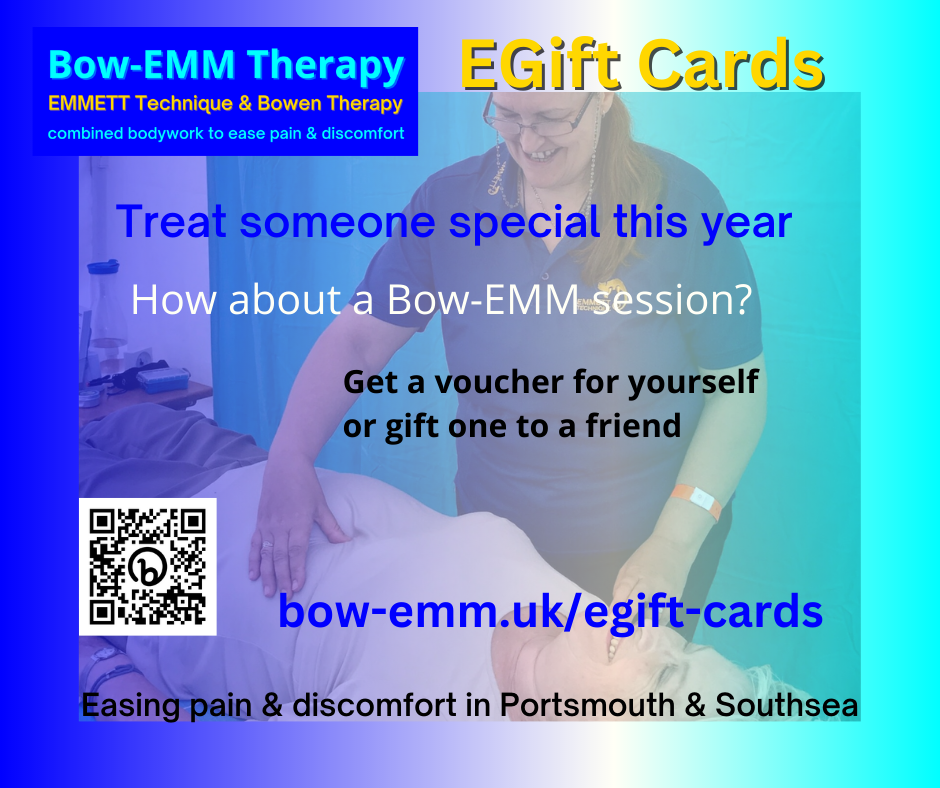 Give the gift of Bow-EMM therapy
If you want to gift someone (or yourself) a session (or even an EMM-Tech course) then an EGift Card is for you!
Choose from an array of designs for any occasion, add the amount you want to gift, then email or print out the card in the comfort of your own home!
Jill Dagless t/a Bow-EMM Therapy,
c/o The Grove Centre, 15 Osborne Rd, Southsea. PO5 3LB
United Kingdom
07740190721
[email protected]
You have previously subscribed to Bow-EMM newsletter, via a sign-up form, a client intake form or at an event
If you no longer want to receive it then please  click unsubscribe below:-
Unsubscribe