Welcome to Novembers newsletter from Jill of Bow-EMM Therapy
View in browser
You have previously subscribed, if you no longer want to receive it then please Unsubscribe here 
Hi 


I hope this finds you well and coping with this changing weather ☔️ I've been feeling the cold and glad to have a regular treatment from Paul to keep me comfortable..

The header image is from the Museum of the Moon exhibition we visited in Fratton last November, we enjoy going out to the light festivals in Portsmouth in recent years.  There are fireworks on Southsea Common this year on 1st November, (although the weather might have other ideas!) I enjoy firework displays but am also aware that that our pets don't so I'll be using EMMETT Recovery move on our cat if he seems to be getting stressed - you too can learn this here for both animals and humans!

It's a good time to have your seasonal body MOT & Service in preparation for Winter, you can book with me online, contact me on 07740190721, or contact Paul on 07764488329 directly to book your appointment.

Until next time - Jill 🙂
07740190721

Scroll down in this email for :-

More about Halloween / Samhain

Session availability & booking

EGift Cards

I find this time of year very interesting...
From the time when I used to hold open house parties for friends I've been fascinated by celebrations at this time or year, not so much with Halloween, however Samhain resonates more with me - 
Samhain, pronounced "sow-in," is a Gaelic festival with its roots in Celtic and Druidic traditions. It is celebrated on the night of October 31st and continues into November 1st. Samhain is considered one of the four major Celtic festivals, along with Imbolc, Beltane, and Lughnasadh, and it has a rich history and symbolism. Here are some key aspects of Samhain:

1. **Historical Origins**: Samhain has ancient Celtic and Druidic origins, and it marks the end of the harvest season and the beginning of winter. It was a time to take stock of the year's harvest and prepare for the colder months ahead.

2. **Thin Veil Between Worlds**: In Celtic mythology, it was believed that during Samhain, the veil between the physical world and the spirit world was at its thinnest. This allowed spirits and fairies to more easily cross over into the human realm. As a result, Samhain has strong connections to the supernatural and the afterlife.

3. **Bonfires**: Lighting bonfires was a common tradition during Samhain. The fires were thought to ward off malevolent spirits and offer protection to the community. It was also a way to symbolize the transition from the light half of the year to the dark half.

4. **Masks and Costumes**: Some sources suggest that ancient Celts may have worn masks or disguises during Samhain to confuse and ward off any wandering spirits. This practice could be seen as a precursor to modern Halloween costumes.

5. **Harvest Celebrations**: Samhain was a time for feasting and celebrating the harvest. People would gather and share food, and it was a time for community and family gatherings.

6. **Honoring the Ancestors**: Samhain is a time to remember and honor deceased ancestors. People often set places at the table for them and may leave out offerings of food or drink for the spirits.

7. **Divination and Prophecy**: Samhain was considered a powerful time for divination and looking into the future. People would often engage in various forms of fortune-telling, such as reading tea leaves or using Ogham staves.

8. **Christian Influence**: In the 9th century, the Catholic Church established All Saints' Day (All Hallows' Day) on November 1st, and All Souls' Day on November 2nd. These Christian holidays were placed around the same time as Samhain, which led to the integration of some Celtic traditions into the Christian observance. The night before All Hallows' Day became known as All Hallows' Eve, or Halloween.

Today, Samhain continues to be celebrated as a time for reflection, paying respects to the deceased, and connecting with the spiritual world. In many ways, it serves as a bridge between the ancient Celtic traditions and the modern Halloween holiday, which has incorporated elements from various cultures and traditions over the centuries.

Until next time

Jill 🙂


Session availability & booking
We are now offering two session types which we also offer at events:-
Combined EMMETT & Bowen Therapy (our original session) and/or EMMETT Advanced Lymphatics, to address you specific needs. (fabulous for regular maintenance sessions)
EMMETT Technique targeted short single issue session (previously only available at events)
We aim to make a positive difference for you in every session

Book with Jill ONLINE - mobile 07740190721 - email [email protected]

Book with Paul on 07764488329 - email [email protected]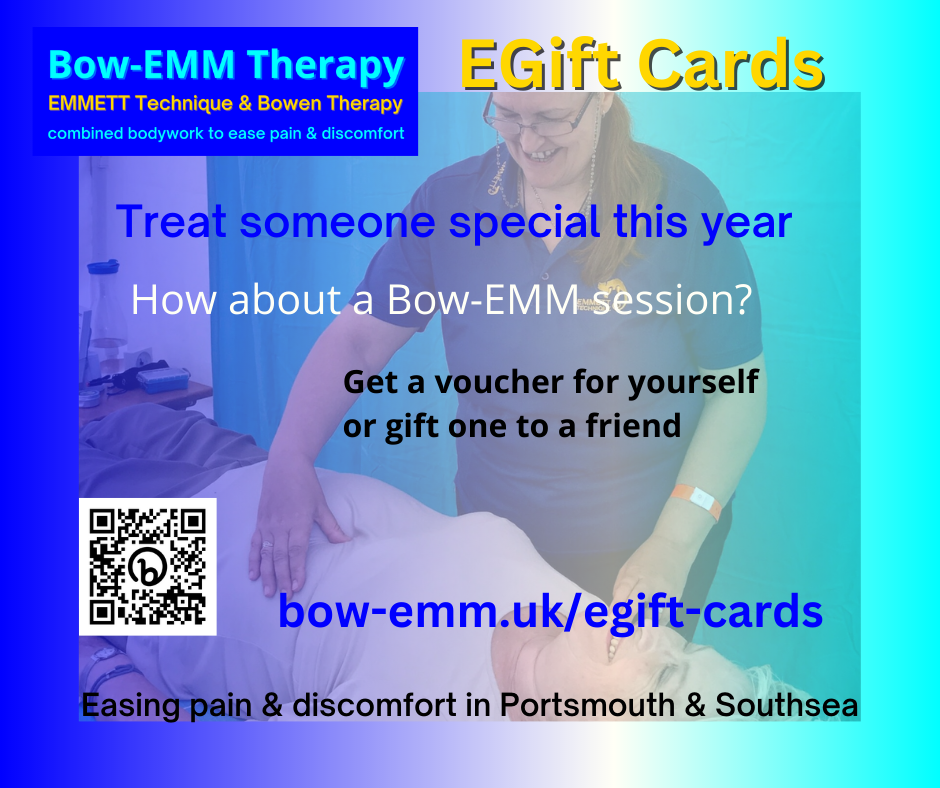 Give the gift of Bow-EMM therapy
If you want to gift someone (or yourself) a session then an EGift Card is for you!
Choose from an array of designs for any occasion, add the amount you want to gift, then email or print out the card in the comfort of your own home!
Jill Dagless t/a Bow-EMM Therapy,
c/o The Grove Centre, 15 Osborne Rd, Southsea. PO5 3LB
United Kingdom
07740190721
[email protected]
You have previously subscribed to Bow-EMM newsletter, via a sign-up form, a client intake form or at an event
If you no longer want to receive it then please  click unsubscribe below:-
Unsubscribe