As 2023 kicks off, geopolitical forces continue to exert outsized influence on the outlook, from increased US-China tensions following wayward "balloons" floating above US airspace, to efforts to project a trans-Atlantic show of unity at the annual Munich Security Conference last week, as the one-year anniversary of Russia's catastrophic invasion of Ukraine approaches on February 24th. Given the Kremlin's historic tendency to mark such grim anniversaries with redoubled military efforts, a "Spring offensive" is likely to follow soon.
Fordham Global Foresight is approaching its first anniversary in April, and there is much to report as we move to meet increased demand for geopolitical advisory services for boards and the C-suite, as business leaders look to adapt to the long-term prospect of a more volatile business and investment environment. I'm pleased to announce that Martyn Brush has joined FGF as a senior independent board advisor, bringing his deep experience in markets and finance, including as a UK banking CRO, to our expansion efforts. You can contact Martyn directly on [email protected].
In this edition of our newsletter you will find invitations to two events, one virtual and one hosted at London's Conduit Club in conjunction with the Trouble Club. See below to register and join. You can also see clips of my latest interviews on the business implications of the Munich Security Conference on Bloomberg and a discussion on women in the economy convened by the Coalition for Global Prosperity plus other news, including that I will be joining Forbes as a contributor on geopolitics and Leadership Strategy. I'll be filing my first piece soon, and hope that you will follow me and share your thoughts and story ideas!
Please get in touch if you would like to organise a briefing for your team, a geopolitical presentation for your next offsite, board meeting, or client event, or have special projects we can help with.
Your comments and feedback are welcome and appreciated as ever.

Best wishes,
Tina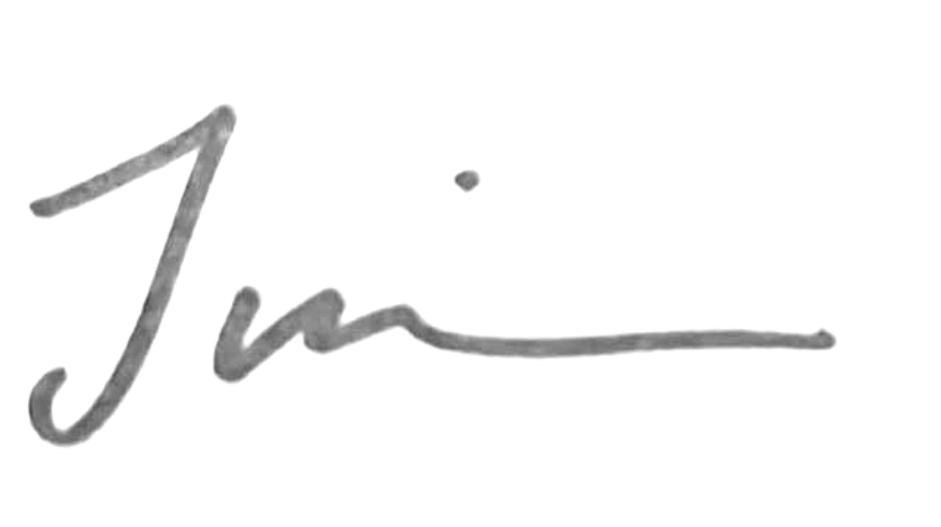 Upcoming Event:  Friday 24 2023 
"One goal for Munich: To project unity on Ukraine to the Kremlin" 
-The most important objective of the Munich Security Conference is to project a show of unity and strength to Moscow as we approach the one year anniversary of the Russian invasion
-The secondary effect will be communicating the solidity of the Trans-Atlantic relationship to Beijing, which takes on heightened importance in light of last week's balloon incidents.
-Important message for US investors who have assumed that the negative effect upon energy prices in Europe and the cost of living would quickly lead to a demand to a reversal of sanctions and a decline in unity. While some to-ing and fro-ing, this has not happened.
-Even so, we should be prepared for a nasty Spring offensive in Ukraine on the already suffering and beleaguered Ukrainian population.
-Investors should also take note of the hostile rhetoric coming out of China over the balloon incidents—not consistent with widespread expectations for a reset to the relationship.
-Sanctions will continue to be the weapon of choice, but expect below-threshold actions to ramp up
Extremely pleased to now be a contributor to Forbes on Leadership Strategy. 

Please come along and follow me at my handle TFordham on Forbes and feel free to send me story ideas here. 
Feb 08 2023: The Global Britain Summit
Being a Woman is a Development Superpower
I recently took part in the Global Britain Summit at RSA House, Westminster. This full day conference explored how Britain can continue to be a leading force for good in the world through a series of panels discussing the biggest challenges of our time. I had the pleasure of speaking on a panel entitled "Being a Woman is a Development Superpower".
In my remarks I highlighted the risk that our appetite for international engagement is diminished as we contend with the fallout of the pandemic, recession and Brexit, and feelings of helplessness in the face of global conflict and dislocation in Ukraine, Afghanistan and most recently, the immense tragedy of the earthquake in Turkey and Syria.
We must resist the temptation to turn inward, and keep investing in global cooperation, building sound institutions, promoting respect for human rights and rule of law and yes, recognising that the participation of women and girls in education and the economy is transformational. Not just because it's the right thing to do, but because it's the smart thing to do, as has been said.
Many tools and frameworks already exist outlining how to activate the multiplier effect for families, communities and countries through increasing women's economic empowerment, including our work on the UN High-Level Panel which you can find here.
Prosperant, the legal world's leading management consultancy, is pleased to announce that Tina Fordham, geopolitical strategist to global investors and the C-Suite, joins the firm as a principal senior adviser today. Fordham, an industry leader in the field of geopolitical analysis and its implications for the business and investment environment, was previously at Citi for 17 years, where she was the first Chief Global Political Analyst on Wall Street and established a loyal client base in the UK and globally.  Read the full press release here
Upcoming Event April 3 2023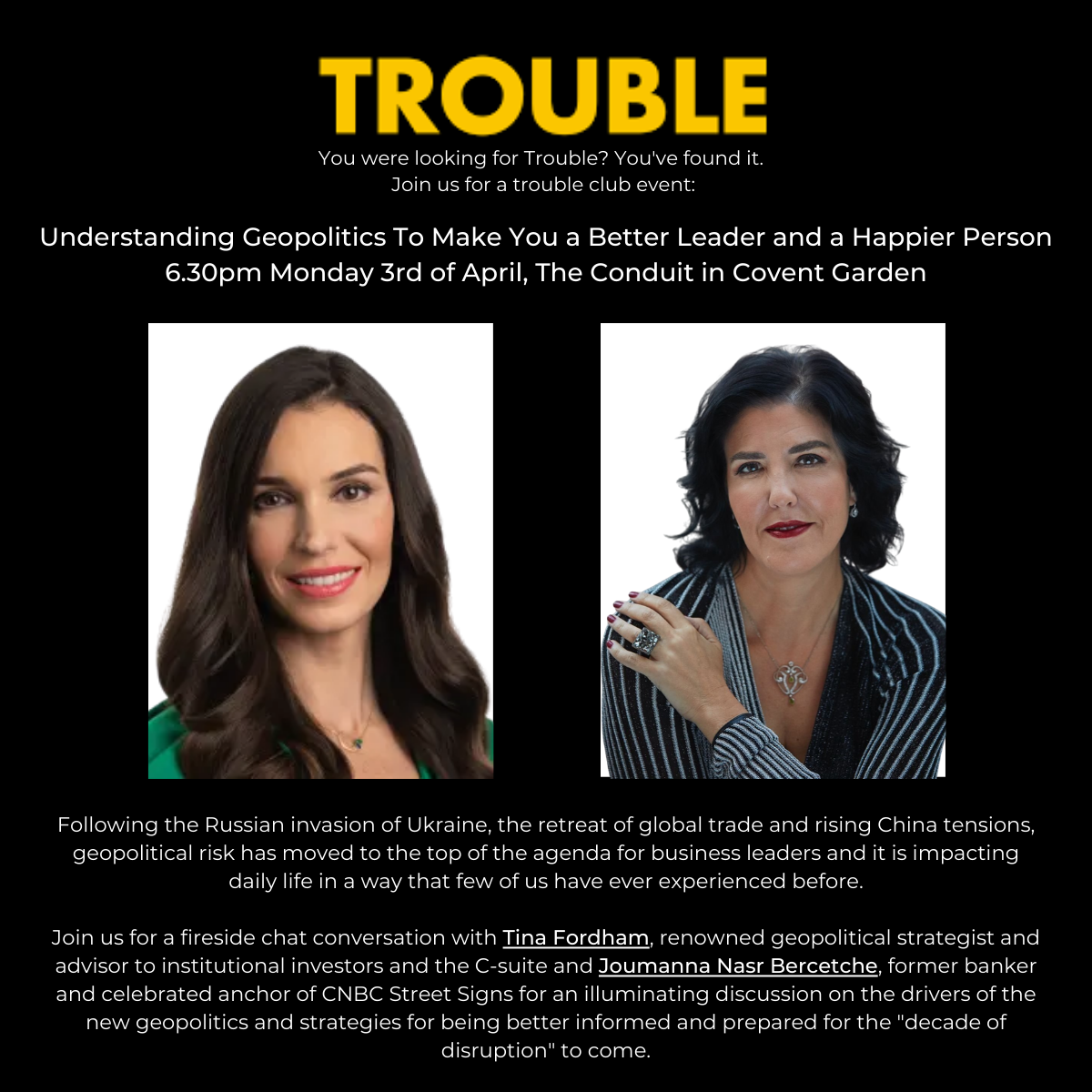 Understanding Geopolitics To Make You a Better Leader and a Happier Person
The Conduit Club, Covent Garden
April 3 2023 at 6:30pm

Members: Live ticket £5, Virtual Ticket £0, Book Here
Non-members: Live ticket £30, Virtual Ticket £15
This Conduit Club has disabled access.
Photo: Walter Meayers Edwards
One of my favourite accounts on @Instagram is @Medievalart, which recently featured this photo. These fascinating objects are constructed from coconut fibres and shells, and were the ingenious designs produced by ancient mariners in the Majõl (Marshall Islands) of Micronesia, depicting cross-currents and ocean swells, with the shells representing islands. The sailors would memorise the information contained as they navigated the treacherous waters,and date back to 1000 CE, though were in use as recently as WWII. Sometimes referred to as "stick maps" (though no sticks are involved), their conceptual design and creativity resonated with me given how often I say that we don't have a map to help us chart a course through the current configuration of forces that have been unleashed. To me, they illustrate the boundlessness of the human imagination when it comes to rising to challenges by creating new tools—exactly what we need to do now

Latest Views from Fordham Global Foresight
Fordham Global Foresight is a start-up-female-run business. Feel free to share this email and recommend us to your network. 
Get in touch if you'd like to request a consultation or book a global political outlook briefing or client engagement. 

For more information about Fordham Global Foresight and what we do please visit our website 

71-75 Shelton Street, London
United Kingdom