Cultivating the Power of Partnerships in the Illinois Valley
IVCanDO HIGHLIGHTS
Here at IVCanDO we love where we live - the natural areas that surround us, the people, the organizations we partner with - and we seek out reasons to be good stewards to our community. That's why we were so excited to support local volunteers in trash cleanup, invasive species removal, and stewardship education in May! 
We 💚 Our Parks, our annual event at Forks State Park, was a great success, bringing in volunteers to help remove scotch broom, clean up trash, and learn about all the different features of the park. 
The Friends of Old Stage Park group also hosted a clean-up day at the site in partnership with the City of Cave Junction and IVCanDO. Many groups, both local and out-of-town, came by to pick up trash around the 40-acre park.
Bravo to each and every person who came out to volunteer, spread the word, or donated to the cause. Seeing these clean-up efforts happening to ensure our beautiful home stays beautiful is a perfect example of "The Power of Partnerships" in action!
If you are interested in supporting the work that IVCanDO is doing to host and sponsor these clean-up efforts, please consider a donation. Donations can help cover costs associated with making these events happen and becoming a sustaining supporter is the BEST way to do it!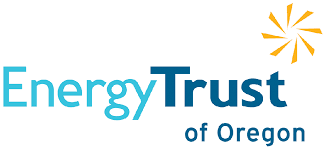 Free Home Energy Assessments with Illinois Valley Community Development Organization!
Illinois Valley Community Development Center (IVCanDO) and Energy Trust of Oregon are partnering together to help residents of the Illinois Valley save on their energy bill.
Energy Trust is a nonprofit committed to helping people upgrade to cleaner, more affordable energy improvements in their homes and businesses. Customers of Pacific Power and Avista can use Energy Trust's cash incentives, resources, advice and statewide connections to help achieve their goals: homes that are safer and more affordable to live in, the ability to adapt in the face of natural disasters, and economic vitality for businesses and communities. Home upgrades like insulation, new windows, efficient heating systems and hybrid water heaters can increase the comfort of your home and save you money on your energy bills.
Through this partnership, IVCanDO now offers free home energy assessments for qualifying customers of Pacific Power and Avista, with the potential to receive incentives for energy efficient upgrades. For more information or to see if you qualify, call 541-415-1519 or email [email protected].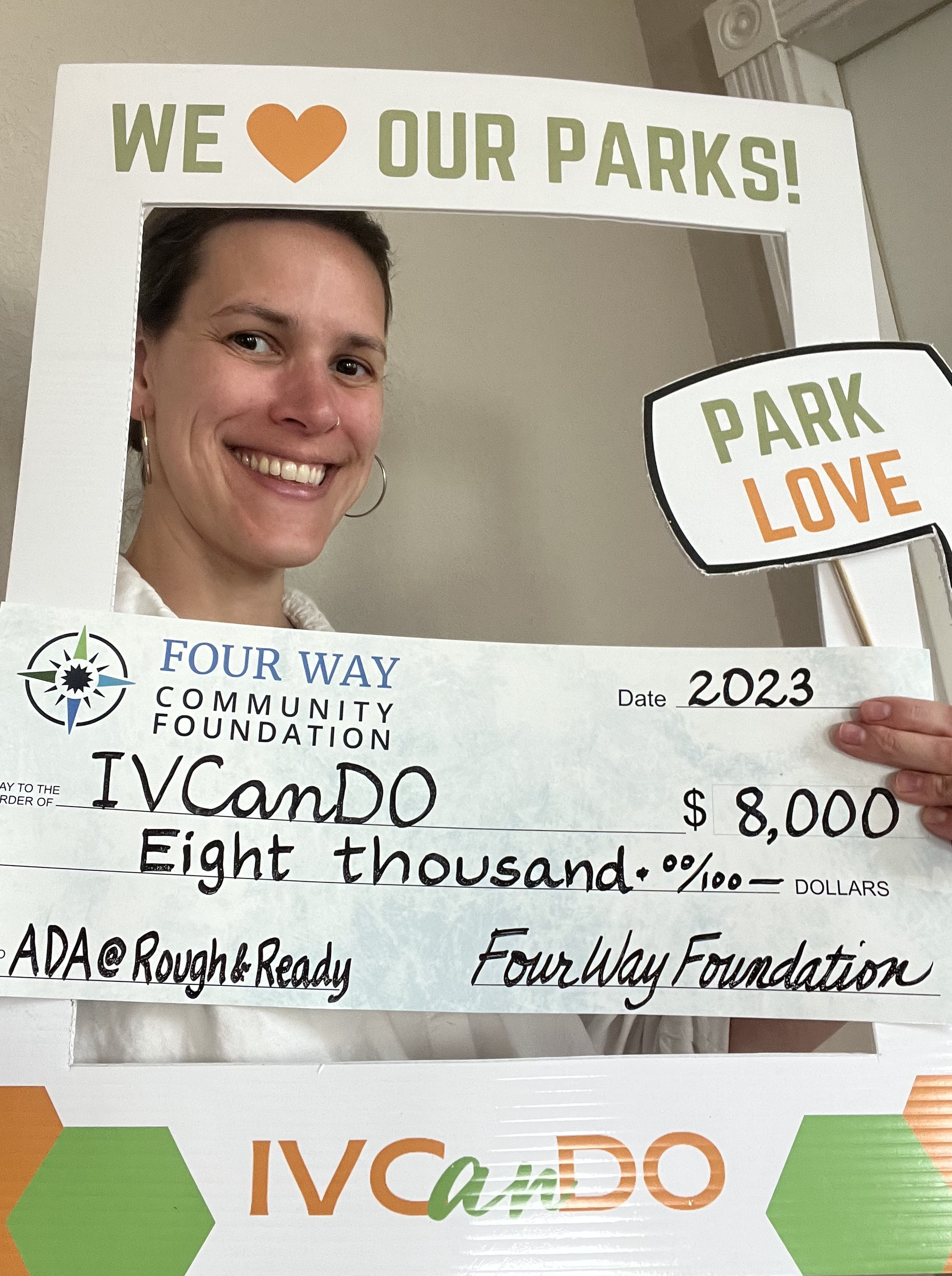 Parks & Recreation
Thank you Oregon Community Foundation and Four Way Community Foundation!
IVCanDO received two grants to help fund ongoing parks and recreation projects! 
Rough and Ready Botanical Wayside received $8,000 from Four Way Community Foundation to help with costs associated with paving the parking lot and adding interpretive signage to the area.
Forks State Park received $2,500 from Oregon Community Foundation towards the naturescape playground. Naturescape playgrounds utilize natural elements to create a fun and unique place for kids to explore!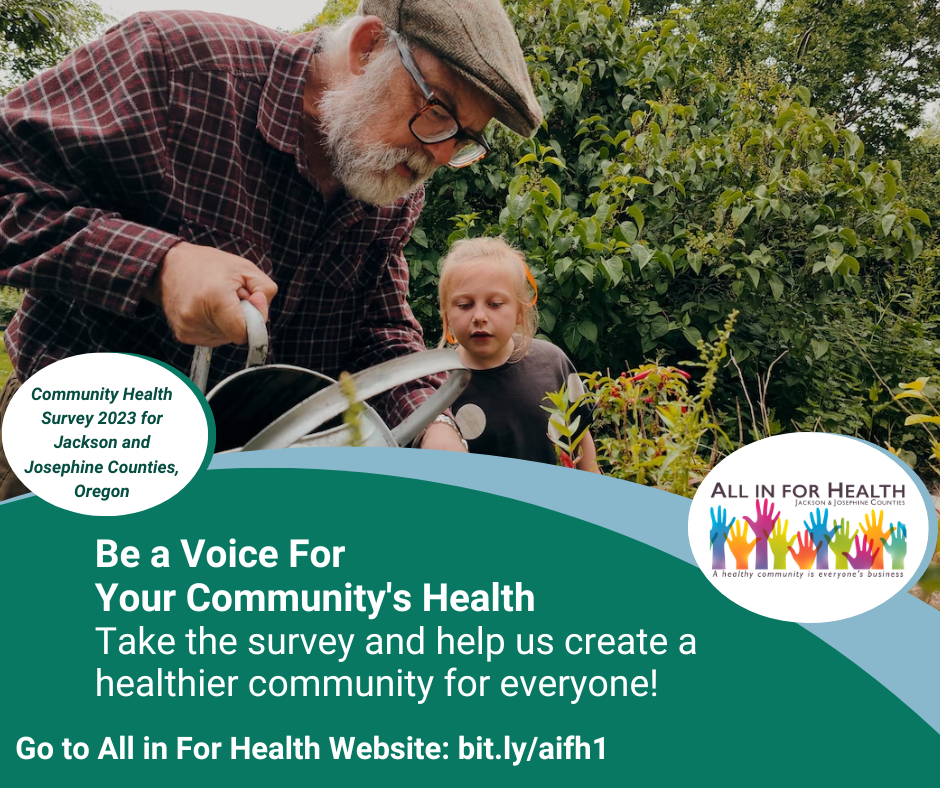 Health & Education
Share your experience about healthcare in the Illinois Valley!
All In For Health, a collective of healthcare organizations located in Jackson and Josephine County, is collecting survey responses to help inform the 2023 Community Health Assessment - and they want to hear from the Illinois Valley! Plus, there's opportunity to win an air purifier or $100 gift card for those who complete the survey!

Please take a moment to fill out the Community Health Survey and be a voice for our community. Learn more about All In For Health.
Community Capacity
2023 Community Award Winners!
At our Annual Community Open House event on May 10th, IVCanDO recognized individuals, families, and organizations that put in the work to help the Illinois Valley thrive. Join us in congratulating the winners of the 2022 Community Award winners:
Volunteer of the Year: Amy & Jerry Lapora and Monique Allen
Good Neighbor Award: Cindy & Jo-El Palacios
Organization of the Year: Project Youth+
Partner of the Year: Oregon State Parks and Oregon State Representative Lily Morgan
Lifetime Achievement Award: Mo Connelly
Upcoming Community Events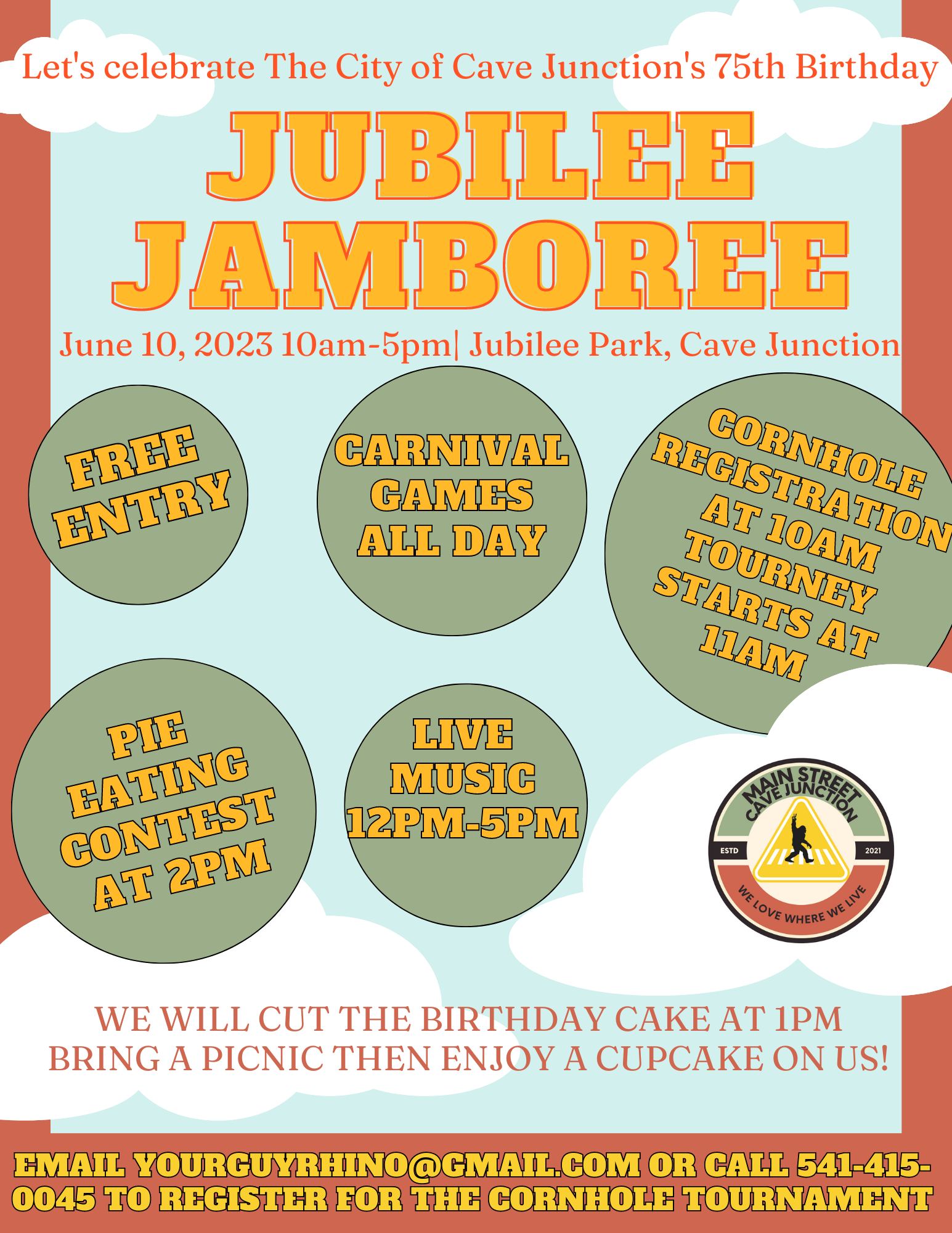 Celebrate Cave Junction's 75th Birthday!
It's the City of Cave Junction's 75th Birthday! Celebrate with us with a good ol' fashion, wholesome, family-friendly birthday party at Jubilee Park.
FREE ENTRY! All are welcome!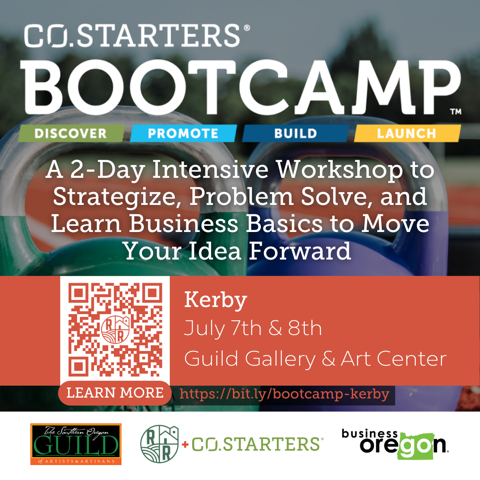 July 7th & 8th
CO. STARTERS Bootcamp
CO.STARTERS Bootcamp is a 2-day, four-part plan, for bringing your business to life. If you are serious about your idea, this is for you!
FUNDRAISER UPDATE
We are making progress to meet our fundraising goal, but we aren't quite there. As of May 1, we have raised just over $2200 of our $7000 goal. 

ALL donations are incredibly helpful to support our work in the community - even just $5! Now is the perfect time to donate and help us meet our fundraising goal.
If you've already donated, thank you!
JUNE 2023
Cans for Kids Schedule
Cans for Kids is a bottle and can donation station in downtown Cave Junction. Proceeds go directly to youth programs in the Illinois Valley! Simply bring your bags of clean cans during donation times - no trash please!
| | |
| --- | --- |
| June 3 | Kalimopsis Community Arts High School |
| June 10 | IV Little League |
| June 17 | IV Youth Wrestling |
| June  | IV Youth Enrichment Association |
Cans for Kids happens Saturdays from 10am to 1:45pm behind Cave's Chevron (409 Redwood Hwy, Cave Junction)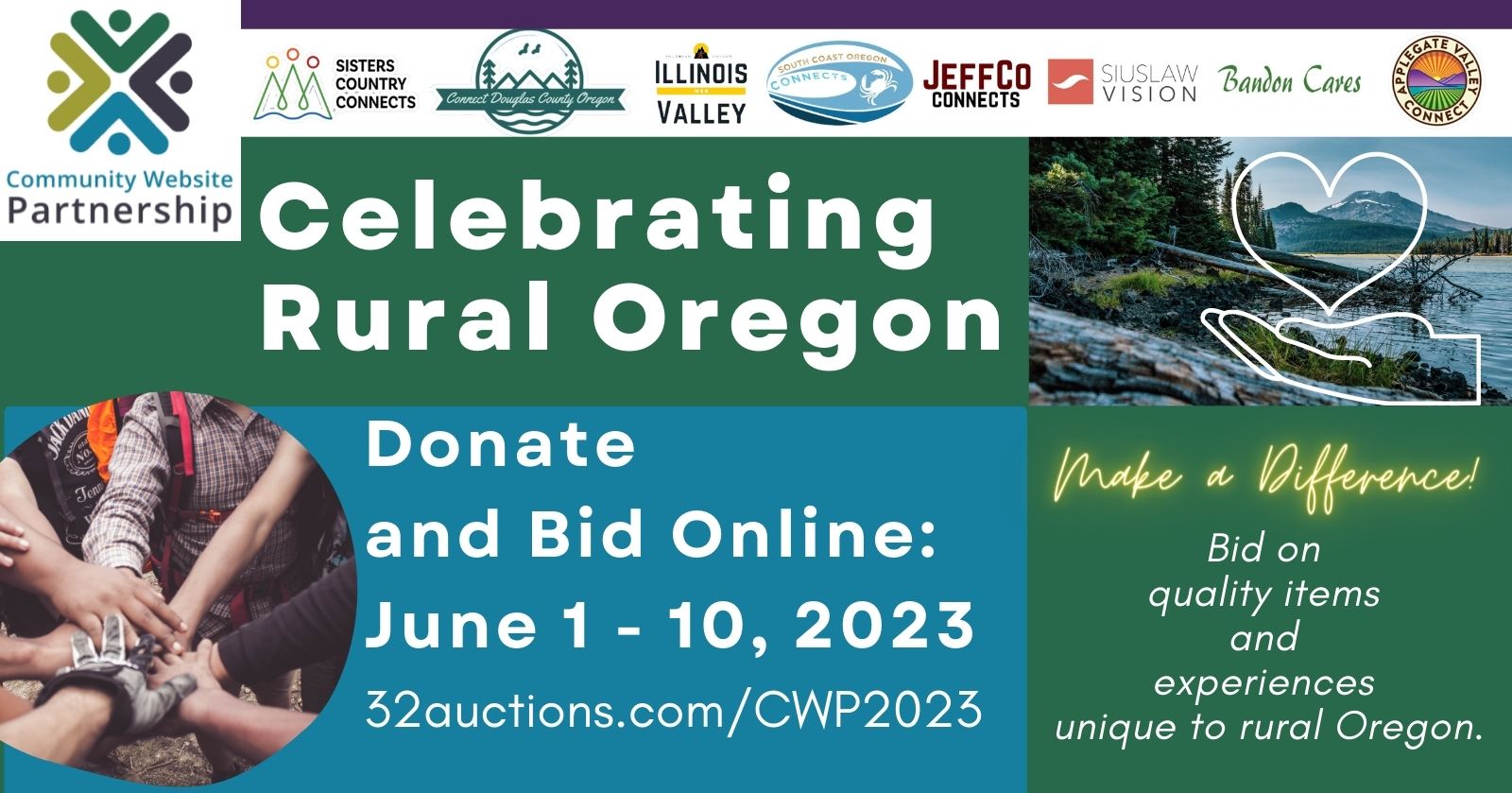 Community Website Partnership Auction
Celebrate Rural Oregon!
Community Website Partnership's 2023 Collaborative Auction honors and celebrates the experiences, flavors, diversity, and landscapes of Rural Oregon.
Please join us in supporting a network of community websites that serve isolated geographic areas, with information that has meaning to their lives because it was curated by people in their own community.
Bid! Donate! Spread the word and share links with your contacts!
Community Website Partnership's 8 community websites, including Illinois Valley Web, benefit over 325,000 rural Oregonians with information about: local events, volunteering, news, resources, and emergency info and wildfire updates.
What is Illinois Valley Web?
Illinois Valley Web, or IV Web, is a central hub of information for the Illinois Valley brought to you by IVCanDO and Community Website Partnership with a goal of bringing our neighbors together through technology. It is run by volunteers local to the Illinois Valley and free to use for anyone who wants to post. Cool!
Let's work together to build community in the Illinois Valley!
Want to support our work in the Illinois Valley? Here's how to get involved!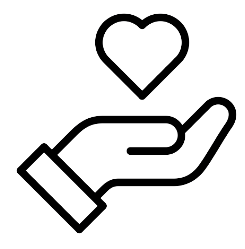 DONATE
Make the biggest impact!
Your donation to IVCanDO helps us strengthen our community!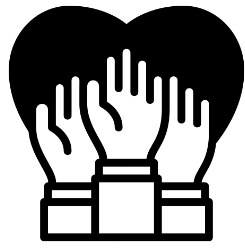 Volunteer
We always need hands on deck to help with our programs! We have opportunities for all ages and abilities.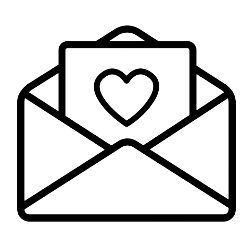 Stay Updated
Share this newsletter with friends and family to spread the word about our programs in the Illinois Valley!
Illinois Valley Community Development Organization (IVCanDO)
341 E Cottage Park Dr #4
Cave Junction, OR 97523