Psychological.  Suspense.  Thriller.  Crime.  Noir.
Sometimes Your Heroes Really Turn Out to Be Your Heroes
Have you ever admired someone for their art or writing or tv shows, then you meet them and discover you don't really like the person? I have. No, I'm not mentioning names.
However, this past weekend at Bouchercon, a writers' conference this year held in Minneapolis, I met and interviewed Dennis Lehane.
You might recognize the name. Or you'll recognize "Mystic River," "Boardwalk Empire," "The Wire," and "The Drop," all shows he worked on. Or perhaps you're a fan of his Patrick Kenzie and Angela Gennaro thriller series. His latest currently showing on Apple+ is "Blackbird," a dark thriller I've watched three times, a project he did not want to do. He was vehement about not doing it. 
He told me what turned him around to take on the project and that was a big surprise to me. For you to find out, however, you'll have to read my interview with him in an upcoming issue of "Mystery and Suspense" magazine.
I won't go into the reasons Lehane passed all my tests other than to say he's astute, down-to-earth, funny, and a regular guy, never mind a brilliant writer. But he proved his hero status when he showed me a photo of one of his daughters and looked at it with an expression of pure dad love. Yup, he's one of the good guys.
His next book, Small Mercies, comes out in April of 2023. He said it's the one he's most proud of. Look it up, read the synopsis, and you'll see the big issues he tackles. You can bet as with his other books that the story will grab you and not let go.
 I'll let you know when my interview goes live.


The fabulous Wanda Morris. She is a bright light, always smiling and generous with her time and attention, never mind that her books are thrilling!
Jo Nesbo and Jeffrey Deaver, two brilliant authors who kept us enthralled with their discussion.
Dennis Lehane interviewed S.A. (Shawn) Crosby who has been scooping up every award there is. His books are must reads!
I was so excited to meet this amazing woman, Karen Dionne who with Hank Phillippi Ryan does a stellar line-up of authors on their program The Back Room.
I took a chance and invited this woman whom I did not know to share my room. Chris St. Germaine is not only a retired lawyer, writer, musician, and artist, but she also does kickboxing. I'm so lucky to call her now a friend.
Last but not least, Nicholle Thery-Williams and Marisa Gothie whom I met at the bar. So wonderful to hang out with these two amazing women who are book influencers and so much fun. Check out their FB page AUTHORS ARE OUR ROCKSTARS.
FOR YOU!
SIGN UP FOR MY NEWSLETTER 
1 LAST BETRAYAL the third novel in the Angeline Porter Trilogy will be on preorder sale for the ebook on September 1, and print copies will be available Sept. 18.


Click on the cover to SIGN UP FOR MY NEWSLETTER AND RECEIVE the first four chapters of 1 Last Betrayal.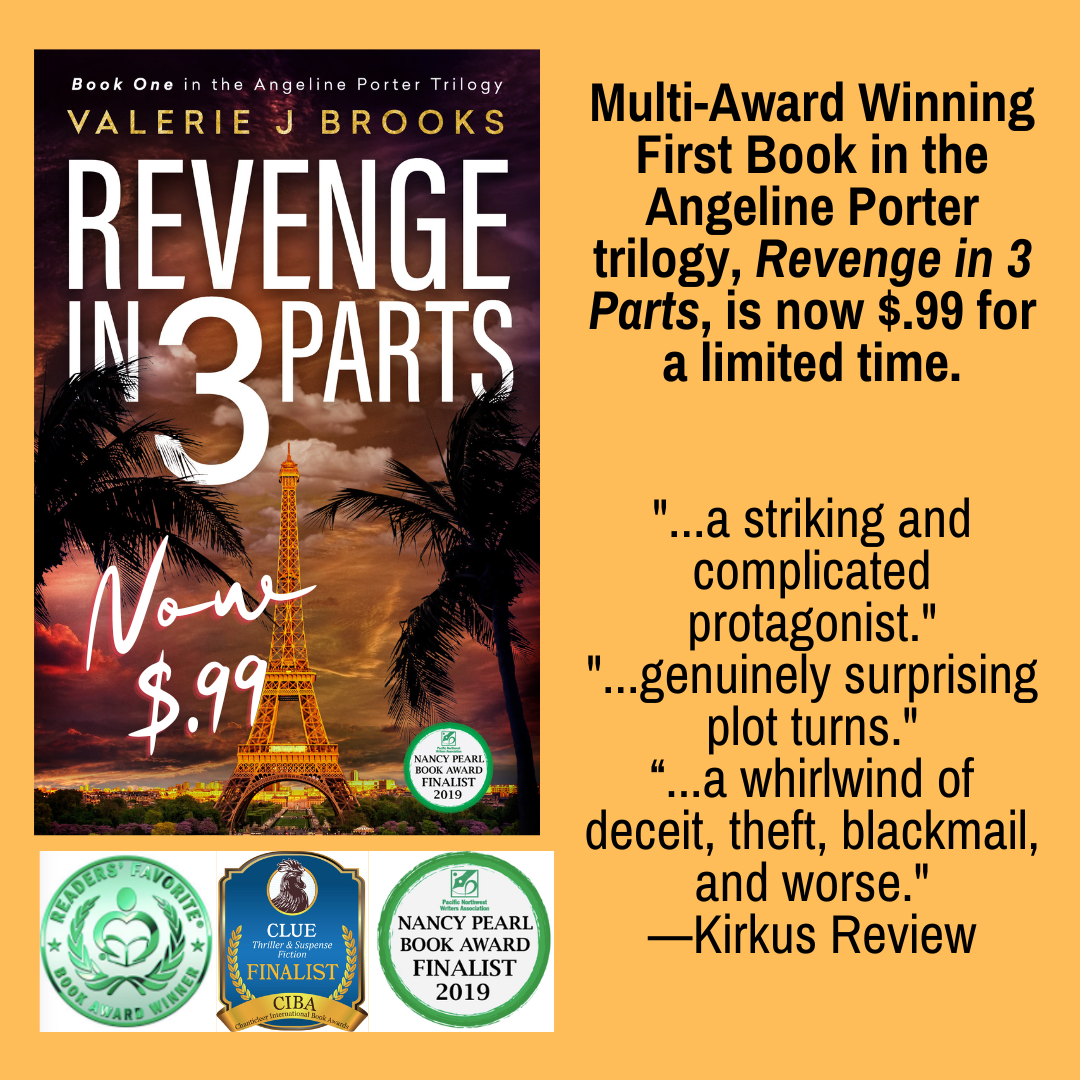 I'll Have This on Sale But Not For Long! Click on the Graphic to Buy
You can now get the first in the Angeline Porter Trilogy for $.99. Read it before the third book 1 LAST BETRAYAL comes out on the 18th.
My Pal Kevin Has A Great $.99 Thriller! Grab It Now! Available Sept. 12-18 only. Click on the Graphic Above.
He took a knee for social justice. Now he's dead.

Controversial quarterback Jimmy Rydell's body was found naked - on the Central Park carousel. Who killed him? How did he get there two days after he disappeared? . . . And why was the body frozen?

Jimmy's team just wants to move on, after collecting on the $20 million insurance policy. Jimmy's teammate - the one who threatened to kill him - swears he wasn't there. Jimmy's bodyguard had the night off. Somebody is going down for this if NYPD homicide detectives Mike Stoneman and Jason Dickson can find a theory that explains all the bizarre facts. They just hope the case doesn't tear the team, and the City, apart first.

WELCOME!
To Suzanne Hunt who joined my advanced reading team, The Noiristas. So happy to have you with us!

If you'd like to join my team where you receive an advanced ebook of 1 Last Betrayal in exchange for an honest review on pub day, let me know. I will put you on my waiting list.
44506 McKenzie Highway, Leaburg, Oregon
United States of America