FARMED Newsletter
March 2023 Newsletter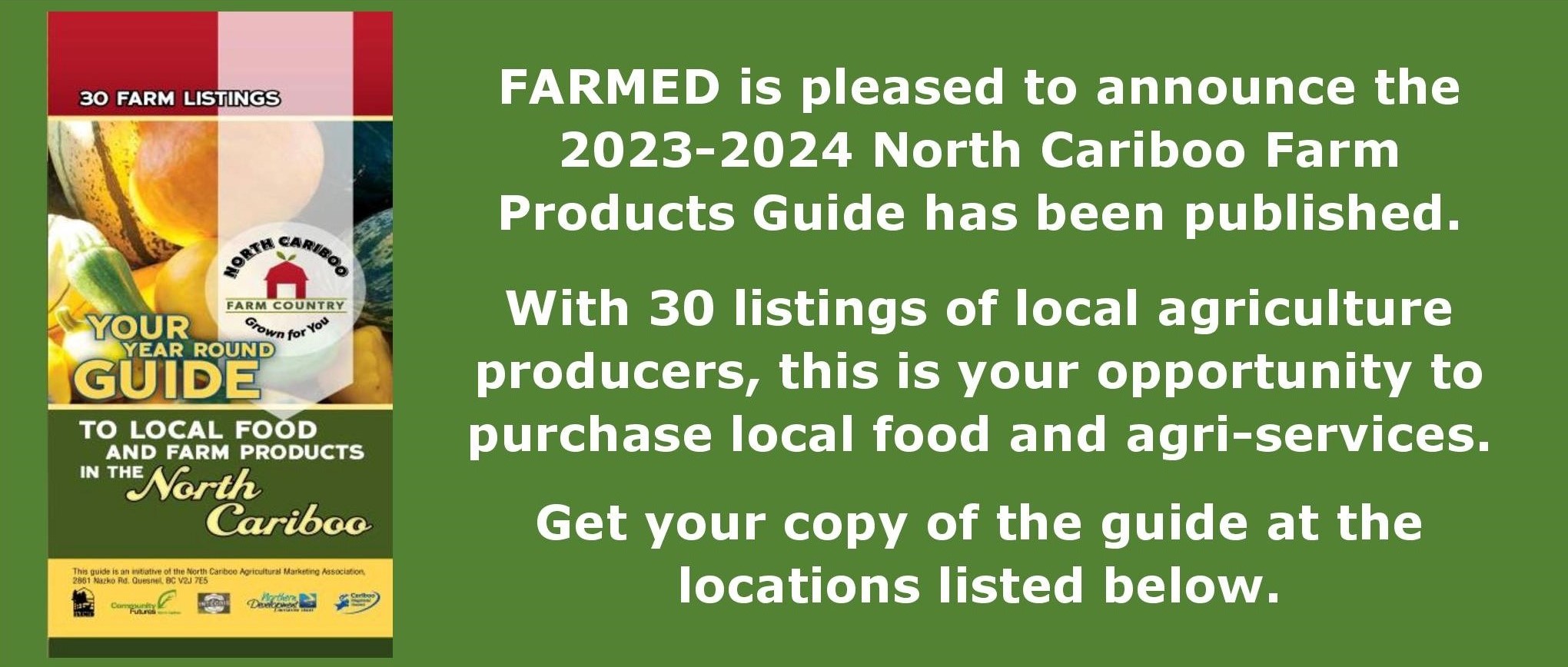 2023/2024 North Cariboo Farm Products Guide Update
The 2023/24 North Cariboo Farm Products Guide is now available!
FARMED is pleased to announce the 4th version of the North Cariboo Farm Products Guide has now been published locally as part of the Opportunities 2022 & Beyond project.  You may obtain your copy of this incredibly popular guide and map with 30 local producer listings at the Quesnel Visitor Centre, Bouchie Lake Country Store, Integris Credit Union and Dragon Fly Naturals, with more distribution outlets to come.

If you are involved in primary agricultural production in the North Cariboo and did not get listed in the 2023/24 Farm Product Guide you will have a chance to participate in the FARMED Interactive Website that will connect Producers to Consumers.  Information on the registration process for this Interactive Website will be announced in upcoming FARMED newsletters. Contact FARMED for more information. 
A MESSAGE FROM THE FARMED VICE CHAIR
Heloise Dixon-Warren
As with all volunteer-based organizations, FARMED is membership based and has similar challenges and opportunities to other volunteer non-profits. While FARMED has taken on, and continues to take on, many initiatives that benefit North Cariboo community as a whole, and beyond, FARMED, first and foremost exists for its members. FARMED is fortunate to have a core of dedicated volunteers who are passionate, driven, work well together, respectful of one another, and highly skilled. Regardless, they are all volunteers - giving of their time for the greater good. As Vice Chair with FARMED I am extremely thankful for this. Regardless, for personal reasons people may retire from volunteering and /or simply move onto other organisations or initiatives. The term "many hands make light work" can be extended to "many minds make light work".
As a long-time volunteer with FARMED, I strongly believe the benefits one receives from volunteering are directly linked to one's contribution. Quite simply, the more you put in the more you will receive. In my opinion, I have never volunteered with a more functional, professional and /or collaborative organization.
A list of benefits when volunteering with FARMED:
Being a Visionary: sharing ideas on the next project!
Analytical / Problem Solving: discussing solutions to barriers
Networking Opportunities: meeting with like-minded people (makes for great friendships and business relationships)
Developing partnerships: working closely with other organisations and agencies
Skill Development: Grant Writing, Minute Taking, Financials, Promotional, Pubic Speaking, and more
Shared / Cooperative Opportunities: Marketing, Business, Creating Local Economies, etc.
Please consider volunteering with FARMED. We welcome all different skill sets, the sharing of knowledge, and the want to be part of something much bigger than all of us. No matter how small or how big you contribute, it will be appreciated.
Thank you,

Heloise Dixon-Warren
FARMED Vice Chair (2022-23)
Heloise Dixon-Warren, BSc, RPF owns and operates Moose Meadows Farm (est. 2002) and the Bouchie Lake Country Store (est. 2015) with husband / partner, Ted Traer. She is also the mother of 2 girls - Tyquira and Amity. Heloise is one of the founding members of FARMED which began when she reached out to a handful of other producers, in 2006, around the interest and value in having a "Farm Circle Tour Brochure: North Cariboo". At the time she was a Director with the BC Agri-Tourism Alliance. When not farming and /or spending time with her family and /or on local community initiatives, Heloise works with BC Timber Sales as the Indigenous Relations Team Lead. Heloise's passions are her home and family, community, the natural world, small business, and big ideas!
New Coordinator – FARMED Opportunities 2022 & Beyond Project
NICOLE JOHNSTON
The directors of FARMED are pleased to announce the hiring of Nicole Johnston to take over from Jillian Merrick as the coordinator of the Opportunities 2022 & Beyond project. FARMED would like to thank Jillian for her contribution to the project during her time working as a coordinator.
Nicole was raised on a horse farm in northern Alberta, and took a keen interest in all things nature from an early age. She rode and trained horses as a young girl, always hanging around with her brother and other neighborhood kids, building forts, riding bikes and swimming in ponds. After high school graduation she left home to explore the world and ended up in the far north, in the city of Whitehorse, Yukon Territory where she pursued a diploma in Renewable Resource Management. The many intense field courses took her to many wild places in the territory, many of which left an imprint on her soul. She further pursued a Bachelor of Science degree at UNBC in Prince George, BC before becoming a mother shortly after. Her photography seeks out truth in human interactions with the environment in a raw, real and vulnerable way. She calls the Cariboo home on the banks of the Fraser River where she now raises her 4 children among the birch trees facing life's joys and tribulations with calm, determined intensity.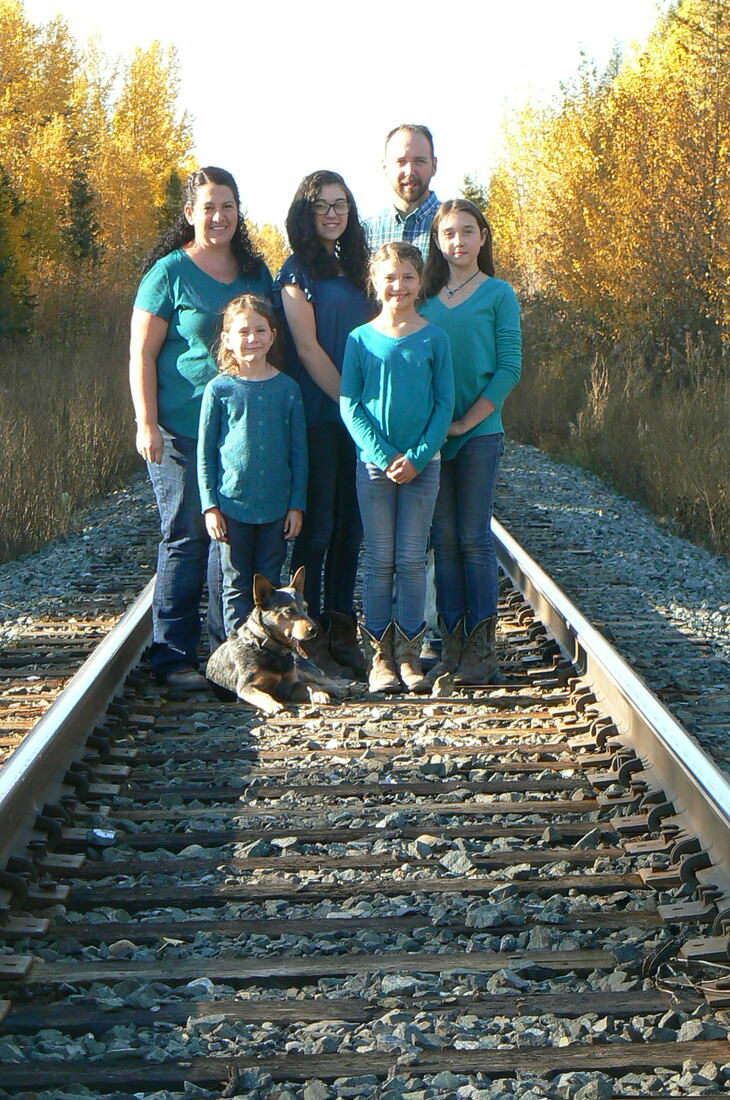 WE ARE A FAMILY BASED FARM THAT LOVE WHAT WE DO!
Honey-Do Ranch
Honey-Do Ranch is operated under organic principles; the cattle and sheep are grass-fed, with no pesticides or herbicides used in the hay fields or pastures and no growth-inducing chemicals used with any of the animals. Grass-Fed, Grass-Finished Beef, Lamb, and Pastured Turkey.

BEE KIND. BEE GENEROUS. DO NO HARM
Earthy Girl Botanicals
Earthy Girl™ Botanicals is a small-batch, green-beauty, bath and body products producer. All Earthy Girl™ Soaps, Bath and Body products are made with natural ingredients that are wild-sourced in our own backyard, or come from sustainable and eco-friendly producers, prioritizing fair trade, local, and small business-owned wherever possible. Our focus is on botanical-based balms, facial and body cleansers and lotions. All made with love.
. 

Mark it on your calendar!
UPCOMING EVENTS
FARMED Member Meeting:
Tuesday, March 21, 2023 at 7pm via Zoom
FARMED Opportunities 2022 & Beyond Committee Meetings: March 14th and 28th, 2023 via Zoom
Sprout Kitchen Workshops: 

Spice Jar Art with Chelsea Ambrose

Wednesday, March 1, 20236:00 PM - 9:00 PM
Creative Vegetables with Jennifer Lineger-Johnston of Petty Catwater
Wednesday, March 8, 20236:00 PM - 9:00 PM
Cheese Making with Chelsea Ambrose
Wednesday, March 15, 20236:00 PM - 9:00 PM
For more information email: [email protected]


Seedy Saturday: March 25, 2023 from 9am-3pm at CNC-Quesnel
Sugaring Off ON FARM Festival
April 22nd: Share Earth Day with US!
Vendors Welcome!
Join us at Moose Meadows Farm to experience sugaring off Boreal Forest Style! The evaporator will be bubbling away so you can enjoy the scent of birch syrup in the air! Other activities will include an On Farm Market, Nature Walks, Birch Syrup Taste Testing, and a chance to visit with the donkeys, alpacas, horses, ponies, sheep & 1 goat of Moose Meadows Farm.  To sign up to participate as a vendor at the Sugaring Off ON FARM Festival, click the link below

Attention
CALL OUT!
Seedy Saturday – FARMED Booth
FARMED will be setting up a booth at the Seedy Saturday event being held on Saturday, March 25th from 9am-3pm at the College of New Caledonia – Quesnel. FARMED members are invited to participate in the event by assisting at the FARMED booth and setting up a display to promote your farm and business at the booth. Set up for the FARMED booth will start at 8:30am and 1 hour shifts at the FARMED booth will be scheduled throughout the day. Let us know if you would like to participate in this fun event by emailing [email protected].
Member Savings Program

A reminder to check out the Member Savings Program for FARMED members, which provides discounts from various regional businesses. FARMED director and volunteer, Joleen Morrison is requesting ideas and a call out for help to enroll new businesses in the program. Joleen would also like to invite FARMED members to participate and share ideas for other businesses who may be interested in participating.

North Cariboo Agricultural Marketing Association (FARMED)
2861 Nazko Road, Quesnel
Canada
250-249-5329
[email protected]
You received this email because you signed up on our website or purchased a membership from us.
Unsubscribe