FARMED Newsletter
February 2023 Newsletter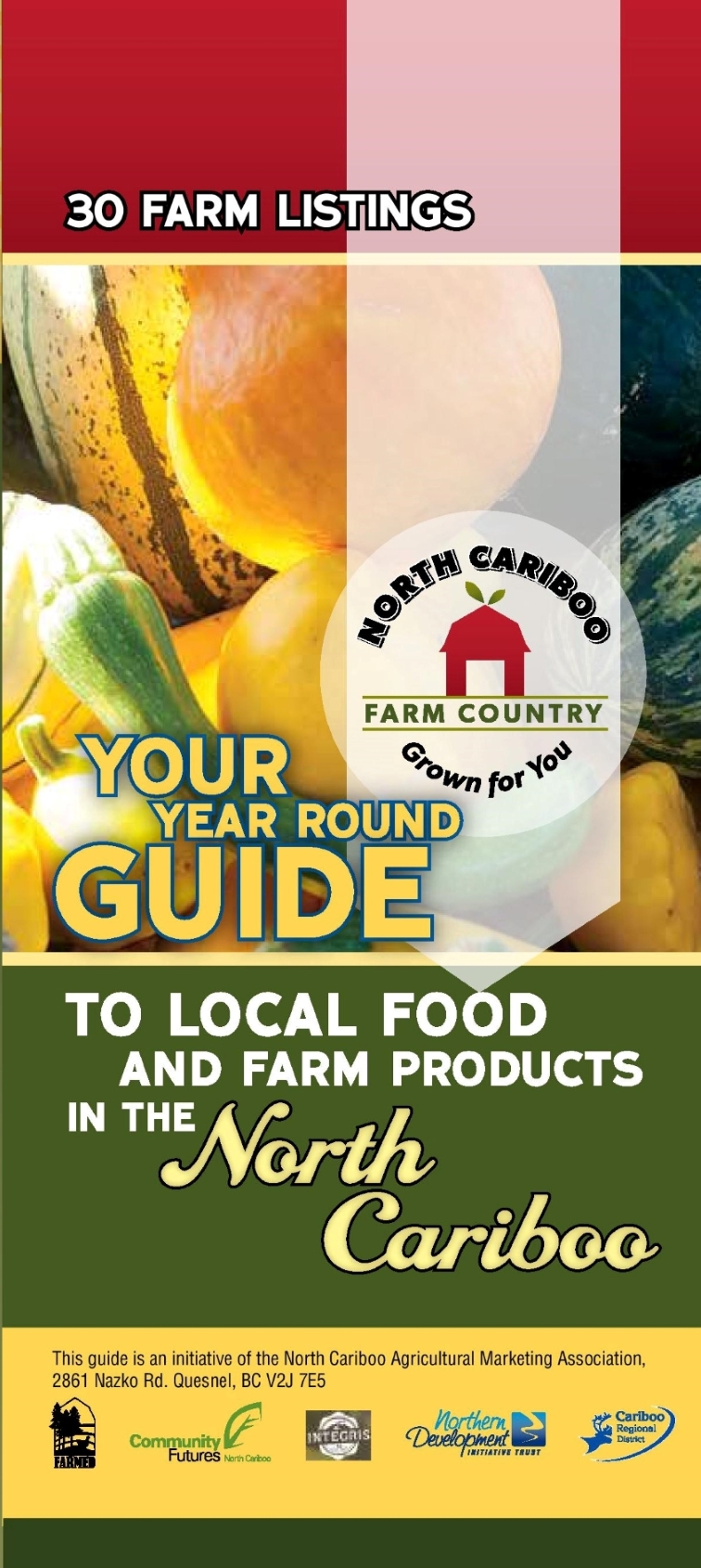 2023/2024 North Cariboo Farm Products Guide
Going to print soon!
FARMED is pleased to announce the 2023/24 North Cariboo Farm Products Guide will be going to print and available soon at the Quesnel Visitor Information Centre, Bouchie Lake Country Store and many other retail outlets in the north Cariboo.
The North Cariboo Farm Products Guide is an initiative of the North Cariboo Agricultural Marketing Association dba FARMED, as part of the Opportunities 2022 and Beyond project, which will help to connect agriculture producers to consumers.
FARMED would like to thank its members and the agriculture producers listed in this guide for their participation in this project, as well as the following funding sponsors:
Northern Development Initiative Trust
Community Futures - North Cariboo
Cariboo Regional District
If you are an agriculture producer in the North Cariboo and missed getting a listing in the paper version of the Farm Products Guide, please email us with your farm name and contact information, by clicking the link below. We will be starting registration for the web-based version of the guide and will contact you.
A MESSAGE FROM THE FARMED CHAIR
Lynda Atkinson
It is always enjoyable to work with a group of people who are so motivated to support and promote both food security and the ability of our local population to both produce and consume local healthy food. Our goal is to assist with information to connect our local farms and food producers with our local families.
The Opportunities 2022 and Beyond project that our members have been working so hard, over the last few years, has come to fruition. We are very thankful to all of our own grant writers and the grant providers who have assisted us with our efforts. As the project progresses, our goal is for you to go to our website www.farmed.ca and access the North Cariboo Farm Products Guide and an Interactive Mapping Tool, which includes listings of local agriculture businesses, products and services, farm stands, retail outlets supporting local agricultural products, and a listing of local agriculture / food security related non-profits, and the use of Story Maps to highlight local producers and provide historical information on the region.
We would also like to thank Integris Credit Union for their ongoing support, and recommend you visit the Credit Union and see the FARMED display when you go in to use their banking, insurance and financial wealth management services. Staying with the theme of "shopping local" FARMED recognizes the benefits of using the local services of Integris Credit Union. Let us know if you are interested in starting an account and accessing their many services as we may be able to assist you in accessing special discounts as a FARMED member.
I look forward to working with you throughout 2023 and encourage you to participate in the FARMED member and committee meetings.
Sincerely,
Lynda Atkinson  
Lynda Atkinson, M.A. (UBC) 86, is a retired Quesnel School District 28 administrator and counsellor, and teacher who owns and operates Sisters Creek Simmentals with her extended family, where they raise Simmental cattle and standardbred horses. In addition to serving as the FARMED Chair, Lynda is on the Board of Directors of the Canadian Federation of Agriculture, BC Agriculture Council, Horse Council BC, Canadian Agriculture Human Resources Council, and Kersley Farmers Institute. Lynda is also Chair of the Sprout Kitchen Advisory Committee and serves as a member of the Cariboo Agricultural Development Advisory Committee.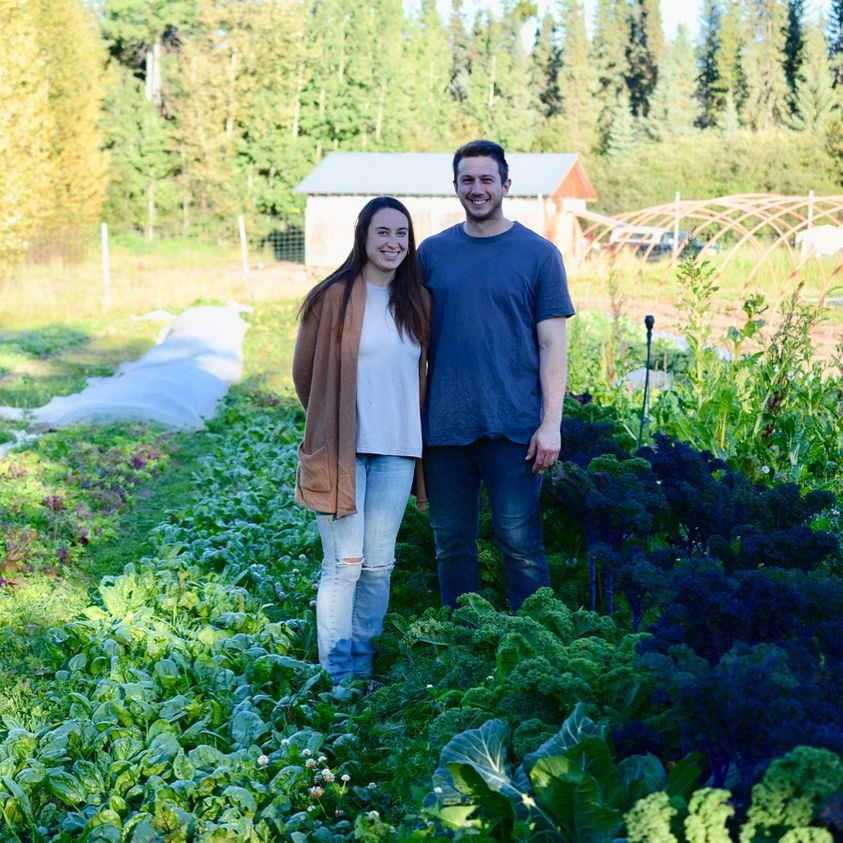 From Beds to Bowls
From Beds to Bowls is a market garden farm established by Kate Patterson and Elliott Morton in 2016. In 2018, we moved our farm from leased land in the Lower Mainland to a 10-acre property that we purchased just west of Quesnel, B.C. From Beds to Bowls was established as a business with a goal to grow fresh, organic produce in an environmentally sustainable way. We have farmed using organic methods since 2016 and we are currently transitioning to organic certification. We specialize in growing salad greens and tomatoes as well as unique varieties of other vegetables, such as beans, cucumbers, radishes, carrots, kale, broccoli, onions, garlic and much more.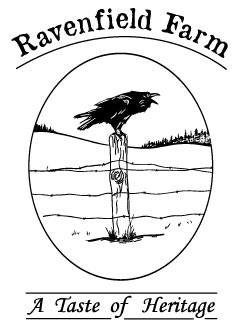 Ravenfield Farm
Ravenfield Farm owner, Shawn Cherewick is following a farm plan guided by traditional practices that follow our ancestors' path in agriculture, believing in natural relationships that allow our livestock to graze freely on diverse forage systems. Shawn notes "We are fortunate to have settled on over 100 acres of rich Cariboo forest and grassland where our bees, and local pollinators can range on chemical free flora; our pigs are free to root in a mixed forest/pasture setting and we raise our lamb out on pasture. Our poultry is free to forage in a secure forest garden designed specifically for their needs".
The owners of Ravenfield Farm encourage others to take a real interest in where their food comes from and how it is raised. They hope to host a seasonal 'meet your farmer days' and make themselves available to talk about their animals, bees, and farming practices.
To connect with Ravenfield Farm check out their website below. 

Mark it on your calendar!
UPCOMING EVENTS
FARMED Member Meeting: February 21st, 2023 at 7pm via Zoom
FARMED Opportunities 2022 & Beyond Committee Meetings: February 14th and 28th, 2023 via Zoom
Sprout Kitchen Workshops: 
HOMEMADE DEHYDRATED SOUP MIXES WITH CHELSEA AMBROSE February 1st, 2023 6:00-9:00 PM
VALENTINES DAY BAKING WITH JENNIFER LINEGER-JOHNSTON February 8th, 2023 6:00-9:00 PM
EVERYTHING QUICHE WITH CHELSEA AMBROSE February 15th, 2023 6:00-9:00 PM
SAVOURY BAKING WITH JENNIFER LINEGER-JOHNSTON February 22nd, 2023 6:00-9:00 PM
For more information email: [email protected]
Canadian Mental Health Association; Food Security - First meeting in 2023: February 14, 2023, 9-11 am at North Star Church
Exploring Agriculture in the Cariboo: Panel discussion and regional updates hosted by KFI and BC Organics - Feb. 18, 2023, 9:30 – 2:00 at the Kersley Hall. Fee: $20.00 includes membership and lunch. Register at: Exploring Agriculture in the Cariboo -BC Agriculture Networking Event
Seedy Saturday: March 25, 2023 from 9am-3pm at CNC-Quesnel
FARMED Survey:  All current members please check your mailboxes for a FARMED survey sent from MailerLite. We understand these surveys take time (between 5 and 10 minutes), but it would be appreciated if you could share as much as possible, so that we can try to meet the needs of all FARMED members. If you have questions about becoming a member or member benefits, please contact us.
REASONS TO VOLUNTEER WITH FARMED
Meet new people
Develop new skills
Make a difference
Create a better community
Build persistence
Give back
Share values
Be a positive influence
Join the excitement
Engage with where your food comes from
North Cariboo Agricultural Marketing Association (FARMED)
2861 Nazko Road, Quesnel
Canada
250-249-5329
[email protected]
You received this email because you signed up on our website or purchased a membership from us.
Unsubscribe