Dear reader,
these weekly newsletters will keep you up to date with all new things.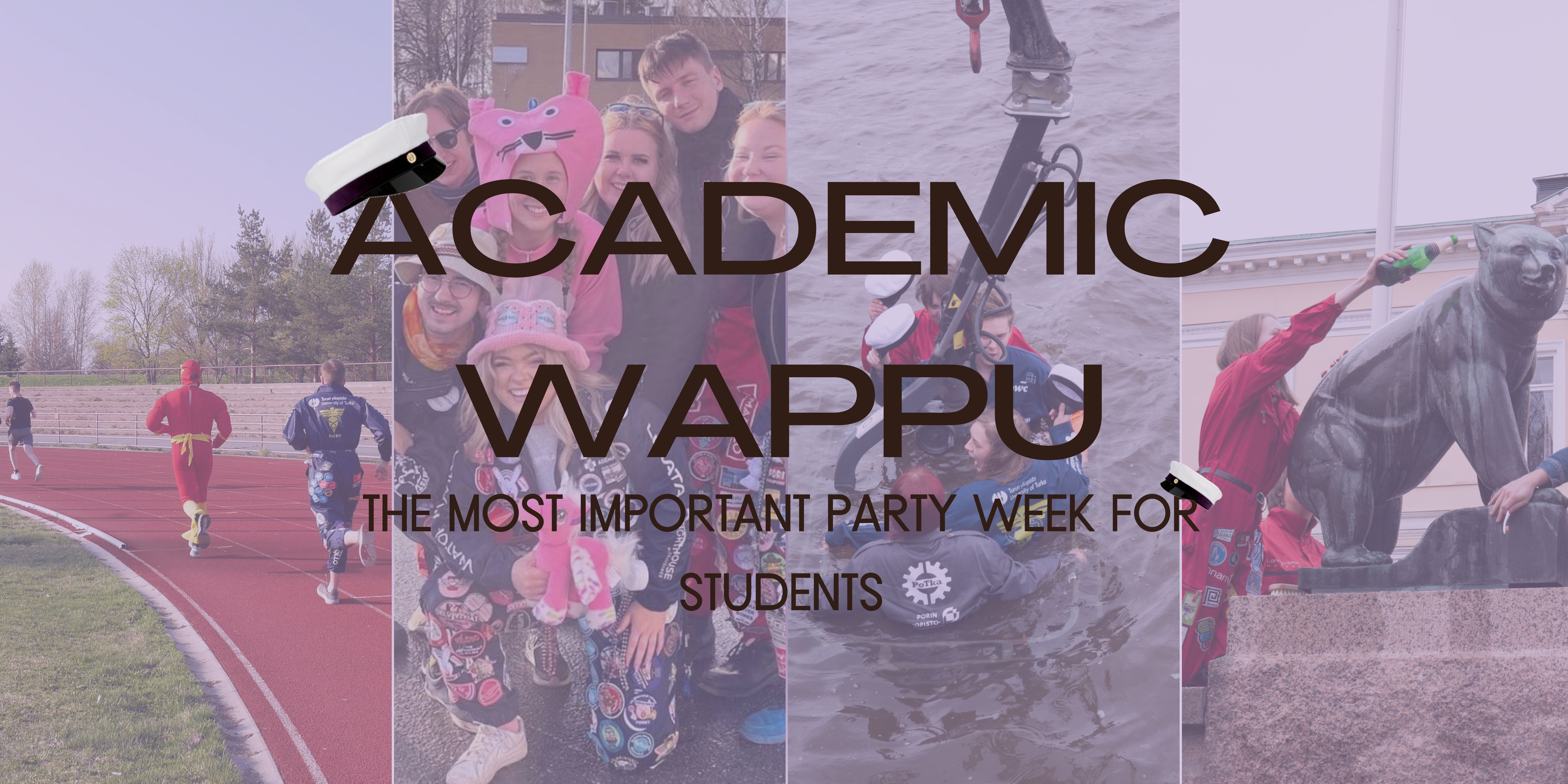 Academic Wappu week 24.4.-1.5.
Academic Wappu or Wappu week is the most important week for students. The main day Wappu-day (also known as May Day or Labor Day) is celebrated at 1.5. It is Finnish version of Labor Day. The day before (30.4.) is a day when people party hard! It is the biggest student festival and also marks the end of the academic year.

The whole week before the main day is filled with different student events. Most of the students like to participate as many events as they can! The events vary in every student town but the main thing is that there is as many events as there possibly can. And as the Finnish students always say "Wabu ei lobu!" ("Wappu never ends!")

Here you can see what kind of events will be organized in Pori!

MONDAY 24.4
BEER MILE
Pointer ry is hosting this sports(drinking)event once again. Dig out your running shoes and come join us! In the Beer Mile you run one mile, during which you drink 4 sport drinks (beers).
Are you up to the challenge?
WHAT: Beer Mile . If you're still training for next years Beer Mile, take part in the playful competition (BYOB)
WHERE: Pori market square
WHEN: Monday 24.4.

TUESDAY 25.4
WAPPUBINGO (with benefits) & TASTING
The night begins with a Tasting-event by PATS. It leads the way for naughty bingo, hosted by Pointer!Other information is coming soon…

WEDNESDAY 26.4
WAPPUSIMA-EVENT at 14:00–14:30 in UCPori lobby
Welcome all UCPori students and staff to spend some time enjoying mead and doughnuts provided by UCPori.FOR: Students and staff of UCPori
PRICE: Free

CHALLENGE ROWING at 16:00 @Kirjurinluoto / Kokemäenjoki
Students and staff from UCPori and SAMK compete against each other in a rowing boat race in the river Kokemäki.
If you would like to be part of the rowing team message at: [email protected]

WAPPROBATUR
The famous bar hopping, organized by the student union SAMMAKKO, starts from Kirjurinluoto.
EVENT: https://fb.me/e/Khlh1ys7
(Ticket sales is now open)

THURSDAY 27.4
Chill get together to relax and breathe for a sec before the end of the week's events.
More information is coming soon!

FRIDAY 28.4 
PORKY's WAPPU-SITZPARTY
More information is coming soon!

SATURDAY 29.4 
WAPPUSAFARI
Organized by Kulma ry, participants will hop on a bus and drive around Satakunta while enjoying authentic bar culture in different areas! Go check out Wappusafari's Instagram: @wappusafari
EVENT: https://fb.me/e/195VeRwsq

SUNDAY 30.4 
WAPPU MATINEE at 17:00–17:30 in Raatihuone
UCPori's Wappu Matinee is in Pori Old Town Hall (Raatihuone) and it's held in Finnish. Open for Pointer members. CORONATION OF THE BEAR STATUE at 17:30 in Raatiohuoneenpuisto
Traditional washing and crowning of the bear statue at the park of Raatihuone (Raatihuoneenpuisto) at 17:30 onwards. Sparkling wine serving for the fastest!
TO: Pointer members
PRICE: Free

MONDAY 1.5 
BRUNCH AND TEEKKARI-DIPPING at 12:00–14:00 in Raatihuoneenpuisto
Traditional brunch will be served at the park of Raatihuone from 12:00–14:00. After that there will be teekkari-dipping, where everyone can go dip themselves in the Kokemäki river. Afterwards you will have the opportunity to go to the teekkarisauna and palju.
The main thing in whole Wappu celebration is to enjoy being together and have as much fun as you can.

Check out the Facebook-event where we will update new information!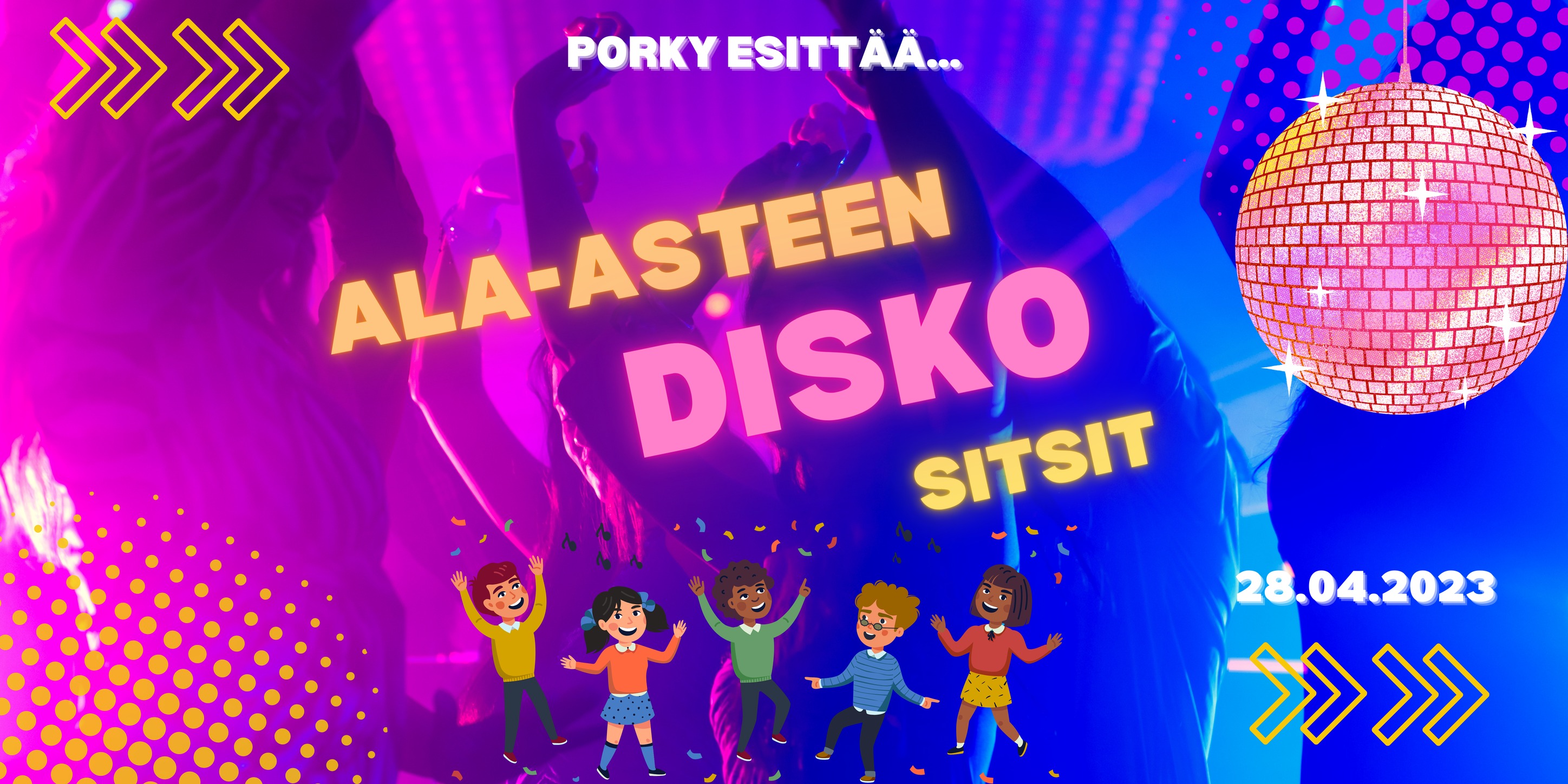 PorKy's Elementary school vappusitz
This party is rich in nostalgia, as we dance our first slow dances awkwardly swaying from a comfortable distance with our dance partners. PorKy's legendary vappusitz is back, but this time in the middle of the vappuweek. Join us as we return to the golden moments of elementary school, the disco. Grab your favourite soda and your Axe bodyspray and come party with your friends like you're 11 again. Arrive in the latest fashion hits of your elementary school era but be warned, because PorKy's communications director will be playing the role of the school principal by confiscating your contraband drinks.
WHAT: PorKy's Elementary school vappusitz
WHERE: School gymnasium X
MEETING PLACE: TBA
WHEN: Friday 28.4
PRICE: 19€ (Includes 3 drinks and 2 shots)
WHAT TO WEAR: Elementary school disco
FOR WHO: All students
TICKETS: Wed. 19.4 12.00 a clock
More information from the Facebook-event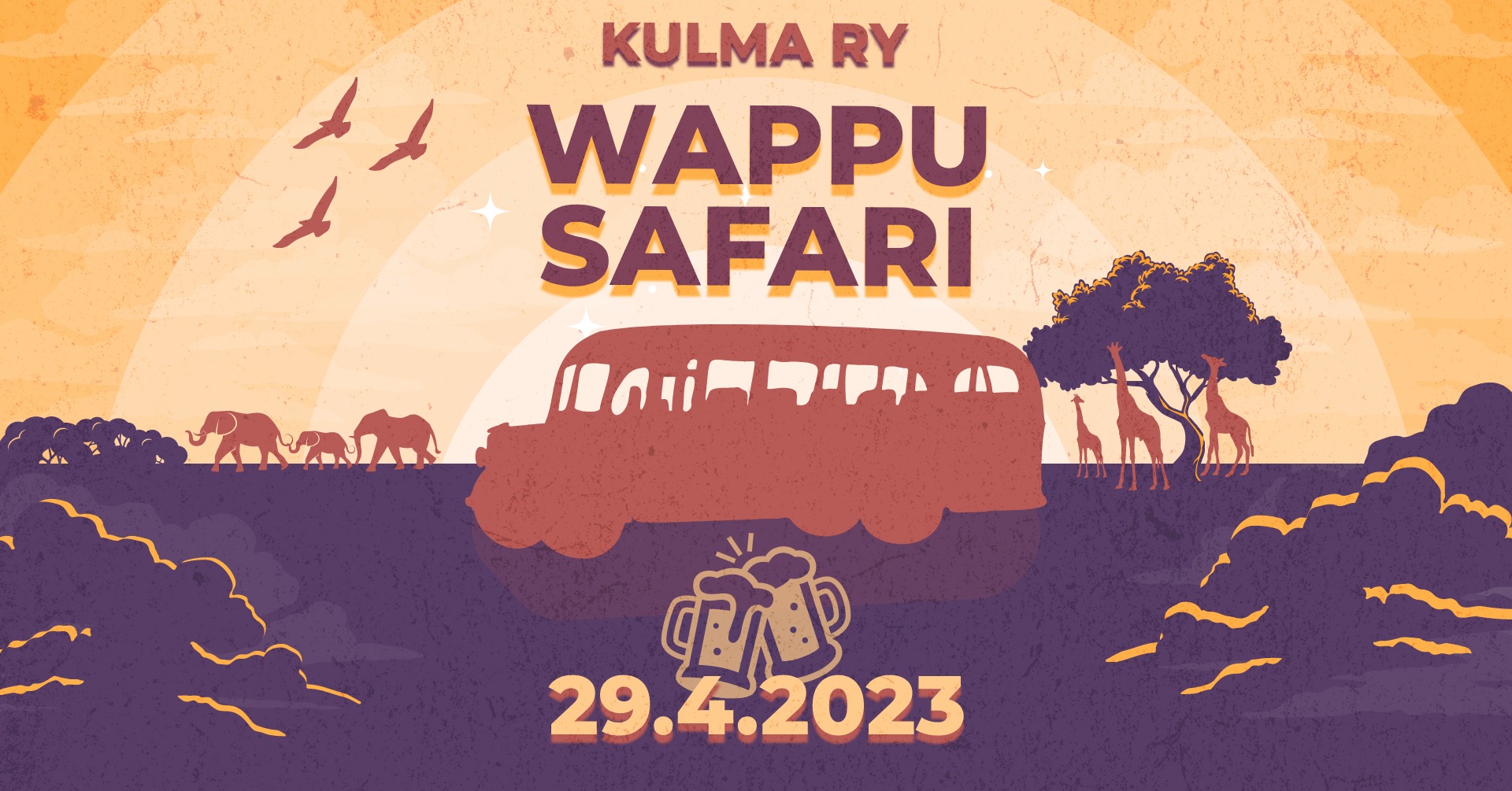 WappuSafari
Experience everything from the wonders of a world heritage site to the magic of Lappi. Join Kulma ry's traditional WappuSafari on April 29. Just like previous years we'll be hunting for drinks for all the thirsty safari expeditioners from Satakunta's memorable bars and pubs. (We will journey across the wilderness of Satakunta aboard our equally wild buses, where experienced tamers of the cup will lead us to the best hunting grounds. 
The buses will depart from Kutomon aukio (Siltapuistokatu 14, 28100 Pori) at 12.40, 13.05 and 13.30. Your departure time will be announced later by email. If you're late, the bus is not going to wait! The last stop of the safari is Heidi's Bier Bar Pori after 21:00, where frosty
prizes will be awarded to the bravest cup tamers. The party will continue there through the savannah night!
What? WappuSafari 2023
Where? Satakunta, departing from Kutomon aukio
When? 29.4. 12.40, 13.05 or 13.30
Price? 13€
Clothing? Safaristyle and overalls
Follow @wappusafari on Instagram and get ready for the adventure of a lifetime!
Tickets:https://link.webropolsurveys.com/S/1018808A693FD8CC

More information in the facebook-event!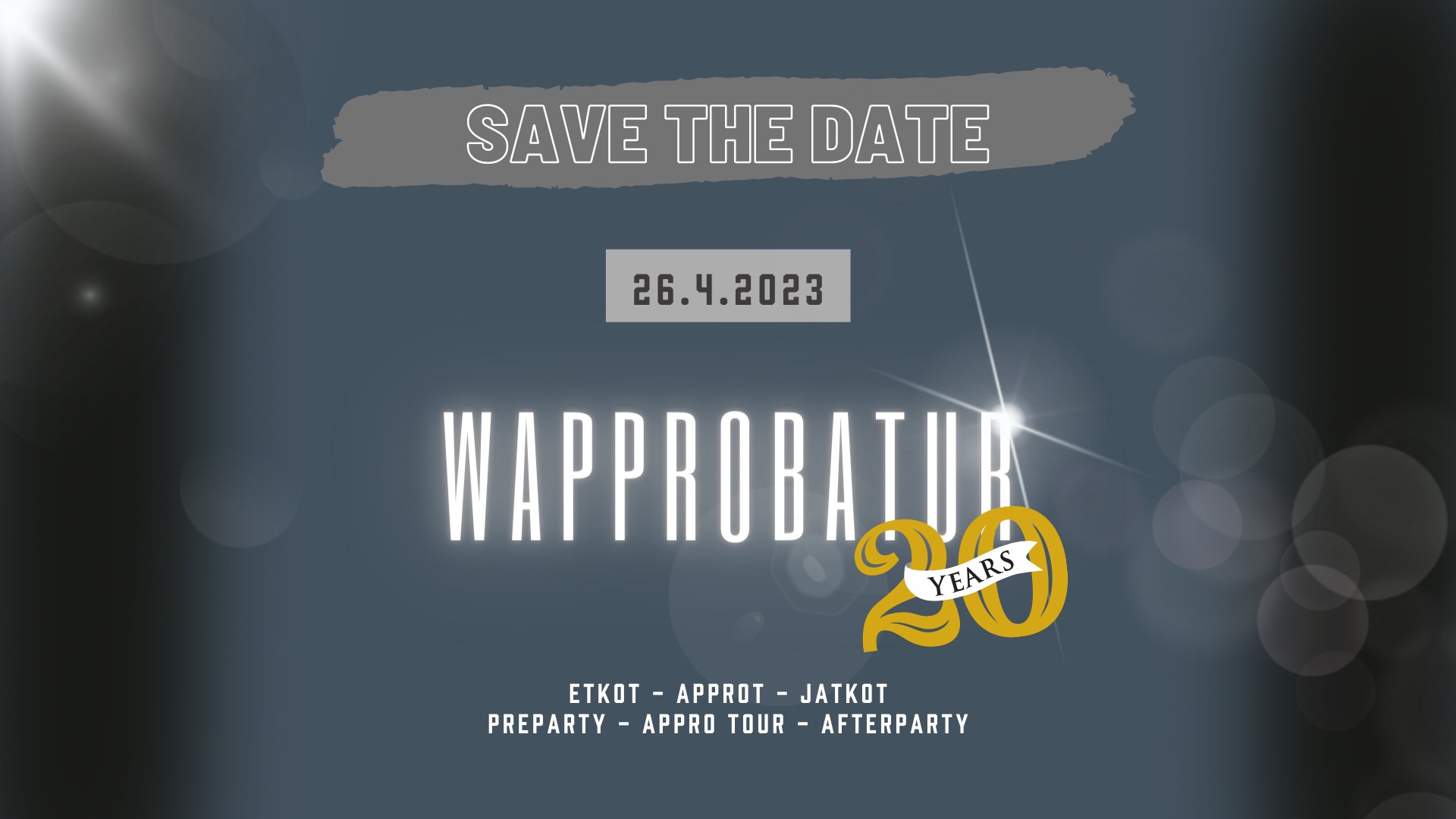 WAPPROBATUR
Come and celebrate May Day with us at Satakunta's biggest May Day event on Wednesday, April 26, 2023. Preparty is celebrated on the beach area of ​​Kirjurinluoto from 2 pm. In Kirjurinluoto, the program includes e.g. bungee trampoline, church rowing boats, stands of our partners and a lot of other fun programs and hanging out in the May Day spirit! After the pre-fun, we will head to the center to complete an appro tour, after which you will return the appro rally pass, and receive an overall badge. The afterparty is celebrated in Punainen Kukko (artist) and in Heidi's Bier Bar. Wappro's artist will be published later!
PROGRAM (SCHEDULE WILL BE UPDATED)
14:00 Wapprobatur preparty @Kirjurinluoto
Traditional church boat rows @Kirjurinluoto
Get your appro rally passes and wristbands @Kirjurinluoto
Wapprobatur appro rally
Return of passports and exchange for overall badges
Wapprobatur afterparty @PK and @Heidi's
In this situation, members mean all members of SAMMAKKO, O'Diako, and Pointer. Tickets go on sale on at 13:00 March 27, 2023 in SAMMAKKO's Kide.app: https://kide.app/events/e65edec9-f2a9-4624-b720-d090dc429e21. Wapprobatur tickets with afterparty also include the cloakroom. Tickets including afterparty are limited.
More information from the Facebook-event
The Multicultural Association of Satakunta (SMY) - Satakunnan monikulttuuriyhdistys

SMY is a Multicultural Association which aims to help Finnish people and immigrants to get to know one another. They offer a variety of courses, clubs and events as well as volunteering opportunities. In addition, the association serves as an expert in immigration and multicultural issues in the Pori region and carries out various projects.
Apartment Appro 19.4.

Monday 24.4. Beer Mile


Sunday 30.4. The main day: Coronation of the Bear statue and afterparty

Student Unions inform:
TYY - The Student Union of The University of Turku informs:
TREY - The Student Union of Tampere University informs:
Pohjoisranta 11 A, PL 181, Pori
Finland