Stories to tell -places to see - books to read - with special offers thrown in!


Hello ,

I'm glad you have decided to join me on this journey with Globetrotter Stories, a monthly newsletter bringing you my personal adventures in writing and travel. 
Missed a newsletter? You can always check out former ones by clicking here.
🌍 Travel Tales: Egypt, In The land of the Pharaohs
I finally got to see one of my bucket list destinations!  Taking a trip to view the pyramids (last of the great 7 wonders still standing) ranks up there with Machu Pichu and the Parthenon as must-sees for me.
My wife and I headed for Luxor and embarked on a 4-night cruise on the River Nile. Day trips were filled with amazing scenes: temples of Karnak, Luxor, Edfu, and Kom Ombo and the tombs found in the Valley of the Kings, and the Valley of the Queens. What fascinated us the most was viewing paintings and hieroglyphs so well preserved even after 3000 years. We learned that this was due to the extreme dryness of the Egyptian desert climate and many sites having been underground or buried in sand for millennia. We have modern day houses that don"t even make it ten years before the paint fades or chips!  
Late afternoons aboard our ship were truly spectacular. We watched as the medley of towns, mosques, and fisherman boats passed by. Sounds from the muezzins coming from the many minarets filled the air, seeming to glide with us. The peace was only sometimes interrupted by boatsmen that attached themselves to the ship, hawking colorful scarves to anyone who dared to peer over the railing. It provided great entertainment for all, as these hawkers were skilled at throwing their wares onto the upper deck. After a lot of haggling and deals made,  money was placed into a plastic bag and thrown down onto their boat. Big cheers erupted!
Having missed the 2021 "Golden Parade of Pharaohs" (what a sight that must have been!), when 22 royals were transferred from the old Egyptian Museum, we went to visit the mummies and coffins in their new home at the National Museum of Egyptian Civilization. Those pharaohs most likely never anticipated this turn of events. Their tombs may have been raided of most of their after-lifes "necessities" (and valuables), but the mummified remains are now well protected and remembered.

By the way, a state-of-the art museum is about to open right next to the pyramids in Giza.

For more photo impressions, check the section Travels on my website.
Currently, Books For Benjamin 2 is in the works in draft form. In case you don't already know, Books For Benjamin was my debut book about a worm who doesn't really  fit in with his family as he loves to read (more in the synopsis below). 
My next book to be released is called, Mother To Elephants, a nonfiction picture book biography about a lady who rescued orphaned elephants. I hope to have a cover reveal soon. Kate, my Ukrainian illustrator, is working hard to make this happen. 
The Long-Lost Secret Diary of the World's Worst Tomb Hunter By Tim Collins
The Long-Lost Secret Diary series is a hilarious read for children and adults alike. The series reminds me a lot of the Horrible Histories series in how the author blends humor with facts. The story setting is Egypt in 1922 at the Valley of the Kings. Howard Carter is determined to find the tomb of King Tutankhamun. An Egyptian boy named Ahmed , who is assisting in photographing the dig, is telling the fictionalized tale from a local point of view. Real fact boxes are also featured throughout to make this an interesting read, especially for any budding Egyptologists. (from my Goodreads review).

That's all for today! Happy Easter to all who celebrate!
Until next time,

R.G.
Fellow Authors and Other Goodies To check Out...I hope to have some adult books again for you as well in the next issue!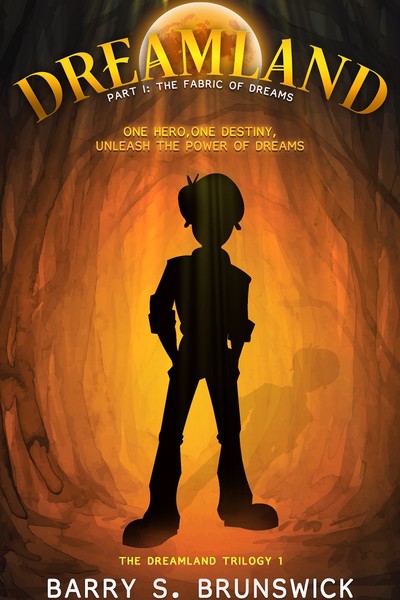 A world of imagination. A child of prophecy. With evil on the horizon, can he save a wondrous land?
For as long as he can remember, Eric has always had vivid dreams. When the lines start to blur between sleep and reality, he and his parents begin a desperate hunt for answers. But after he slips into a coma, Eric enters an amazing enchanted dimension where he's forced to fulfil an ancient destiny and defeat a nightmarish enemy.

Discovering he possesses incredible powers, Eric begins a punishing training schedule with an eccentric queen to ready himself for battle against his dangerous foe. Faced with aliens, dinosaurs, and vicious gargoyles, this young hero must master his gift quickly if he's to defend the realm from a terrible fate.

Can Eric destroy the coming doom and rescue a kingdom of magic?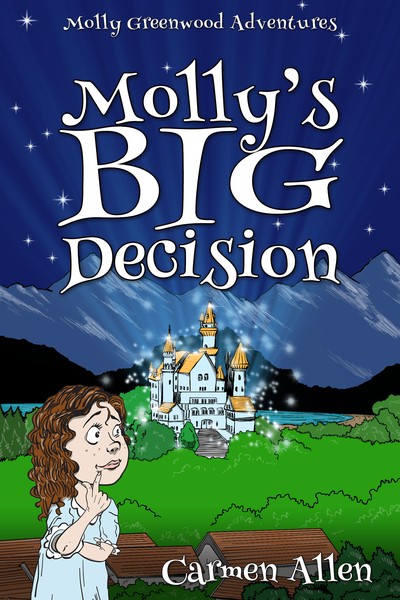 Once an orphan, now a princess!
Never in her wildest dreams did nine-year-old Molly believe she could be loved again.

Molly's fed up with the cruel Mr and Mrs Furrows who run the orphanage. She wants out.

When a mysterious palace appears outside her bedroom, she thinks ... Now's my chance.

Molly is invited to join the royal family, but there's a catch. It involves a secret mission and magic tokens.

She has only one month to complete her mission and accept the king's invitation. If she doesn't, will she ever get another chance to get away from Mr and Mrs Furrows?

Join Molly on her adventure and discover the hidden message of the story - secret missions happen every day when you're a child of God.


This beautifully illustrated children's chapter book, is for 7 - 9 year old readers.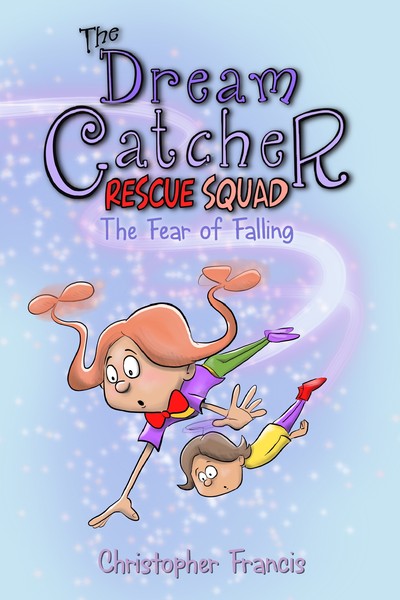 What's inside Abigail's nightmare?
Abigail is having bad dreams again. It's time for the Dream Catcher Rescue Squad to help. But, can they get past the grouchy house cat and the thieving Moon Drifters? Time is running out.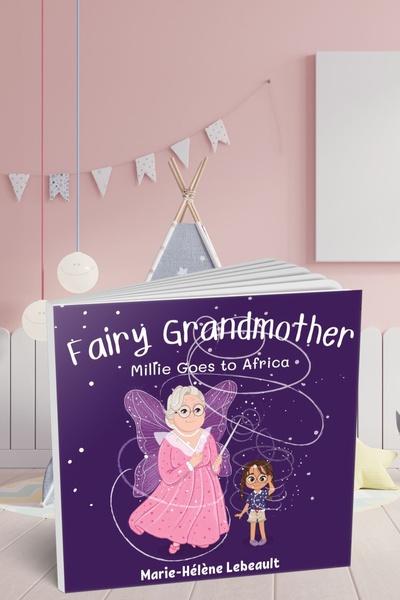 Follow Millie to South Africa!
Every Saturday, Millie spends the day at her grandmother's house. There are no toys and no TV, but it's still the best part of her weekend. You see, Grandma is actually a fairy! With a twirl of her magic spoon, she sends Millie on exciting journeys to magical faraway places.
This is the fourth book in the Fairy Grandmother Series. Books can be read in any order.

Don't forget to claim your Bonus Content on the publisher's website!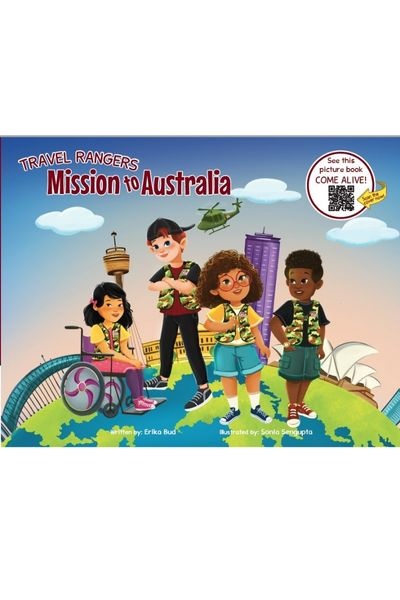 Your Kids Won't Want to Miss This Adventure!
Do your kids love exploring new places and getting lost in their imagination? Do they enjoy cool technology?

Travel Rangers: Mission to Australia is the first book in the Travel Rangers series, taking adventurous readers on a mission through Australia, where they will swim in the Great Barrier reef, climb the iconic Sydney Harbour bridge, meet some new animals, and even learn some fun Australian words and phrases.

Not only will kids enjoy learning about Australia, but augmented reality (AR) technology brings the book to life so everyone reading can truly experience Australia. Your kids won't want to miss this adventure!

Perfect for kids ages 4-9 years old who are ready to become Travel Rangers with Kayden, Bella, James, and Hannah and uncover the many wonders of Australia with each page they turn.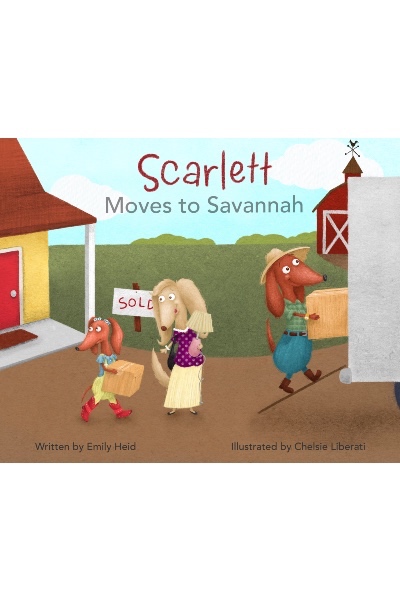 From the creative genius of Chelsie Liberati and Emily Heid comes the first book in The Scarlett Series.
When the adorable dachshund, Scarlett, learns she is moving from her family farm to Savannah, GA, she has a LOT of questions. Will she like living in a city? Will she make any friends? Will she ever see her farm again? Mama says the family will make new traditions. Daddy promises moving won't be so scary once she feels like she belongs. And everyone keeps talking about Cousin Chloe! Will Chloe be a new friend? Join Scarlett on this adventure and discover why moving is not that scary after all.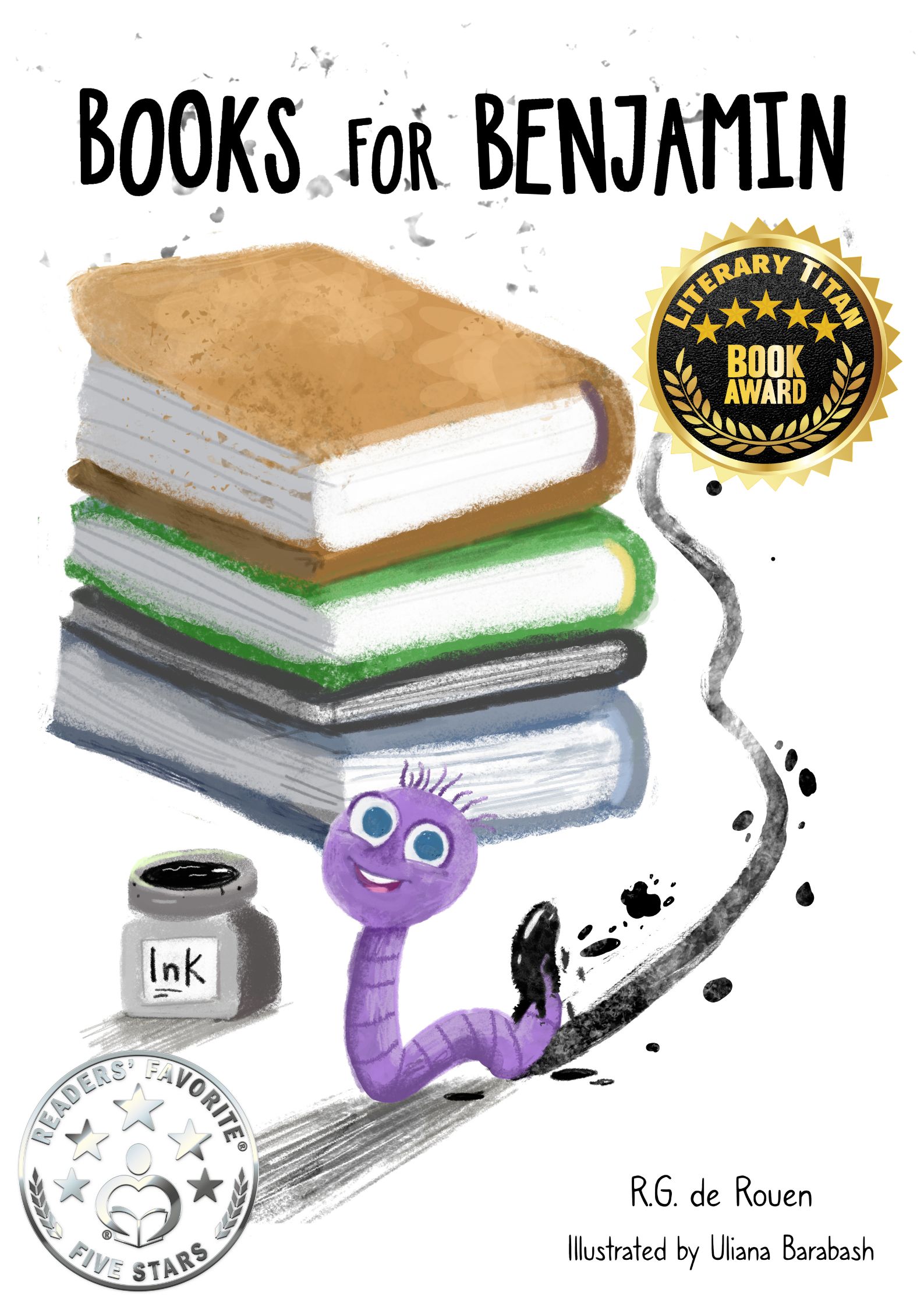 BENJAMIN WOULD RATHER READ ABOUT ADVENTURES IN A GIANT PEACH THAN EAT ONE!
Unlike his family members who are happily munching away on scraps, Benjamin is a different kind of worm. He loves to read. Yet, all he finds are old newspapers and magazines full of tomato splotches. Not one to give up on his dreams, Benjamin sets off on a quest to find "real" books.
Benjamin has a need to read that will take him all the way to the Library of Congress and a surprise ending too!
Witty illustrations by Uliana Barabash are a great accompaniment to this delightful award-winning story written by R.G. de Rouen.

Join Benjamin on his book-hunting adventure and watch your little ones search for Benjamin's famous signature in their books!
1603 Capitol Ave Suite 310 A195, Cheyenne
United States of America
You received this email because you signed up on our website or made purchase from us.
Unsubscribe