| | | |
| --- | --- | --- |
| | | Globetrotter Stories #8 Meeting Imenti |
Stories to tell -places to see - books to read - with special offers thrown in!


Hello ,

I'm glad you have decided to join me on this journey with Globetrotter Stories, a monthly newsletter bringing you my personal adventures in writing and travel. 
Missed a newsletter? You can always check out former ones by clicking here.
🌍 Travel Tales: Kenya: Meeting Imenti at the Sheldrick Elephant Orphanage
Update Book Launch & a little back story to how it all came about!
First of all, thank you so much for taking the time to check out "Mother To Elephants – The Story of Daphne Sheldrick!" I have received a lot of positive feedback and learned from quite a few readers that they had never heard of Daphne before! Well, neither did I before moving to Kenya. And little did I know that my visit to the Sheldrick orphanage would start the seeds for this book project and a book launch many years later!
Let me take you back to the early 90ies in Nairobi, a time, when my wife and I would spend many weekends on safari and could not get enough of the Kenyan wildlife – especially the elephants. I guess it was meant to be that I heard about the elephant orphanage and decided to check it out.
When I arrived at the orphanage, I noticed a little elephant lying on the ground. Upon seeing me, he got up and approached me in a welcoming way. That's when he proceeded to take my arm in his mouth! I still remember the tingly sensation, and even though my whole hand and part of my arm was in his mouth, I don't remember being worried. It rather reminded me of a little baby teething and trying to sooth its pain. He then proceeded to lead me with his trunk all around the compound. "Okay, what is he up to?" I was wondering. In any case, if an elephant, even as little as he was, decides to lead you, you have no choice but to follow!
His keepers were thrilled. They told me that his name was Imenti and that he had been lying on the ground for days, barely drinking any milk. They did not think that he would survive. His getting up and taking my arm was a sign to them that this little elephant wanted to live. "He wants to play", his keeper told me. So, I guess, it is no surprise that I feel quite connected to this guy.
And Imenti proved the keepers right. After leaving Kenya I followed his development and my class in New York even adopted him (something that is still offered by the Sheldrick Wildlife Trust and in order to raise money for the care of the animals). We received several updates about Imenti's progress, and I am happy to report that Imenti made it back into the wild. This is not an easy process, mind you. It takes around 10 years until an elephant is ready to return to the wild once more.
What is so endearing about the tale of Daphne and her keepers is how her former orphans returned to visit Daphne and her keepers with wild baby elephants in tow!
Daphne used to say that there is a lot we still don't know about these intelligent beings. She believed that her elephants would make distinctions between people who care for them and those who are less caring. I didn't know it back then, but I like to think Imenti recognized a supporter in me.
If you feel equally moved by The Story of Daphne Sheldrick, please share the news about my book launch with your friends and family. And if you are looking for a gift, look no further. Soft cover and eBook are already available, the hardcover is on pre-order for November 1st, 2023! If you would leave a review in addition, this would be appreciated and help me reach my goal of 50 for the month.
Thanks again for all your continued support!
Currently, marketing Mother To Elephants is the order of the day.  I am always amazed about how much goes into the behind the scenes work of launching a book.  Often, it is an exhausting process.  
Yet, sometimes you get a lucky and get to meet (mostly virtually)  another author and learn about their work.  One such author is Sher Davidson (see her upcoming book below).

Until launch day, November 4th, don't forget to check out her website.  She also writes mystery books which is also one of my favourite genres.

Europe With Two Kids and a Van by Sher Davidson
Coming: A new book release, the 50th Anniversary Edition of Europe with Two Kids and a Van, Travel Memoir and Guide.
I hope you'll enjoy reading the 50th Anniversary Edition of the first of Sher's books ever published. Both travel memoir and guide, it's all about traveling with kids in Europe on a limited budget. Watch for its release on Amazon on November 4th. I'll be reviewing the book in my November 10th issue. What a great holiday gift for friends and family!
That's all for today! 
Until next time,

R.G.
Fellow Authors, My Books, and Other Goodies To check Out.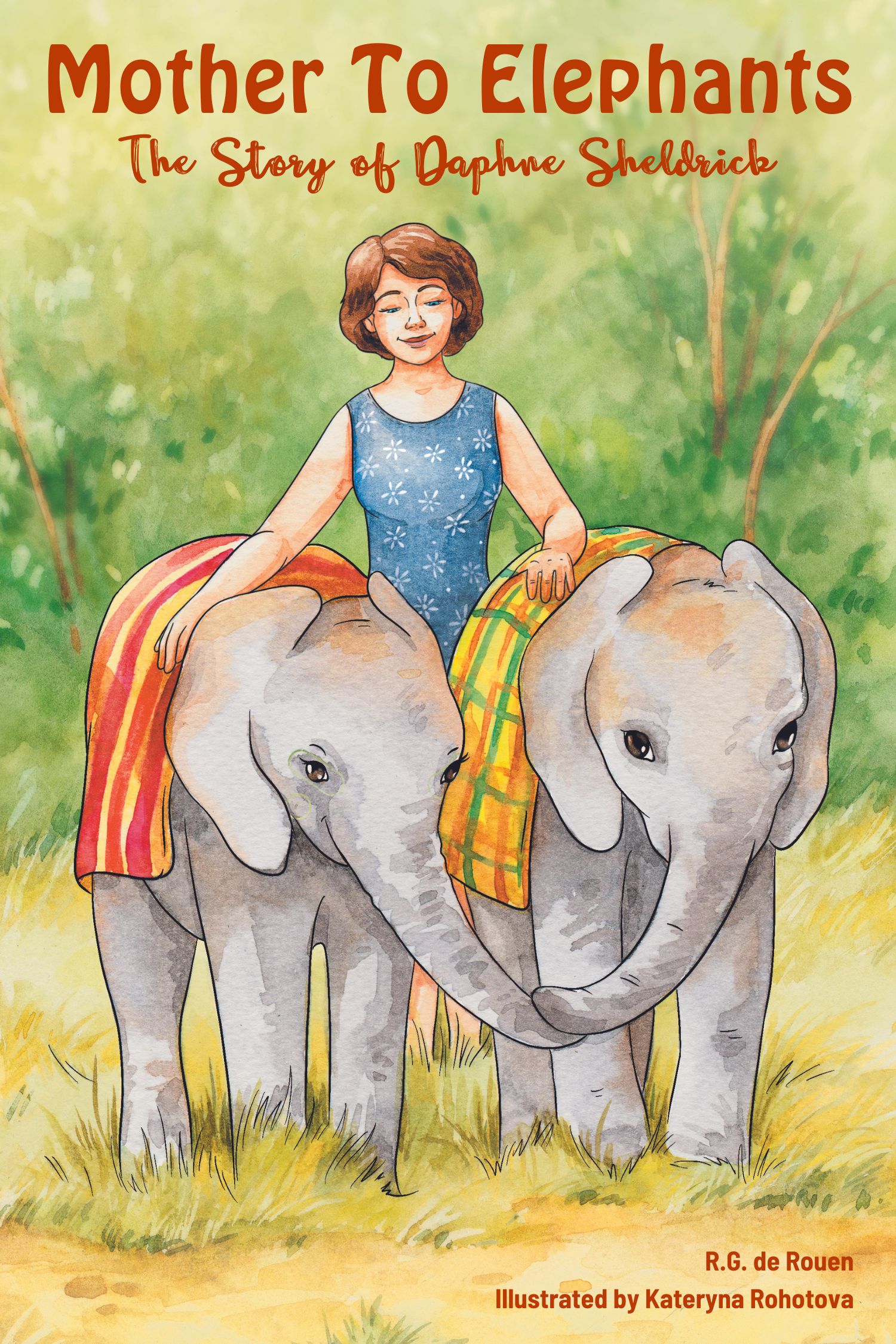 A picture book celebrating the life of a pioneer in elephant care (perfect for your nature loving child).
Born free – living free! How young, orphaned elephants found a playful temporary home with a different kind of family. A true story filled with love and determination.

Mothering elephants is what Daphne Sheldrick did her entire life. As a young girl, she was put in charge of wounded or abandoned animals. As a grownup, Daphne and her dedicated team saved and nurtured countless elephants.

When a tiny, milk-dependent calf arrived, Daphne's determination would be tested. No one had ever hand-reared an elephant baby this young, but what Daphne learned with Aisha would be the key to saving future orphaned elephants. What's more, she had an elephant-sized dream of returning them to the wild!

This non-fiction biography picture book for kids is sure to inspire young budding conservationists and make the perfect gift for elephant lovers everywhere!

Includes a section with many ele-fantastic elephant facts!
The perfect choice for parents and teachers looking for:
Inspiring nonfiction narrative books
Biographies about women
Role model books for children
Kids STEM books

Buy NOW and receive the "Mother To Elephants" Extra Childhood Scene and Ice Cream In A Bag science activity for FREE
(details inside book)!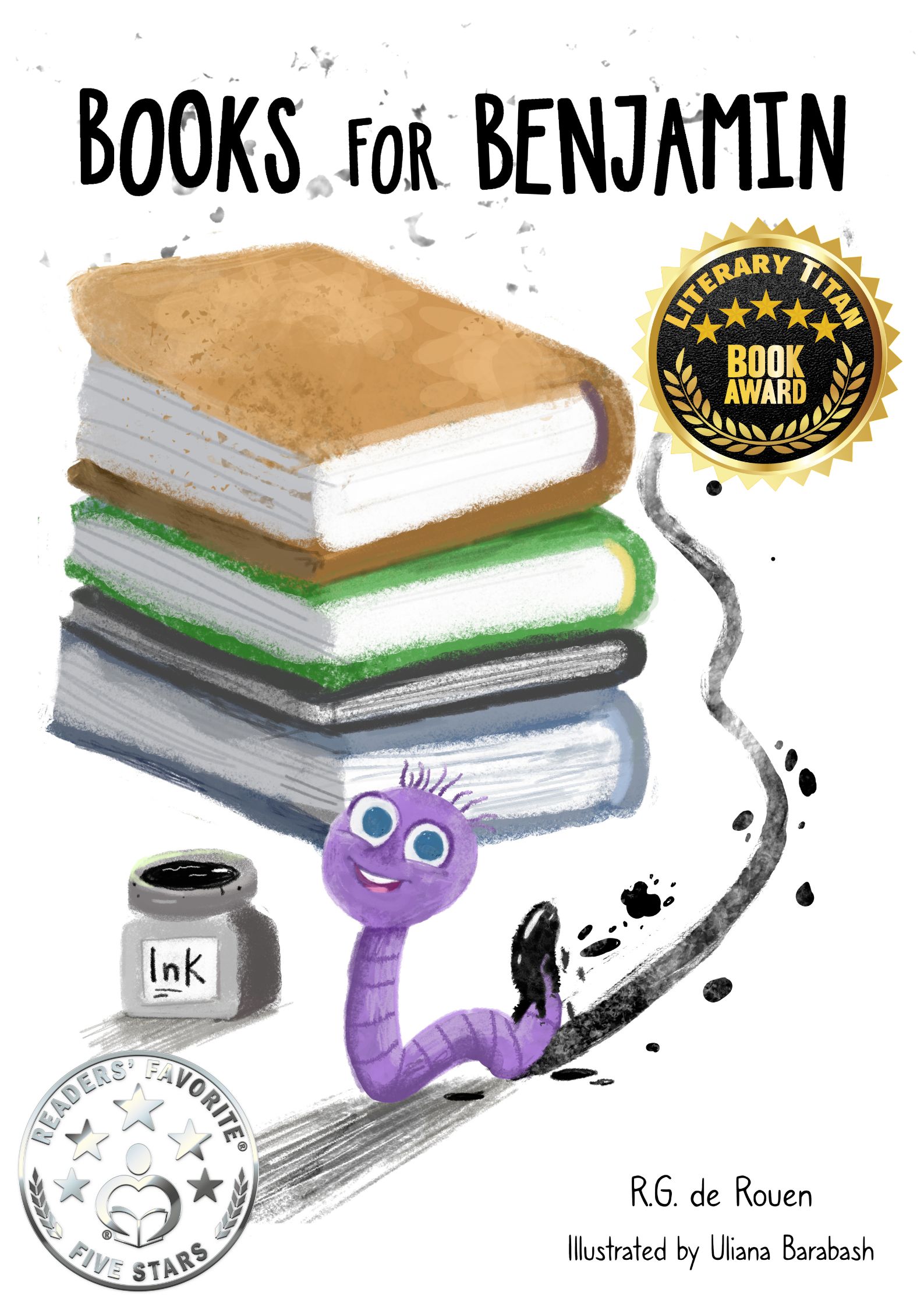 A Fun Picture Book Adventure Valuing Diversity and Being Different
Benjamin would rather read about adventures in a giant peach than eat one!

Unlike his family members who are happily munching away on scraps, Benjamin is a different kind of worm. He loves to read. Yet, all he finds are old newspapers and magazines full of tomato splotches. Not one to give up on his dreams, Benjamin sets off on a quest to find "real" books.
The perfect choice for parents, teachers and librarians looking for:
Inspiring the love of reading and the value of libraries
Books for reluctant readers
Role model books for children
A humorous read for bedtime

BUY NOW and rekindle the joy that you had as a child of going to the library and discovering that first book!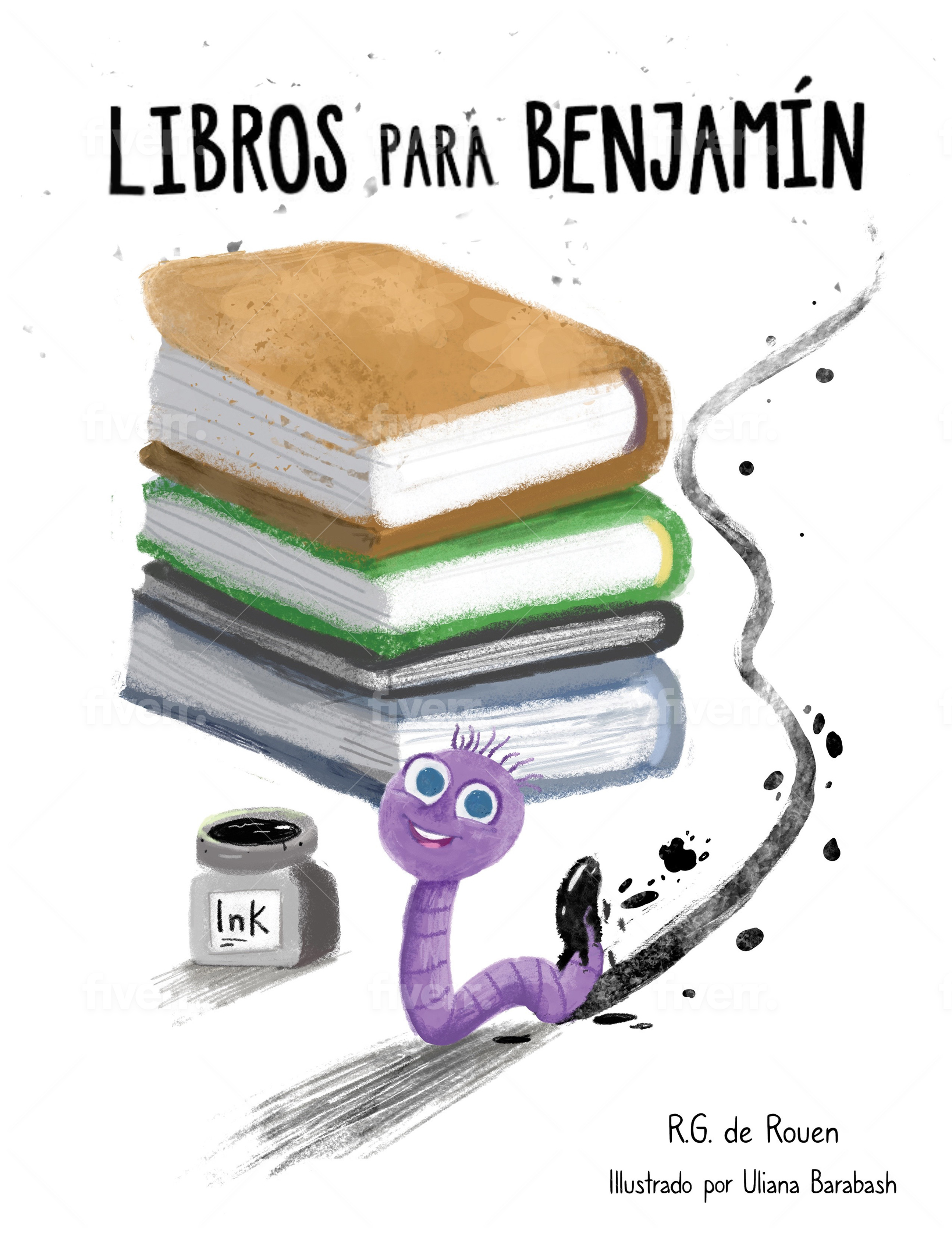 Your Kids Won't Want to Miss This Adventure. Now in Spanish!
Benjamín preferiría sentarse en un durazno gigante para leer historias de aventuras, que comérselo.

A diferencia de los miembros de su familia, que están felizmente comiendo desperdicios, Benjamín es un tipo diferente de gusano. Le encanta leer. Sin embargo, todo lo que encuentra son periódicos y revistas viejos llenos de manchas de tomate. Sin renunciar a sus sueños, Benjamin emprende una búsqueda para encontrar libros 'de verdad'.

Las ingeniosas ilustraciones de Uliana Barabash son el complemento perfecto para esta simpática historia escrita por R.G. de Rouen.

Acompaña a Benjamín en su aventura a la caza de libros y observa a los pequeños de la casa en su búsqueda por la famosa firma de Benjamín.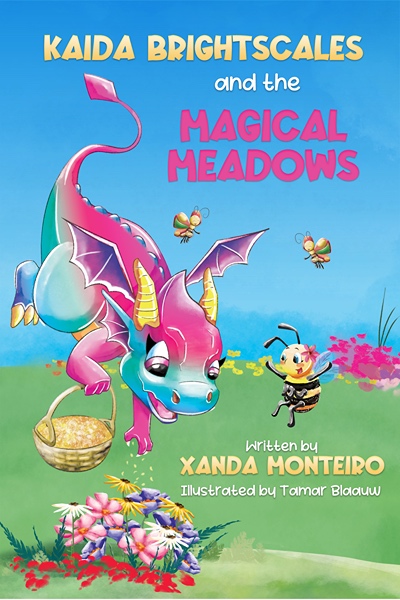 A world brimming with flowers and colors. An inquisitive young dragon. A sick friend in need of help.
Kaida Brightscales loves to explore. And when the shimmering winged creature crosses paths with a busy butterfly and a focused ant, she's delighted to discover that they're working hard at very important jobs. But after she spots her sick bee friend, she's not sure how to help her feel better.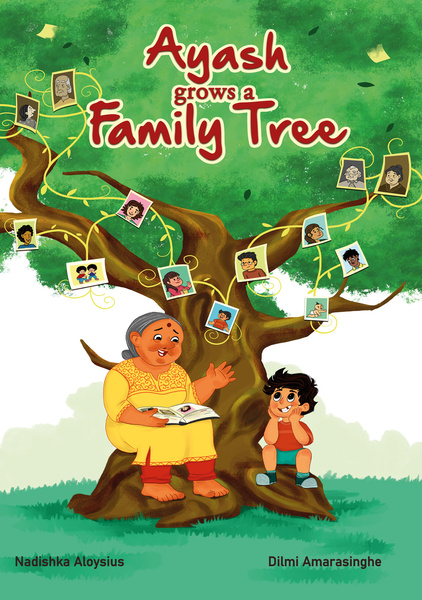 School projects have never been so much fun...
Five-year-old Ayash has a problem: how do you grow a family tree?
Help arrives in the form of his grandmother, Paatti, who, armed with a box of old photographs, gently guides the eager little boy while teaching him about his roots.
A humorous and endearing tale that will become a firm family favourite!

Includes a worksheet which can be used to grow your own family tree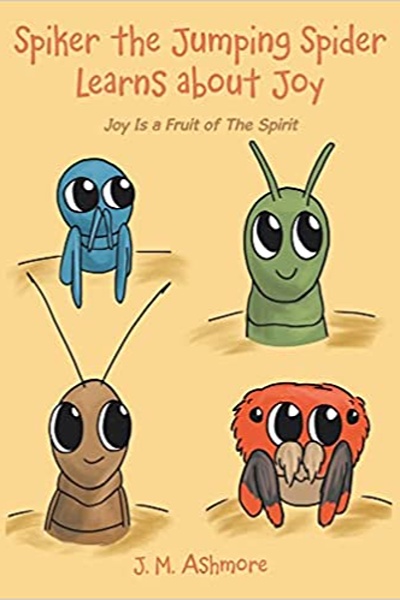 Joy Is a Fruit of the Spirit
Spiker the Jumping Spider is learning that having joy starts with being glad instead of sad. Each day, he and friends find ways to be glad. First they learn to be glad when they have to change their plans, next when they have to try something new, and finally when they worry unnecessarily. But then they learn the greatest secret of all!


1603 Capitol Ave Suite 310 A195, Cheyenne
United States of America
You received this email because you signed up on our website or made purchase from us.
Unsubscribe