Hello, !
We're approaching the close of "planning season" - that time of the year when we're frantically trying to predict what is going to happen, and decide where to take our business this year.
For a quick tip on how to make your goals more digestible, check out the fruit of my New Year's Resolution: a bi-weekly video tip on LinkedIn.
But there's something more I want to say about planning and goal-setting in the context of content marketing.
This is particularly important if you're in the first years of building your brand or communications team and occasionally feel stuck and as if you're going nowhere.
Here it goes:
Content marketing is more like taking a spiral staircase, not an elevator.
What on earth is that supposed to mean?
Let me give you some background. When I start working with my clients on their communication, marketing, and content, they usually cite this one goal:
To improve sales via social media, website and email - and, ideally - fast.
How fast or slow we get there, depends a lot on the foundations in place. And when you're still working on those foundations, marketing work feels a lot more like climbing a spiral staircase than taking the elevator.


When you're taking an elevator, the direction is usually straight up. You're maybe slowed down by stops on different floors, but even in a high-rise, you can reach the top quite quickly.
When it comes to entrepreneurship, the top floor lounge is where the Marie Forleo's of the world are typing away on their laptops, looking fabulous.
The thing is, though, the progress in the early years of building a business isn't usually that straightforward.
When you take the spiral staircase of entrepreneurship, you move slower… And after a while, you reach a place that looks exactly like the one you left from.
You might be asking yourself: "Wasn't I just here a year ago?" "How can I be this stuck?"
But you are not stuck - You are in a similar place, but one floor up!
It looks almost identical, but there are small ripples of progress when you look closely.
When marketing your business online, progress isn't always visible to the bare eye.
Content marketing success can look like this:
One or two more comments in an average post than you used to have six months ago.

10 % more social media post impressions than last year.

50 more people visiting your landing page

One participant more in your programme than in the last launch.
It's not the top floor lounge - yet - but you've definitely climbed at least one storey.
That's what I'd like you to remember when setting your goals and evaluating the success of your content, marketing and communications.
You're not stuck, you're just climbing a spiral staircase.
As long as you're going in the right direction, there's no reason to panic. Just keep climbing.
See you on the next floor (or at the events below!),
Pauliina

What's up this month?
EVENTS & UPDATES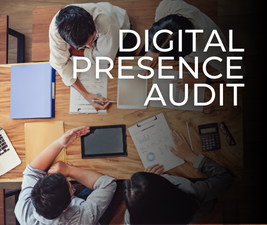 Online, On-Demand
Digital Presence Audit
The New Year is a great time to check if your message really lands the way you intend it to. Digital Presence Audit provides actionable feedback on your favourite platforms, so you can get ahead of the competition early on!
Pauliina With 2 "I"s / Pauliina Rasi Communications
Chemin des Saules 26C, Nyon
Switzerland
[email protected]
You received this email because you signed up for our events, resources or programmes. If you don't wish to receive our updates anymore, you can unsubscribe or update your preferences below. 
Unsubscribe