Dear Women of THE NETWORK,

May is the month of Diversity and Inclusion in Luxembourg and many other parts of the world. During this month different organizations, government agencies, NGOs, and private companies are organizing conferences, workshops, and cultural events to celebrate and promote diversity and inclusion in all its forms, and to raise awareness about the importance of creating a more inclusive society.
We are proud to be part of the Luxembourg associations promoting Diversity and Inclusion and we look forward to attending the ceremony welcoming the new signatories of the Diversity Charter Lëtzebuerg
Our event in May is about Climate Change and of course we will be looking at this important subject from the women's perspective. We are however aware that women with disabilities, women from ethnic minorities and LGBTQ+ people generally face additional challenges in accessing economic opportunities to help them escape poverty and run higher risks of being more affected by the challenges of climate change
Among the reasons, we know that women are more likely to work in low-paying and informal jobs, which often lack social benefits and career prospects. Women are also more likely to be unpaid caregivers, which limits their ability to work and earn an income. In many parts of the world, women face discrimination in access to education, health care and financial services, which can limit their economic opportunities. In many countries, women are paid less than men for the same work. The gender pay gap is estimated at around 16% globally, which means that women will have fewer resources to fight the effects of climate change.
The Speakers at our event will help us understand what is happening in the world and in Luxembourg and we will learn what can be done to better support women and contribute to their readiness to face the challenges created by the climate change. Advocacy, education for all, empowerment and community contribution are just some of the ideas that will be explored during our event.
We hope you will learn new things about what is being done around the world and in Luxembourg about Climate Change, and how each of us can contribute to a healthier planet.
Yours in Networking,
Mariana Florea
President. The NETWORK
Interview with our VP Lucia de Luca
Lucia de Luca is an equity champion and community-builder and the former Managing Director of Women Political Leaders (WPL) (2019-2021), the worldwide network of women politicians.
Lucia has more than 20 years of experience in international cooperation, strategic communications, and community creation. Throughout the unprecedented times of the pandemic, Lucia set up WPL on a path of growth, mobilizing communities and partners and motivating the staff to create impact and societal change. 

Lucia acts as moderator and university lecturer in communications and partner's relations, and co-authored various papers and reports. 


Why did you join THE NETWORK?

I have been knowing The Network for a long time and joined it many years before returning to Luxembourg because I was looking for job opportunities and wanted to expand my network.

What are your duties as Vice-President of THE NETWORK?
As Vice President I am supporting the President in ensuring a smooth running of organization. In particular, I'll be looking at the development of partnership agreements to ensure The Network fulfills its mission at supports at best its members.
Why would you recommend THE NETWORK to women around you?
In today's world, women need to support each other to create more sustainable societies. The Network can help women in discovering the right opportunities, in sharing experiences about how to play the role in society they deserve. The Network is an enabler for women, joining the organization is a step towards personal and professional advancement.
Any advice or thoughts you'd like to share with the readers?
We live in a hyper connected world, nothing can be done in isolation today. We should use this connectivity to create links with women because the network can act as "super power" for women. Women should learn from men, they have been networking since ages, we should do the same, or even better.
The climate crisis is not "gender neutral". Women and girls experience the greatest impacts of climate change, which amplifies existing gender inequalities and poses unique threats to their livelihoods, health, and safety. Across the world, women depend more on, yet have less access to, natural resources. In many regions, women bear a disproportionate responsibility for securing food, water, and fuel.
Our May event will discuss how Climate Change impacts women and girls. How does the climate crisis affect access to essential resources like food, healthcare, housing, and education? We have already seen how natural disasters like hurricanes, earthquakes, and flooding worsen gender inequality. How can we limit the impact of Climate Change and ensure a better future where women and girls have better outcomes in natural disasters and an energy crisis?

Future events
Take a look at our future events!

Press release
Chronicle.lu
The panelists offered their tips for women wishing to embark on an entrepreneurial journey. They all agreed on the importance of building a strong network and asking for help when needed, supporting other women but also sharing the good and the bad experiences that form part of this journey. 
Pitcher
LETZ HEAR IT!
Jazmin Campbell and Latasha Baker pitched their new podcast LETZ HEAR IT! The podcast for women living, loving and thriving in Luxembourg.
Pitcher
Toastmasters International
Tania Yordan pitched for PC4E Toastmasters Club Luxembourg, a public speaking and leadership non-profit club. Both native and non-native English speakers have the opportunity to hone their speaking, listening and leadership skills in our Club.

FEATURED EVENTS & PROJECTS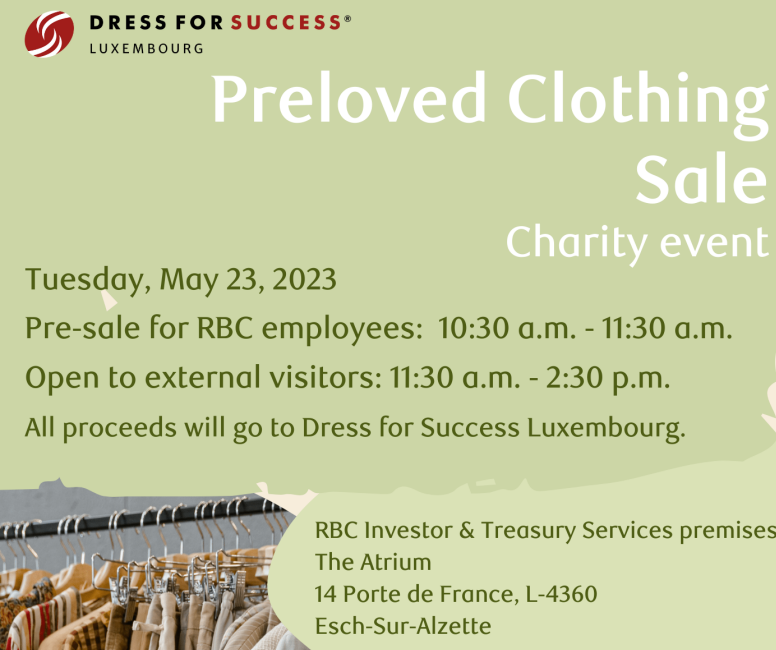 May 23
Preloved Clothing Sale
DRESS FOR SUCCESS is pleased to invite you to its next sale of second-hand clothing, shoes and accessories. Upgrade your wardrobe with amazing pieces at incredible prices!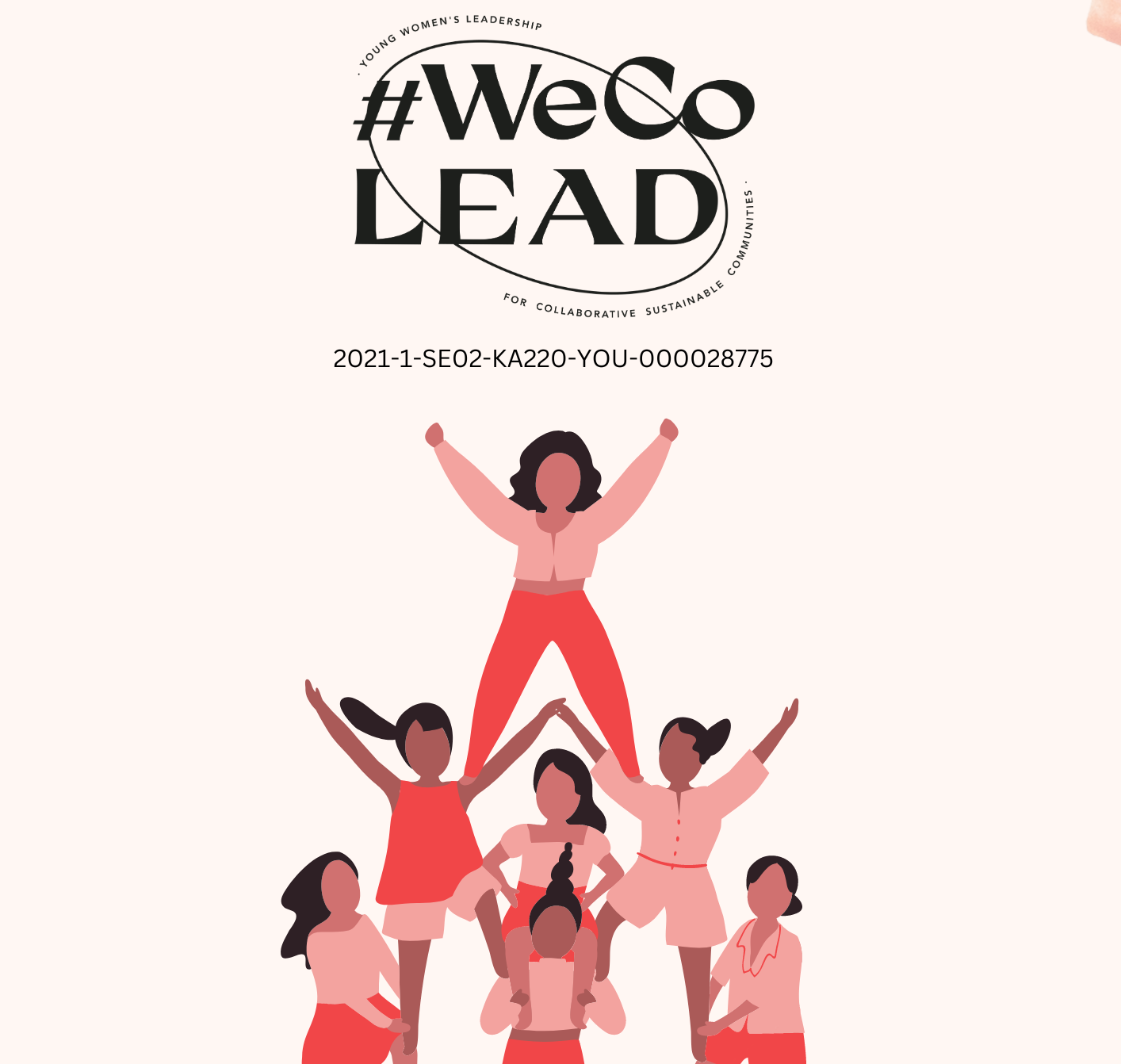 #CoLead Project
FS Luxembourg's #WeCoLead project aims to empower young women to act as leaders in shaping a sustainable future while fighting against climate change.
Looking to volunteer?
Join one of our teams and empower women to thrive in Luxembourg. If you're interested please send us an email. We are looking for volunteers in:
Events
IT
Memberships
Communications
Not a member yet?
Become a member today, and enjoy all our future events for FREE! Community
Meet like-minded women and become friends. Events
Participate for free to monthly events.

Development
Learn about everyday topics that help you grow personally and professionnally.