Hello Friend,
I truly can't believe I just published the 10th book in the Mrs. Lillywhite Investigates series! To celebrate the accomplishment, I'm releasing a box set of books 7-9, and putting books 1-6 on sale for .99 each!
Emily Queen Writer


2023-01-24
Binge the first 6 books of the Mrs. Lillywhite Investigates Mysteries for just .99 each, then pick up the box set of books 7-9, releasing today from Amazon!
Also available to read for FREE with Kindle Unlimited.
https://www.amazon.com/dp/B07QMB2CWK
I'd really appreciate any likes, comments, and shares! 💗
I'm sure you've already visited the Prolific Works promo page and picked up your FREE copy of "Half Seas Over", a short story featuring Desmond Cooper from the Mrs. Lillywhite Investigates Mysteries and Imogene Quinn from the upcoming Red Door Speakeasy Mysteries, but if you haven't, here's the link: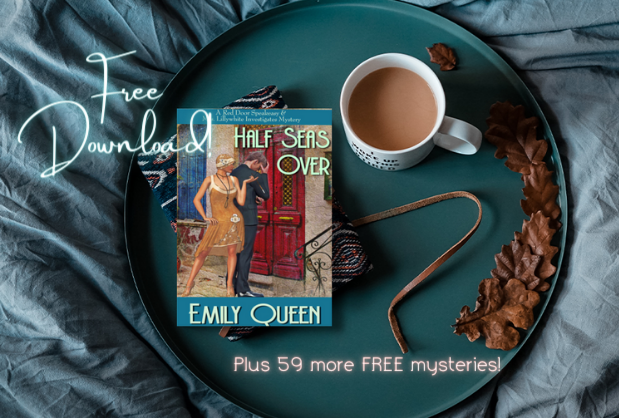 Psst...do you know the password?
1920's New York City
Desmond Cooper is nursing a broken heart. He's so distraught, in fact, that his arrival in the Big Apple doesn't go as planned. Instead of living it up at The Plaza Hotel, he ends up wandering around a bad part of town and stumbling over a dead body!
Enter feisty speakeasy proprietor Imogene, a woman unlike any Desmond has ever met. She wields a pistol, drinks whisky out of a teacup, and won't settle for anything less than the truth about the murder--even if it means discovering one of her closest friends is the killer.
Will she mend Desmond's heart in the process, or leave him wondering why out of all the juice joints in the city, he had to wander into hers?

A cozy historical mystery set in Prohibition-era New York, Half Seas Over features characters from the Red Door Speakeasy Mysteries as well as the Mrs. Lillywhite Investigates Mysteries.
Next month is my featured month on the Twisty Tales & Cozy Crimes Facebook group, so look out for some fun content including giveaways, recipes, and a sneak peek of the first chapter of "Larry Sent Me" ‼️

Emily Queen Writer - Willow Hill Books
P.O. Box 292, Dover-Foxcroft
Maine, United States of America
[email protected]
You are receiving this email because you signed up on my website or gave permission as part of a mailing list promotion.