Hello Friend,
I've been slacking off and forgot to announce the winners of my holiday giveaway. Actually, I've been working on getting An American Alibi out and fretting over whether you all are going to like Imogene, but even so, I'm late! Scroll down for the winners and to enter my next giveaway.
Also, thank you to all of you who sent me a holiday card this year. It made me feel much more festive, and I really appreciated the pick-me-up! 💗🎄
An American Alibi will be released in 2 days! It's available exclusively on Amazon, of course, and will be available to read for FREE with your Kindle Unlimited subscription. If you don't have KU, Amazon is offering it for free for two months. There are TONS of books on there, including all the Mrs. Lillywhite Investigates Mysteries and the upcoming Red Door Speakeasy Mysteries.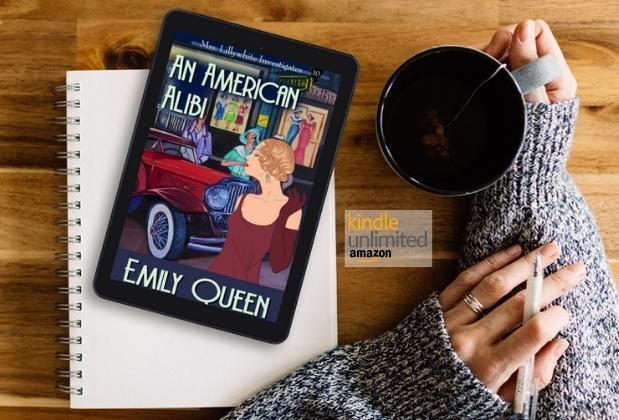 Two lady sleuths for the price of one.
It wasn't love that made Rosemary follow Desmond to New York City—it was curiosity, and everyone knows the old saying about how curiosity killed the cat.
When the newest object of Desmond's affections, spunky speakeasy proprietor Imogene Quinn, invites them all to an estate auction at a Fifth Avenue mansion, nobody expects for a priceless couture dress to be stolen—or for one of the household to turn up dead!
The case becomes doubly confusing when it turns out everyone had the means, motive, and opportunity to commit the crime—and furthermore, they all have airtight alibis!
Good thing old Des has excellent taste in friends; his new American chum has a few tricks up her sleeve—perhaps even as many as Rosemary.
Our intrepid lady sleuth will have to join forces with her American counterpart when she's compelled to unravel the mystery and solve the case.
We have winners!
Congratulations to:
Linda Scott
Angelina Torres
Terri McLeod
Diane Paulionis
Brenda Chambers

You have each won ebook copies of "Death Down the Aisle," the 7th book in the Mrs. Lillywhite Investigates murder mysteries.
Do you want to be my next winner? 
Did you enjoy Half Seas Over? The short story won't be available on Amazon until late next year, but it's listed on GoodReads now, and if you have a minute I'd really appreciate a rating or review!
Haven't read Half Seas Over yet? CLICK HERE to download it for FREE from Prolific Works
Emily Queen Writer - Willow Hill Books
P.O. Box 292, Dover-Foxcroft
Maine, United States of America
[email protected]
You are receiving this email because you signed up on my website or gave permission as part of a mailing list promotion.