Hello Friend,
First off, thank you to everyone who emailed me about the loss of my beloved dog, Lola. I was very touched that so many of you took the time out of your lives to let me know I wasn't alone. It really helped me get through that incredibly painful time. Please know that even though I couldn't bring myself to reply, I was touched 💗🐕

The Case at Barton Manor
Free from 11/15-11/19
Not all widows are elderly…and not all ladies are proper.
If one more person gives Rosemary Lillywhite unwanted advice on when to stop mourning the loss of her beloved husband, she fears she will lose control of her sensibilities. All she wants is to be left alone to drown her misery in a glass of gin and tonic, but when Grace Barton knocks on the door of her dead husband's investigative office, Rosemary faces a choice: come out of hiding or turn away someone in need of help.
As Grace recounts her tale of intrigue, Rosemary discovers a shared connection with the woman that has her accepting an invitation she'd just as soon turn down. With her best friend—bright young thing Vera Blackburn—by her side, Rosemary trades her widow weeds for a party dress and heads to a fancy do at Barton Manor. The drinks flow freely, but there's an undercurrent of unease until finally, the night ends in murder—one in which Rosemary's brother becomes the prime suspect!
What's worse, the handsome chief inspector on the case is a man she knows well: he was her husband's best mate, and he takes a dim view of lady detectives—or perhaps just of Rosemary becoming one.
What will it take for Rosemary to solve the crime before her brother hangs for a murder he didn't commit?
Don't have Kindle Unlimited? Get 2 months FREE now ($19.98 value) and get access to 2 million titles!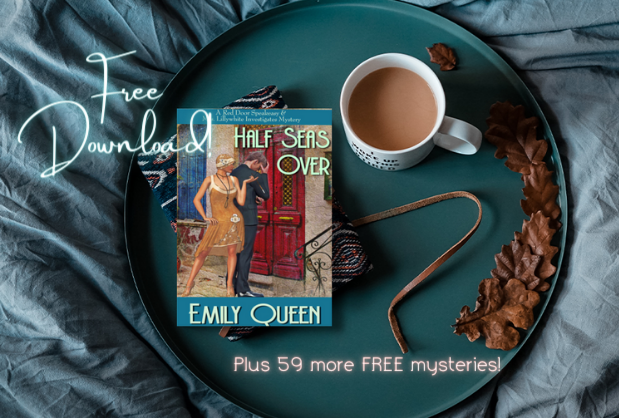 Psst...do you know the password?
1920's New York City
Desmond Cooper is nursing a broken heart. He's so distraught, in fact, that his arrival in the Big Apple doesn't go as planned. Instead of living it up at The Plaza Hotel, he ends up wandering around a bad part of town and stumbling over a dead body!
Enter feisty speakeasy proprietor Imogene, a woman unlike any Desmond has ever met. She wields a pistol, drinks whisky out of a teacup, and won't settle for anything less than the truth about the murder--even if it means discovering one of her closest friends is the killer.
Will she mend Desmond's heart in the process, or leave him wondering why out of all the juice joints in the city, he had to wander into hers?

A cozy historical mystery set in Prohibition-era New York, Half Seas Over features characters from the Red Door Speakeasy Mysteries as well as the Mrs. Lillywhite Investigates Mysteries.
Read it, loved it? Hop on over to GoodReads and give it a rating!

I'm feeling festive this year...
Want me to send you a holiday card?
I've got to try to find a bright spot and it's going to be the holiday season this year. Sign up to receive a good old-fashioned holiday card in the mail.

Emily Queen Writer - Willow Hill Books
P.O. Box 292, Dover-Foxcroft
Maine, United States of America
[email protected]
You are receiving this email because you signed up on my website or gave permission as part of a mailing list promotion.