hart2heartanimalrescue.com       No. 011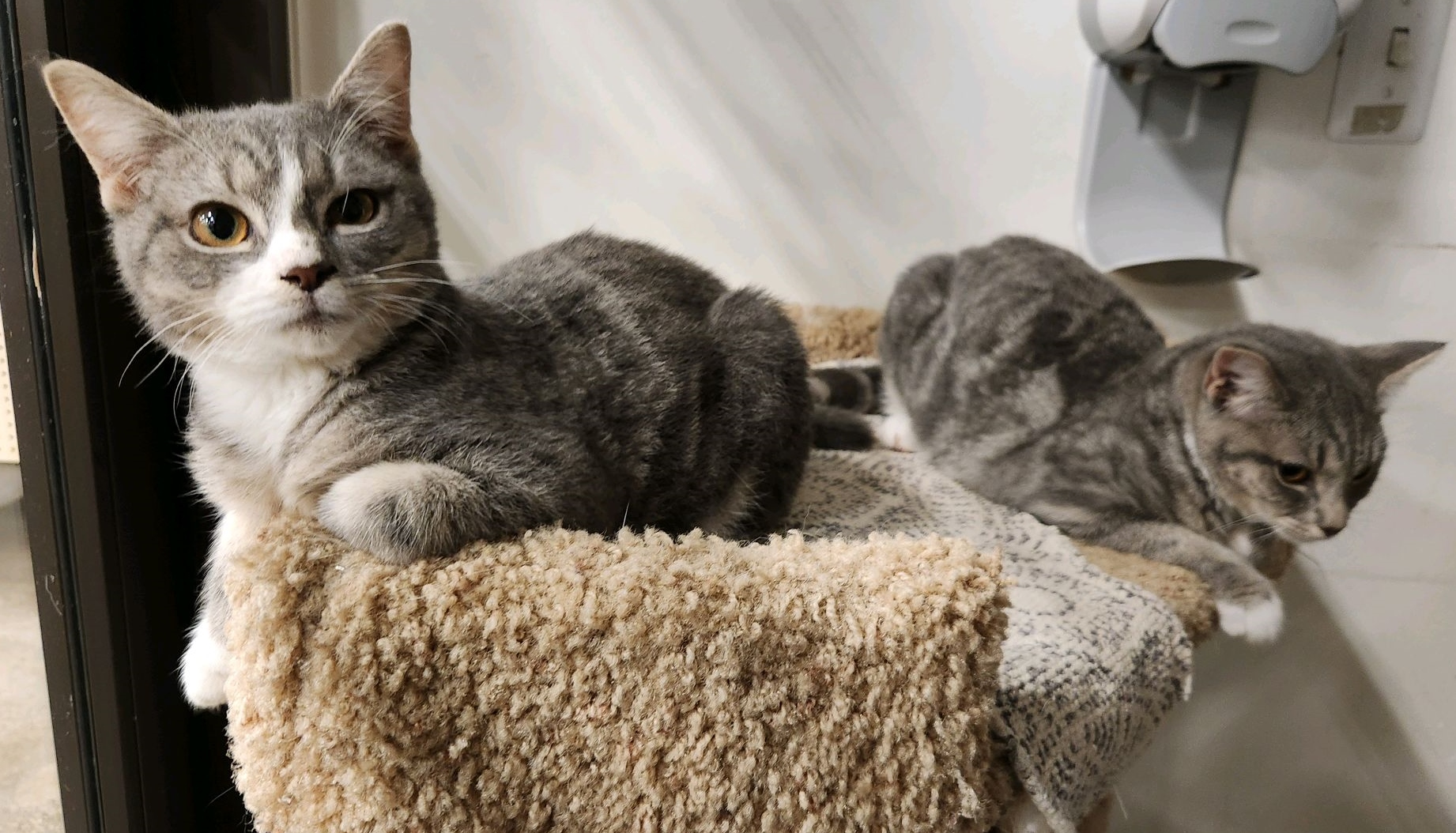 It's August!
They say August is the "dog days of Summer". But it's also the never-ending kitten and cat season. August also gives us International Cat Day on 8/8. While we celebrate cats every day at the Rescue, now is a great time to spread the word about how great cats as pets can be.
As of 2022, 44.5% of U.S. households own dogs, and 29% of households own cats (https://www.forbes.com/advisor). Yet, there are still so many animals hoping for their forever homes. Adopting from a rescue can save an animal's life. Abandoned, unwanted and often abused, animals come to the Rescue in need of a chance at a good life. Our goal is to find the best match for every animal and help them get started living their best lives.
Most cat owners would agree cats believe that every day should be devoted to them, perhaps because cats were worshipped as gods in ancient times. Today, International Cat Day is specifically devoted to our furry friends. It was founded in 2002 by the International Fund for Animal Welfare (IFAW). The mission of this special day for cats is to raise awareness about the animal.
Whether you're a cat owner or just a cat lover, there are many ways you can celebrate cats. Throw a party for your cats and give them presents, treats, and a special meal. Adopt a cat and encourage others to adopt from rescues instead of pet stores. Volunteer at a rescue. Visit a cat café. Donate to a cat charity. The list goes on.
We love our cats and we're always spoiling them. It's easy to see why we celebrate cats. They're entertaining, silly, playful, and odd. They are intelligent, sneaky, and mysterious. Cats are our affectionate, compassionate best friends and we celebrate them whenever we can!
So, enjoy these "dog days" and celebrate the animals in your life!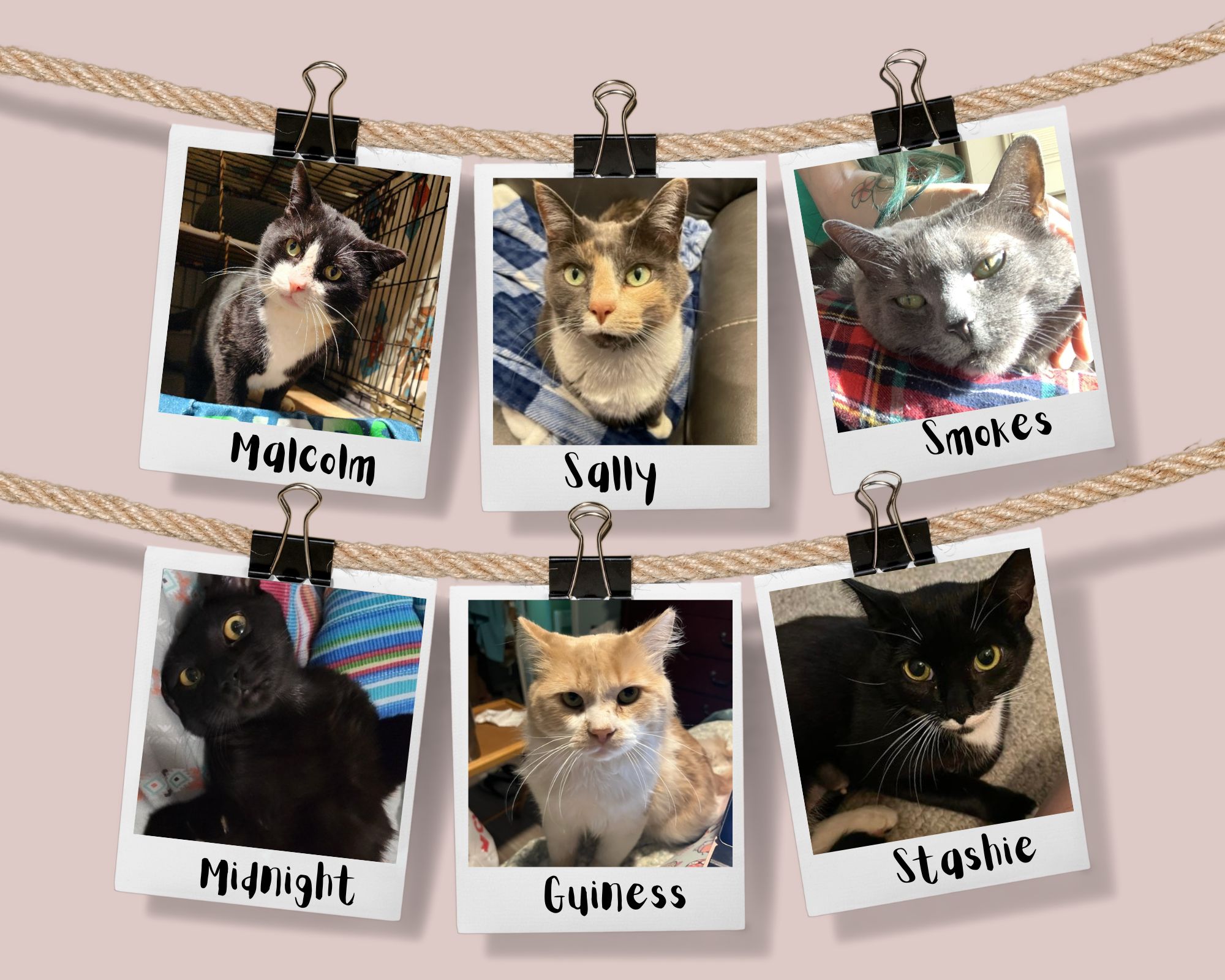 Featured Pets
Single-cat households
Cats come in all sizes, colors and personalities. Some cats bond with a litter or foster mate for life, some enjoy the company of one or more playmates, and some crave solitude. While in foster care, we evaluate the temperament of our rescues to determine which type of household will be best for them. We have several cats that prefer to be the only pet in the household. These cats are not curmudgeons or anti-social. They simply prefer spending time with their human or relaxing on their own, without the interruption of housemates. A single cat can still be happy, healthy, and well-adjusted. Just make sure to set aside quality time for human companionship and keep your pet's environment stimulating and interesting.
Bonding time is enjoyable for any cat, but it's especially important if you're the parent of a single cat. Spend some one-on-one time every day paying special attention to your cat, whether it's grooming, chatting, playing, or simply snuggling—whatever your cat (and you) enjoy the most.
It's also important to provide an entertaining environment for your single pet when you are not home. Toys can provide endless amusement, once you identify what your cat finds fun. Interactive toys, crinkly or noisy toys, catnip-filled toys, or motion-activated toys are some common options. Trial and error will show you what works best. Remember to keep it fresh and change up playthings from time to time. 
Cats love to climb, hide, and scratch. A cat tree, scratching post, cardboard boxes or even paper bags can provide hours of entertainment! Cozy perches in sunny windows, or a pet bed on a windowsill are great ways to bring the outside world indoors for your solitary pet. Watching the world go by is a favorite pastime.
A single cat can still be happy, healthy, and well-adjusted. Just make sure to set aside quality time for human companionship, and keep your four-legged friend's environment entertaining and exciting.
Check out our available cats looking to be the king or queen of your castle.
Why pay an adoption fee?

Rescues like Hart 2 Heart work to find good homes for homeless pets. So, why do you have to pay an adoption fee? The reality is it costs a lot of money to care for rescue animals. Adoption fees help cover operating expenses, pet care, medical and dental expenses, just to name a few. Unfortunately, the adoption fees don't generally come close to covering all the Rescue's expenses. We also rely heavily on fundraising events, donations, and local sponsorships. Every little bit helps.

Adoption fees are typically less than the costs of buying an animal from a breeder. Furthermore, the fosters and store volunteers for the Rescue spend quality time with all our available animals and can provide great insight into each animal's personality, likes and dislikes, and more. They can help match you with the right pet and provide guidance to transitioning the pet to your home.
So, remember to ADOPT, Don't Shop. Consider what you get when you pay that adoption fee – a great animal ready to start a new life with you, fully vetted and microchipped. The adoption fee helps the Rescue continue our work to find loving homes for animals in need of a second chance. Of course, additional donations are always appreciated.
Volunteer
Be Happy!
Happiness Happens Month in August is a reminder that happiness is a choice, a life-long pursuit involving small moments in time that bring us joy. Celebrate what makes you happy this month. And remember, volunteering can help bring joy to your life. Volunteer for a cause that resonates with you, like helping animals with Hart 2 Heart. Check out our available positions here and apply today.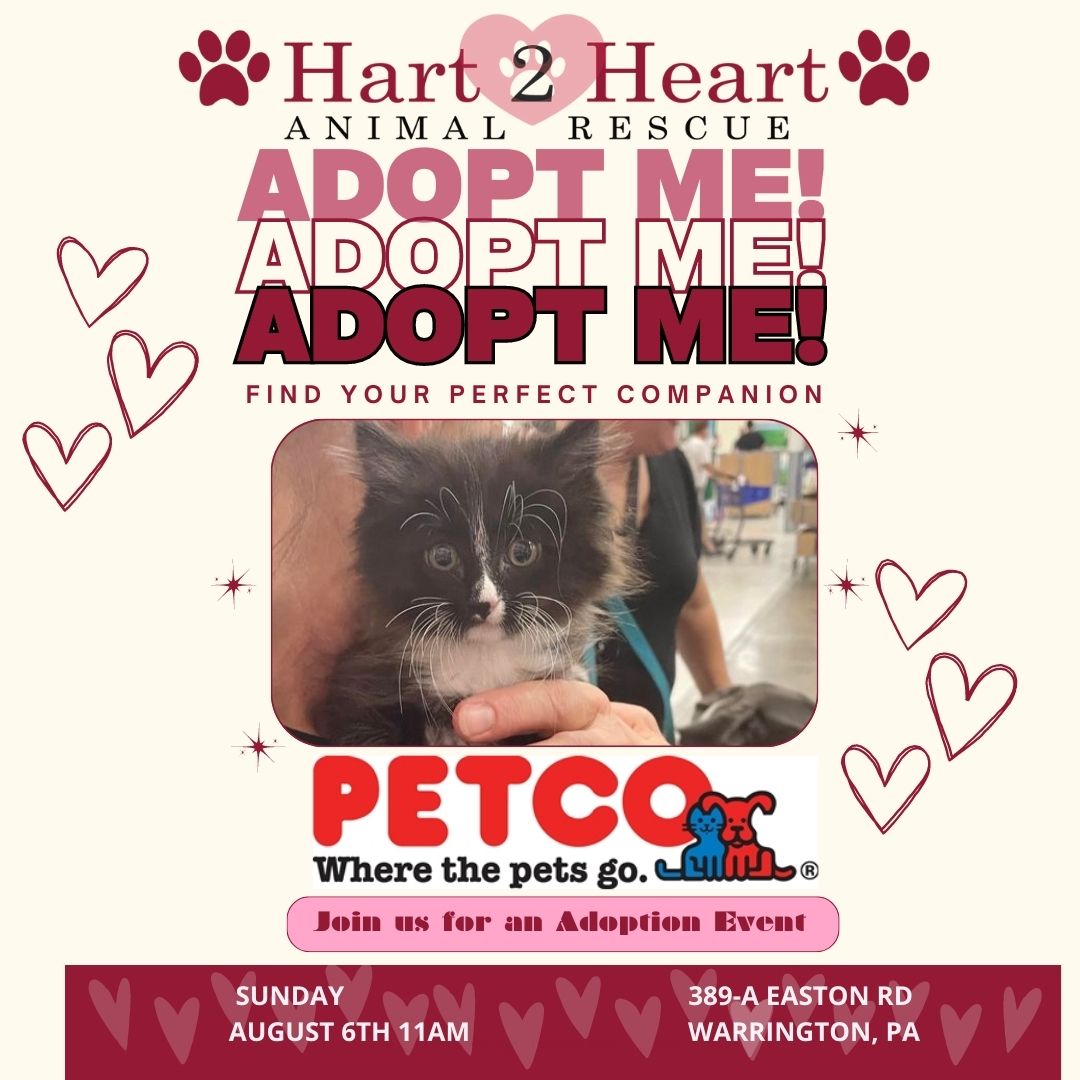 Aug 6th
Petco Adoption Event
Join us for an Adoption Event on Sunday, August 6th at Petco Warrington. Stop by between 11am and 3pm to learn about the Rescue and meet some cats ready for adoption!
Petco Warrington is located at 389-A Easton Road, Warrington, PA.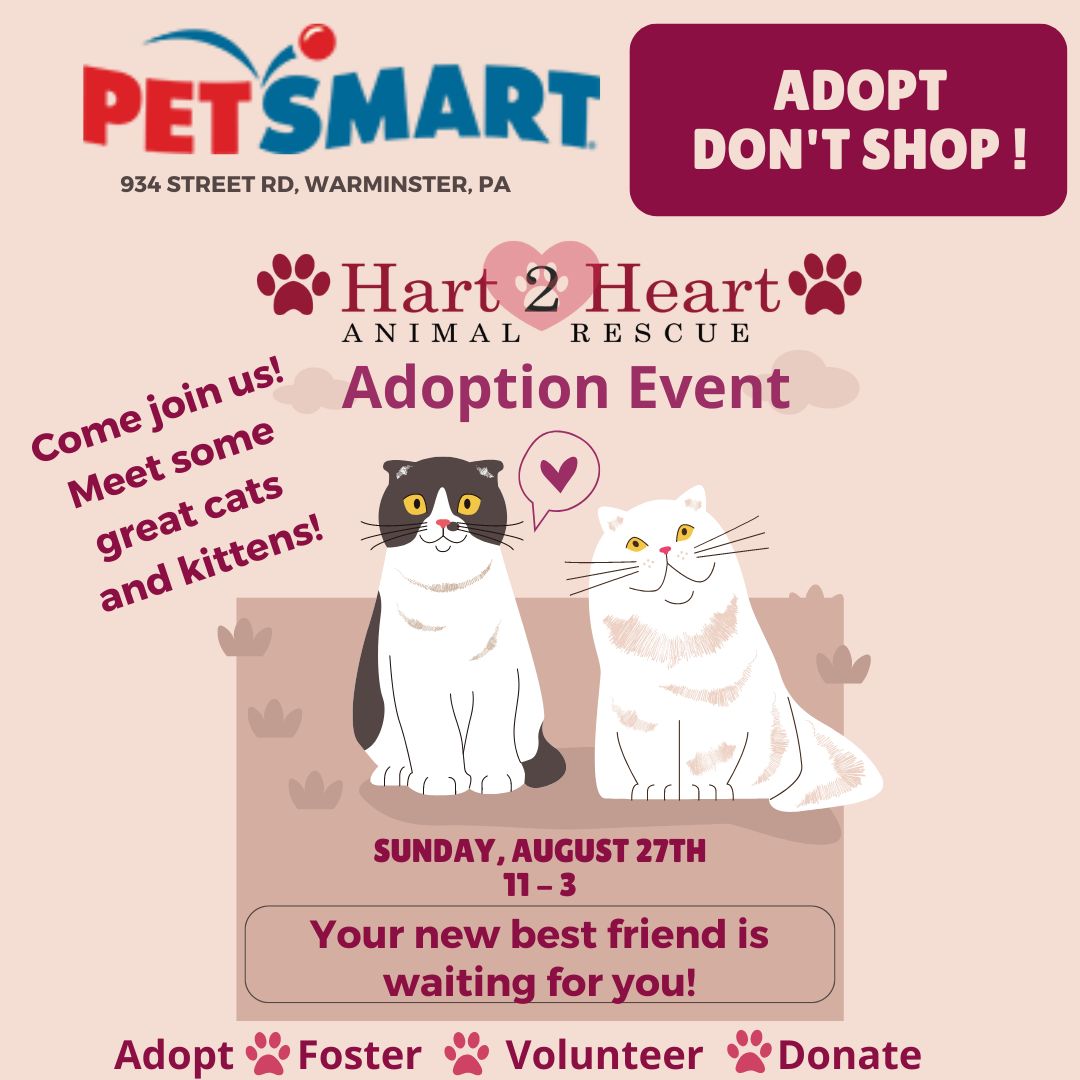 Aug 27th
Petsmart Adoption Event
Hart 2 Heart will participate in Petsmart's Clear the  Shelter weekend by hosting an Adoption Event on Sunday, August 27th at Petsmart Warminster from 11 am - 3 pm. Hope to see you there!

Petsmart Warminster is at 934 W Street Road, Warminster, PA
Rescue of the Month!
Sleepy Cat Urban Winery
Each month the Allentown winery chooses a cat rescue to donate to for two wines. We have been chosen for the month of August. Apollo's Criss Cross is a Seyval Blanc & Brianna grape blend, mid-sweet white wine. Crooner Veltliner is a dry Gruner Veltliner grape white wine. 
Sleepy Cat Urban Winery will donate $1 per bottle & 25¢ per glass sold of each of these wines during the month of August. Order online here.
Happily Ever After
Julia & Willow
Nearly 18 years ago, our parents decided to adopt the most beautiful cat in the world- Mia from Petsmart in Warminster. Mia lived the happiest life a cat could live and brought us the most joy we could have ever imagined for 17 years and 9 months. She was the most beautiful and perfect cat and, most importantly, she was my best friend who I had for basically all of my life. We had to put Mia down unexpectedly due to old age. I was and still am heartbroken from losing my best friend.

Years later, my family and I went to the same Pet Smart again. We saw Willow and instantly all smiled. The very nice volunteer Nancy let us come in after she fed all the cats. All the cats there were so beautiful, but we knew something was special about Willow.


As my family and I talked to Nancy about how the adoption process works, Willow winked at us from his window seat! I rushed to fill out the application and thought about him every day and how happy we would be to have him. The wonderful and extremely helpful Jackie texted us throughout the adoption vetting process. We were so eager to get Willow that we wanted to take him home as soon as possible. Together, Jackie and Nancy made it so we could pick up Willow as soon as Petsmart opened on Mother's Day; only four days after we saw him and filled out the adoption application.

Willow hid and did not really come out for the first few weeks except to eat, drink, and use the litter box…but he did come out and scope out the whole house including the kitchen and counters while we were asleep! Haha. Toward the end of the second week, he came out while my family and I were eating, and I went to sit on the floor to pet and comfort him, and he climbed right on my lap, and we were instantly bonded and connected.
We are becoming better friends each day and we are so happy to have him. Willow is such an amazing, kind, beautiful, playful, and loving boy. He is getting more comfortable each day and is almost always by my side! Willow has a big appetite and loves to be held and brushed and loves to play with all his toys. He also loves catnip, of course. Willow also loves to look outside and watch the birds on the windowsill. He loves to help us cook, watch tv, and just chill by our sides. We are so thankful to have Willow with us now, he is a part of our family and we couldn't be happier.
This adoption process could not have been more perfect and easy for us. I learned through this process, that all the people who help you adopt are volunteers. They were all so nice, helpful, down to earth, and quick. I recommend and will continue to recommend Hart 2 Heart adoption to everybody who has the capability, love, money, and time to give to the animals. This is now the second time that we had a successful adoption and we could not be happier. Thank you Hart 2 Heart. ❤️

Stay Up To Date
Be sure to follow us on social media and our website to learn about all the new animals available, upcoming events and how you can help!
Hart 2 Heart Animal Rescue
You received this email because you signed up on our website or enrolled to join our mailing list. 
Unsubscribe