hart2heartanimalrescue.com       No. 010
It's July!
Summer is a perfect time to celebrate National Lost Pet Prevention Month. Did you know that the July 4th holiday season has the most missing pets reported? On a holiday when fireworks are considered essential, four-legged family members can be anxious, even terrified. Plus, backyard celebrations involve lots of opening and closing of doors, providing plenty of opportunities for little ones to scoot outside and get lost. This month serves as an essential reminder to protect our pets. Preventive measures, such as identification, microchipping, and vigilant supervision, can do a lot to reduce the number of pets that go missing and increase the chances of reuniting lost pets with their loving families.

Pets respond well to positive reinforcement or a rewards system. Instead of scolding or disciplining your pet after every escape attempt, reward them for listening, coming when called, and stopping the behavior. This takes a lot of consistency and patience, but it's worth your time. Most pets are natural escape artists and you don't want them to view every door opening as an invitation to hit the road.
Plan ahead for noisy events. If your pet is usually bothered by loud noises like thunderstorms, it is likely that you'll see the same reaction toward fireworks. Pets may not typically display signs of noise anxiety, but you should still plan your day with your pet in mind. Decide ahead of time where your pets will be during backyard barbeques and pool parties to avoid giving them opportunities to escape. Try to eliminate anything that might cause them anxiety. If you leave the house for a big fireworks display, make sure that your pets are safely inside while you're gone and that any doors, windows, or pet doors are secured and escape-proof.
Should your pet escape and get lost, tools like video doorbells and security cams can provide information on which way your pet ran off. Make use of your neighborhood Facebook page and the Nextdoor app to post about your missing pet. Contact your microchip company to report your pet lost. Let your Rescue know that your pet has gone missing too! We can provide suggestions and resources to help increase the odds of finding your lost pet.
The bottom line is an ounce of prevention is worth a pound of cure. So, this National Lost Pet Prevention Month, and every month, ensure your pet is always safe and sound.
Have a Safe and Fun Summer!

Featured Pets
It may be kitten season, but there are plenty of other cats available for adoption!
There are so many cats waiting patiently for their forever homes! Kittens get all the attention with their uber cuteness and antics. But, young and adult cats make great pets. They have burned off all their kitten energy and are ready to settle into a life of cuddling, loving, relaxing, and playing. Consider your lifestyle and then find a pet that will match it. We can help!
Stay Hydrated!
National Pet Hydration Awareness Month is observed in July to stress the importance of pet hydration. Our pets rely on us to provide fresh, clean water every day. Keeping water available to pets will help encourage them to stay hydrated, which contributes to their overall general health and well-being. 

Dehydration can seriously limit pets' mobility and strength. Early warning signs include loss of appetite, lethargy, and loss of skin elasticity.
On the flip side, pets can also experience water intoxication, which occurs due to constant exposure to water bodies such as garden hoses and pools. Signs to look for are excessive salivation, seizures, vomiting, and bloating.
Make it a habit to refill your pet's water bowl every day, regardless of how much is left in the bowl. Regular cleaning and maintenance of water dishes will keep them hygienic and safe. Keeping our pets safe is good for them, and keeping them healthy is good for us.
Volunteer
We need You!
National Anti-Boredom Month in July is an excellent time to shake things up and try something new. It is interesting to note that being bored does not necessarily mean that you have nothing to do, it means that your tasks are not stimulating your mind. Step outside your comfort zones, pursue your passions, and engage in activities that bring excitement and enjoyment. Volunteer for a cause that resonates with you, like helping animals with Hart 2 Heart.

We are always looking for caring people to join us. In addition to caring for cats in our partner pet stores, we are looking for people to help with paperwork, data entry, document management, fundraising, bookkeeping, and more! While these jobs don't involve being hands-on with cats, they are important tasks that facilitate getting more cats adopted and into their forever homes! Check out our available positions here and apply today.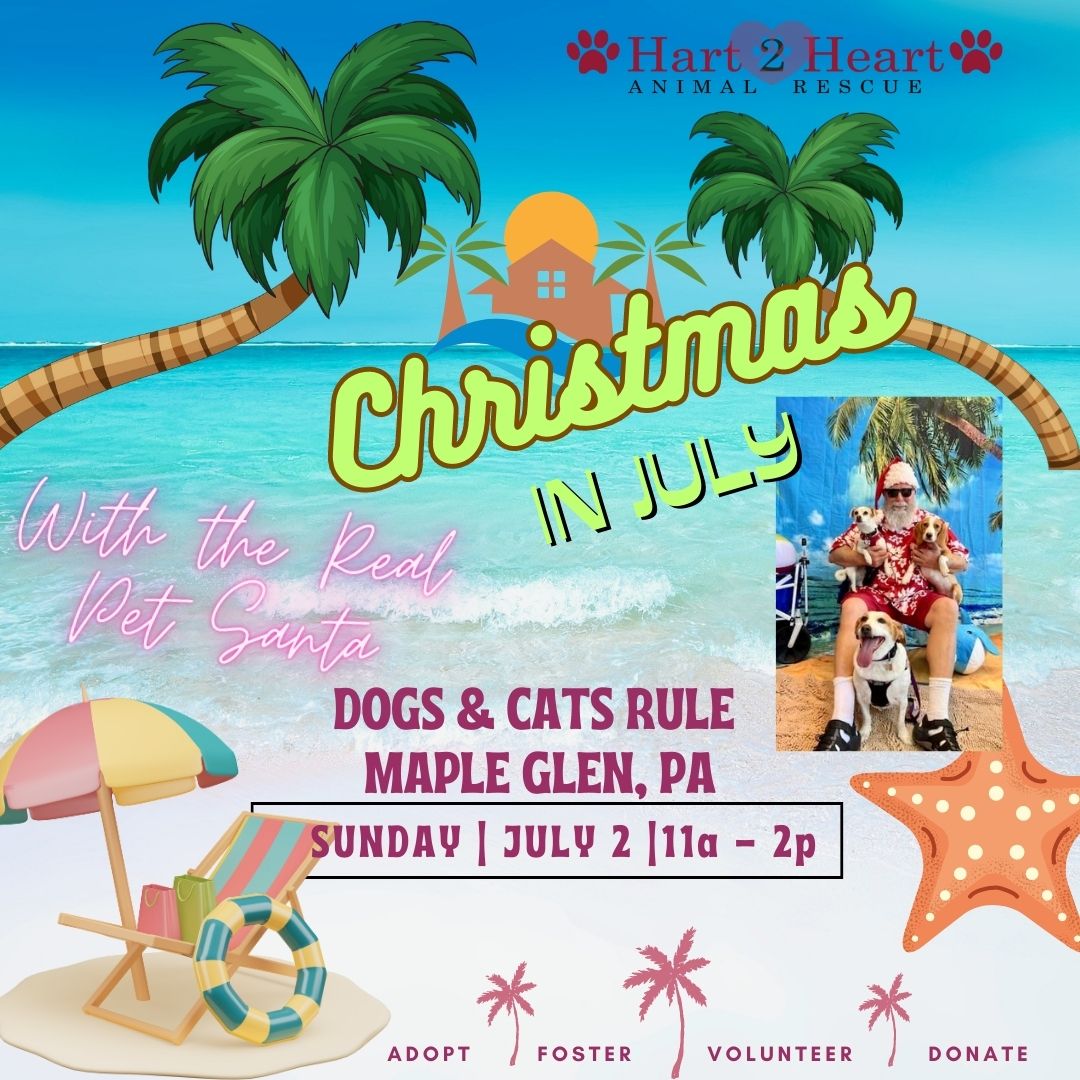 July 2nd
Dogs & Cats Rule Christmas in July
We'll be celebrating Christmas in July with the Real Pet Santa at Dogs & Cats Rule, Maple Glen PA on Sunday, July 2nd. Stop by for photos with Santa and meet some cats ready for adoption!
Dogs & Cats Rule is located at 1969 Norristown Rd, Maple Glen, PA.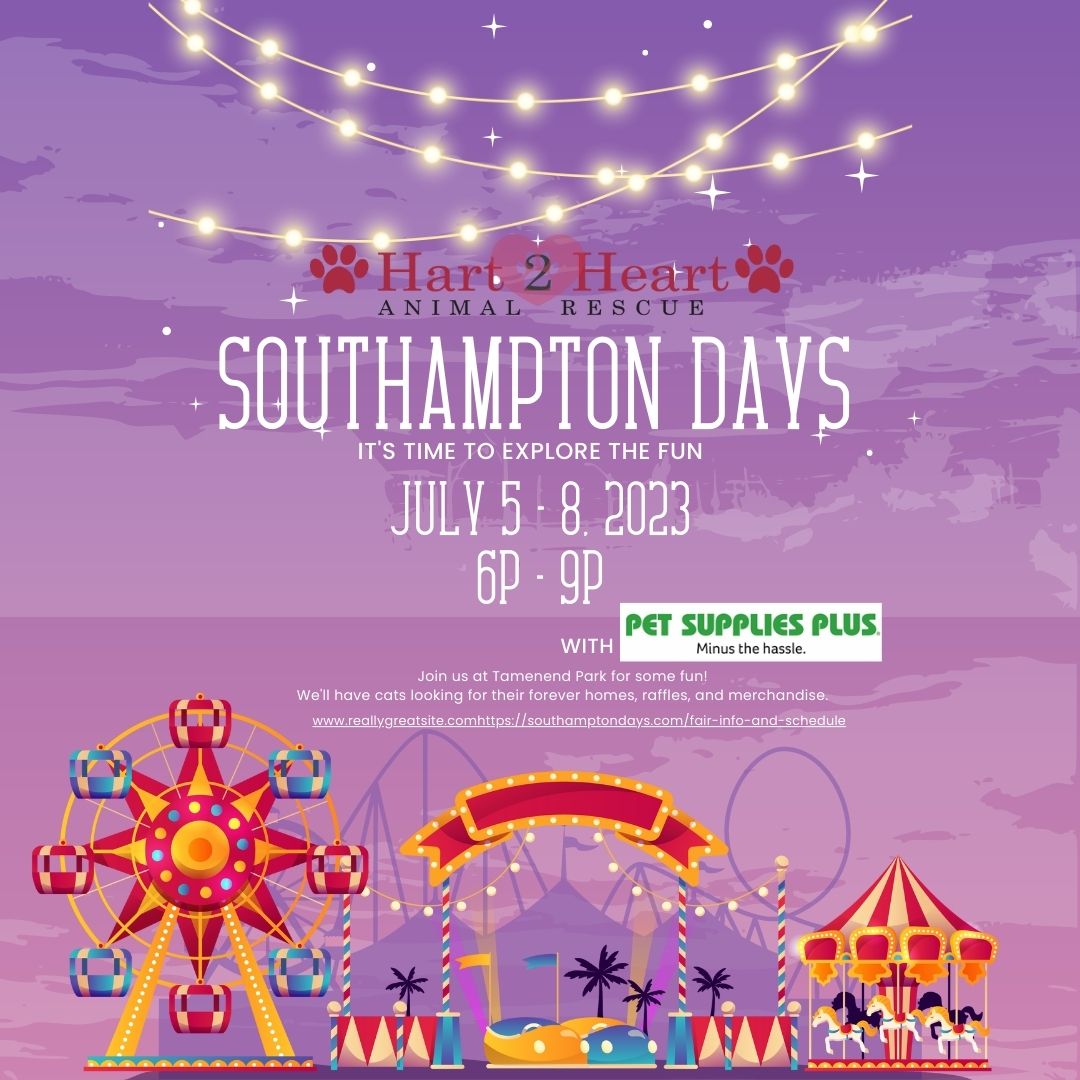 Southampton Days
Tamanend Park July 5 - 8
Hart 2 Heart will participate in this year's Southampton Days, along with Pet Supplies Plus Southampton. We'll be at Tamanend Park (1255 Second Street Pike, Southampton, PA) Wednesday July 5th through Saturday July 8th from 6pm - 9pm. Hope to see you there!

Happily Ever After
Megan & Princess
Princess is a part of the family we didn't know we were missing. She has such a sweet personality, but she also shows the dogs she is boss. She loves to snuggle with us humans, one of the dogs or the older cat. We keep her name Princess because she truly is one, but we added Coconut to her name. Because of her white fur and her crazy personality. Thanks for picking us to be Princess' family.

Stay Up To Date
Be sure to follow us on social media and our website to learn about all the new animals available, upcoming events and how you can help!
Hart 2 Heart Animal Rescue
You received this email because you signed up on our website or enrolled to join our mailing list. 
Unsubscribe