hart2heartanimalrescue.com       No. 008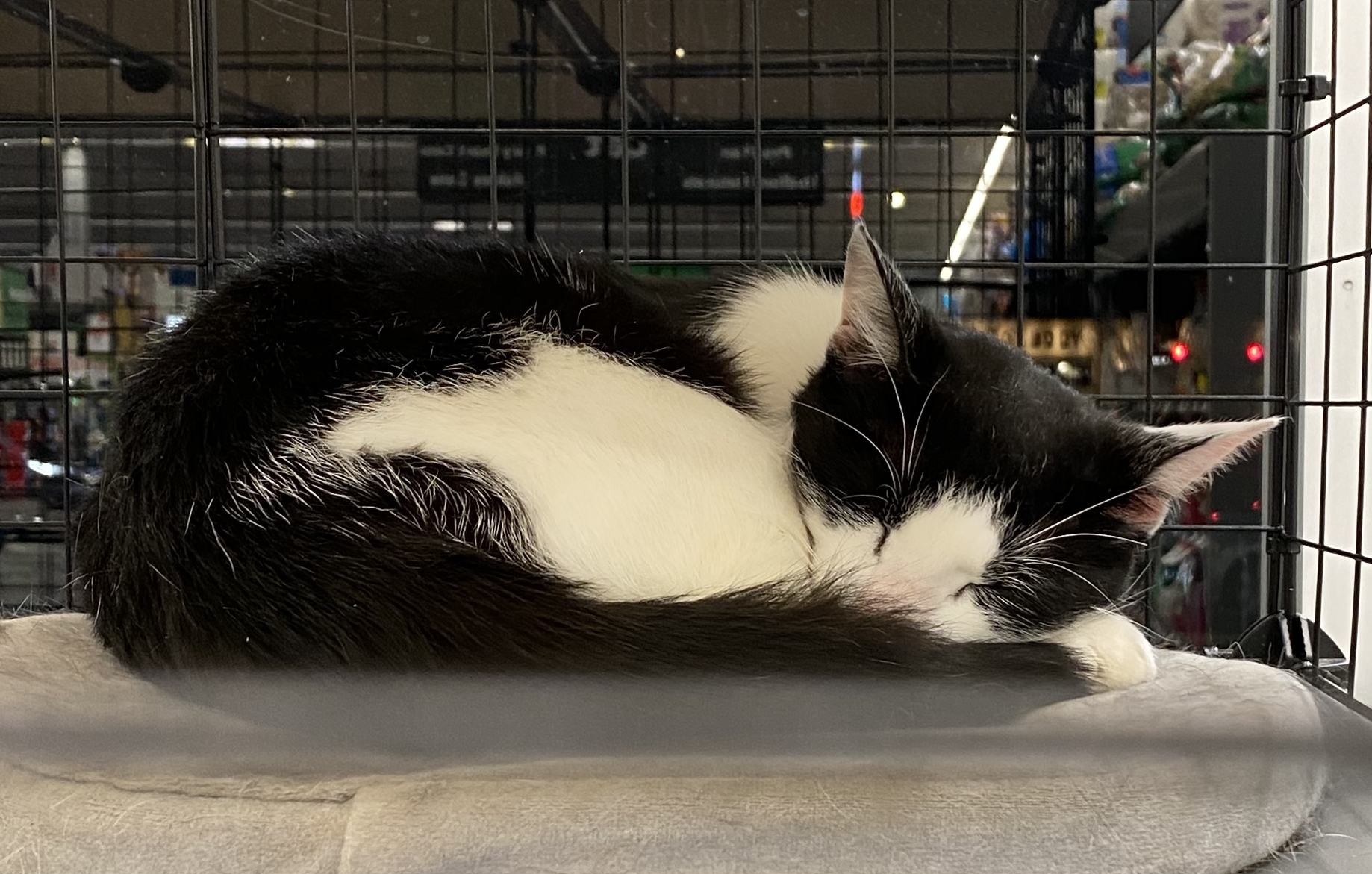 It's May!
It's National Foster Care Month, a great time to talk about the great work that our foster pet parents are doing for the Rescue. Foster caregivers provide our animals with the time and attention they need while preparing them for their forever homes. They provide a relaxed, nurturing environment where pets can adapt to home life and fully express their personality. Pets previously abused by their neglectful past owners can recover from that trauma and learn to trust and be less fearful of humans again. While in foster care, pets can develop behavior and habits essential for indoor living. Fosters offer room for pets to stretch their paws and keep themselves active.
Our fosters are the lifeline of the Rescue. They take in senior cats who are traumatized from the loss of their human, kittens separated from their nursing mommas, moms with babies needing shelter and care, and abandoned cats who need to learn to trust humans again. Our fosters provide a home, food, entertainment, and lots of love for these animals waiting for their forever homes. When a new forever home is found, our fosters regroup and take in another animal in need.
Fostering is a worthwhile experience and the benefits are fabulous! Not only are you saving a life by providing a temporary home to an animal in need, but you also benefit from their companionship. In exchange for keeping an animal safe and allowing them the opportunity to relax and settle into a home environment, you will receive unconditional love without the commitment of adoption.

Hats off to our fosters! We are successful because of YOU! 
Featured Pet
Adonis
Adonis is a brown/gray/white tabby born in July 2020 and ready for his forever home. He will greet you the moment he sees you and try to chit-chat a bit with you. He loves food and taking naps in cozy blankets. He can be shy at first, but once he sees how nice you are, he will warm up fast. Adonis gets along well with other cats and dogs and has fun playing with the pups and cats in his foster mom's home. He loves sunbathing in the window or lounging on the bed. He is friendly with everyone and will make a great pet. If you would like to adopt Adonis, apply today!

May is also Be Kind to Animals Month, National Pet Month and Chip your Pet Month. Geez, it sounds like a lot of work. But really, as pet parents, we want our sweet fur babies to live long and happy lives so we don't mind showing them we care. They certainly treat us kindly and are a great source of happiness. For humans, being kind to animals is simply recognizing the need to treat all animals with respect as well as safeguarding the natural habitats of animals. Celebrating our pets is something we do every day of every month, so National Pet Month is easy to handle. Microchips provide the best chance of lost pets being identified and returned to their homes. Hart 2 Heart microchips all our pets. So, celebrate the month of May knowing you are giving your pets their best lives! 
Volunteer Highlight
Tracie
volunteers at partner pet store and assists at events
Tell us a little about yourself.

I grew up and still live in Far Northeast Philadelphia. I have worked for the same small family-owned company for over 17 years. I am a consumer support specialist. When the pandemic started, we started working from home and my company came to realize that we can get the work done at home and now all of our office department work from home. 

I have two daughters. My older daughter is 30 years old and is an assistant nurse manager down at Children's Hospital of Philadelphia. My younger daughter is 28 and is a business development specialist for a small company. My oldest daughter has a golden doodle named Harper and my younger daughter has a black lab named Jersey and a yellow lab named Mango. I love all animals. I have had many dogs and cats over the years. In April of 2020, I rescued 2 sisters from Hart2Hart and then April of 2022, I fostered an orange tabby for Hart2Heart and kept her. I love spending my working day with my kitties.
Why do you choose to volunteer?
I choose to volunteer because I love animals. I especially love dogs and cats and love having them as part of my family. I know animals need love and attention in order to be able to thrive. I love helping and caring for them. It is a great feeling knowing that I am a small part in helping them find their forever home.
What made you choose Hart 2 Heart Animal Rescue?
Well, it just so happens that I was looking for a new cat in 2020 because I knew my current cat was sick with cancer and wasn't going to be around much longer. Did not want to be without a cat. I happened to look on PetFinder.com and one of the cats I was interested in getting information about was part of the Hart 2 Heart Rescue. Sharon had emailed me and we went back and forth about a few cats. I ended up adopting my sister siblings and couldn't be happier. I stayed in touch with Sharon and asked how maybe I could help out with the Rescue because I had such a great experience. At that time there was a need to help at the Pets Supply Plus store in Southampton and I love going and helping the cats there. The staff there is amazing too.
Is there a moment or memory that stands out from your time here?
I love when we have different fundraisers and volunteers get together and meet and see each other and connect. Everyone is so nice and friendly. I have made some great new friends. I feel we are all part of a big family, with big hearts and all work to together for the same common cause.
What have you learned about yourself and/or about others through volunteering with Hart 2 Heart?
I have learned that there are so many good people out there who volunteer. My heart feels so full by volunteering. I love meeting and talking to people and this is a great way to do it. I love helping our cats and Rescue. It's such a great feeling knowing I am doing something so worthy and helpful.
What has been the biggest surprise about volunteering with Hart 2 Heart?
I never realized that there was so many cats and kittens out there that need our help. I can't believe how many cats are abandoned and mistreated.
If you could encourage someone else to volunteer at our Rescue, what would you say?
I would tell them it is such a great and satisfying feeling helping our cats and Rescue. You can volunteer and help as little or as much as you want. It is not hard to do and makes such a big difference, please come join us!
Anything else you want to share about volunteering with Hart 2 Heart?
Volunteering and seeing the cats go to forever homes is such a gratifying experience. I am so happy to be involved with Hart 2 Heart!!
Mark Your Calendar
Dogs & Cats Rule, Maple Glen PA, is celebrating their 10th Anniversary on June 11th. We will be there to celebrate with them!
Stay Up To Date
Be sure to follow us on social media and our website to learn about all the new animals available, upcoming events and how you can help!
Happily Ever After
Mr. Leo and Cassie
Leo (formally named Toby) is an H2H rescue kitty. We adopted him in August of 2018. Our home wouldn't be the same without him. He has a big personality and we absolutely love him for all his quirks. He is our snuggle bug and our 2 other cats also adore him. I feel so lucky we ended up with Leo.

Here's how we ended up for Mr. Leo: In 2018, my husband and I bought our first home. We brought with us our 2 rescue kitties, Gray Bear and Monkey. My friend rescued them from the ACCT at just a week old. They needed to be bottle-fed around the clock and needed a foster ASAP or would be euthanized. My friend stepped up. Unfortunately, my friend's cat did not take to the 2 cute little kittens.


Which is how we ended up fostering them. Evidently, it was a big foster fail for us. Anyway, before moving to our first house, my husband and I lived with my parents, the 2 cats (GB and Monk), and their 2 dogs. Gray Bear and Monkey LOVED the dogs. When we moved, we quickly noticed Gray Bear went into a depressed state. He is a very social cat, whereas Monkey is very sweet but more of a loner. We knew we had to do something to cheer our boy up.
Growing up, my family had an orange cat named Buzzy. He was a dream cat. Boss of the neighborhood and sweetheart to our family. Buzzy was a part of my life from 4th grade until his last days when I was in my mid-twenties. I was devastated when we lost Buzzy and vowed to rescue another orange cat of my own.
And this is how we ended up with Leo... it started with a trip to Pet Valu to pick up cat food, to then getting smacked by an orange paw reaching out of the rescue cat crate, to us falling in love. I will never forget how inquisitive and rambunctious he was in his crate. When I met him, I just knew he would be the perfect addition to our little family. I will never forget, the woman who ran the Spring House Pet Valu could tell that we would be a good fit and quickly passed our application along to Sharon. While we waited for approval, I went away for the weekend with my mom and sister while my husband stayed at home with Gray Bear and Monkey. He told me he would be prepping around the house in case we were approved for the little orange kitten from Pet Valu. I had no idea while I was away that Sharon called my husband and told him that he could come and pick up Leo. My husband surprised me by picking Leo up while I was away. He recounts the first moments Leo walked into our house as this.... Leo knew he was home. He acted as if he lived there all along. My husband had friends over for a game night and the entire time Leo tried to sit on everyone's laps and be the center of attention. The next day, I returned and found a cute little kitten greeting me at the front door. He still does this to this day. We call him our little cat-dog. That evening, Leo fell asleep in my arms, craddled like a baby and I knew it was all meant to be. It only took a few days before our two other cats were snuggled up with Leo. Leo being the faciliator of all cuddles with both. Gray Bear's days of depression were immediately over and he had a new friend to play with.
Leo thinks my husband is the best human ever and I still think remembers dad bringing him home that day. Leo's favorite hobbies are bringing us pineapple toys (we have 5 toys that are all exactly the same - pineapples - and he treats them like prizes as if he killed a bird and brought it to us), chattering to us, stealing broccoli, cuddling non-stop, wrestling his cat brothers, grooming all cats and humans in our home, playing "smack attack" with his paw that pops out in all locations he can hide, sunbathing, and chasing our dog. He is a spunky guy with a HUGE personality. He makes life so much fun and our home whole.
Hart 2 Heart Animal Rescue
You received this email because you signed up on our website or enrolled to join our mailing list. 
Unsubscribe