Dear Zatoun Friends,

Undeclared Olive Harvest War

It is olive harvest season in Palestine.  Timing varies from region to region but begins about mid October and continues to late November.  Harvest the world over is a very busy time. And in less mechanized regions it is also a joyous family and community event when all are called to participate in a collective ritual.  This is perhaps foreign to people who live in urban areas with little direct connection to the land and its cycles.

In Palestine harvest is also a dangerous time. A period of vulnerability and peril in the face of violent, crazed Jewish settlers often protected by the Israeli military. Palestinians cannot skip the harvest as this is a large part of their sustenance and livelihood. It has been like this for decades but this year the violence is worse.
This harvest is in the context of a year of exceptional brutality and killing. During 2022 Israel has expanded and accelerated its undeclared war on Palestinians. We read (not in NY Times or WAPO or Star ) of daily military "incursions" and multiple killings, especially of young people under 17 or 18 or even barely in the teens. It is as if Israel wants the youth of Palestine to know their life is cheap and to force acquiescence as perhaps their parents and grandparents or great grandparents had towards the entitled Zionist dream.

(Photo of Sabra, to appear in next Captain America action film from Marvel Comics. She is Israeli police officer by day, super-powered Mossad agent by night.)
But the under-20 and slightly older Palestinians are "armed" differently with access to the world via smartphone cameras and social media - a direct voice undreamt of by earlier generations. This plus a rapidly disappearing horizon of possibility in their future has lead the young to stand up. Of course Israel would not allow that and feels it is time to "mow the lawn" as they do in Gaza with bombs. It can't bomb the West Bank but it can declare open season on killing young Palestinians.
There are indications of a 3rd Intifada (uprising) as Palestinian resistance and Israeli clamp down and killing are at level not seen in 20 years.  This has terrible impacts as mobility is key to a successful harvest.  At present, Palestinians have to battle not only Israel and settlers but nature as well in a race against time before the olives are compromised or ruined by delay.

The articles below speak to this expanded undeclared war and  the climate in the West that enables this permissive killing attitude.
With concern but also with courage Zatoun is proceeding with a full order for 2023 knowing it has the support of more than 10,000 people across Canada and US.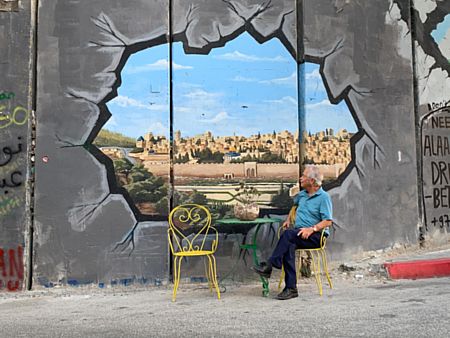 "Fred at the Wall" looking at Jerusalem from Bethlehem.
Fred Rogers from MN is a long-time supporter and volunteer for Zatoun. 
As always, visit these remarkable sites for excellent reporting, analysis and insight into Israel-Palestine. Please subscribe to newsletters from these stalwart and trusted sites:
Sincere apologies for the overwhelming list of articles but it is impossible to do otherwise to give a sense of news and developments in previous month. To help the reader focus we have listed items in broad categories:
Current revolt in Palestine
On the ground in Palestine
Media / Lobby: news from here
Olive Oil & Za'atar

Zatoun's famous offering - Fair  trade and organic olive oil in different size formats.
100% Olive Oil Soap

Soap made with olive oil only - nothing else.  Handmade soap with no preservative, no scent.  Huge loyal following.

Printed Goodies

Palestine-themed cookbooks, beautiful notecards (set of 4 designs), journal / notebook (choice of covers).

Sponsorships & Donations

Plant olive trees in Palestine and/or donate to help keep Zatoun sustainable and accessible to all.
Zatoun is well-stocked and ready to ship to arrive within week. Your orders are gratefully received and handled with great care.
Palestine Book Awards 2022 - Thursday, Nov-03 at 2 to 5p ET

Palestine Book Awards 2022 - Pre-launch Evening Tickets, Thu 3 Nov 2022 from 2 to 5p ET.  Book tickets here.
CJPME has launched a great collection of resources to use online or on the street

Canadians for Justice and Peace in Middle East continues its stellar solidarity work with more resources including posters, flyers, handouts and factsheets on Israel-Palestine. Visit here and here and much more to be found on informative and useful site.

Tell PayPal to Stop discriminating against Palestinians

Contrary to UN guidelines, PayPal operates in illegal Israeli
settlements, thereby serving Israeli settlers but not the Palestinians they live among. PayPal: make your service available to all the people of Israel and Palestine. Take minute to sign.
Palestinians call for Zara boycott after franchise in Israel supports racist MP

Joey Schwebel, a Canadian-Israeli dual national and chairman of Israel's Zara franchisee Trimera, hosted far-right MP Itamar Ben-Gvir and notorious anti-Palestinian lawmaker at his home in a campaign event in the lead-up to the Israeli election.  More...

Protect Hassan Diab from further injustice. Say NO to request for Hassan's re-extradition!

In 2014, Hassan was wrongfully extradited from Canada to France. After spending more than 3 years in prison, French judges found strong evidence that he was not in France at the time of the 1980 crime. He was released in 2018 and cleared of all allegations.  France wants to repeat this again!  Take minute to sign message to Trudeau.

Thank Jarmeet Singh (Federal NDP leader) and tell him not to succumb to anti-Palestinian smears

Jagmeet Singh has finally gotten with the party's rank and file support for Palestine human rights. After decades of NPD waffling and avoidance, Singh announced 14 points of support. Predictably he attracted the ire of Israel lobby.  Take minute to sign support for Singh.
The need is ongoing - please help the bringers of news on Palestine (not always happy but always reliable and relevant)
"The Giving Corner" highlighting organizations, websites, etc. worthy of your financial support. This month we highlight the many news and analysis websites richly deserving of support. They are Electronic Intifada, Palestine Chronicle, Mondoweiss, 972mag, If Americans Knew, Jonathan Cook and you may have others on your list. Please contribute to their future - each outlet is desperately needed to stem the flood of Palestine suppression.

Gmail Users: Please drag this email to your "Primary" tab, then click 'yes' to ensure that all future newsletters make it into your Inbox.
Warmest wishes and thanks for your steady support, always.
Please visit our shopping cart. Most orders arrive within 5 business days on coasts and less in between. If you have questions before ordering, send to [email protected] or you can also call toll-free 1-866-294-9729.
In the ups and downs of the journey, we wish love, justice and peace (in that order) to Palestine-Israel and the world.

8-9251 Yonge St, Ste 142, Richmond Hill, ON Canada