Upcoming South Queens Chamber Events
June is looking lively in Queens County!  With the upcoming Privateer Days on June 24 - 26, #RockTheMersey Canada Day celebration, and everything in-between!
South Queens Chamber of Commerce welcomes Rigel Jones as the new Executive Director.
We are pleased to announce the appointment of Rigel Jones as the new Executive Director for the South Queens Chamber of Commerce, effective June 1st, 2022.  Rigel is a busines owner / Founder of Upgrade You Academy Inc, and brings her skills to focus on strategic partnership and member engagement. Heather Kelley will continue to work with Rigel during the transition into the role, and will also be an active member Board of Director of the SQCC.  
Rigel can be reached by email at [email protected] or by phone (647) 829-6059.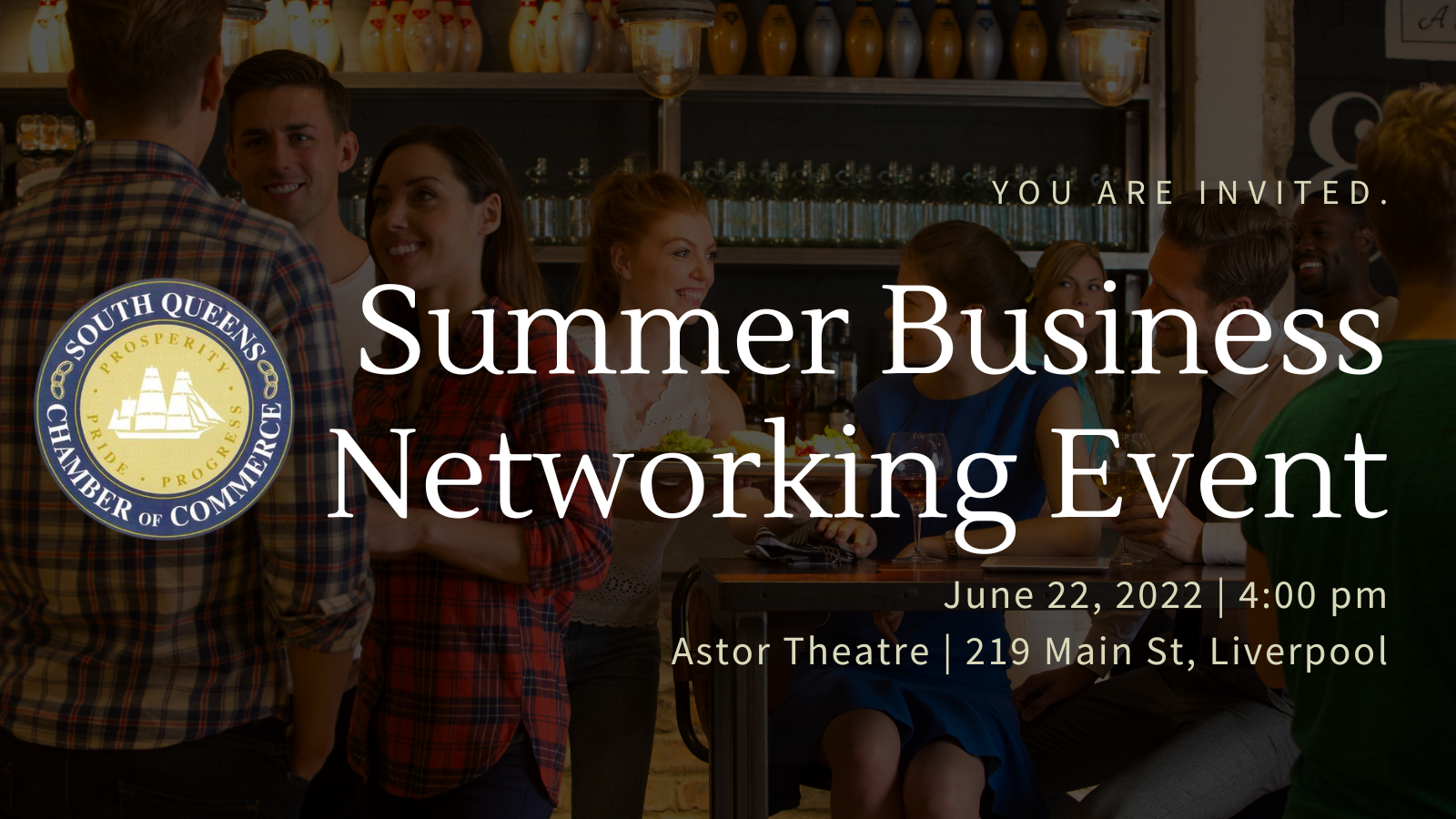 June 22nd | 4pm - 7pm | Astor Theatre
The South Queens Chamber of Commerce is excited to host our first (in a long time) Summer Business Networking Event.
This is a chance for the Members of the South Queens Chamber of Commerce to mingle and socialize with other members and non-members alike.

Complimentary tickets available for Members of the Chamber of Commerce.
1 drink ticket included with admission. Cash bar available on site.
**Appetizers are sponsored by Route 3 Cellar Taproom & Grill. Drink tickets are sponsored by Bridgewater and Seaside Animal Hospital.**
June 16, 17 & 18
Grand Opening Celebration of Liverpool Home Hardware, Bradys Home Building Services, & Wilson's Home Hardware
Come and celebrate the Grand Opening of their 3 locations!  They're grand prize giveaway is amazing, make sure to check out the details below.
June 21, 2022 | 4pm | ZOOM
The Evolution of Indigenous Business in Canada
The presentation will follow the evolution of Indigenous business from pre-contact to present day while putting this winding path in the context of significant political events in Canada. We will discuss the business communities' role in the Truth and Reconciliation Commission's Call to Action #92.
This will be presented by Chamber member, James Thorbourne.
2022 Hanging Flower Baskets
Have you seen the flower baskets up in downtown Liverpool yet? They are beautiful!  You can still sponsor a basket for the summer, which includes watering and feeding all summer.  The chamber will run a social media campaign recognizing all the businesses that sponsored a basket.
The baskets are $125 for SQCC members, or $150 for non-members.

We will be rolling out our monthly newsletter very soon, so make sure to save our email address so our updates won't land in your spam folder. 
Ready to become a Member?
Are you ready to become a Member of the South Queen Chamber of Commerce?  Simply reply to this email to inquire!
South Queens Chamber of Commerce
PO Box 1378, Liverpool
Canada
You received this email because you signed up on our website or made purchase from us.
Unsubscribe