Hey guys. This week we'd really love to introduce you to Readsom. 
It's a really useful directory where you can find newsletters based on topics you want to read about.
We sat down with the founder, Gabriele, to get a better sense of the product and her journey building it. Here are a few questions that stood out during the conversation.

Let's crack on ☕️
Interview with founder Gabriele 🏆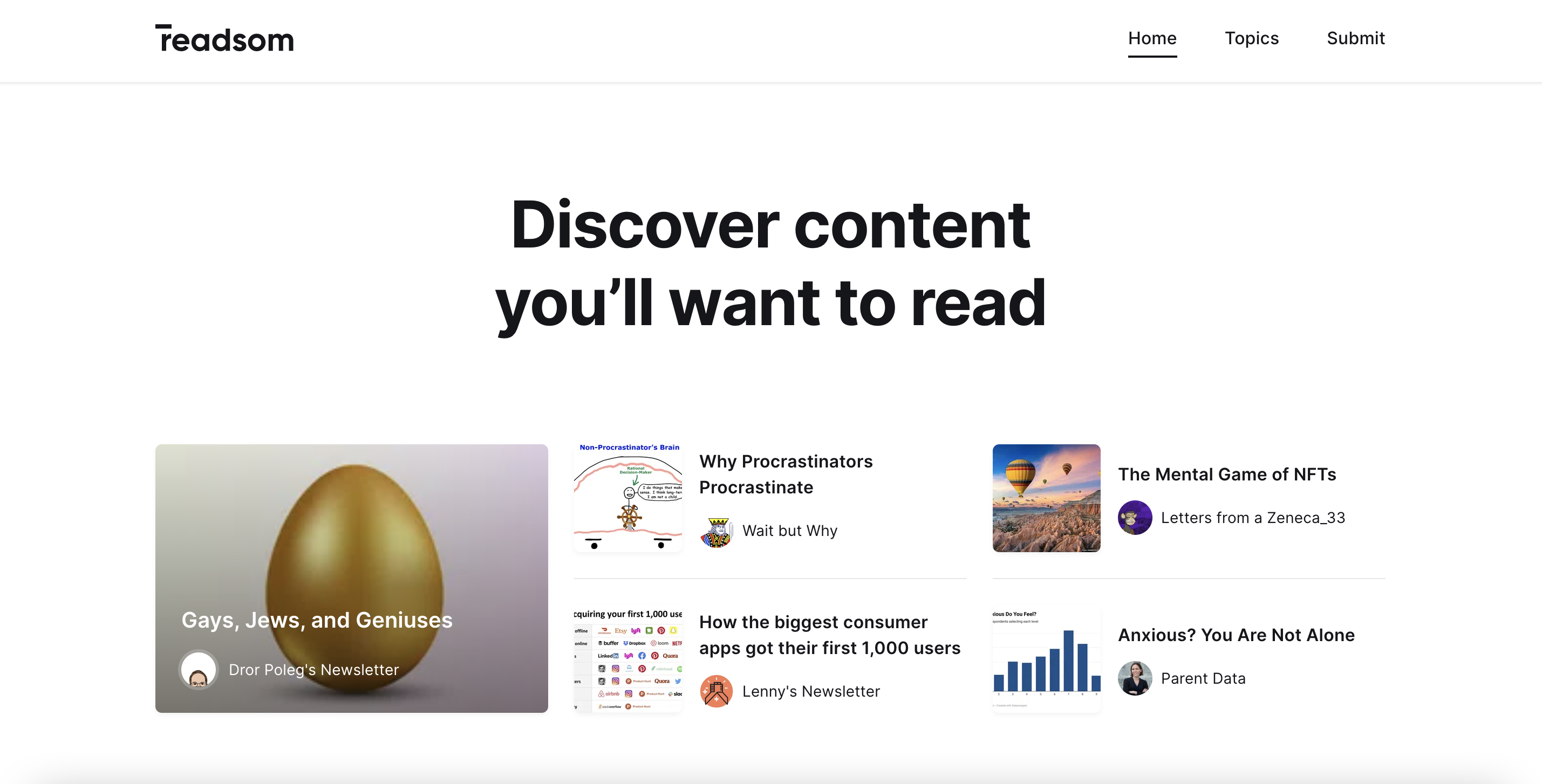 Directory
Readsom
Find your next favourite newsletter


Tell us a bit about your background and when you decided to start your journey as a founder
My background might sound unusual, but - I have a degree in International Relations & Political Science and a lot of experience in fashion. At some point, I started feeling like I'd outgrown my teenage aspirations and had been wearing someone else's shoes. So, I decided to look for a pair of my own.

I started my entrepreneurial journey exploring something I was familiar with. From the first idea to the product launch - I handled all the aspects of a new fashion brand creation. Creating something from scratch and seeing it take shape brought me so much joy, that it hit me - this is what I want to do.

I've continued scratching my own itch and it led me into the tech world. Together with a couple of freelancers, I created a Health and Fitness tracker app - Feelsom. I think I made all the possible rookie mistakes, but I learned from each and every one of them. Especially that no matter how good your product might be - "build it & they'll come" is not a thing.

From then on, I'm actively exploring my curiosities, learning as I go, and hoping to find product market fit.

What was your inspiration behind starting Readsom?
To be honest, I don't have a romantic story about the inspiration behind Readsom. The pandemic just started, my first big project, Feelsom, wasn't performing the way I expected and I didn't feel inspired.

Since I was actively looking for something new, I noticed that more and more smart people started publishing newsletters. I found myself frequently sharing them with my friends and realized that knowledge is scattered throughout the internet and usually found only by chance. For most people, the only way to find a newsletter that is worth reading is to get a recommendation.

One thing led to another and Readsom was born. Readsom hosts newsletters that are handpicked and filtered through topics to help you find your niche of interest. To make sure that the newsletter is worthy of your attention we provide original descriptions, details about the author, content recommendations, and of course - reviews.
Was there any tech tool that you really loved working with? Something you couldn't have made Readsom without?
You'll laugh, but it started with a good, old whiteboard. I created all the wireframes by hand on it and actually still have it hanging in my apartment. Yup, I haven't cleaned it for a… year?

But to answer your question I'll probably say Figma. I'm usually very involved in the design process, so learning to use it helped me productively collaborate with the designer and bring my ideas to life. Now, I can't imagine my life without it!

How did you get your first 100 users?
The first traffic burst probably came from Hacker News, the second - from a Turkish reporter with million followers (?!), and the third from a tweet by a tech curator from China. I've submitted Readsom to HN myself, but everything else was completely organic. Whether through a recommendation, or searching through google, I'm really glad to see people finding Readsom organically.

It's another story with the first 100 subscribers though - the process has been long and slow. It's really hard to grow your newsletter without an initial follower base or other available distribution channels. But as I haven't yet tried any subscriber acquisition strategies, I do believe Readsom newsletter has a lot of potential.

I'm hoping to grow @ReadsomHQ Twitter account and with it - the subscriber count.
What was your key priority in terms of designing the interface? It looks really clean and easily readable.
Thank you! That was the goal!

To be more precise - minimalistic, modern, aesthetically pleasing, and clean were the words used to define the product design. But most importantly it had to be easily readable. I wanted the content to be the star, so there couldn't be any unnecessary distractions.

If you like the work we're doing, make sure to share this newsletter with your pal.
MicroStartups.co
30 N Gould St Ste R, Sheridan
Wyoming, United States of America
[email protected]
You received this email because you signed up on our website or made a purchase from us.
Unsubscribe