Keep connected to the life and mission of Grace Episcopal Church.
View in browser
Grace Notes • November 2, 2023
The First Members of the Altar Guild
When the sabbath was over, Mary Magdalene, and Mary the mother of James, and Salome bought spices, so that they might go and anoint Jesus. And very early on the first day of the week, when the sun had risen, they went to the tomb.
— Mark 16:1–2
I slept and dreamt that life was joy.
I awoke and saw that life was service.
I acted and behold, service was joy.

— Rabindranath Tagore
(1861-1941)
From the Desk of Father Ted
Dear People of Grace,
Back in September, the Vestry hosted a Ministry Fair that focused on four of our liturgical ministries: Altar Guild; Ushers & Greeters; Eucharistic Ministers; Streaming Team. Representatives from each of these ministries shared briefly about what goes on in their particular ministry. We also heard stories about what they found meaningful about their work.

Sally Russell has been a member of the Altar Guild ministry for 65 years. She started serving as a Junior Daughter of the King at St. James Episcopal Church in Wichita when she was just 14 years old. She shared that serving on the Altar Guild strengthens her relationship with God: "You are always in the presence of God and that is pretty powerful." Sally said that she thinks of Mary Magdalene as the first member of the Altar Guild. She was always there with Jesus, and she was an apostle to the apostles after his resurrection.
She ended by sharing a poem by Rabindranath Tagore:
I slept and dreamt that life was joy.
I awoke and saw that life was service.
I acted and behold, service was joy.
At Grace, we are members of Christ's body, and we have each been given gifts—the gifts of time, talent, and treasure—to be used to further God's mission in the world. There is work we are called to do both within and without the church walls. So let us be intentional about giving our first and our best to God and God's vision.
Let us act and find joy in service.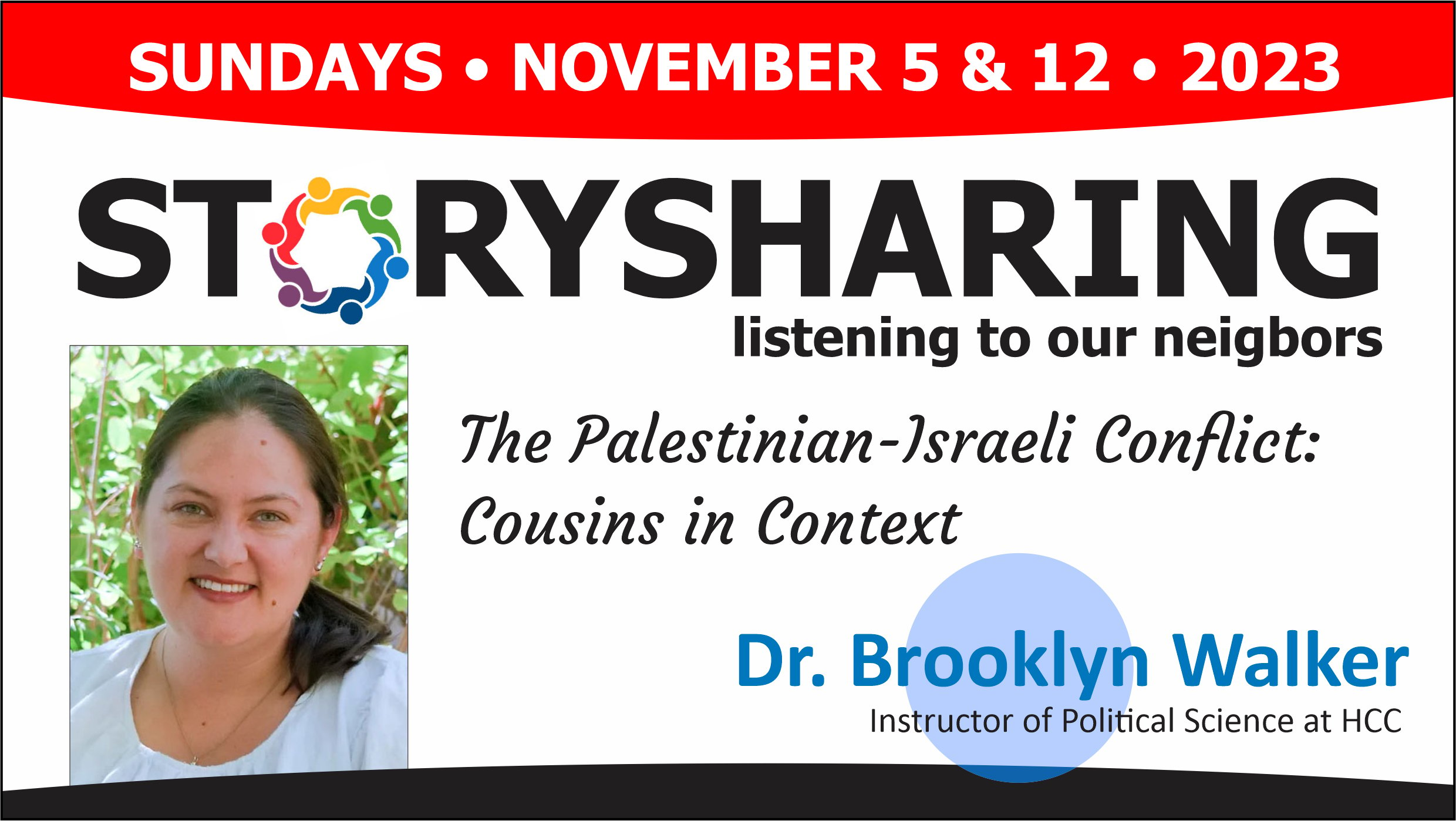 010. Dr. Brooklyn Walker
STARTING THIS SUNDAY. Recent events in Israel and Palestine have gripped the attention of the world. Sometimes it can feel hard to understand—so much history, so many wars, so many political actors, so many strong feelings. Brooklyn has specialized in Middle Eastern politics and has taught college courses on the Palestinian-Israeli conflict.
In this special edition of StorySharing, Brooklyn will offer some historical and political context so we can better follow the news. She will also talk about how her faith has influenced her work and perspectives. This two-part episode will take place on November 5th and 12th from 9:15 to 10:00 am in Parish Hall, and it will also be live-streamed on our Facebook page starting at 9:05 am.
To read summaries of Brooklyn's recent research click below.
WORSHIP WITH US!

8:00 am
HOLY EUCHARIST, RITE 1... spoken

10:15 am
HOLY EUCHARIST, RITE 2... music
• Facebook Live begins at 10:15am
• Children's Chapel



CLICK THE BUTTONS BELOW


EDUCATION & MORE!

9:15 am
SUNDAY SCHOOL
• Adults meet in Parish Hall
• Youth meet upstairs in Youth Room

NURSERY
Nursery Care is available in our undercroft from 9:45 to 11:45 am.

CHILDREN'S CHAPEL
Children's Chapel is an opportunity for kids, aged 3 to 12, to learn about the Gospel and the prayers of the Episcopal church at their level. They leave worship during the Gloria and return at the Peace.

SNACKS & CONVERSATION
Come to Parish Hall after the 10:15 am worship service for food & fellowship
Read the Scriptures for Sunday
YEAR A, ALL SAINTS' DAY • TRACK 1
• Revelation 7:9-17
• Psalm 34:1-10, 22
• 1 John 3:1-3
• Matthew 5:1-12
ALL SAINTS' SUNDAY


SUNDAY, NOVEMBER 5. On All Saints' Sunday, we remember and give thanks for the Communion of Saints, the Church Expectant who awaits the final coming of the kingdom and the consummation of the New Creation when death will be no more and God wipes away all the tears from our eyes.

To celebrate All Saint's Sunday, we invite you to submit the names of those who have passed away using the link below. We will remember them by saying their name aloud during the Prayers of the People on November 5th.
PICK UP THE NEW
FORWARD DAY BY DAY


Forward Day by Day is a booklet of daily inspirational meditations reflecting on a specific Bible passage, chosen from the daily lectionary readings as listed in the Revised Common Lectionary or the Daily Office from the Episcopal Church's Book of Common Prayer.

You can pick up your free copy at the in the Narthex or in the black box outside the carport doors. We have both small-print and large-print versions.
Ending hunger in Reno County isn't a job for one church or one organization. It takes a group, a group of friends who believe that together we make a difference. This is the sixth year for our county-wide Thanksgiving Food Drive, "We'll Leave Our Lights On"! Lights in sanctuaries will shine in area churches as they collect donations of non-perishable foods.

Suggested Items: peanut butter, mac & cheese, pasta, cereal, canned meats, vegetables, fruits, and canned soups. Monetary donations to the Food Bank of Reno County are also welcomed.

Visit Your Neighborhood Church. You can bring these items to Grace on November 15th, but we also encourage you to take them to a participating church near where you live.
Grace Youth on the Stage

Lucy Steen will be playing Felicity Cunningham in Tom Stoppard's, The Real Inspector Hound, where British murder mystery and British humor collide.

7:00 pm • Friday, November 10
7:00 pm • Saturday, November 11

Fairfield High School
16115 S Langdon Road

DO YOU know someone at Grace who is doing something in the community or is being recognized in the community? Send the details and any links or pictures to the church office ([email protected]), and we will see about getting them into Grace Notes Weekly.
"HELPINGS" a Success & Next Steps
Last week at the Episcopal Diocesan of Western Kansas Convention, clergy and lay delegates worked together to assemble 1,000 bags of shelf stable food to be distributed in each of our communities across the diocese. (See below for some pictures of the process.)


AND NOW, the work of the people continues. Please take some HELPINGS bags with you, and give them to people you come across in your daily life, who could use a meal and the knowledge that someone is looking out for them. Just give them a HELPING, and let them know that you are doing this as a concrete way to share God's love.

Thank you, Kathy Milliken, for another wonderful bulletin board that helps keep us connected to one another.
NOVEMBER BIRTHDAYS

11/1 Cece East
11/3 Ava Waln
11/6 David Jarrett
11/7 Don Adams
11/8 Joyce Carver
11/10 Ted Blakley
11/13 Helen Bornholdt
11/14 Benjamin Blakley
11/15 Aidan Minner
11/15 Bob Stone
11/17 Michael Franklin
11/17 Mike Torrence
11/21 Braelyn East
11/23 Jennie Barber
11/24 Roger Sullivan
11/28 Amy Long
11/29 Shannon Martinez
11/29 Gin Torrence
11/30 Kathy Moll

NOVEMBER ANNIVERSARIES

11/5 David & Archer Jarrett




SUNDAY, November 5 — ALL SAINTS' SUNDAY
8:00 am • Holy Eucharist, Rite 1 (spoken)
9:15 am • Sunday School
10:15 am • Holy Eucharist, Rite 2 (music)
After the Service • Fellowship Hour (Parish Hall)
MONDAY, November 6
6:30 pm • Vestry Night (Parish Hall)
7:00 pm • Al-Anon (Conference Room)
WEDNESDAY, November 8
9:30 am • Holy Eucharist, Rite 1 (Chapel)
10:00 am • Adult Bible Study (Parish Hall)
1:00 pm • Daughter's of the King (Conference Room)
6:30 pm • MS-HS Youth Group (ends at 8:15)
GRACE EPISCOPAL CHURCH


2 Hyde Park Drive
Hutchinson, Kansas 67205


You received this email because you asked to be on our mailing list. If you no longer wish to receive Grace Notes Weekly. Unsubscribe below.