Keep up to date on the life and mission of Grace Episcopal Church.
View in browser
Grace Notes • October 22, 2023
Longing for the Living God
As the deer longs for flowing streams,
so my soul longs for you, O God.
My soul thirsts for God, for the living God.
When shall I come and behold the face of God?
— Psalm 42:1–2
From the Desk of Father Ted
Dear People of Grace,
For several weeks now in MS-HS Youth Group, we have been asking ourselves two questions: How do we nurture our faith? How do we keep our faith close? This past Wednesday, we discussed the role that longing plays in our faith. And we considered some questions:
• What is something you long for?
• Are there things you wished you longed for?
• Are there things you wished you didn't long for?
And then we did some wondering together: Wouldn't it be wonderful to long for God in the way that a thirsty deer longs for flowing streams of water. If so, how do we cultivate such a longing for God? We thought about PRACTICES. What practices might deepen our longing for God? Or, what practices might make us more aware of our deep longing for God that already resides within us. After all, as St. Augustine of Hippo once wrote: "You have made us for yourself, O Lord; and our heart is restless until it rests in You."
In other words, our longing for God is built into our humanity. This means that the spiritual practices we take on aren't so much about creating a longing for God, as they are about clearing away all of the things in life (the busyness, the distractions, etc.) that overshadow, compete with, and seek to replace our natural, built-in longing for God.
One practice we considered was praying the Scriptures, for example, by taking the psalmist's prayer in Psalm 42:1–2, and making it our own. And one of the ways we did that was by praying together a new rosary prayer (see below).
But, we could also write these verses on a notecard and keep them with us and pull them out throughout the day and read them. Then, over time, as we pray these words, "My soul thirsts for God," we might begin to notice our deep thirst for the living God and start to wonder how exactly God and God alone longs to satisfy our divine thirst.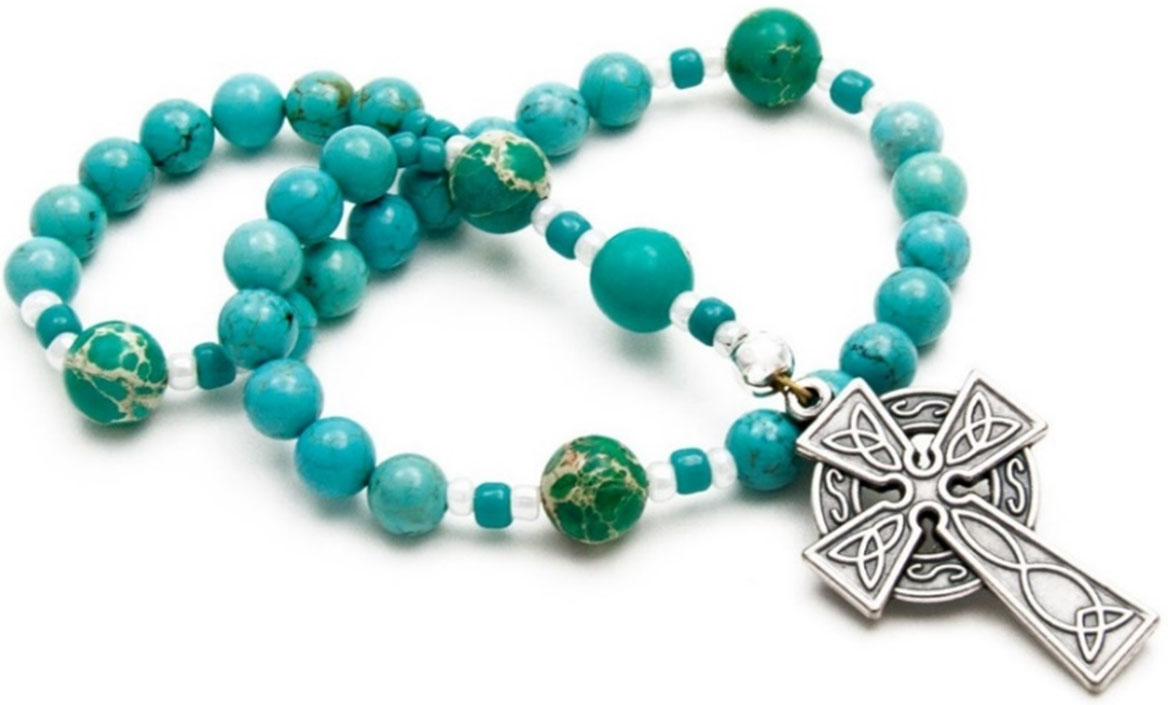 ANGLICAN ROSARY: As the Deer...
CROSS or CRUCIFIX
Dear Jesus, You alone are my heart's desire,
and I long to know and follow you.
INVITATORY — Psalm 42:2
I thirst for God, the living God.
When can I look upon the face of God?
CRUCIFORMS — St. Augustine of Hippo
You have made us for yourself, O Lord,
and our heart is restless until it rests in you.
WEEKS — Psalm 42:1
As the deer pants for the water brooks;
so longs my soul for you, O God.
INVITATORY
Spend some time in silence, just resting in God.
CROSS or CRUCIFIX — Psalm 42:5
I will put my hope in God;
I will praise God again and again. Amen.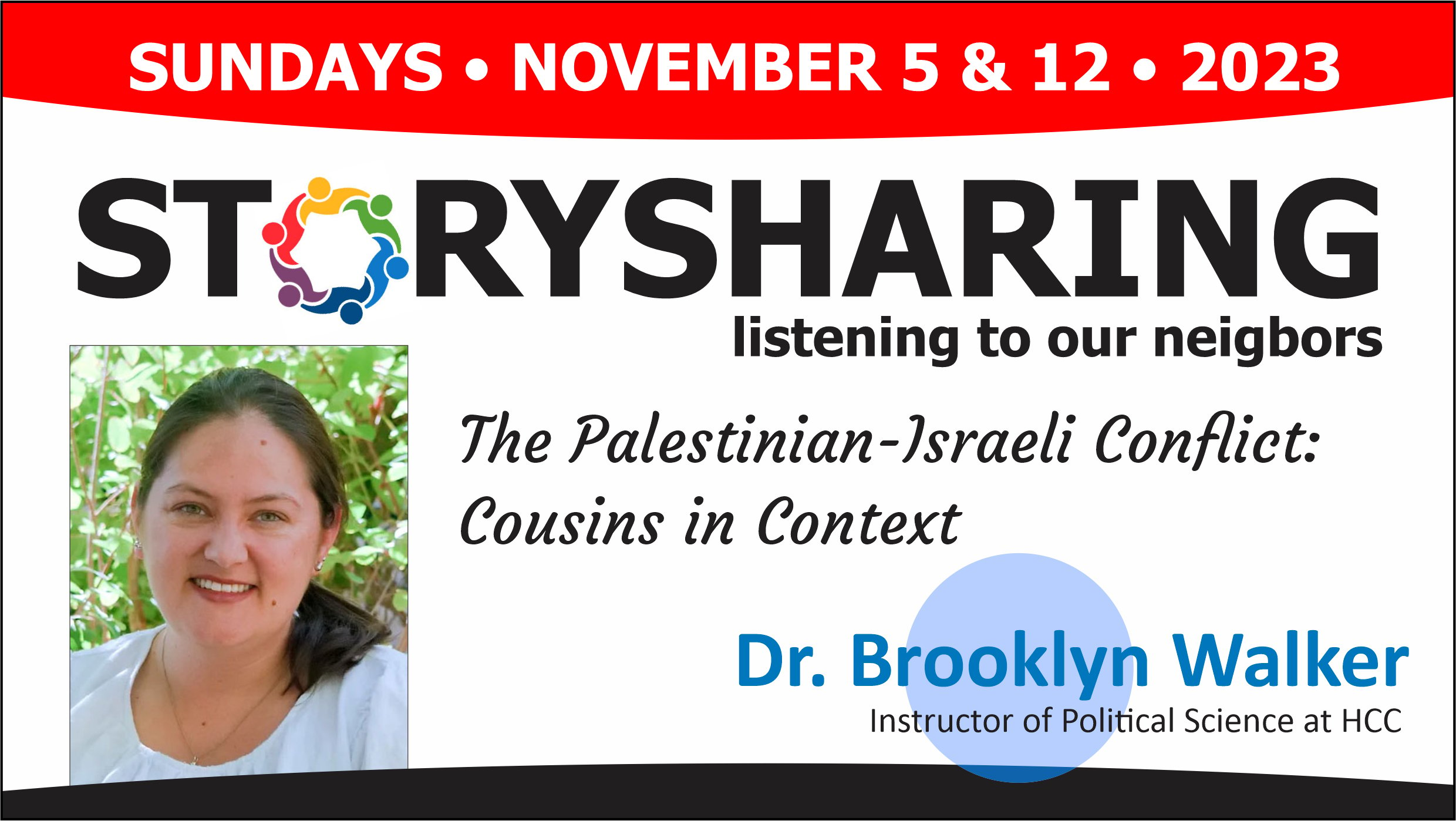 010. Dr. Brooklyn Walker
COMING SOON. Recent events in Israel and Palestine have gripped the attention of the world. Sometimes it can feel hard to understand—so much history, so many wars, so many political actors, so many strong feelings. Brooklyn has specialized in Middle Eastern politics and has taught college courses on the Palestinian-Israeli conflict.
In this special edition of StorySharing, Brooklyn will offer some historical and political context so we can better follow the news. She will also talk about how her faith has influenced her work and perspectives. This two-part episode will take place on November 5th and 12th from 9:15 to 10:00 am in Parish Hall, and it will also be live-streamed on our Facebook page starting at 9:05 am.
If you would like to read summaries of Brooklyn's recent research click below.
Christmas Wreaths for Sale


The MS-HS Youth who are going on the 2025 Pilgrimage to England are selling Christmas wreaths and garlands. They are fresh cut and American made and should be available before Thanksgiving.

• $35 Small Wreath
• $40 Large Wreath
• $35 10' Garland

ORDER DEADLINE: October 29
The order form is located in the narthex, or order online by clicking here or by emailing the church office with your order to [email protected].

You can also pay online; just click the button below, and choose "Christmas Wreaths" from the drop down menu.
Feed My Sheep "HELPINGS"

A Diocesan Convention Outreach Project
Thanks to you...

This week 505 cans of Spaghetti O's will make their way north on Kansas 61 and I-135, from Hutchinson to Salina, and arrive at the Episcopal Diocesan of Western Kansas Convention, where clergy and lay delegates will work together Friday afternoon to assemble 1,000 bags of shelf stable food to be distributed in each of our communities across the diocese.

The 21st Sunday after Pentecost
WORSHIP WITH US!

8:00 am
HOLY EUCHARIST, RITE 1... spoken

10:15 am
HOLY EUCHARIST, RITE 2... music
• Facebook Live begins at 10:15am
• Children's Chapel



CLICK THE BUTTONS BELOW


EDUCATION & MORE!

9:15 am
SUNDAY SCHOOL
• Adults meet in Parish Hall
• Youth meet upstairs in Youth Room

NURSERY
Nursery Care is available in our undercroft from 9:45 to 11:45 am.

CHILDREN'S CHAPEL
Children's Chapel is an opportunity for kids, aged 3 to 12, to learn about the Gospel and the prayers of the Episcopal church at their level. They leave worship during the Gloria and return at the Peace.

SNACKS & CONVERSATION
Come to Parish Hall after the 10:15 am worship service for food & fellowship
The Scriptures for Sunday
YEAR A, PROPER 24 • TRACK 1
• Exodus 33:12-23
• Psalm 99
• 1 Thessalonians 1:1-10
• Matthew 22:15-22
Blessing of the Pets 2023
On a gorgeous Sunday afternoon (Oct 8), we celebrated The Feast of St. Francis (Oct 4th) by hosting The Blessing of the Pets. The people of Grace and people from the wider community gathered together in our beautiful Memorial Garden to enjoy one another's beloved pets, as we engaged in a liturgy of blessing pets and their caretakers. We also lit candles for our pets who are no longer with us.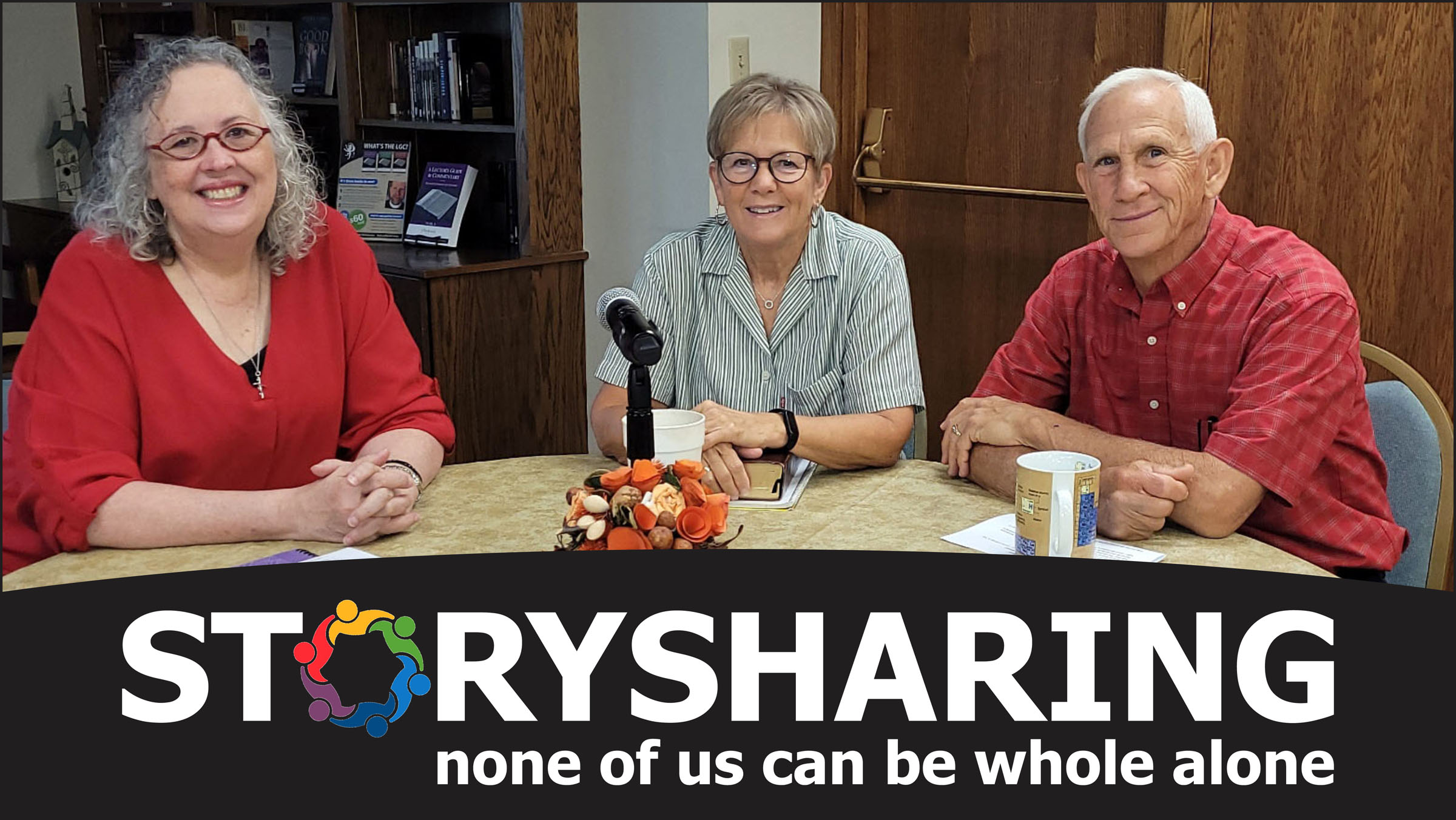 009. Karen & Randy Dalke
OCT 1, 2023. In this episode, Andrea Springer interviews Karen & Randy Dalke, who talk about their faith journeys—from early childhood memories, to the many twists and turns over their 47 years of marriage. They also share about their journey to the Episcopal Church, the connections they were looking for, and what keeps them coming back. Karen is a retired ordained Mennonite pastor, and Randy is a retired USPS Letter Carrier. They split their time now between Nalcrest, Florida and Hutchinson, Kansas.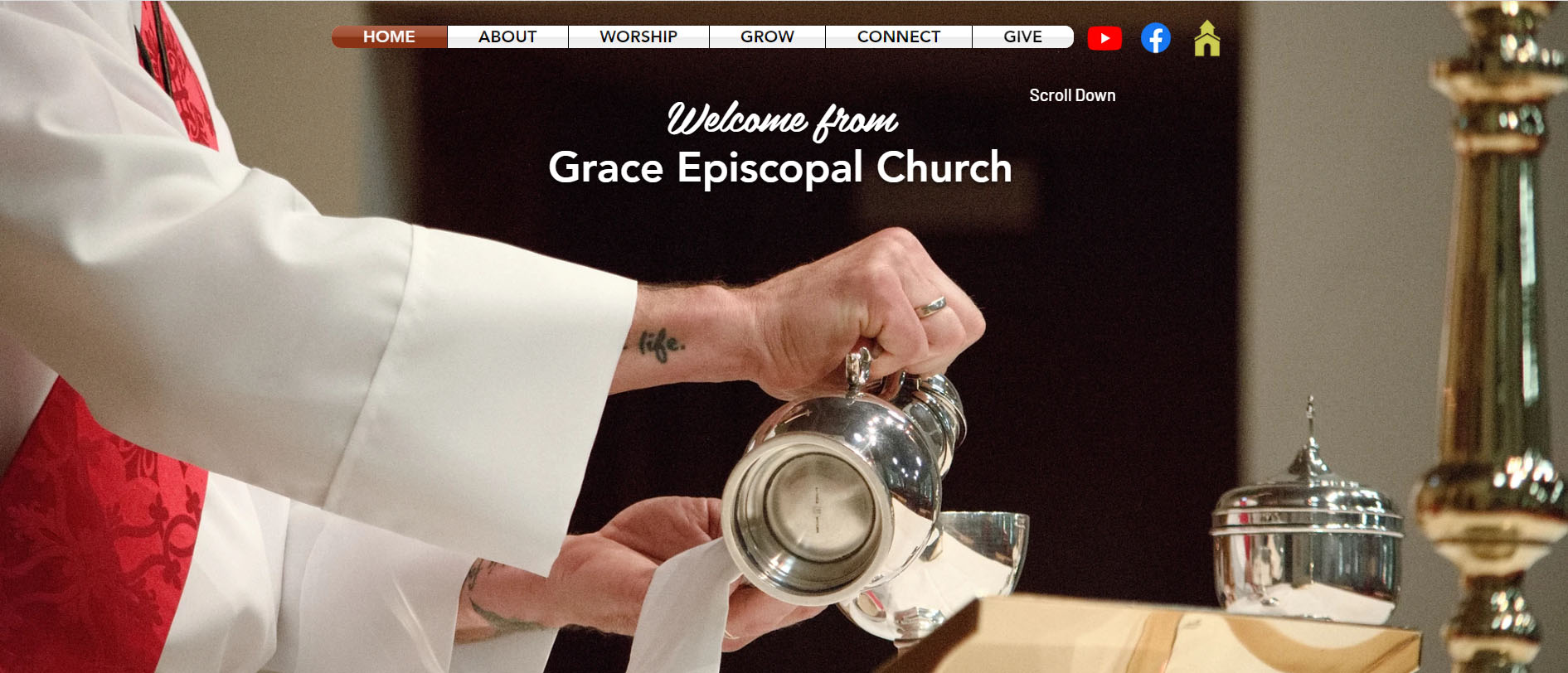 Visit Our Homepage Weekly
In our efforts to convey the life and mission of Grace Episcopal Church, both to the people of Grace and the larger community, we update our homepage every week with news of what's coming next or updates on what has been going on. So plan to visit the homepage weekly to stay informed and inspired.

SUNDAY, October 22
8:00 am • Holy Eucharist, Rite 1 (spoken)
9:15 am • Sunday School
10:15 am • Holy Eucharist, Rite 2 (music)
After the Service • Fellowship Hour (Parish Hall)
MONDAY, October 23
7:00 pm • Al-Anon (Parish Hall)
TUESDAY, October 24
5:00 pm • PRIDE Team
WEDNESDAY • October 25
9:30 am • Holy Eucharist, Rite 1 (Chapel)
10:00 am • Adult Bible Study (Parish Hall)
1:00 pm • Daughters of the King (conference room)
6:30 pm • MS-HS Youth Group (ends at 8:15)

GRACE EPISCOPAL CHURCH


2 Hyde Park Drive
Hutchinson, Kansas 67205


You received this email because you signed up on our website or made a purchase from us.