Welcome to SELINA Newsletter #2!
After the exciting summer months, we are happy to share with you the latest project news and insights!

We would very much appreciate your help in spreading the word about SELINA and growing our community. Please forward this newsletter to your networks.

A few words from the Coordinator
Dear SELINA friends and collaborators,
It has been a pretty dynamic time for us in SELINA since our last newsletter in May, making significant Milestones and fostering fruitful collaborations.
In July, we were really excited to celebrate SELINA's first anniversary. Considering what we have already achieved together within only one year, I extend my thanks to all SELINA partners for their commitment, support, and enthusiasm. We are motivated to continue our journey together towards supporting the protection, restoration, and sustainable use of our environment.
Earlier in May we successfully commenced the Communities of Practice (CoP) with our colleagues from the Baltic Environmental Forum Latvia and the Ministry of Environment Protection and Regional Development of the Republic of Latvia jointly organising the first meeting of the Latvian CoP.
In June, we achieved a significant project Milestone with the official launch of the SELINA Demonstration Projects (DPs). The online kick-off meeting attracted over 90 participants including SELINA consortium members and representatives of public institutions and private companies associated with the DPs.
After the summer, our engagement efforts continued with the second thematic SELINA workshop in Madrid at the beginning of October. The hybrid event brought together over 100 participants (15 of them online) from all 27 EU member states, Israel, Norway, the UK and Switzerland. I was really happy to witness that the 'seeds of change' that we planted during the workshop in Sofia, have started growing into tangible outcomes.
Over the past six months, SELINA partners actively participated in various scientific events (e.g. IPBES10 and GfÖ) and collaborated with relevant projects. I am pleased to also announce the publication of our first SELINA-supported research paper.
The accomplishments above show a promising progress and a significant leap forward in our collective mission. I am looking forward to meeting again at our next SELINA workshops and seeing our future achievements. 

Yours sincerely,
Prof. Dr. Benjamin Burkhard,
Are you passionate about your work to integrate biodiversity and lessons from nature into all layers of society? Do you have a project using nature to change your living environment? Or are you using biodiversity and ecosystem indicators in your business process? Let us know!

We are looking for initiatives that challenge the status quo. For example, by altering decision-making processes in the public or private sector, changing market dynamics or conditions, redefining our understanding of human-nature interactions… In other words, initiatives that are (potential) 'seeds' of transformative change.
We invite you to join us in identifying the seeds of change by filling out the SELINA survey!

* Should you have any questions concerning thе survey, please contact Inge Liekens at [email protected].
Below, we present the recent events that have been organised by SELINA project consortium in order to engage with relevant stakeholders and spread awareness about the project. Also, we brief on the external events that our project partners have attended. Enjoy!
Advancing solutions (I): SELINA second thematic workshop in Madrid
The second SELINA thematic workshop took place from 2-5 October 2023 in Madrid, Spain, hosted by SELINA's partner Rey Juan Carlos University. This hybrid event with the theme "Advancing solutions" (for mapping, assessment and accounting of ecosystems and their services) brought together over 100 participants.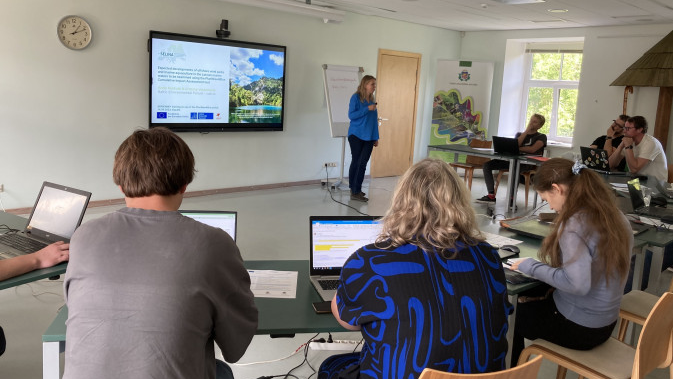 PlanWise4Blue and its contribution to the SELINA Demonstration Project in Latvia
On 14 September 2023, a training on the use of the PlanWise4Blue platform took place in Sigulda, Latvia. The event was organised by the team of the ADRIENNE+ project (University of Tartu) in cooperation with the SELINA team from the Baltic Environmental Forum – Latvia. The platform will play a role in the implementation of SELINA's Latvian Demonstration Project where the Baltic Environmental Forum is contributing with the recent data on marine ecosystem services for updating of national Maritime Spatial Plan.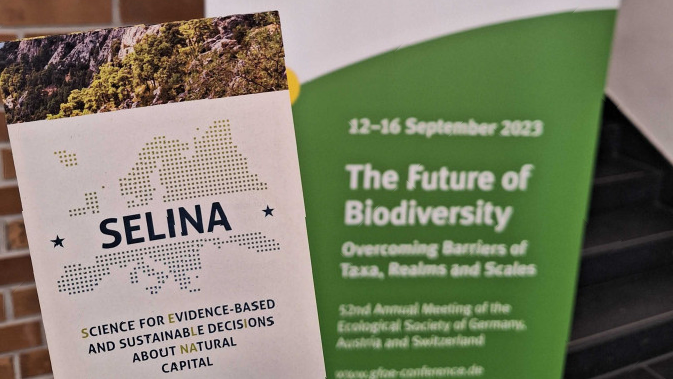 SELINA at the Annual Meeting of the Ecological Society (GfÖ) 2023 in Leipzig
The 52nd Annual Meeting of the Ecological Society of Germany, Austria and Switzerland (GfÖ Annual Meeting 2023) took place in Leipzig, Germany from 12-16 September 2023, hosted by the German Centre for Integrative Biodiversity Research (iDiv) Halle-Jena-Leipzig and welcoming more than 1 100 participants from around 30 countries. SELINA was among the EU-funded projects showcased at the exhibitors' booths at the GfÖ Annual Meeting. Moreover, SELINA maintained an active presence on social media.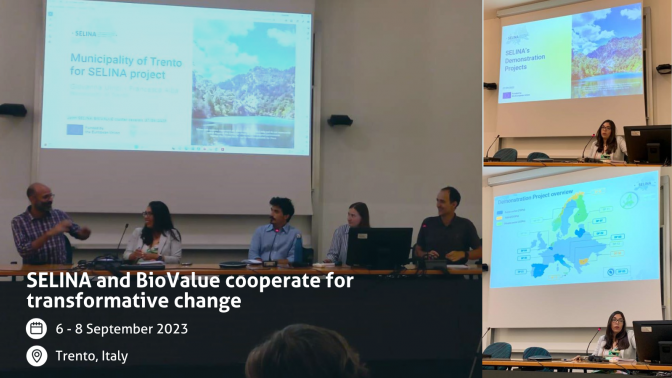 SELINA and BioValue cooperate for transformative change
From 6 - 8 September 2023, the University of Trento hosted the second BioValue project meeting. During the meeting, a pivotal event took place as participants convened for a joint session with the SELINA project. The focus was to introduce the seven public SELINA's Demonstration Projects (DPs) highlighting their strategic importance for the project and for enhancing the uptake of ecosystem services information, and to showcase the progress of the DP collaboratively developed by the University and the Municipality of Trento.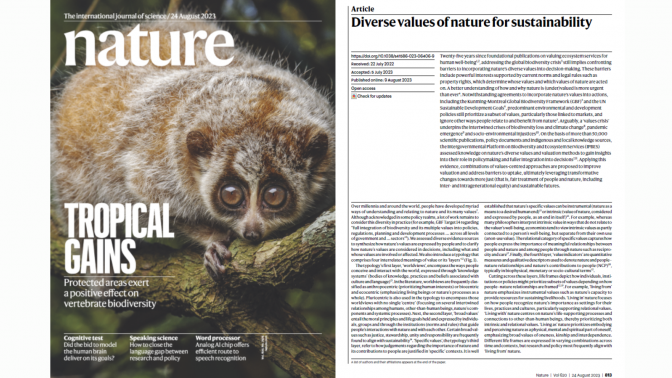 A recent Nature's publication assesses the values of nature to promote a sustainable future
A recent publication in the Nature journal, based on the IPBES Values Assessment, studies concepts that are referred to in SELINA's work. The paper argues that there is an urgent need to understand how and why nature is (under)valued, to reconsider the prioritisation of a subset of values, particularly those linked to markets, and to ignore other ways people relate to and benefit from nature.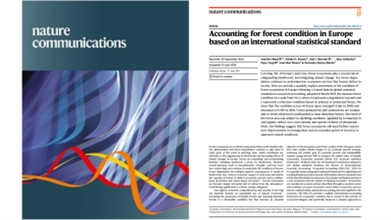 SELINA paper: an assessment of the condition of forest ecosystems in Europe
In June 2023, the first SELINA paper "Accounting for forest condition in Europe based on an international statistical standard" was published in the Nature Communications journal. It examines the condition of forest ecosystems, their crucial role in safeguarding biodiversity and mitigating climate change, and the threat forest degradation poses to key ecosystems and society.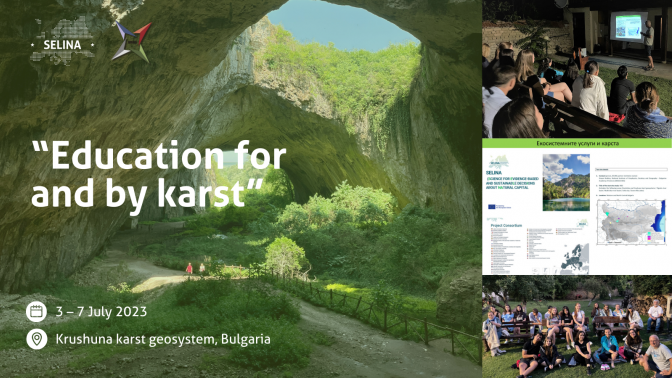 Inspired by SELINA: Secondary school students in Bulgaria map and assess ES in karst areas
From 3 – 7 July 2023 the National Institute of Geophysics, Geodesy and Geography (NIGGG-BAS) co-organised an innovative field course for secondary school students titled "Education for and by karst". A total of 17 students from two secondary schools in Sofia, Bulgaria took part in the training. The idea for one of the training modules emerged from the discussions at the first SELINA thematic workshop in March 2023.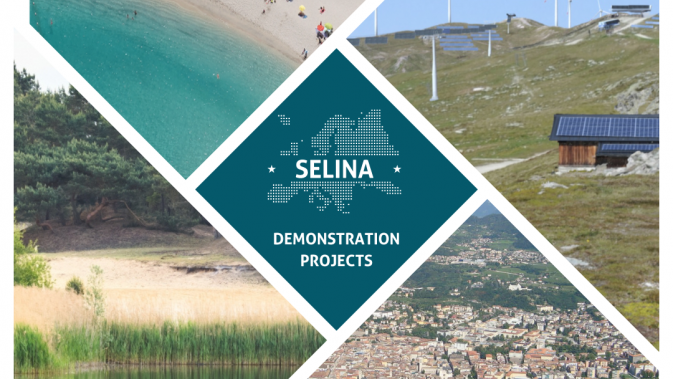 Breaking Boundaries: SELINA unleashes innovation through public and private Demonstration Projects
The SELINA project achieved a significant Milestone with the official launch of its Demonstration Projects (DPs), which was held online on 7 June 2023. Hosted online by Capitals Coalition (Netherlands) and the University of Trento (Italy), the meeting attracted over 90 participants including SELINA consortium members and representatives of public institutions and private companies associated with the DPs.
NOVEMBER 2023

Meeting of the Danish Network on Biodiversity and Ecosystem Service
(3 November 2023, Copenhagen, Denmark)
4th International ESP Latin America and Caribbean Conference
(6 - 10 November, 2023 Chile)

SELINA Early Career Researchers Network kick-off meeting
(22 November 2023, 14:00 - 15:00 CET, online)

DECEMBER 2023
Meeting of the Community of Practice in Belgium
(5/7 December 2023, Brussels, Belgium)

JANUARY 2024

Meeting of the Community of Practice in Germany
(30 - 31 January 2024, Hannover, Germany)

Meet SELINA's Demonstration Projects
Beginning with this newsletter, we will present the SELINA Demonstration Projects (DPs). We will start with the public DPs, providing details about the scientific and policy partners involved, the main objective of the DP and the expected outcomes. A dedicated section about SELINA DPs is currently under development and will be accessible soon on the SELINA webpage.
DP01: Spanish National Strategy for Green Infrastructure and Ecosystem Restoration
Main objective: To identify green infrastructure elements at a national scale in response to national regulations and political processes, including the development of regional green infrastructure plans for the Autonomous Communities in Spain by 2024.

Expected outcome(s): Identifying hotspots of ecosystem services potential based on green infrastructure elements and delimitating areas in need of restoration or protection efforts according to their potential for ecosystem services supply, connectivity and biodiversity conservation.
Scientific partner: Rey Juan Carlos University (URJC)
Policy partner: Ministry for the Ecological Transition and the Demographic Challenge (MITECO)
The objective of DP01 will be achieved through the active inclusion of diverse stakeholders, including the Ministry for the Ecological Transition and the Demographic Challenge, the University Rey Juan Carlos, and representatives from the Spanish Autonomous Communities who will identify green infrastructure elements in their regions and design plans and strategies based on the scientific inputs that will be provided. The DP will provide a methodological guide that includes a Tier-based approach for selecting indicators and methodologies based on the purpose of the assessment. It will cover a wide range of ecosystem services, including provisioning (food, raw materials), regulating (climate and air quality), and cultural (recreational activities and ecotourism). Various methods will be employed to calculate service provision based on available data and resources, including direct, indirect, and modelling approaches.
Did someone forward you this newsletter? Please subscribe to SELINA's newsletter via the button below and don't miss out on the project's quarterly updates.
You received this email because you signed up through our subscription form.
Unsubscribe
SELINA receives funding from the European Union's Horizon Europe research and innovation programme under grant agreement No 101060415.