September 2023 Newsletter

Hello members and subscribers!


This month we revisit the American Kestrel nest box project, feature a study of geologic formations, and provide gardening advice.

Please send feedback and submissions by replying to this email.
American Kestrel Nest Box Project Update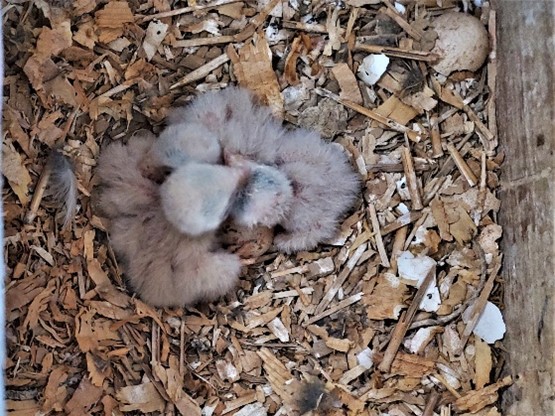 By Gaye Oberlin
I am pleased to report that my third year of hosting an American Kestrel nest box was a great success. Right on schedule, a kestrel couple began visiting the nest box in the middle of February. I suspected this was the same couple that used the nest box last year since kestrels often reuse nest sites, especially if they have successfully raised a brood there previously. I enjoyed watching this kestrel pair hunt and mate frequently throughout March and began my biweekly nest box checks in early April. When the time comes to lay eggs, the female will lay an egg approximately every 48 hours, so it takes a week or more before a clutch is complete. By the end of April, I was rewarded with five speckled brown eggs. Since incubation lasts about 30 days, I expected nestlings to be present on my May 28th nest check and, sure enough, I was greeted by four fuzzy little heads huddled on top of the one remaining egg. As it turns out, this egg never hatched and was probably infertile.
Tuk Jacobsen, the raptor management coordinator from AZGFD, arrived on the morning of June 12 to band the chicks. The banding protocol includes checking the weight and overall health of each nestling. This data is reported to the American Kestrel Partnership, a nationwide organization dedicated to kestrel conservation. Tuk estimated the youngest chick was about 18 days old and all four chicks were healthy and within the expected weight range. There were three males and one female.
Fledging occurs about 30 days after hatching, often over a period of several days. Although I did not witness the fledglings leaving the nest box, I was delighted to see this banded male, below, watching me from a nearby Cottonwood tree on the morning of June 22. Over the following weeks, I frequently observed interactions between the parents and one or more of the juveniles, including the parents' outrage when a Great Horned Owl visited the neighborhood one morning. Although I haven't seen any of the young kestrels since July, the parents continue to visit from time to time. I miss seeing them every day but I look forward to their return next February. In the meantime, if you happen upon a kestrel with legbands, please report your sighting and location to [email protected].
Geologic Formations of Interest in the Central Highlands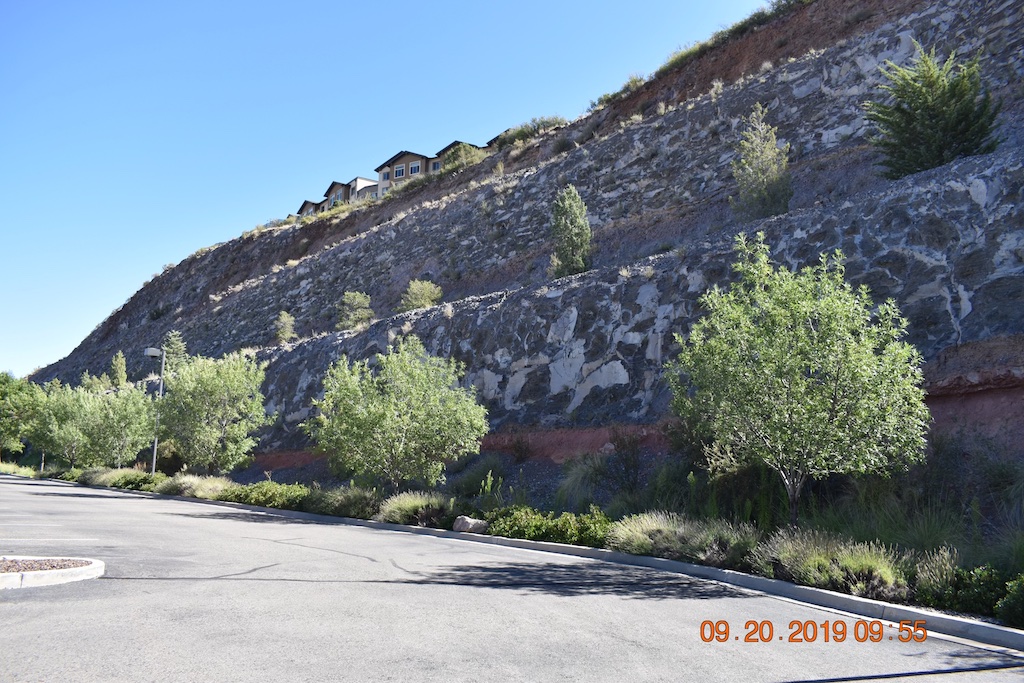 By Paul Basar
During a field trip a couple of years ago to local volcanic rock sites in the Prescott area, I was very interested in the Walmart hill cut that can be easily viewed next to Olive Garden and the Walmart along State Route 69. This was fascinating since the cut, although it was made to accommodate industrial development in the area, also created an easy-to-understand window into time and the geologic forces that are all around us here in Prescott.
Glassford Hill, a shield volcano standing 6177 feet tall that is located about 4 miles away to the northeast as the crow flies, was most likely responsible for this flow about 14 million years ago. The flow was a mafic basaltic flow and this can be clearly seen at the site. Clouds of fiery ash buried the animals that roamed the flanks of the hill at the time, according to Beverly Morgan, geologist for the Prescott National Forest. The center of Glassford Hill is a cinder cone intruded by three dikes of basalt that join in the center. Today, the hill is named for Colonel William Glassford, who traveled this area in the 1880s and helped form a sophisticated system of heliograph stations to monitor the movements of Apache Indians, U.S. military and civilians. Seven men, including one cook, were stationed on Glassford Hill to man the communications post.
The site at the end of the lava flow displays at least five individual layers, alternating between the flows and the intervening sandstone. There was most likely faulting which occurred since the lava flows took place and we also visited the same general flow site when we went around the corner near the York Motors property on Prescott Lakes Parkway and viewed the fault lines that can be seen there.
Remnants of the volcanic rock are also found overlaying the Granite Dells pluton in several places. The granite of the Dells has been dated to about 1.4 billion years old, while the lava flow occurred only (!) 14 million years ago.
I was also interested in seeing the housing that is being constructed on top of the lava flow itself just to the east of the Olive Garden/Walmart parking lot. These appear to be perched on stilts overhanging and sitting upon a loose basalt field that seems precarious. Not where I would want to live!
This field trip day was very educational and it helped to see actual examples of the geology we see here in our home town of Prescott.
How to Create a Certified Wildlife Habitat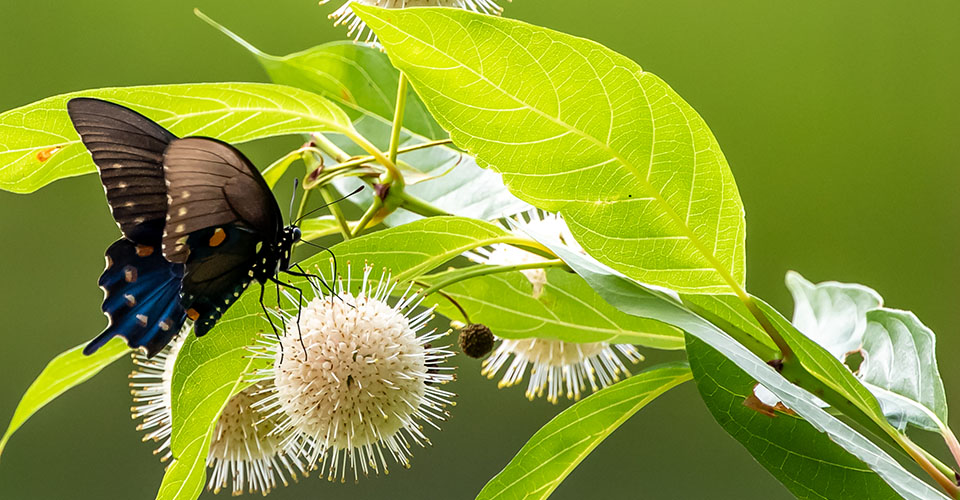 By Shannon Dixon
A few years ago, I took a class called Gardening for Wildlife. In this class, we learned how to create a Certified Wildlife Habitat in our own yard. This program is sponsored by the National Wildlife Federation. Creating a habitat is a great way that we, as Master Naturalists, can foster a greater appreciation for wildlife and their needs in our neighborhoods. The habitats provide wildlife with food and water sources, and areas for shelter and reproduction. The habitats can be structured to benefit a particular type of wildlife such as butterflies, bees, or other neighborhood wildlife. What makes this program enticing is that it not only benefits local wildlife, but also it benefits the homeowner in terms of reducing water usage, eliminating pesticides and invasive species, reducing erosion, and creating an interesting landscape that brings in animals to watch and study -- and it helps the environment. It's also a great way to get kids involved.
The necessary elements for a certifiable wildlife garden at home include the following (minimum):

3 types of food sources: berries, sap, pollen, feeders
1 source of water: bird bath, small pond
2 areas for shelter/cover: ground cover, rock piles, wood piles, bat box
2 areas for mating, reproduction, and care of young: mature trees, nesting boxes, dense shrubs
Gardening must be sustainable. Water and soil should be conserved. Native plants should be used and invasive species removed. Cats should be kept indoors. There should be no use of pesticides, herbicides, and chemical fertilizers.

All of this information (plus a LOT more) can be found at: https://www.nwf.org/garden or https://azwildlife.org/garden-for-wildlife
Certification requires a completed application and there is a $20 fee. The fee helps to support National Wildlife Federation's many programs. You get a certificate and a few other perks. You can also purchase a cool plaque to place in your yard. Don't stop at your yard, however. Get a school garden certified (the fee is waived for schools), a community organization, or your church. The certification application can be found here: https://www.nwf.org/-/media/Documents/PDFs/Garden-for-Wildli...
Upcoming Events

Community Nature Study Series: September 20, 2023, 12:30 pm, at the Highlands Center for Natural History

Dr. Greg Murray and Dr. Kathy Winnett-Murray will present a talk titled Explorations of the Galapagos Islands

Chapter Meeting: September 20, 2023, 2pm, Immediately following Greg and Kathy's talk

Upcoming events/web links:
October 18 CNSS speaker at 12:30PM, Dr. Gary Beverly to present "Protect the Verde." Gary Beverly, chair of the Yavapai Group of the Sierra Club, will describe the extensive efforts by many organizations to protect the upper Verde River. Registration is now open at highlandscenter.org.
November 15 CNSS speaker at 12:30PM, Dr. Ken Zoll, Director Emeritus of the Verde Valley Archaeology Center will present on the prehistoric farming practices of native peoples in the Verde Valley. Presentation to be followed by an Arizona Master Naturalist Central Highlands Chapter business meeting at 2PM.
December 7 AZMN Central Highlands Chapter Holiday Social for members and guests at the Granville Community Center in Prescott Valley. Further details to follow.
January 27 and 28, 2024: Arizona Master Naturalist Association statewide meeting to be held at Chapel Rock in Prescott. Many more details to follow, but please mark these two days on your calendars!
| | | |
| --- | --- | --- |
| 1375 S. Walker Road, Prescott, AZ | | You received this email because you signed up on our website. |