Msit No'kmaq — People & Nature; Better Together

The UNESCO designated Bras d'Or Lake Biosphere Region is located on Cape Breton Island - Unama'ki, in Mi'kma'ki, the ancestral and unceded territory of the Mi'kmaq People.

We envision all things thriving in this special place. Our mission is to improve balance in the Bras d'Or Lake Biosphere Region by encouraging community capacity building, conservation efforts, and sustainable development.
The Summer Moons in Mi'kma'ki

David Chapman and Cathy LeBlanc

The Mi'kmaw Moons this summer are Nipniiku's (Trees Fully Leafed Time, 20 May – 18 June), Peskewiku's (Birds Shedding Feathers Time, 19 June – 17 July, and Kisikewiku's (Berry Ripening Time, 18 July – 16 August). For instruction on how to pronounce these words, see https://www.youtube.com/c/Mi'kmawMoons Following that, we have Aqatiku's [ah-ga-di-goos] (Halfway Moon Time), 17 August – 15 September. This time is "in between" summer and fall.

The Full "Trees Fully Leafed" Moon is on the night of 3/4 June, seven days before the Summer Solstice. The Full "Birds Shedding Feathers" Moon is on 3 July, and the Full "Berry Ripening" Moon is on 1 August. The "Halfway Moon" is on the night of August 30/31. Follow the link below to order our book "Mi'kmaw Moons: Through the Seasons."
Reflections on the Spring of 2023

Jonathan Buffett, Cape Breton Mesonet

Spring is not a season known for delivering enviable weather in Cape Breton, unlike summer and fall. For some, it can be a difficult time in terms of mental health. Spring 2023 was no exception. Aside from stretches of abundant sunshine in April and May, it won't be looked back upon with much fondness. Unforgiving northerly winds dominated from late February onward. We are only now starting to see an end in sight as the transition to the summertime southwesterlies begin with a strengthening Bermuda high. A period of hot weather is likely to occur late week and into the weekend.
Spring may have been cold, but for once, it certainly wasn't wet. Cape Breton experienced a moderate drought through the season. For Sydney, it was the driest April on record, with a mere 19.6 mm of precipitation. Gusty northerly winds which buffeted Atlantic Canada from March to June were not terribly unusual, but what was unusual was the persistence of this pattern. Typically in spring you see extended periods of unsettled weather with north to northeast winds, interspersed with short periods of pleasant weather and lighter winds under high pressure. That was not the case this year. In fact, stalled low pressure systems and gusty winds were so persistent that it caused the Gulf Stream to move southward from normal position near the Northwest Atlantic Shelf.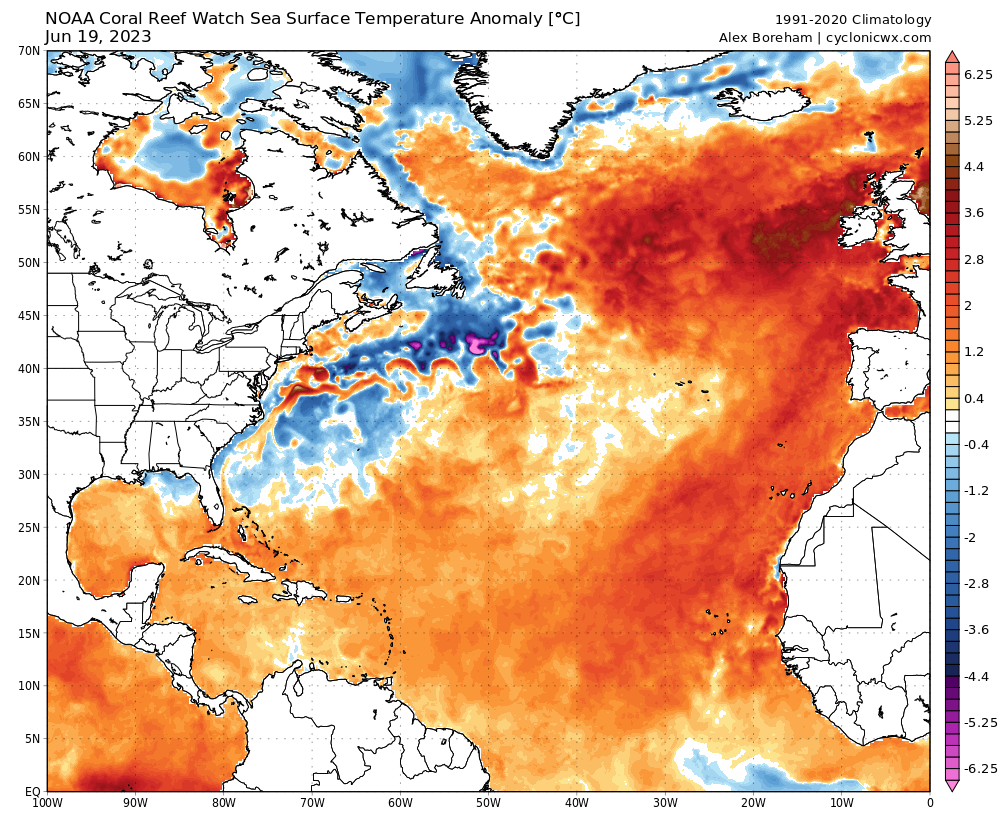 North Atlantic SST anomaly map

The North Atlantic Oscillation (NAO) has remained predominantly negative since March, which means there had been lower pressure in mid latitude regions of the North Atlantic, and higher pressure at higher latitudes over Greenland. This resulted in constant north flow over Atlantic Canada, streaming directly from the Arctic, into low pressure east of Newfoundland. It may also be somewhat related to the potential onset of El Niño, as that tends to cause a lot of rising air (lower pressure) in the eastern equatorial Pacific and western equatorial Atlantic, and a weaker Azores High over subtropical and mid latitudes of the North Atlantic.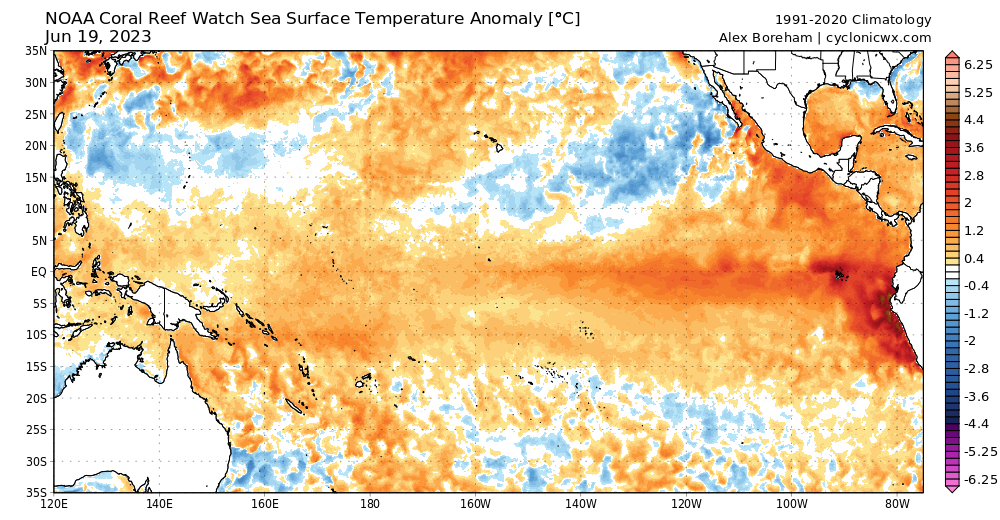 NOAA SST anomaly map showing El Niño

One caveat to our chilly spring was an unusually warm period from May 27 to June 1 that brought record setting temperatures to The Maritimes. Sydney Airport recorded two days at 30.0C or above in May. This was the first time since records began in 1870 that there was more than one day over 30.0C during May in Sydney. This abrupt transition from a relatively slow and chilly spring to summer like temperatures over 30C further aggravated conditions leading to destructive forest fires over mainland Nova Scotia. On May 28 the Tantallon wildfire spread uncontrollably. Several factors made the situation volatile; temperature over 30C, humidity under 30%, and wind over 30km/h, also referred to as the 30-30-30 rule. Combine that with a severe drought where precipitation was 50-75% below normal, and delayed leaf-out due to a cold spring, and you have a recipe for disaster on that day.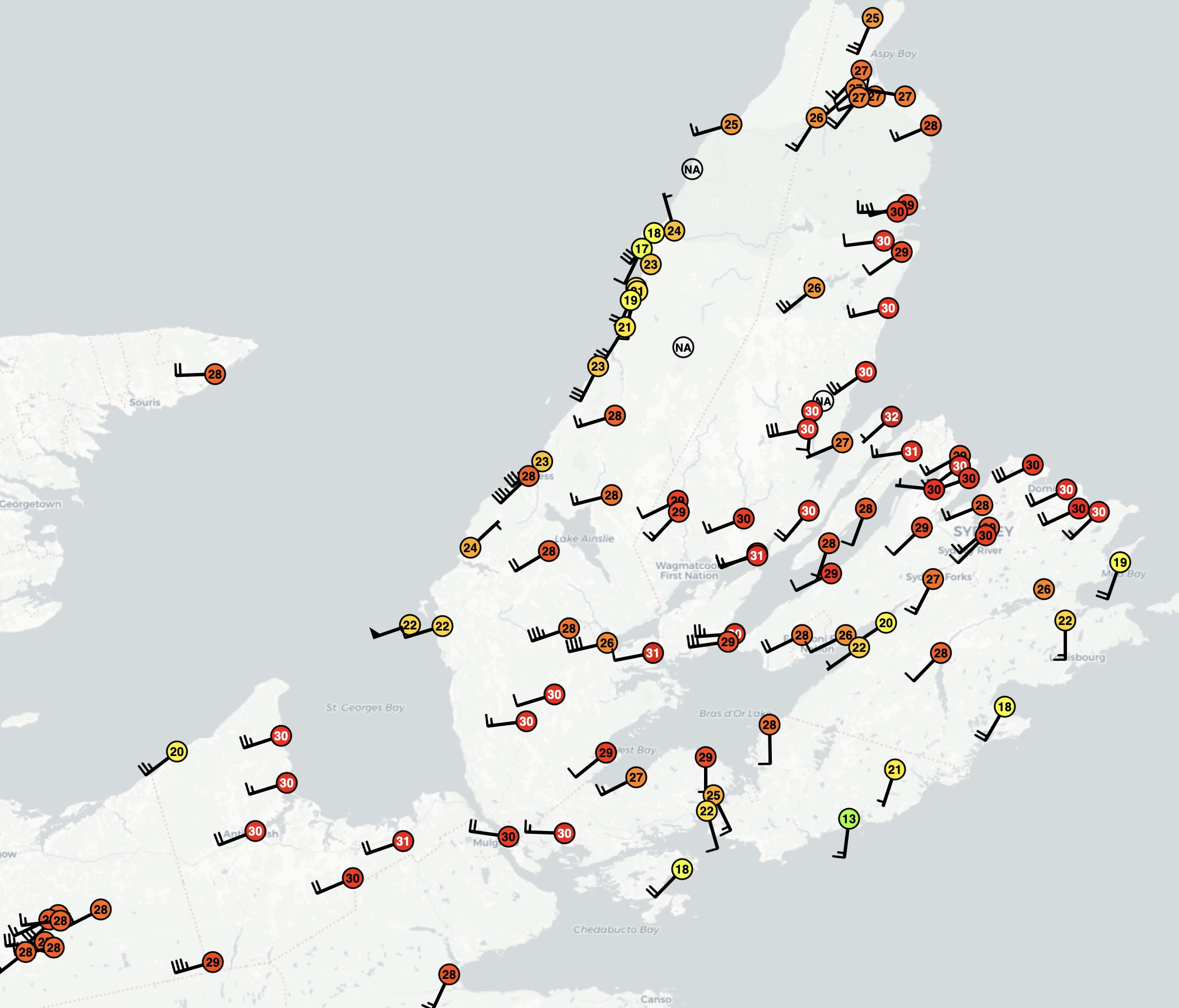 Unusually warm end of May

Looking forward to summer, it looks likely that a growing El Niño in the equatorial Pacific will become further established. El Niño summers tend to be a bit cooler and unsettled in Cape Breton, but not always. So, there is a bit more uncertainty there. We may still end up with a warmer than average summer in the end, but there could be lengthy periods of unsettled weather that last a bit longer than usual. That will depend on strength and position of the Azores/Bermuda high. Also, sea surface temperatures are currently below normal around Atlantic Canada, which could temper summer heat to an extent. However, it only takes a few weeks of heat and sunshine with warm southwesterly flow to cause sea surface temperatures to rise above normal.
Maureen Cameron-MacMillan
DNRR Regional Biologist, Baddeck Office

Giant hogweed (Heracleum mantegazzianum) is truly an impressive plant. A member of the carrot family, hogweed grows taller than the average person, reaching heights of up to 5 metres. Its immense size, showy white flower clusters, and eye-catching foliage made it a popular garden plant in the 20th century. The Bras d'Or Lake Biosphere Region is home to the first known observation of giant hogweed in all of Nova Scotia, in the garden of the Alexander Graham Bell National Historic Site back in the 1980s. Since that time it has been found in many parts of the province, spread by winged seeds that can disperse for short distances in the wind or float on water in streams and ditches for up to three days before settling.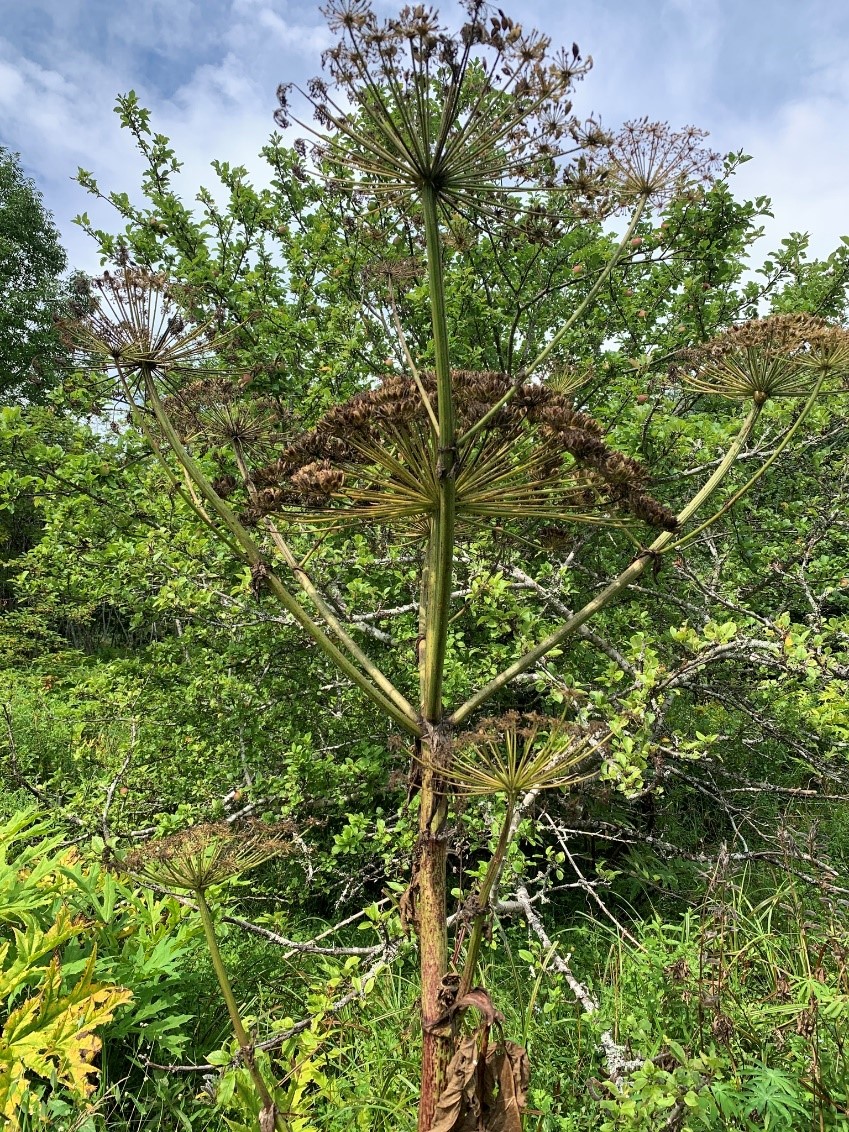 Giant Hogweed late-summer seed pods
Photo: Maureen Cameron-MacMillan

However, this showstopper of a plant harbours a dangerous sap in its tissues that can cause severe irritation and burns, potentially causing permanent damage to the skin and eyes. If you suspect you have found giant hogweed, it is important that you do not touch it—instead, take a picture and reach out to an expert to confirm. Plants in our area that can easily be mistaken for hogweed include the closely related common cow parsnip (Heracleum maximum) and the locally abundant and invasive wild angelica (Angelica sylvestris). While giant hogweed's stout, hairy, purple-blotched green stems and large central umbel surrounded by smaller clusters distinguish it from these other plants, cow parsnip and angelica are also reported to cause some degree of skin irritation, so it is best to avoid touching any of the hogweed lookalikes with bare hands.
Common Cow Parsnip in flower Photo: Bethsheila Kent


Wild Angelica in flower

Photo: M. Cameron-MacMillan
For more information on giant hogweed in our province, check out the Giant Hogwood Invasive Alien Species (IAS) Information Sheet link below or contact your local Department of Natural Resources and Renewables office.
Bethsheila Kent, BLBRA Director

The vibrant life with which we share the Bras d'Or Lake Biosphere Region is astonishing in its variety and abundance. And it never ceases to amaze, entertain and educate. I have always been an observant walker-hiker and in these, my declining years blessed with the gift of good health, I spend as much time as possible out of doors exploring my surroundings much as I did as a child. Which is how I came upon a colony of Bloodroot – Sanguinaria canadensis - in the Lake's watershed in south Victoria County.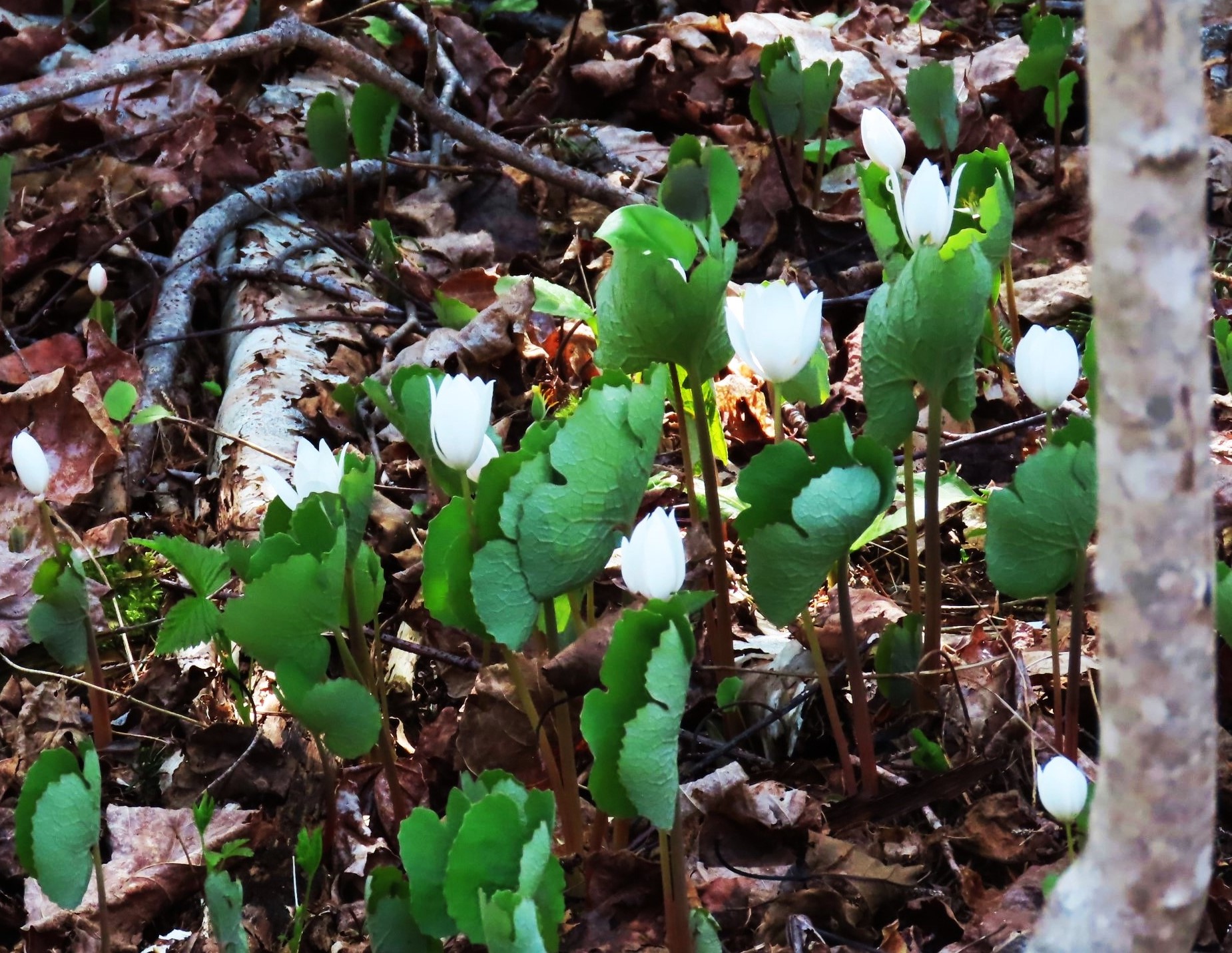 Colony of Bloodroot. Photo: Bethsheila Kent

Not a rare species but an uncommon one in Cape Breton, I had never seen it before this chance encounter when my purpose for being in that part of the woods was to get a closer look at a pair of Canada geese and their goslings nesting on the margin of a small and secluded pond ringed with Leatherleaf (Chamaedaphne calyculata). The sight of a wildflower I had seen only in field guides or on FB posts from other naturalists in other parts of the Province, stopped me dead in my tracks. Literally. The Canada geese quickly forgotten, I knew immediately what I had found.
| | | |
| --- | --- | --- |
| Bloodroot in flower Photo: Bethsheila Kent | | Bloodroot in flower Photo: Bethsheila Kent |
Its shroud-like leaf enclosing the flower (the leaf unfurls after the flower blooms) is distinctive as are the pristine, 8 perfectly white petals held atop a thin but strong stalk. Its name comes from the colour of the rhizome's (root structure) sap which is deeply red. Bloodroot is a true spring ephemeral, appearing early and lasting only a few days, disappearing quickly and completely.
Biosphere Expo and Artisan Market

The first Biosphere Expo & Artisan Market was held May 27. There were 15 BLBRA and partner booths offering information and hands-on demonstrations engaging all ages. An additional 8 artisan booths offered locally made crafts which were well received. Some attendees made it a point to mention their satisfaction with the whole event. The organizers, attendees and exhibitors spoken with all considered the event a success.
There was a steady stream of passersby and visitors from near and far who intentionally made their way to the event.
Doug Foster and Zoe Nicholas, BLBRA Staff

This year the Bras d'Or Lakes Biosphere Region Association's (BLBRA) annual general meeting was held at the beautiful Alexander Graham Bell Museum (AGBM) in Baddeck on June 15, 2023. We wish to extend our sincere gratitude to the museum for hosting our meeting and all their support. The AGB museum has the most spectacular view, very well kept, and the staff is top notch and eager to assist. If you are looking for something to do this summer, we would suggest spending the day at the iconic Alexander Graham Bell Museum.

We had a full room of members who came out to hear and see what the BLBRA has accomplished in the past year. We are excited to announce that in that attendance were 9 life members, 25 annual members, and 2 non members. Allison MacIsaac and Terri Shobbrook, Chair and Vice-Chair respectively, did a wonderful job facilitating the AGM and ensuring all information was shared. Veronika Brzeski, Member at Large, spent a great deal of time on creating the power point presentation, and has truly outdone herself. The committee chairs within the BLBRA individually reported on what they have been working on in the past year and their plans for the year to come.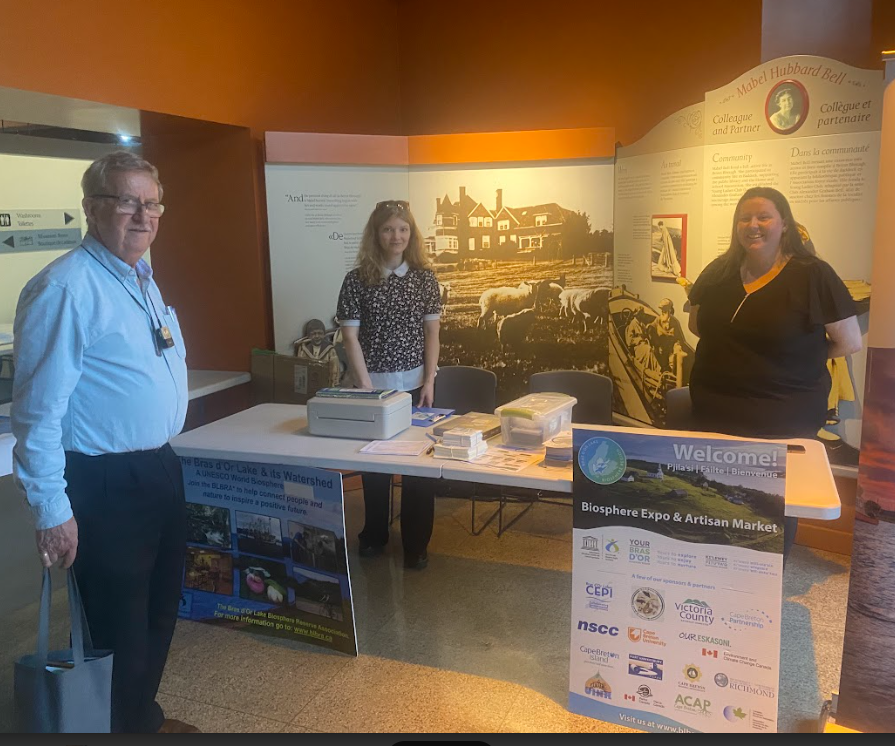 Project Manager Doug Foster, Membership Chair Kathleen Aikens and summer intern Sarah Dooley at the AGM registration desk.

Kathleen Aikens, Membership Committee chair, spoke of the movement to annual, fiscal year memberships with lifetime memberships being grandfathered. Pierre LaRochelle, Communications and Marketing Committee chair, provided an overview of the new branding theme - Your Bras d'Or Biosphere Region: Yours to explore, Yours to enjoy, Yours to nurture. The Trails Committee chair, Ron Newcombe, informed us that they are currently and continuing helping community groups develop community trails. The Community Engagement & Learning Committee, chaired by Kirsty Locke, is continuing to add trail signage and QR codes to the Nicholson trail in Baddeck. Kirsty also facilitated a workshop ahead of the AGM on the educational kits that can be borrowed from the BLBRA.
During the AGM the BLBRA acknowledged two long time serving Board members retiring: Eileen Crosby and Chris King. We would like to express our greatest appreciation and thanks for everything that Eileen and Chris have contributed to the Biosphere with their volunteered time, knowledge, love, and grace.
It is also notable to announce that the current executive agreed to remain in place and that there was 5 new board members motioned onto the Board. The 5 new members are Parker Donham, Bethsheila Kent, Breah Sampson-MacDonald, Tony Sylliboy and Wendy MacKinnon.
Our 2023 guest speaker was Catherine Hart, Communication & Project Specialist, at Engage Nova Scotia. It was such a pleasure to hear Catherine speak and enlighten us with how Engage NS and their Quality of Life initiative aligns with UNESCO's Sustainable Development Goals (SDGs) and could be of interest to the BLBRA.
The 2023-2024 BLBRA Executive Team & Staff

| | | | | |
| --- | --- | --- | --- | --- |
| Allison MacIssac Chair | | Terri Shobbook Vice-chair | | Rodney Chaisson Treasurer |
| | | | | |
| --- | --- | --- | --- | --- |
| Megan MacInnis Secretary | | Doug Foster Project Manager | | Zoe Nicholas Admin. Assistant |

BLBRA Office, co-located with Eskasoni Fish & Wildlife Commission, Crane Cove, 4115 Shore Road, Eskasoni. NS B1W 1M4

The 2023-2024 BLBRA Board of Directors

Introducing Zoe Nicholas

BLBRA Administrative Assistant

Kwe', my name is Zoe Nicholas, and I live in Potlotek First Nation. I am thankful for the opportunity to be the Administrative Assistant for the Bras d'Or Lake Biosphere Region Association. It is my absolute pleasure to be working with such an amazing group of people who care about Pitu'paq (Bras d'Or Lake's Mi'kmaw name) and all that encompasses it.
Baddeck - Kidston Island - July 22, 2023

Eskasoni - TBA, 2023
St. Peter's - Lions Marina/Handley's Island August 5, 2023, 7 am - 1 pm
The Bras d'Or Watch is an initiative which introduces residents and visitors to the unique Bras d'Or ecosystem. This is an annual field day where scientists and local community members welcome citizen scientists at several sites around the estuary to learn more about the natural environment of the estuary and nearshore. It is a celebration of our place in the unique Bras d'Or Lake Biosphere. Please check back on the website and Bras d'Or Watch Facebook page(s) over the next few weeks as details firm up.
Around the Lake - July 24 - August 9, 2023
Explore the Bras d'Or / Wjinene'n Pitu'poq brings together Mi'kmaw and non-Indigenous communities while promoting stewardship, sustainable economic development and ecotourism.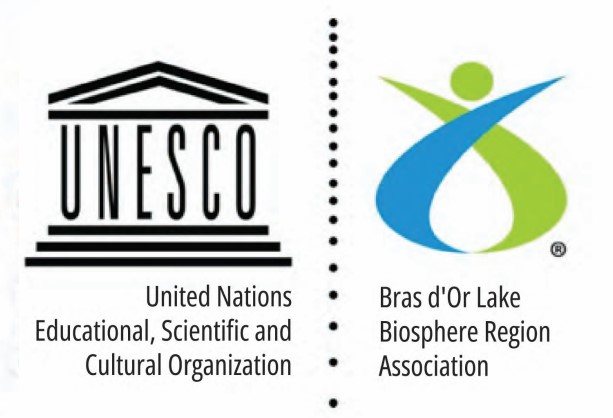 Bras d'Or Lake Biosphere Region Association
4115 Shore Road, Eskasoni
Nova Scotia, Canada
You are receiving this email because you are a member of the Bras d'Or Lake Biosphere Region Association (BLBRA), are a member of associated groups or have been recommended and kept subscribed. We hope you will continue to subscribe and accept timely email notifications from us. Feel free to share this with your friends.
If you would like to be part of the Bras d'Or Lake Biosphere Region Association and get up to date information on what we are doing, you can go to our website to become a member. If you want to get more involved, you can sign up to be a volunteer and help the Biosphere in any way that you can.
Preference and Unsubscribe options are provided below.