New season opens
Artspace on the Prom
Cromer Artspace on the Prom is now open for the 2023 season. Pick up a brochure at Artspace to see the full and varied programme or look online at cromer-artspace.uk.
It's great to see the ramp in place and in use and to find the space already buzzing with visitors.

We have just submitted an application for funding for works on the flat roof, in partnership with NNDC. Let's hope that we are as lucky with this as we have been with funding for an accessible toilet and for the ramp. Once we stop the drips from above we can move on with insulation, heating and improving the lighting.
Looking good
Decorated in and out
The outside and inside of the space have been redecorated and spruced up for the beginning of the season. We are most grateful to David Brucass, painter and decorator, and to the volunteers who gave their time to get us ready to open again after the winter.
Tah Dah! We're back
Anonymous Art Auction
24 April 2023 until 13 May 2023
Artwork is flooding in for the upcoming 'Secret Auction'. We are extremely grateful to all the artists who have given us work. 
Now we just need you to come to the show, running from 24th April to 13th May, to put in your bids, to tell your friends about it and to help us to raise the money we still need for the ramp and for running costs. 

Last year the auction raised £7,500 – could we beat that? After all you might walk away with a Maggi Hambling .. or you might prefer one of the other varied pieces, including prints, oils, photos and tempera. All the work is sold 'anonymously so you don't know the artist until you win!
Come and see.
Future artist's exhibitions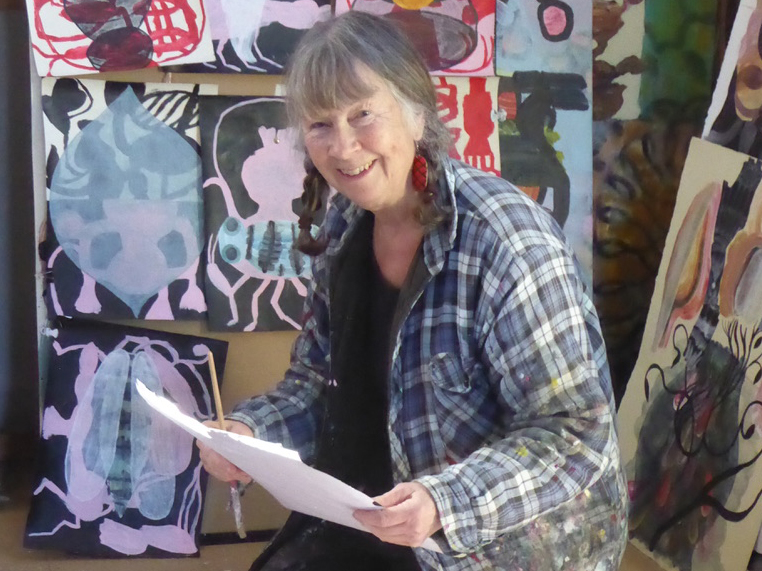 17th to 29th May
Anna-Lise Horsley 'Mauvaises Herbes'
Here is Anna-Lise in her studio surrounded by her artwork on the walls, something like being inside your own sketchbook of ideas. She works on the floor because she often uses thin paint to create layers and depths. From 17th to 29th May you will be able to feel surrounded by her work at Artspace on the Prom. Colours and organic forms will abound.

15th to 26th June
Marion Piper
Lux
Marion is making 60 new paintings specifically for her installation at Artspace on the Prom. Here she is with some of the paintings and looking at a sheet showing the 60 drawings, set out like a line of music. The way they work together and in the space will be something completely new and exciting for us to see.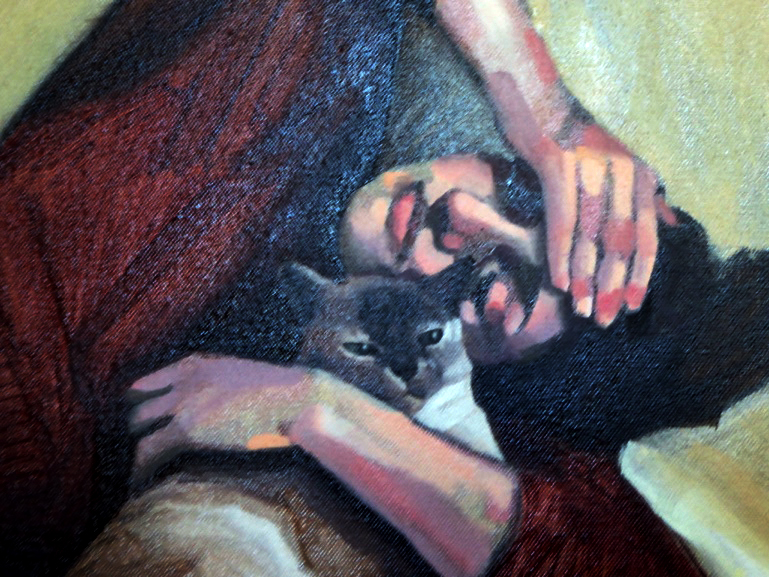 The New Face of Portraiture
29th June – 10th July
Rosie Philips (on the right) in her studio with another Rosie, her model, and a portrait of Rosie with her cat. Rosie is just one of the artists exhibiting in this show of contemporary portraits.
Introducing
Meet the Artist
We are very fortunate that our exhibiting artists have agreed to give time to talk about their work and to answer questions. It's great to have this opportunity to find out more about the thoughts and feelings behind the work that we see at Artspace on the Prom. Dates arranged so far are as follows

Anna-Lise Horsley, 25th May 3pm to 4pm
Paston College BTec,  1st June 4 to 5pm
Stuart Shearer, 22nd July 4 to 5 pm
Craig Visser, 7th September 4- 5pm
Esther Boehm, 21st September 4-5pm
These talks are free and informal. Please do come along and take advantage of this amazing opportunity.

1st to 7th August
Print Fair
There will be print works at Artspace on the Prom, in the library, at the museum and at the Co-op on the hill. 
Watch out for further information about workshops and events.
If you know a shop or café that might like to join in this extravaganza of all things print, let us know by contacting [email protected]. We would love to show prints all around the town in windows and on walls.
10th to 21st August
Post Petrochemical Practice
Rita Kearney made all these colours using plants from the Waterloo Park dye garden!

From 10th to 21st August, four artists, Yelena Popova, Geoff Litherland, Liz McGowan and Sam Hodge, will be exhibiting work made using earth pigments, soot and plant material.

During that time there will be other talks and workshops about using non-petrochemical colours. Watch this space!

National Gallery Artworks, Artwalks and Films.
Below: Gracie Divall and Alex Kavanagh
from the National Gallery, London on a recent visit to Cromer
Until September
Pictures around Cromer
The National Gallery Collection
Our emails often contain remarks like this
"Looking forward to seeing the other exhibitions that you have lined up for the year. These exhibitions and the National Gallery pictures around town really help to make Cromer an exciting place to live."

As the season begins to hot up, no doubt visitors are enjoying them too. We are so pleased to have the pictures on show until September. There will be guided walks over the summer and the art films at the library continue to provide additional information if the pictures have piqued your interest.

Monday April 24th
Monday Afternoon Art films at the Library
The next film will be
Monday April 24th National Gallery Talks on Van Eyck, Rembrandt and Turner's 'Fighting Temeraire '
They run from 3- 4 with a break for tea and coffee.
Networking and connections
15th and 22nd May
Poetry Reading and Writing
James McDermott, who read at Cromer Library as part of our 2022 Autumn Festival, will be back to host a poetry reading and writing group at the library on 15th and 22nd May 10.30 – 12.30. 
To book call the library on 01263 512850
See you soon!
We look forward to seeing you at a Cromer Artspace event or at Artspace on the Prom.
  Thank you.
Artspace on the Prom West Promenade, Cromer
United Kingdom