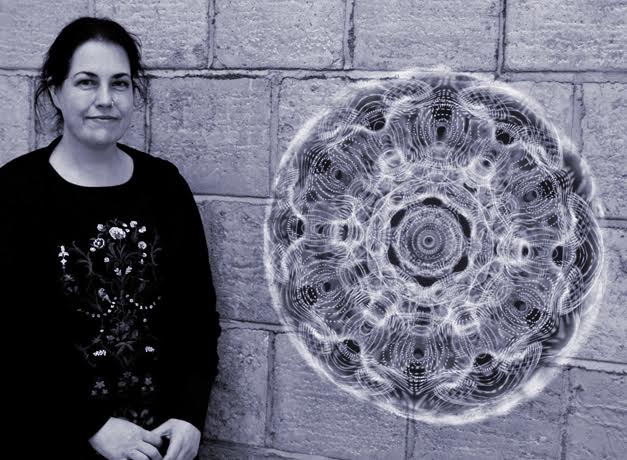 "Light and sound are two invisible energies that are key to our perception of the world. [This art installation using cymascope images} shows sound as a dynamic energy whose invisible vibrations impact on physical objects." - Helen MacMahon, Irish artist
Prior to the invention of scientific instruments such as the cymascope, our physical eyes couldn't see things like the impact of sound frequencies on matter. But such energies have nevertheless always been in existence, awaiting our awareness and co-creative intention.

This week, we honor sensory experience of the material world while accepting the invitation of yogic wisdom to go beyond, into the other 99% of existence, exemplified by the sound vibrations made visible in the image above.
Everything vibrates, and cells create sounds.
The CymaScope is a scientific instrument that makes sound visible, allowing scientists to see sound's vibrations... Just as the invention of the microscope and telescope revealed aspects of the world and Universe that we didn't even know existed, the CymaScope allows the once hidden realm of sound to become visible. And since everything in the Universe is in a state of vibration, a tool that shows the structures within sound and vibration can provide important new scientific insights... The first project chosen for the Digital CymaScope is to differentiate between healthy cells and diseased cells. All cells create sound as a natural aspect of their metabolism, and healthy cells have a different sonic signature from diseased cells.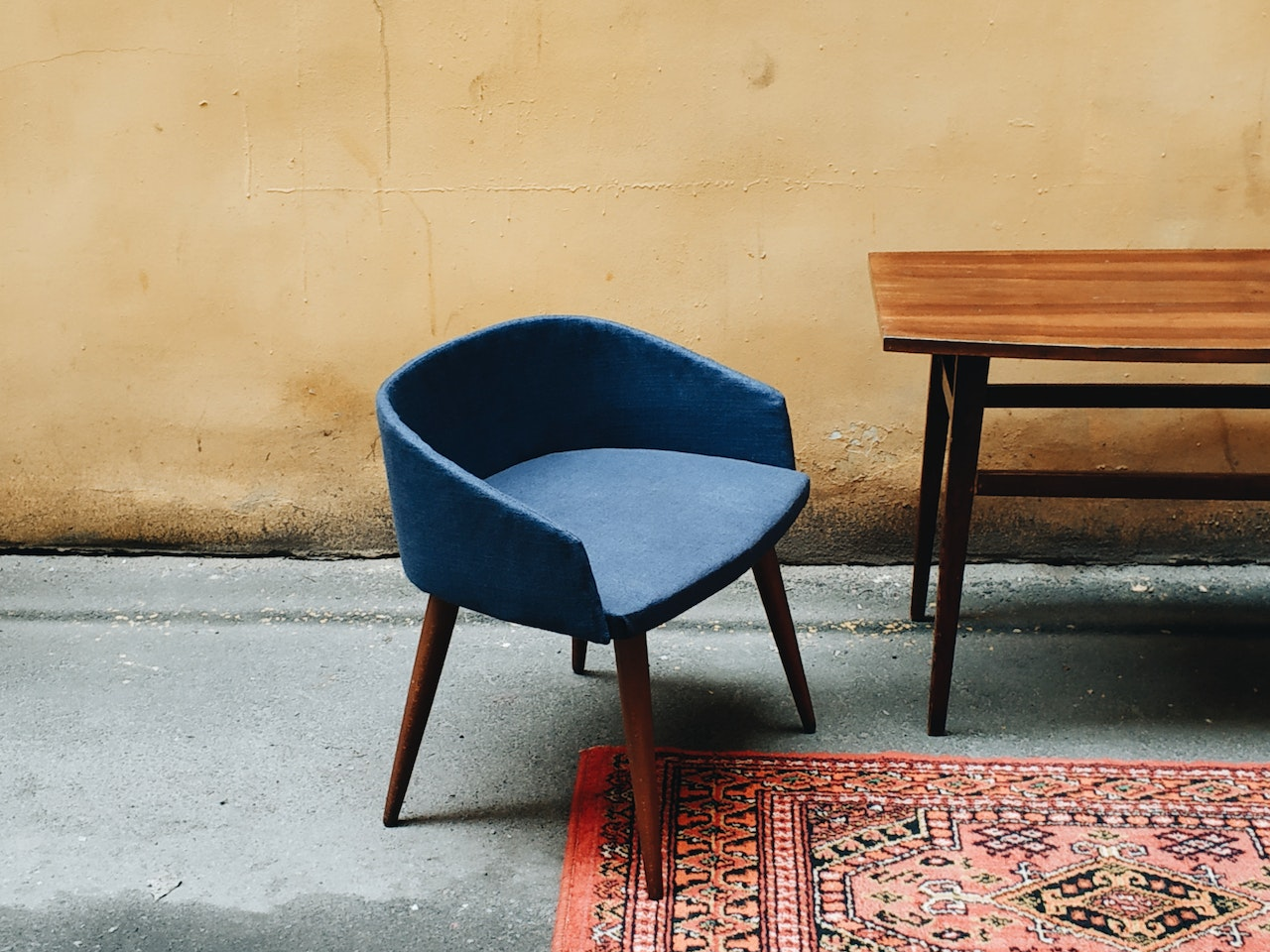 The Western mind views the table and chair as more real than the invisible realms. The invisible makes up 99% of existence and includes frequencies and consciousness, including what we know as thought and emotion, plus light and sound vibrations that are outside the humans' sensory range of perception. What we perceive through our five senses is not the full story. Every human is invited to expand beyond the limits of their five-senses "reality" to experience and create from the limitless expanse of the force from which matter arises — also called consciousness.

The general belief taught in the universities of Europe was that Nature was alive – the Earth is alive, animals and plants are alive. They all have souls bestowed upon them by the Breath of God… But the crux of the 17th century revolution was that it said: no, this is not a living world. It is a dead world, made up of unconscious machinery, not conscious organisms. In the 19th century, this Cartesian dualism devolved into full-blown materialism where matter was made the only reality, and Spirit confined to the imagination. What is not material therefore doesn't exist.
The film, "Avatar: The Way of Water" beautifully illustrates the different worldviews described in the quote above. The powerful visual experience offered by this movie helps us to more fully understand the implications of different perspectives. The film helps us to experience and feel the presumptions and actions of a materialist belief system vs those with an awareness and honor for the sea of consciousness of which we are a part.

What's New
For a more complete list, scroll to the bottom of Member Home.

Often translated as "the illusory nature of the world," "maya" actually means "made of matter." … Within maya, as forms begin to manifest from the potential state into their actual unfolded form within the time-space continuum, objects start to take shape and structure. They have limits and boundaries. Events start to unfold in time. Attachments are formed between things. Within the plane of maya, everything is always moving and changing.
A note from the founder of Yoga Teacher Central
Acknowledging the Ancient Knowing that Modern Science Confirms, and the Practical Utility of What They've Been Trying to Tell Us
Dear Friends and Colleagues,
I'm always saddened when I find words getting in the way of a teaching, making something seem more complex or irrelevant rather than more clear and practical.

Take the phrases "illusory nature of the world" and "Are we living in a simulation?" for example. I, for one, found such words to swallow. This is in part because I was indoctrinated (beginning in elementary school in the 1970s) into the imperious clique of materialist thinkers.

It was my loss, because these phrases are speaking to a core teaching of the yogis and other indigenous traditions: recognizing what is real vs. what is unreal... and not just a theoretical discussion for kicks, but for extremely practical and empowering reasons.
For those educated (indoctrinated) in Western thought, the subject of what is real sounds too obvious, silly or theoretical — a wasteful distraction from practical concerns.
The Western mind views the table and chair as more real than the invisible realms. This cultural bias is based on an outdated materialist worldview formed from theories that have been disproven, but nevertheless continue to be espoused.
The invisible makes up 99% of existence and includes frequencies and consciousness, including what we know as thought and emotion, plus light and sound that are outside the human's sensory range of perception. For example, dogs hear sound frequencies that a human can't. The dog's reaction teaches us the very real existence of those sounds, even though we can't hear them.
The point, of course, is that what we perceive through our five senses is not the full story. Every human is invited to expand beyond the limits of their five-senses "reality" to experience and create from the limitless expanse of the force from which matter arises — also called consciousness.
Today, I'm offering support that I hope will help to dismantle barriers that make such teachings seemingly irrelevant or impenetrable, and instead free the way for these teachings to be be stepping stones on your revelatory path (and that of your students).
Let's begin with the science. The materialist mind looks the other way when it hears a phrase such as "the illusory nature of the world." Nothing of value there, it thinks. A bit more appealing to the materialist is modern science, which, as it happens, now offers significant support. Scientific inquiry over the last hundred years has resulted in consciousness studies and the field of quantum physics. The science shows that:
Although your physical eyes can't see it, space is not empty. There is no void or nothingness between objects or particles. Rather, space is made of aether, a unified field which connects and permeates all things.
Everything is connected by this field and, thus, objects become "entangled" (related) no matter the physical distance between them.

Like a wave isn't separate from the ocean, matter is not separate from space. Matter is formed from, and is a part of, the field.
Let's compare this to ancestral teachings. "Maya" is a Sanskrit word that refers to the cosmic illusion caused by an error in spiritual perception. As Alan Finger explains in the quote above, the etymology of the word maya points to materialism as one of the keys to our misperception.
There is nothing inherently wrong with the material world as our playground. The problem occurs when we drastically limit our perception, believing that only the material is real when it makes up less than 1% of all existence.

The force that creates matter (and everything else) isn't matter.

When we keep our attention (an immaterial phenomenon) on the material world, we are unknowingly renouncing our inherent power. The power of potentiality (creation) exists in the immaterial realms and the research and teachings demonstrate that it's our awareness and attention that are key to accessing it. When we instead identify so completely with materiality, we are dramatically limiting our creative power and our ability to receive information, insight and healing.

There is something in us that leads us to expect, without even thinking about it, that only material things are real; that things, to be real, must be made of stuff — matter — to be of significance. I think that our language has a lot to do with this attitude… To some extent, all languages have a built-in hidden ideology, washing people's brains in a way that they don't notice. Materialism — that is, the belief that only matter is real — is a brainwash of our language that tells us that only materialism is a reasonable way to look at the world.
To reawaken deep contentment and the creative power of each individual, the indoctrinated Western mind must face the fact that materialism is a busted philosophy, despite all the subtle language cues that pull us back into that belief system. The five senses do not perceive what the indigenous teach and science demonstrates.

Your physical eyes don't show you that a chair and your body is comprised mostly of space or that the air around you is alive. Your sense of touch doesn't let you feel your connection to the fabric of the Universe. Your ears don't tell you that electricity wires and tuning forks are sending sound frequencies that affect matter.
Accepting this very fact — that you can't recognize the truth with your physical senses — can break you free from the materialist box, and spark the curiosity that leads to perpetual awakenings. 
The five senses create a wondrous experience, worthy of honor. In fact, they are often an excellent doorway to the other realms. But at the same time, they present only a tiny slice of Reality — sometimes called an "illusion" or "a simulation." And yet those words may make the subject seem too removed from "our reality" to have any relevance. Ironically, however, when we let such words block our curiosity, we limit the very awareness we need to IMPROVE our reality.

Aether / Ether
+

In physics, "the field which connects and permeates all things." Serves as the medium for light and sound waves. Also known as Massless Ether, the Field, Quantum Field, the Higgs Field, Plasma, SpaceTime, the Void, the Divine Matrix, Dark Matter, the Fabric of the Cosmos, the Cosmic Web, Indra's Net, Akasha, the Universe.
Entanglement & Nonlocality
+

In physics, entanglement is the word for particles that are correlated by an interaction. Also called "nonseparability" and Einstein called it "spooky action at a distance." Nonlocality refers to objects having information ("knowing the state") of other objects, even when separated by large distances.
Maya / Illusion / Frequency Bubble
+

Maya is a Sanskrit word referring to the cosmic illusion caused by an error in spiritual perception. The etymology of the word points to materialism as one of the keys to our misperception. The "illusion" or "frequency bubble" is a result of limited perception of the five senses which are unable to perceive the existence of forces outside of a narrow frequency band, as exemplified by the cymascope. May also be called "The Matrix."
Simulation
+

Defined as an imitation or false appearance. The saying, "We live in a simulation" does not necessarily mean a computer simulation. It often refers to the fact that when our brain decodes sensory input, it presents us with a small, biased picture — less than 1% of Reality. If we believe this tiny slice of sensory experience to be the ultimate truth, we are believing a false appearance or simulation. Since the word simulation has often been used in the context of computer modeling and artificial intelligence, it may be presumed that it always refers to AI when in fact it can simply be another way to refer to a worldview based on an astronishingly limited perception.
Awakening Experience
+

The experience of a higher state of consciousness, which may be temporary or sustained. "A kind of 'waking up' from the sleep of our normal state.. Our normal 'shadowy' vision of the world is transformed and we gain something of the intense vision of the world of children and some indigenous peoples... it's as if the world switches from monochrome to colour." (Steve Taylor)
From a philosophical perspective, a five-senses or materialist worldview is considered "unreal" because unlike the Ultimate Reality, it changes. From another perspective, it's not so much unreal as extremely limited and lacking context — as demonstarted in the story of the blind men and the elephant.
In other words, while we are playing in this 3D realm of limited perspective, it doesn't serve us to always stay within a "frequency bubble" of such narrow bounds. To believe that the material world represents the entire Truth (that the ear is the entire elephant) exemplifies "illusion" and this mistaken belief is the cause of great suffering.
Sometimes, being limited to sensory perception is associated with "being stuck" in "lower chakras." This doesn't need to denigrate our need to handle worldly traumas and demands. Rather, it can simply be a recognition that unhealed wounds may block access to certain realms of consciousness or otherwise inhibit the full energy circulation that the human body employs as a bridge between other frequencies and the Earthly realm. 
As we heal, we have an entire energy system available to us, making embodied "multi-dimensional" experience possible. Last week's discussion of the pineal gland and third eye chakra expand on this subject.
The Practices That Lead Us Beyond Maya

Let us not forget that such advanced tech as the cymascope is simply uncovering what was already known by our ancestors who accessed the same informational field available to us today. They accessed a multi-dimensional perspective to write the Vedas and to create other records of indigenous wisdom through architecture, art, tablets designed to last the test of time, stories, songs and so on.

Long ago, our ancestors told of the existence of aether, the interconnectedness of nature, the power of sound vibrations to alter matter, the existence of a "third eye" and supernatural abilities, the illusion of death and much more — all of which modern research has amassed extensive evidence for. 
However, the Western mind has been conditioned against an understanding that every human has the built-in ability to expand their consciousness ("awaken") and to experience the truths that technology such as the cymascope point to.

When we escape the hold of "the matrix" or the worship of materiality as religion, we expand our consciousness and can clearly see that technology is best used to support the advancement of human consciousness, not to supplant it. 
It is every human's birthright to have direct experience of expanded consciousness via meditation, intuition, dreams, and other "non-ordinary" states of consciousness.

Access to this direct experience is made easier or harder by our beliefs and vibrational frequency.

And thus it is our efforts to resolve addictions and dependencies, heal from trauma, do shadow work, meditate regularly, and raise our vibration that lead us out of the illusionary frequency bubble called maya.

Sending good wishes for your practice and teaching.

Coming Up
Scroll down for seasonal dosha-balancing and more timely info.

This week

Post-holiday wellness & self-care focus  (Jan)

Sound is more than simply a medium of artistic expression. Sound has practical and powerful applications in the real world. Mantras, or simple chants, are short phrases packed with energy and intention — specifically designed to generate powerful sound waves that promote healing, insight, creativity, and spiritual growth... The transformative power of sound has been passed down to the present from the sages of India, the classical scientists of ancient Greece, and the medieval monks of Europe. Mantras, sounds, and chants have inspired, comforted, and mended the lives of individuals, religious orders, and even entire cultures.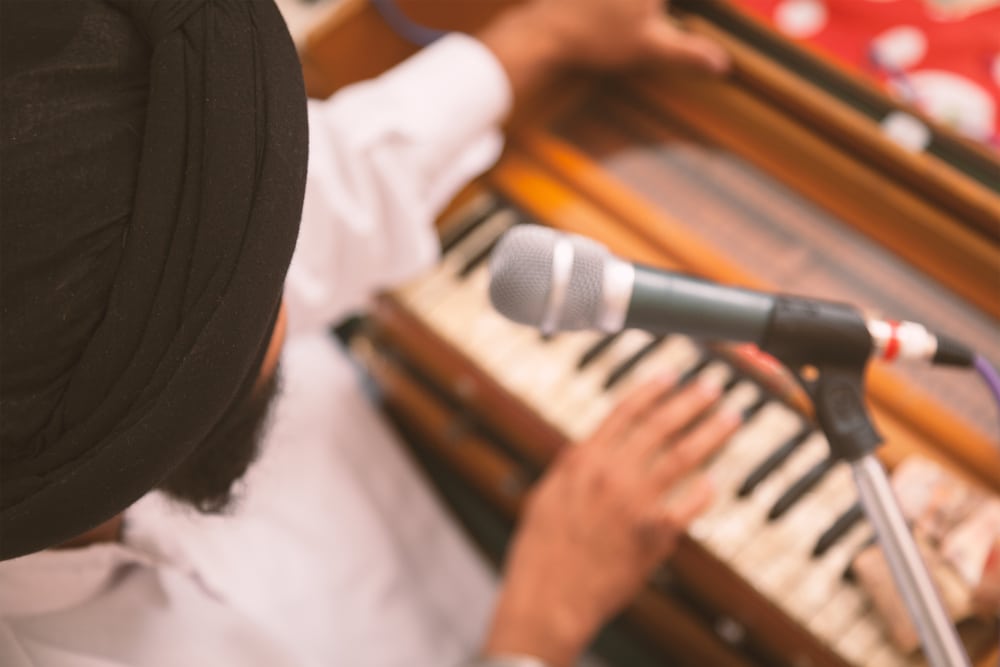 We offer 10 lessons on the yoga of sound. As always, we begin at the beginning, forming a solid foundation for lifelong learning. For training purposes, the lessons are divided into two modules, now available in the download library.
The Yoga of Sound
Sound
Yoga of Sound Introduction
Mantras & Chanting Introduction
Mantra Practice Guidelines
Seed Sounds / Bija Mantras
Om / AUM
Choosing / Creating a Playlist
More Mantras
Gayatri Mantra
Experts Recommend
Classic Mantras
More Classic Mantras
Yoga of Sound Introduction
In this lesson, we introduce sound and the Yoga of Sound.
Objective

Gain a foundational understanding of sound, sacred sound and chanting.

Description
Define sound. Describe sound healing and the effects of vocalizing. Explain what is meant by the word "nada" in Sanskrit. Describe Nada Yoga and how the ability to connect with our internal, sacred sound can be developed. Note what the study of indigenous tribes teaches us about sacred chanting. Describe Mantra Yoga and define kirtan. Provide five reasons that may explain why chanting has such positive effects.
Using vocal sound techniques in combination with postures effectively intensifies practice, focuses attention, deepens exhalation, increases circulation to the organs, and balances the emotions… Vocal sound techniques include humming, chanting simple syllables, chanting simple phrases that have certain meanings, and chanting more complete songs or prayers… The main factors that determine the effects of the sounds that are used are their particular vowels and consonants, their pitch, and their volume.
This excellent 18-minute video brings together many vital sources of knowledge on the miraculous power of sound and vibration.

The Yoga of Sound, I believe, can usher more soul into yoga as it is transplanted to the West and can help Westerners achieve the deepest fulfillment possible through their yoga practice. This is already happening through the widespread use of kirtan, the call-and-response chanting of the names and attributes of Hindu Gods. However, kirtan is only one avenue of the depths of sound yoga—albeit an important one, since it reaches into the heart. Kirtan is the first step toward recovering the soul of Hatha Yoga, but much more is possible when all the streams of sonic mysticism are taken into account.
Mantra Defined
A mantra is a sound vibration "through which we mindfully focus our thoughts, our feelings, and our highest intentions" that can create physical or spiritual transformation. (Girish)
It is a "kind of asana for the mind." (Dr. David Frawley)
Mantra Practice Guidelines
Sound healing encompasses much more than mantra repetition. But mantra repetition is certainly a centerpiece of yogic wisdom teachings. The following is drawn from Dr. David Frawley's guidelines in Mantra Yoga and Primal Sound 2010, p 165.


Before You Begin
Chant with a peaceful intention and calm mind.
Before starting to chant, honor the Divine power of the mantra.

Seek assistance from a guru, holy site or force of nature.

During Practice
Pronounce the mantra properly.
Begin chanting out loud, then chant softly and move to mental chanting. Do most chanting silently.


Silently Chant As Often as Possible
Repeat the mantra so often that it begins to repeat itself spontaneously.

Counting
Count mantras using a mala or rosary of 108 beads. For longer mantras, count one recitation of the mantra per bead. With single syllable bija mantras, count mutliple repetitions per bead.

Newsletter Templates
Content you can copy, edit and share. Monthly newsletters include seasonal topics. And there's a library of content by subject.
No Membership Required
We subsist entirely on member dues. We receive absolutely no advertising or promotional revenue.

We embrace this healthy exchange and are motivated and pleased to serve.

We also gift the yoga community with free support via this newsletter and the Free Resources Hub which includes Yoga Alliance info, insurance providers, free lessons, self-assessments, yoga teaching vocabulary and more.
This week – Post-holiday wellness focus (January)
This week – Martin Luther King Jr. Day (Jan 16)
In about 2 weeks – Imbolc & Lammas (Feb 1)
In about 4 weeks – Maha Shivaratri (Feb 18)
Seasonal Dosha-Balancing
The first image is for the Northern Hemisphere and the second for the Southern. Select the image for a general approach to balancing current seasonal energies.  Select the season title to see asana recommendations in particular.

Molly McCord, week of January 11 to 18

Barbra Streisand and Burt Bacharach, "Close to You"

8 min, Rescue and care of infant wild animals whose parents were killed

Dog and horse hug, and hug some more!
December 4, 2022

I absolutely love your material. You are so passionate and knowledgeable. Thank you for all your hard work.
I was having trouble figuring out what I should download but I used the spreadsheet and just downloaded everything that was listed under "Foundations." It became life saving.
This is very good information. I look forward to continuing to grow my collection. Thank you for making my job as a studio owner so much less time consuming. I appreciate your continued support.
July 19, 2022

I am renewing as your site is just invaluable. I love it and I'm very grateful.
February 10, 2022
While my original intention was to access resources to prepare for a YTT, I have been using your site daily for self study and to level up my own knowledge/teaching. I've (only) been teaching for 7 years and even though it's something I do everyday, the more I learn, the more I realize just how little I know. Everyday, I learn something new and it makes me feel more confident teaching my classes safely.

I am running a workshop on Yoga & Stress (so timely and also inspired by your site!) and the handouts are perfect for students to take home. It's interesting without being too heavy. As for all the information on the site — my goodness I just keep going further and further down the rabbit hole!

It's disturbing to think that there are instructors out there with less experience/knowledge who are teaching and long-time instructors who haven't upgraded their education, just teaching what they've always taught. Anyway, I really appreciate you and the invaluable resources you've made accessible to me and the yoga community at large. I am already a better teacher for it. Thank you. - Shelley D'Amico, owner of Namaskar Yoga Studio in BC Canada
July 31, 2021

From a trainer member whose lengthy teaching and training experience includes training within the Canadian school system...
You are both amazing. I am so impressed with this all! The content is beautiful and it was an awesome decision on my part ;) I love your style of work! I will be recommending you to all I know.
February 9, 2021
From a trainer member and studio owner with extensive business, education, and training experience...
I have a manual for my 200hr YTT and wanted to add more information and structure it differently, but I was getting overwhelmed with the project. I found your website and was so surprised at the amount of information and knowledge that it made me smile so hard and it is absolutely worth the money I paid. The amount of work and research your team has put into this base is amazing and needed so THANK YOU for making my life easier. What would've taken me so long to put together, now I feel confident I can put together in a week. What also makes it so good is that you have also allowed me to edit, reprint and distribute without the hassle of copyright issues. This to me is priceless! So sincerely thank you and I am glad I invested in your products! - Sanaa Jaman PhD, Tru3Yoga
January 31, 2021
From a trainer member who built her entire 200 hour curriculum, training manual and assessment plan using our material...
I have to say, the info is fantastic– as I've been looking through it, it is so comprehensive and amazing!! Yes, it gives us the support to teach and communicate with students in a way that brings out the best we can be. We can deliver the knowledge in a way so that they can be the best they can be, too… and to know it's only the beginning. Thanks for all this.
August 6, 2020
From an experienced and knowledgeable teacher whose formal training has been in India and his practice and teaching has been primarily in the U.S...
As I'm working with these resources in a more in-depth manner, I remain blown away by their quality and detail. They align so well with all of my own resources, and I am having the *MOST* fun creating with it. As I'm creating more and more, I see how your promise of helping yoga teachers be their best is not just good marketing-- its something you are truly doing. Having help organizing this material has allowed me to present it with a maximum of efficacy for retention and understanding for students with such varied interests and backgrounds.

The resources that you provide fit together so nicely [and inspire me to share my love for mythology, chanting, and so on.] It feels a bit like I'm now prepared to defend a thesis -- able to speak extemporaneously on each of the many topics and then field questions as they come up dynamically... its just SO much fun. - Michael Joel Hall, Yoga Teacher and Coach
March 27, 2020
Hi Shelly - I wanted to share with you that I heard from Yoga Alliance today for the first time about my Yoga School application. He said the outlines and information shared was so well done that just minor technical tweaks were needed. He said I made his job easy and that it was not "if" my application would be approved, it is just a matter of 'when'. I used the syllabus you offered with the purchase I made from Yoga Teacher Central with just some minor changes. I so appreciate the information you are making available to the yoga community and am beyond grateful.
March 7, 2020
A brilliant summation of what we have been trying to achieve...
It's definitely been a valuable investment. I feel like I received the blueprint for the ideal house structure and now I can decorate with my own style. :)
Connect with a fellow yoga lover (geek)
Yoga Teacher Central
135 Bear Wallow Ln, Sedona
United States of America
You received this email because you signed up on our website or made a purchase from us.
Unsubscribe