EUCloudEdgeIoT.eu NEWS DIGEST#1 | OCTOBER 2022
Welcome to the first EUCloudEdgeIoT.eu News digest with news, analyses and event updates from the Cloud-Edge-IoT Continuum landscape.

Open call: Large-scale pilots for Cloud-to-Edge based service solutions
As part of the Digital Europe Programme, large-scale pilot projects will be launched aiming at the deployment at scale of innovative, sustainable, secure and cross-border cloud-to-edge based services applied in a set of well-chosen application sectors. These deployments will serve the double objective of, first, being the first actual concrete implementations and deployments of the middleware platform and its different open source middleware solutions serving the needs of a specific application sector and use case and the gained experience should feedback into this separate process. Diversity, both in geography and use cases, of the retained large scale pilot projects, will therefore be key in testing the versatility and robustness of the platform. The second objective is to deploy additional cloud-to-edge services that are particularly innovative and/or not (yet) of enough general interest to be procured for the common good.
The European Cloud, Edge, & IoT Continuum is part of the EU Research Agenda and aims to facilitate the business and technical convergence of Cloud, Edge and IoT, unlocking the potential of these transformative technologies. 
Two EU-funded CSA projects funded under Horizon Europe, Open Continuum (fosters an open ecosystem for European strategic autonomy) and Unlock CEI (helps accelerate the deployment of the Cloud-Edge-IoT computing continuum on the demand side) have formed a key partnership to coordinate and support the many research activities in this space and aim to understand the supply and demand value chains in Europe.  

The European Cloud, Edge & IoT Continuum will bring an inclusive vision supporting actionable recommendations and solutions for the next generation of CEI for researchers, industry, and policymakers. By establishing partnerships, the initiative intends to guide its stakeholders towards defining an integrated, open ecosystem built around open source, open standards, and the effective blending from cloud to edge and IoT. Together, these two projects aim to increase European competitiveness and create a seamless, secure, sovereign, and sustainable internet infrastructure.
As well as enabling prosperity in the CEI domain, the initiative will aid with the twin transition (digital and carbon-neutral) process and promote environmental sustainability as a core value of the open ecosystem for the European computing continuum. 
Upholding the growth of green ICT is essential for meeting the European Green Deal objectives.

September saw over 50 people from across Europe join our first public webinar, "Understanding Cloud-Edge-IoT. Challenges and Opportunities". The webinar highlighted the paradigm shift that we are witnessing in Europe with the emergence of a new CEI market thanks to major investment in IoT and Edge technologies in 2022. The webinar highlighted the importance for Europe to take a leading role in this shift in order to influence the definition and implementation of policies, identify and respond to market demand.

The COVID-19 crisis highlighted how digitalisation is crucial to ensure our society and economy can still function in extreme emergency cases and how cloud technologies play an essential role in ensuring private and public service resiliency. HUB4CLOUD, is a coordination and support action that helps grow the impact and relevance of Cloud Computing, organise webinars, carry out desktop research and expert interviews. The goal is to learn about the European cloud computing skills gap and ways to bridge them from the different players in the market (industries, SMEs and startups, academia, online courses platforms and individuals). This activity focused on exploring the needs for Cloud Computing skills, training needs and opportunities in the next 5 to 10 years and retro-fed them into road mapping and policy recommendations.
The European Cloud Computing market is like no other in the world. Europe represents around a quarter of the global IT market, and cloud computing is turning into one of the highest priorities for European CIOs. Moreover, the cloud computing market is expected to grow at a rate of 20% per year and reach €44 billion by 2024.
HUB4CLOUD, a coordination and support action for European Cloud Computing efforts, recognises this topic as an important aspect for the cloud business, especially SMEs, and has explored and discussed challenges that cloud businesses face in terms of cloud business models, legal guidelines, acceleration activities and support.
Essential readings
Towards a vibrant EU IoT ecosystem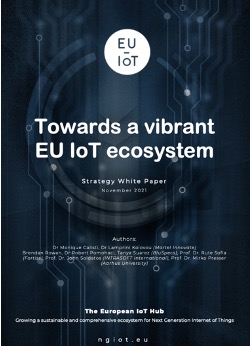 Towards a vibrant EU IoT ecosystem
The European IoT Hub (EU-IoT) presents an updated report focused on how to build a vibrant and impactful European IoT ecosystem. It is necessary to map and engage all relevant research, innovation and policy initiatives; identify the core market pull needs and technology push trends; and to coordinate and align on a common ambition and plan with all key stakeholders to help shape research and innovation priorities, as well as upcoming Horizon Europe Calls topics.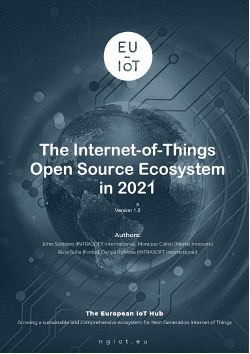 The Internet-of-Things open source ecosystem in 2021
For over a decade the Open Source Software (OSS) community has played a significant role in the development, deployment, and standardisation of the Internet of Things (IoT). This whitepaper aims at providing an overview of the IoT OSS projects landscape. Furthermore, the present whitepaper aims at introducing the EU-IoT IoT OSS projects catalogue, which is developed by the H2020 EU-IoT project and is already publicly accessible through the NGIoT website.
Help us define Cloud-Edge-IoT
Business experts and leaders from five key sectors: manufacturing, agriculture, health, energy and utilities, and transportation, are invited to join and contribute to the Value Chain Adopters groups. These clusters of potential CEI business users will be formed in the next month and will gather three waves of virtual, hybrid, and cross-domain events starting in 2023. The groups will be mission-critical to define market demands, service requirements, and as a result, recommendations for the following EC-funded large-scale pilots. On the other hand, participants will gain an overview of novel service offerings and business models and an opportunity to network.
Discover all advantages of engaging with the Value Chain Adopter groups.
Webinar: "Paving the way towards the next generation of R&I excellence in AI, data and robotics" – 17 October 2022
Artificial intelligence, data and robotics are at the core of the ongoing digital transformation of Europe. There is now a big push to drive innovation, acceptance and uptake of these transformative technologies through the Horizon Europe programme. With more than 40 newly funded projects now active, the webinar will take stock of the development and deployment of trustworthy, safe and robust AI, Data and Robotics which are compatible with EU values and regulations. The webinar is organised by the EU-funded projects Adra-e and AI4Europe.
Terminet open call webinar
The TERMINET project team organises on the 12 October a webinar for presenting their funding opportunity through the TERMINET Open Call. In the Open Call TERMINET has available 400,000 Euros to fund SMEs, industrial firms, Universities, and Research Centres. The main objective of the webinar is to present the Open Call challenges, eligibility criteria and the submission process.
You may also be interested in...
EUCloudEdgeIoT.eu is supported by The Open Continuum and Unlock CEI and both received funding from the European Union's Horizon Europe Research and Innovation Programme under the Grant Agremment numbers 101070030 and 101070571.
We thank you for your interest in the EUCloudEdgeIoT.eu. You receive this email because you provided your consent through a service powered by EUCloudEdgeIoT.eu. 
Unsubscribe