SIMPLE, DIGNIFIED, INEXPENSIVE

CREMATION & BURIAL PLANS
September 1
YOU are a member!
If you have a friend who would enjoy the articles in this newsletter feel free to forward this email to them. Perhaps they would be interested in joining the Society.
ABOUT US:

SDMS is run by an all-volunteer board. We provide education and information on end-of-life and after-death care. 
SDMS has no links to the funeral industry or any religious group.
Membership is open to all, for a donation of
$55 for one and $100 for two.
This is a one-time membership fee.

In the community:
We offer speakers to community groups.
AND
Every year we pre-negotiate the lowest prices that our mortuaries will provide to our members.
Upcoming Discussion Groups
and Classes
Tuesday, October 11, 2022
Veterans Burial Benefits and Home Funerals
NOTE: This is happening TUESDAY, 10/10/22 @ 2pm, online
Learn about burial benefits for veterans and about home funerals from MSgt. Glenda Villegas, USAF (Ret.), Thresholds Home & Family Directed Funerals, funeral director.

Tuesday, October 25, 2022
Understanding Conservatorships and Fiduciaries: Part II
Hannah Moss has worked with the elderly and other individuals in San Diego as a conservator, fiduciary and trustee since 1999, has advised new fiduciaries, and has consulted with attorneys regarding conservatorships, i.e., where a judge appoints a person (called the "conservator") to care for an adult (called the "conservatee") who cannot care for himself or herself or manage his or her own finances.

Tuesday, November 1, 2022
The Process of Voluntarily Stopping Eating and Drinking (VSED)
Hear Susan Prior, Senior Manager of Development and Stewardship at Compassion & Choices, share the story of her mother's end-of-life journey with VSED and from Jena Johnson, C&C's Senior End-of-Life Consultant, about the process of VSED and about helpful information and resources.
Tuesday, November 15, 2022
Why I Don't Ever Want to be in Memory Care and What I've Been Doing to Avoid It
Barbara Hollowell, lawyer and retired university professor and college administrator, will share her family experience with Alzheimer's, how that left her impassioned about avoiding its long and horrific journey, and, finally, the steps she's been taking to to "Exit" should "capacity" become threatened!
Latest Articles
Must-read stories from our blog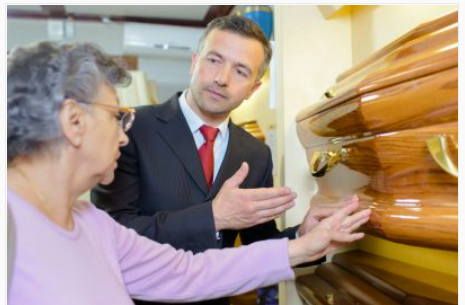 Clark Howard's Important Advice on Funeral Planning
Having a conversation about death can be difficult, but because you may have to plan the funeral of a loved one, it is important to have that talk, says money expert Clark Howard.
If you don't know your loved one's wishes and you don't plan ahead, you could find yourself out of a lot of money during what could be one of the most vulnerable times of your life.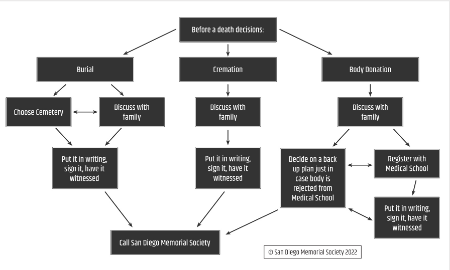 How do I plan ahead for my death?
Many people ask this question but have no idea how to get started. The fact that you're reading this shows that you care. And what you care about is those people in your life who will be there when the time comes to deal with how to take care of your body once you are gone.
Here is a flow chart that gives you an idea about the questions you can begin asking yourself.
Two More Articles
Must-read stories from our blog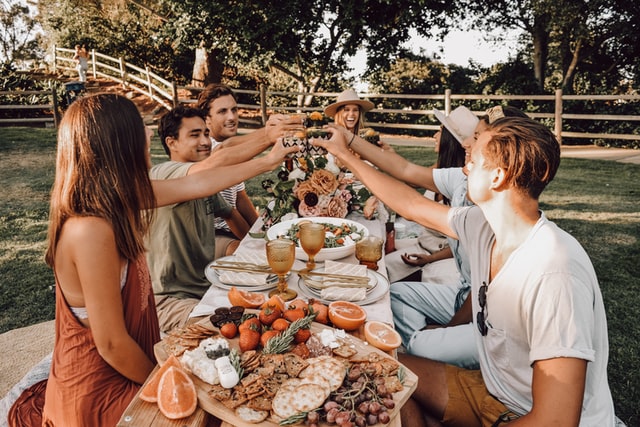 How To Host A Memorial Service At Home
Memorial services planning is a tough job, and hosting a memorial service at home is an extensive choice that needs to be made to reflect both the preferences of the deceased as well as the needs of those hosting and attending. The options are as versatile and unique as the person they'll be honoring. Trust your instincts and use our memorial services planning advice, and you'll do a beautiful job hosting a ceremony that honors and respects your lost loved one.
If you wait until the time of death to make funeral arrangements, you will almost certainly pay too much.
WE APPRECIATE YOUR SUPPORT
OUR NUMBERS ARE DOWN!

As the pandemic raged in 2020 everyone was concerned about the Corona virus and many people decided it was time to plan ahead. Since then we've struggled to get out in the community with our message.

Please, if you know where we might place flyers, speak to a group, or let people know about us call Andrea at the office and let her know. 858-391-1267

We also greatly appreciate your donations. Click here to donate.
Since 1958 we have been serving San Diegans with excellent support for end-of-life decisions. When we get a call from a family in need or those planning ahead we handle each one with care and consideration.

Our volunteer Board meets 4-6 times a year to keep things running smoothly.

And thank you in advance for your generosity.

You could also consider adding the San Diego Memorial Society to your monthly or annual charitable giving list. Or add us in to your trust.

Thanks!
Andrea Barnes
Office Coordinator
Call the office today and give your donation over the phone.

(it only takes a few minutes)

OR mail your check to:

San Diego Memorial Society

13446 Poway Rd. #207

Poway, CA 92064

OR click the button below to Donate

Do you like sharing stories?
Have you got a story about how one of our mortuaries helped you throught the death of a loved one? We'd like to hear your story and will put it in our next newsletter.
Our Board of Directors


Rudee Slavik, President
Dorinda Miller, Vice-President
Luis Jarquin, Treasurer
Kimberly Katz
Vicki Tilton
Rick LeVine
Rick Rojas
Dr. Dometrives Armstrong

Andrea Barnes, Office Manager
MEET THE BOARD
Rudee Slavick, President - Rudee has over a decade of experience in the funeral industry. She is a licensed funeral director, embalmer, crematory manager, and pre-need salesperson. She currently works from home, filing death certificates for Tulip Cremation while she cares for her infant son.

Dorinda Miller, Vice-President - Dorinda Miller is the Director of Business Services for the Identity Theft Resource Center. She has over 20 years of Board Service experience addressing homelessness, food insecurity, and community education services.

Luis Jarquin, Treasurer - Luis is our newest board member. He has an engineering background and experience on several other boards. With his experience in finances, he has offered to become our new Treasurer.

Vicki Tilton - has spent 30 years as a healthcare educator, crisis intervention and unexpected death volunteer for the SD police department and hospice volunteer.
Kim Katz - is a hospice social worker who is passionate about advocating for those facing end-of-life decisions. She serves on the bio-ethics committee of a local hospital.

Rick Rojas - Rick serves as a minister to the elderly, works with those with dementia, is an associate pastor, is involved as in a chaplain program, and is an officiant and celebrant focusing on Celebration of LIfe services for all including the underserved among us.

Richard LeVine - Comes to us after 30 years in government service holding both an MBA and a law degree. He is an adjunct professor at community college, practicing attorney, and does talks around the county informing seniors about current events. His private practice has an emphasis on will, trusts, and probate matters.

Dr. Dometrives Armstrong - Is the associate Dean of Nursing and worked for San Diego City College for 21 years. She volunteers for the Ustrive Mentor Online Program for high school students. In addition, she collaboratively published in the Phoenix Scholar College of Doctoral Studies Periodical for research and scholarship special edition and the Critical Care Nursing Quarterly.
Andrea Barnes is a long-time website developer and social media specialist. She brings her talents to our Society and helps us reach out to our community. She can be available to speak to your group, church or club.
We need your help!
Our organization is going paperless.

In order to save thousands of dollars in printing and mailing costs, we prefer to send our newsletter out via email. Please visit https://sdmsonline.com/newsletter/ to sign up for the email newsletter.

If you do not have email, please call the office, and we will make sure you get your newsletter via US mail.

Thank you!
When a Death Occurs
To report a death, please contact the funeral home of your choice directly.

Or call 858-391-1267 to reach us between the hours of 8 to 6 Monday thru Saturday
STAY UP-TO-DATE
Mortuary List and Pricing
6 Plans to Choose From
Overview of The San Diego Memorial Society
San Diego Memorial Society
13446 Poway Road, PMB 207, Poway
United States of America
You received this email because you signed up on our website or made a purchase from us.
Unsubscribe