Newsletter
September 2023
Dear Women of The NETWORK,
I hope you've managed to enjoy some moments of rest and relaxation despite the unpredictable summer days we've experienced in Luxembourg. As we step into September, our enthusiasm grows, eager to embrace a fresh season brimming with exciting possibilities.
At the close of August, The NETWORK's Board members gathered for our annual Strategy Meeting. Your invaluable input has truly enriched our inspiration for crafting events, both centered on longstanding traditions and innovative topics. I'm excited to share the exciting outcomes with you!
Next year, as always, we'll kick off with an event aimed at helping you achieve better health and wealth. Recognizing the prevalence of burnout among women, we'll bring in specialists to share tips on preventing it.
Diversity and inclusion will continue to be a key focus. In March, for International Women's Day, we plan to celebrate it in grand style alongside other women's associations in Luxembourg.
Our Female Entrepreneurship will be a powerful collaboration, shining a spotlight on successful women from different industries, and inspiring aspiring businesswomen to thrive.
Career and Leadership will get the deserved attention and we are working on organizing a joint event with another women's association having at heart the interest to create growing opportunities for their members.
In our upcoming events, we're excited to explore fresh topics that have yet to be addressed, such as the intersection of Motherhood and Professional Life. Recognizing the unique challenges that mothers face in their careers, we'll host an event to foster open discussions, share personal experiences, and provide valuable guidance on achieving balance in these crucial aspects of women's lives.
It's the right time to delve into the realm of Artificial Intelligence. In a world continuously shaped by technology, we are eager to explore the intricate landscape of AI. Get ready for thought-provoking discussions on how AI is transforming various fields and the significant role women can play in shaping its future.
We intend to do a few nice twists to our cherished and by now traditional events Summer drinks, Wine Tasting fundraiser for our charities, and the Christmas event, to ensure they cater to the diverse interests and needs of our valued members.
When it comes to our charitable endeavors, we are proud to reaffirm our commitment to the invaluable causes of Femmes en Detresse, Think Pink, and Dress for Success, our top three charities. Furthermore, after careful deliberation, the Board has extended its support to a new addition: La voix des Survivant(e)s Despite being just one year old, this organization has demonstrated remarkable dedication and impact in its brief existence, closely aligning with the values and mission of our association.
Together, we are poised to create a profound impact in the lives of women in Luxembourg through our dedicated support of these remarkable charities
Stay closely connected as we fine-tune the specifics and plans for each event. We are genuinely thrilled about the year that lies ahead and eagerly anticipate your active involvement.
Our deepest thanks for being an integral part of this incredible community and for your continuous commitment to THE NETWORK.
We can't wait to welcome you to our upcoming events and embark on another empowering journey of growth and women's empowerment together.
Yours in Networking,
Mariana Florea
President. The NETWORK
Interview with our IT Director Salijona Dyrmishi
Who are you?
I am a young woman in my twenties, residing in Luxembourg for the past three years. My daily life revolves around researching AI security and enjoying quality time with my loving partner...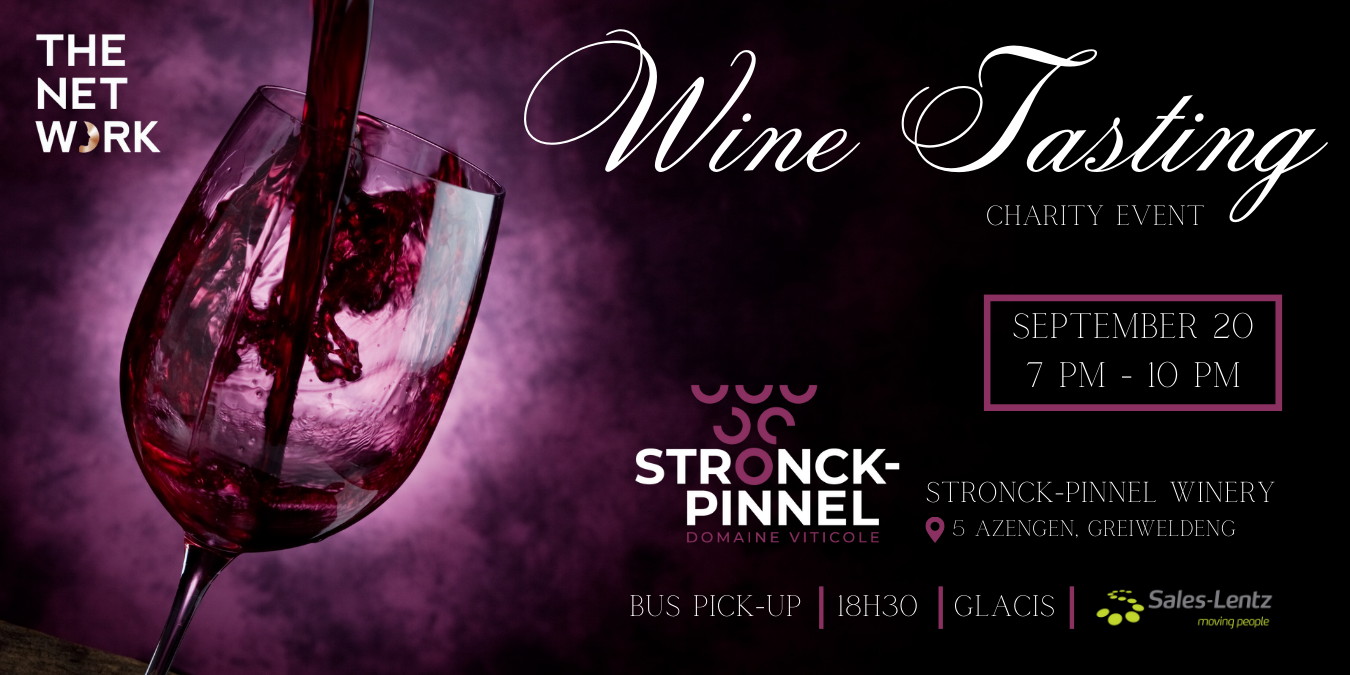 Charity Wine Tasting
We are inviting you to our wine tasting fundraiser evening on September 20 at Greiveldange's Stronck-Pinnel Winery to discover another local winemaker while contributing to the charities voted by our members this year.
Fifth-generation winemakers Jean-Pierre Stronck and Octavie Modert present their meticulously crafted wines, including the renowned Rivaner and cherished Riesling, reflecting Dieffert slopes' sun-soaked terroir.
What makes this event even more special is the couple's pledge to donate 20% of the proceeds from purchased wine bottles to the designated charities, as chosen by our members during the annual survey.
As usual we might say, you will enjoy a delightful night of laughter, local delights, and giving back, with the support of sponsor Sales Lentz providing transportation with a complimentary bus pickup at 18:30 at Glacis.
Looking forward to meeting you and join us in creating a meaningful impact through fine wine and community engagement.
FUTURE EVENTS
Take a look at our future events!


September 17 at 11 AM
Come Together @ Schluechthaus
Join us at the Schluechthaus for this community festival and discover over 20 Luxembourg clubs and associations that are active in various fields.
Let's Come Together with good music, entertainment for all ages, and of course, a range of international refreshments to purchase.
Discover fun, interesting and different clubs and activities to get involved in
Not a member yet?
Become a member today, and enjoy all our future events for FREE! Community
Meet like-minded women and become friends. Events
Participate for free to monthly events.

Development
Learn about everyday topics that help you grow personally and professionnally.
[email protected]
Our newsletter informs you about our association. It is sent only once a month. It happens that a dedicated e-mail is sent if important news must be communicated to you. We also sometimes inform you of the organization of an event or webinar.
Unsubscribe