Dear Women of The NETWORK,

November approaches with shorter days and rarer sunshine, and we at The NETWORK are determined to bring in your lives warmth, solidarity, and awareness for the International Day for the Elimination of Violence against Women.
As our event's name suggests, "Party of One - Move Forward After Being Decoupled" our intention is to help anyone going through divorce or separation discover ideas and tips on how to move forward with grace and strength after facing the challenges of decoupling. Our speakers we'll cover essential topics like law, finances, self-care, and why not, thinking about getting ready to date again… As we are in Luxembourg and since September there has been a new law on working permits for trailing spouses, our guest speaker from ADEM will also give you more details.
25th of November is The International Day for the Elimination of Violence against Women. It's a day when the world unites to raise awareness and promote a safer, more compassionate world for women. It's a day to become aware that the Violence Against Women, according to UN Women "it remains the most widespread and pervasive human rights violation worldwide affecting more than an estimated 1 in 3 women, a figure that has remained largely unchanged over the last decade." - UNITE to End Violence against Women Campaign | UN Women – Headquarters
We invite you to join us in spreading awareness, offering support, and encouraging every woman to seek help when needed. Together, we can light up even the darkest days with the warmth of our unity and the strength of our solidarity.
Let's make this November an unforgettable celebration of resilience and unity!

With love and solidarity,

Mariana Florea

President. The NETWORK
Interview with President Mariana Florea
Who are you?
I am the proud mother of a lovely young woman, I am an Economist, working in the banking sector in Luxembourg, I am also a Certified Professional Coach, Aware Parenting Instructor and Distinguished Toastmaster....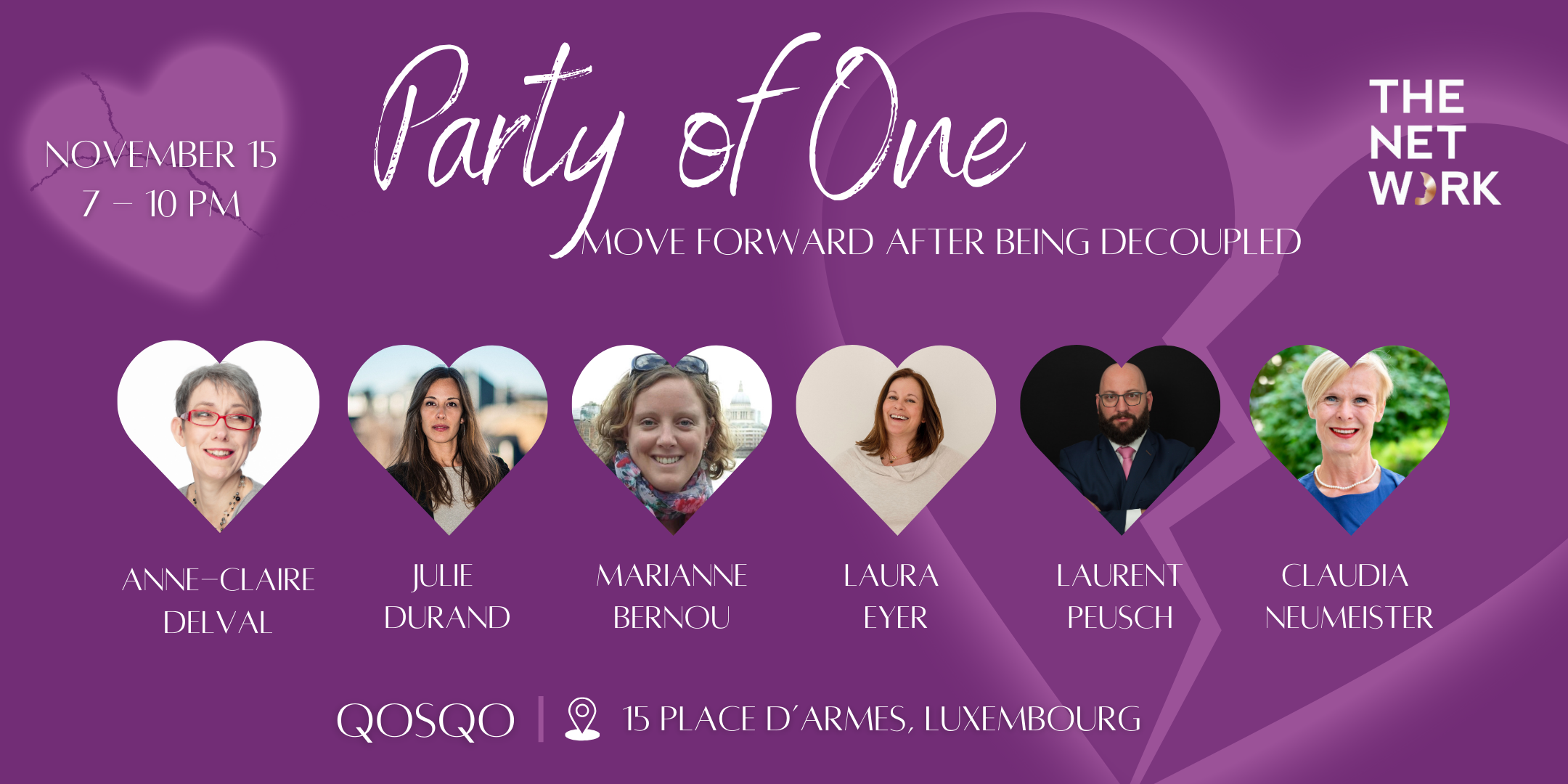 November 15
Party of One - Move forward after being decoupled
Going through a divorce or break-up is not for the fainthearted—it can rock your world. Everyone copes differently, though, and it depends on your unique circumstances. Was it your ex's choice to separate and divorce? Yours? Mutual? Are there children in the relationship? Are you dividing property or a business?
Join us for our November event, where we will take a deep dive into life after decoupling. What tips, tools, and resources do you need to make the great leap and live your best life?
Our speakers will help you understand things from financial planning and important legal aspects you shouldn't take lightly to how to maintain a good level of personal care during these stressful times and perhaps getting ready to date again.
Future Events
Take a look at our future events!

November 21
Lët'z say NO to violence against women!
Save the date for November 21st as a brave member of the Network will shatter the silence, finally find the courage to speak up and fight back. United in saying no to violence against women.
November 4 & 5
Journées de dégustation
If you're ready for another round of wine tasting and delicious local food, join our sponsor Stronck-Pinnel on the first weekend of November for another fun filled event with delicious wines. Reservation per mail.
Not a member yet?
Become a member today, and enjoy all our future events for FREE! Community
Meet like-minded women and become friends. Events
Participate for free to monthly events.

Development
Learn about everyday topics that help you grow personally and professionnally.
[email protected]
Our newsletter informs you about our association. It is sent only once a month. It happens that a dedicated e-mail is sent if important news must be communicated to you. We also sometimes inform you of the organization of an event or webinar.
Unsubscribe