September 2023 — Prayer Notes and Updates
Changing of the Seasons
For many, summer has long been a period of rest as people take time to enjoy the sunny weather. Many church ministries also pause in this season. The changing of the seasons is a testament to God's appointed time for his creation. 
Ecclesiastes 3:1 tells us that " There is a season for everything and a season for every activity under the heavens."

Metaphorically, we also experience different seasons in our lives; seasons of blessings, challenges, and also in our missional calling. There is a time when God calls us to serve him in our workplaces and a time when he calls us to serve in another country. What is important is that we listen to his bidding. As we enter the Fall and consider changing activities in the weeks ahead, I encourage you also to consider what season God is calling you into right now?

—Pr. Nes

Pray for our mission partners with us through the month.
Download and print out the prayer calendar above. And big thanks Norine and crew for your work to put these prayers together!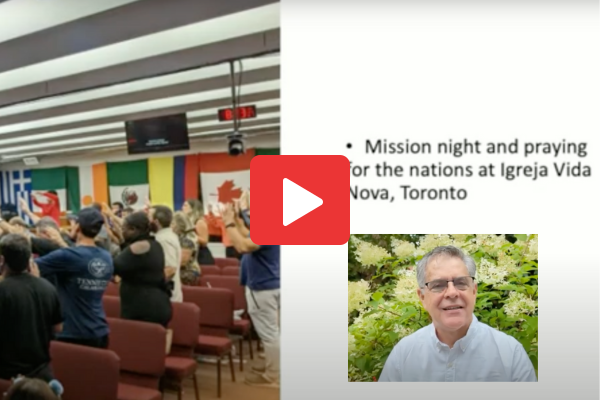 AUGUST MISSIONS MOMENT
Update from Carluci Dos Santos, LAM
Every fourth Sunday of the month, we take time in our service to hear and reflect on the work of God through our Knox-supported missionaries. This month, we were privileged to hear of God's work through the ministry of Carluci Dos Santos.

Carluci currently serves as the Global Missionary Ambassador for Latin America Mission (LAM), where he previously served as the Executive Director. Carluci is passionate about leadership development, biblical expository preaching, and theological education both in Latin America and in Canada. His education includes a PhD in Old Testament from St. Michael's/Wycliffe College at the University of Toronto (2011) as well as degrees from Knox College, Regent College, and the University of British Columbia. He teaches at the Ottawa Theological College and is a guest lecturer at Tyndale Seminary and Wycliffe College in Toronto. He is a board member of and Old Testament teacher at the Instituto de Formacion Ministerial, a ministry leadership institute for Spanish-speakers in Toronto.
Carluci and his family worshiped at Knox for many years. He served as an elder here before pursuing ordination with the PCC. He is now the minister at Celebration Presbyterian Church (Toronto), a church in north Toronto that connects with the Latin American diaspora. He lives in the city with wife, Christina. They are proud parents of 3 grown daughters.

RECENT EVENTS
August Missionary Gathering Zoom Call and Watch Party featuring updates with Laurie Armstrong
Thanks to those who joined us on August 27 for our quarterly Missionary Gathering. For future gatherings, we hope to continue hosting the gathering with ways to join online and in-person: a zoom call for those online; and a watch party in-person at Knox, for those able to gather after morning worship where we'll watch the zoom call and have a chance to pray together for our supported-missionaries.

SUN / OCT 22 / 1pm
Welcoming the Stranger: Diaspora Conversations on Hospitality. Join us for a meal and time of listening as we hear from friends of Knox with experience as refugees with muslim backgrounds. Read more details.

SAT / OCT 28 / 6pm
Intercultural Worship Night. All are welcome to join this multicultural, multilingual worship event. Read more details.
SUN / SEP 10 / 7pm
Luke 10:2 Gatherings
Those interested in discerning their call to cross-cultural mission are invited to join in this monthly prayer time. It's a movement of Christians who pray for the peoples of the world, discerning our call in community with one another, and preparing ourselves to follow Jesus together. Gatherings are the 2nd Sunday of the month ongoing in the Goforth Hall at Knox. 
SAT / NOV 4
Live Called
Join a gathering of committed Christ-followers dedicated to stewardship in their vocation and calling. Learn about living out the missional calling of Christ in any industry or professional space. Be challenged and have your imagination stretched by stories of Christian response to brokenness in Toronto and the world. Registration and details are here.
Our Missions Committee is Jeff Bloom (chair), Nestor Abdon (staff), Matthew Bodkin, Nancy Howard, Don Nicol, Carly Schroeder, Sabrina Simmons, Karen Williams
630 Spadina Ave,
Toronto, ON  M5S 2H4
Canada